Na Vi, a simple village under centuries of healthy living in Cao Bang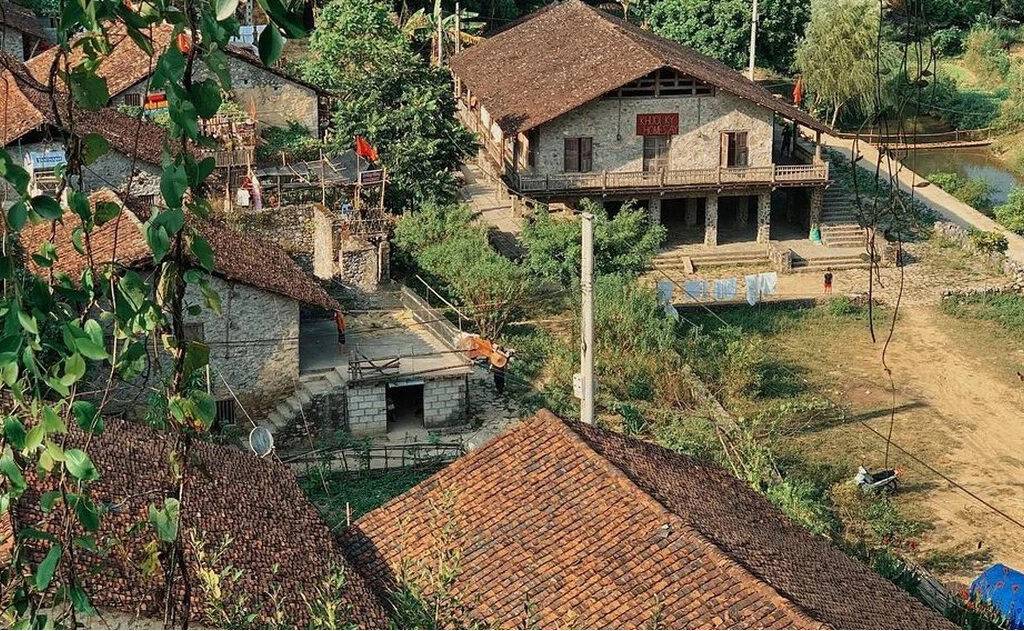 As a small hub nestled at the foot of Phia Cao mountain, Ha Lang commune, Na Vi village appears among the freshly green natural landscape with ancient stone stilt houses of Tay people. Their simple, rustic lifestyle and hospitality have contributed to make this place ideal to relax as well as to discover the vestiges of the Mac dynasty besides visiting other famous Cao Bang tourist sites, like Ban Gioc waterfall, Nguom Ngao cave, and Pac Bo relic.
Read more: World's largest cave, Son Doong offers the once-in-a-life-time experience
I. About Na Vi village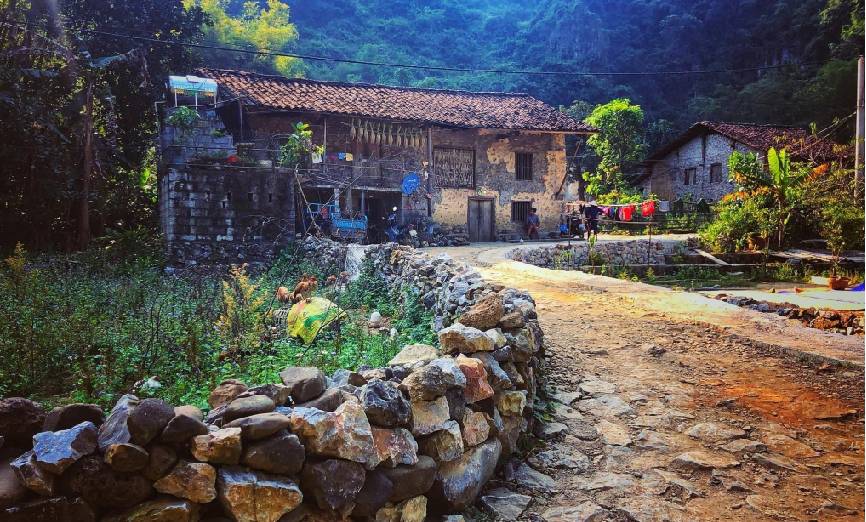 100 km from Cao Bang city, Na Vi village is located at the foot of Phja Cao mountain, near the Chinese border. Currently, there are about 100 households, mainly Tay ethnic people, who live in stilt houses made of ancient stone. This is also considered one of the places to keep traces of the Mac citadel in the years 1594 – 1677 when the Mac dynasty went to Cao Bang to protect the country. Stone houses on stilts were built exclusively for the nobility, and so on, later generations continued the tradition of building such houses. It takes people here from 2-3 years, from preparing materials to completion, to have such a solid house.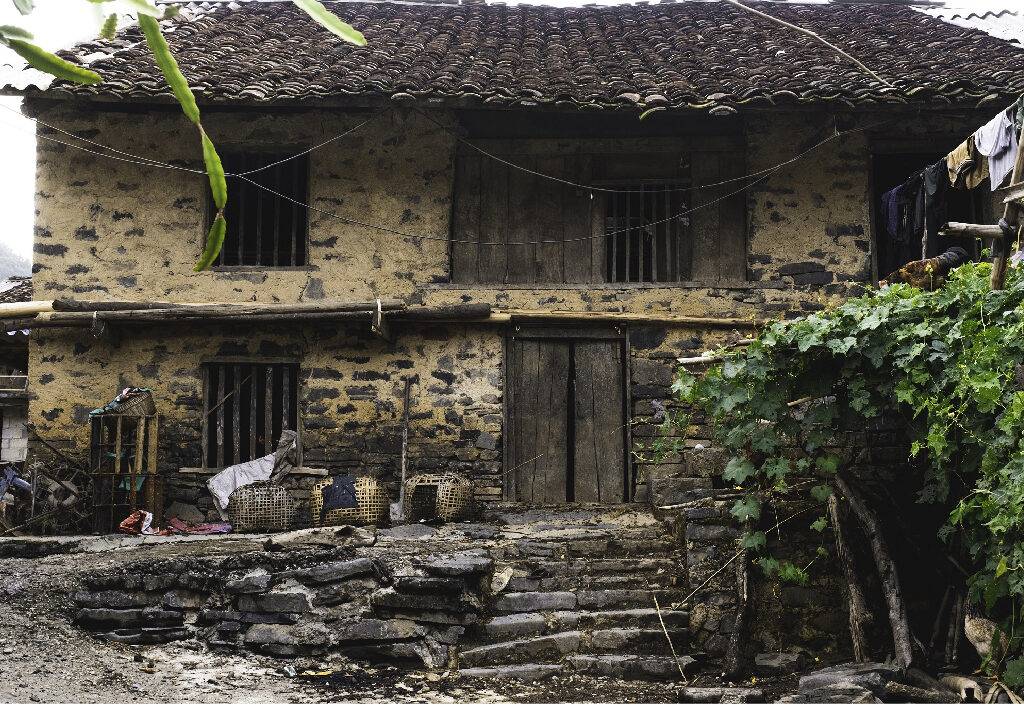 The people of Na Vi village alternately grow rice, corn, and green vegetables in the fields near the village and also raise livestock and poultry for a living. Currently, this place has electricity, and domestic water is mainly taken from natural springs near the area. Indigenous people are kind and gentle, on normal days they can wear both traditional clothes or casual clothes to go to work in the fields. Their traditional costumes are black self-woven cotton sets, without colorful patterns.
Read more: Dong Ho Painting Village preserves folk wood carvings of the Vietnamese soul
II. Attractions near Na Vi Village
1. Ban Gioc Waterfall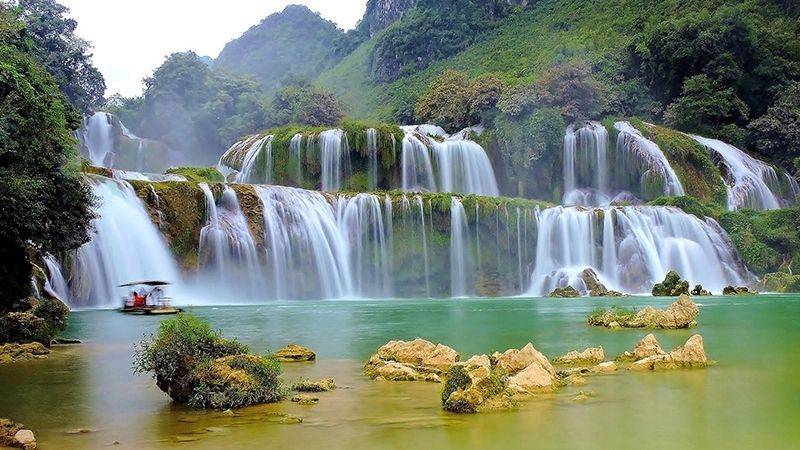 Ban Gioc Waterfall in Dam Thuy commune, Trung Khanh district, consists of two parts: the main part lies between the Vietnam-China border, demarcated by the Que Son river while the rest lies entirely on the territory of Vietnam.
The main waterfall is about 100 meters wide, 70 meters high, and 60 meters deep; facing dreamy stretching golden rice fields. From a distance, the pristine waterfall looks like a white silk strip across the mountains and forests, creating a striking feature that is both majestic and charming.
Tourists can take a boat ride around the foot of the waterfall for about 15 minutes at 50,000 VND to have a closer look at the cool stream and feel the fresh air. Approximately 500m from Ban Gioc waterfall is Phat Tich Truc Lam pagoda, which is a quiet and extremely suitable place to admire the wonderful panoramic view of the waterfall from above.
2. Nguom Ngao Cave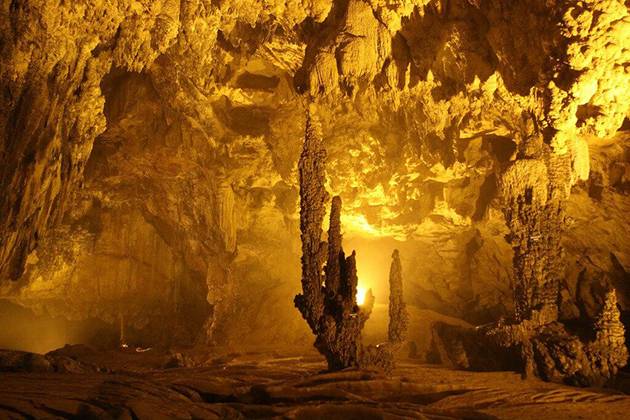 Nguom Ngao Cave has a length of 2,144 m, located in the heart of a mountain in Gun village, Dam Thuy commune, Trung Khanh district, about 50 km from Cao Bang city and 3 km from Ban Gioc waterfall. The cave consists of three main gates: Nguom Nom gate hidden under the rocks, Nguom Ngao gate a few hundred steps from the foot of the mountain, and Ban Thuon gate behind the mountain, next to Thuon village of the Tay people.
With the magical stalactites and stalagmites of all shapes and sizes created by nature, Nguom Ngao is known as the most beautiful cave in Vietnam dating from about 300 million years ago. Tourists should bear in mind to prepare a flashlight since it is quite dark inside the cave. In addition, do not forget to wear comfortable clothes, especially waterproof sports shoes to ensure a good grip.
Read more: Phong Nha – Ke Bang, the oldest major limestone karst ecosystem in Asia
3. Pac Bo relic site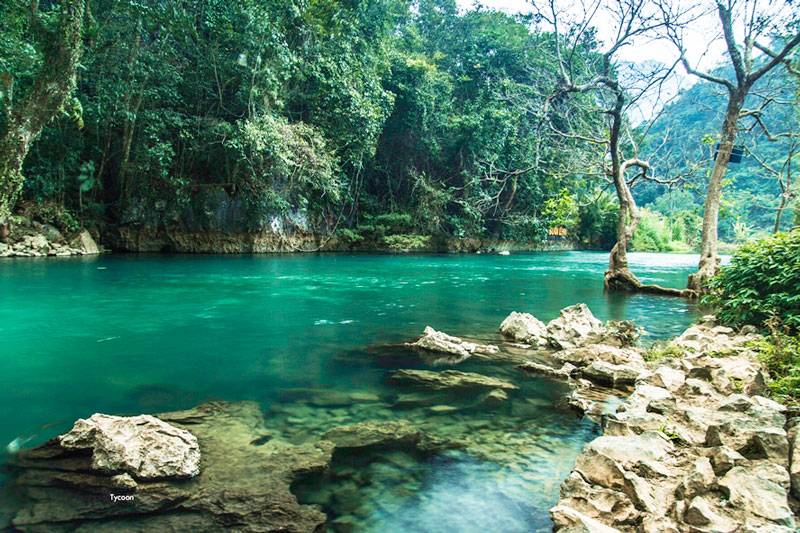 The area is a complex of three sites: Coc Bo Cave, Lenin Stream, and Cac Mac Mountain, which are of great Vietnam's historical significance as a shelter for Uncle Ho in the early days of the French war. In addition to the historical value, the impressively fresh natural scenery here also surprises every tourist.
The path with fresh greenery all year round from Pac Bo village will lead tourists to the towering Cac Mac Mountain and poetic Lenin Stream. From the distance, the mountain is almost covered with dense shrubs; at its foot is the crystal blue Lenin Stream, which is clear enough to see iridescent pebbles and schools of fish on the bottom. Going along the water flow towards the upstream, you will reach Coc Bo Cave, where Uncle Ho used to live and work.
The admission to the Pac Bo relic site costs 25,000 VND/person. If using an electric car, visitors have to pay an additional 20,000 VND/person.
III. Getting there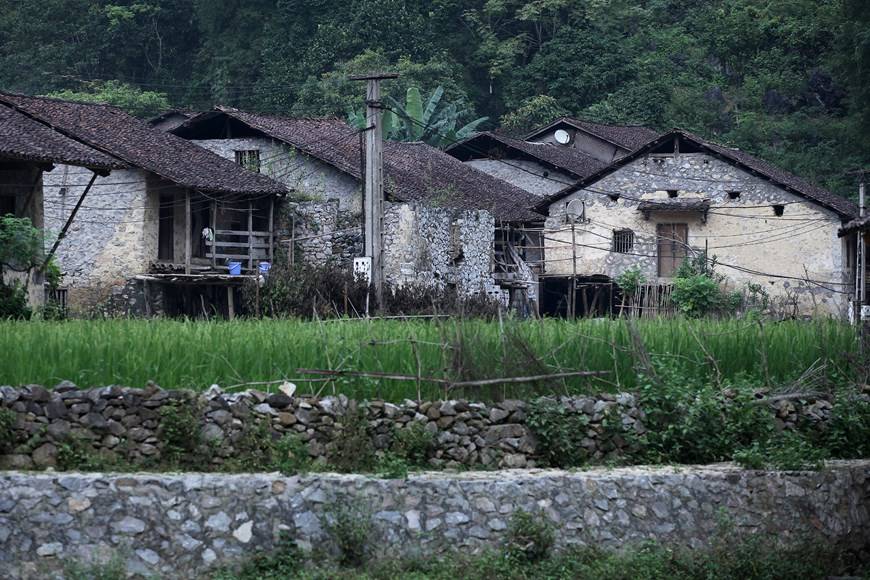 Departing from Hanoi, you can travel to Cao Bang either by sleeping bus or motorbike for about 8-9 hours. After reaching the city center, follow the route below to get to Ha Lang commune:
Cao Bang city center > Highway 3 > Cai Bo > An Lac > DT 207 > Thanh Nhat > Quang Long > Ha Lang – from here, continue to ask local people the way to Na Vi village.
VI. Accommodation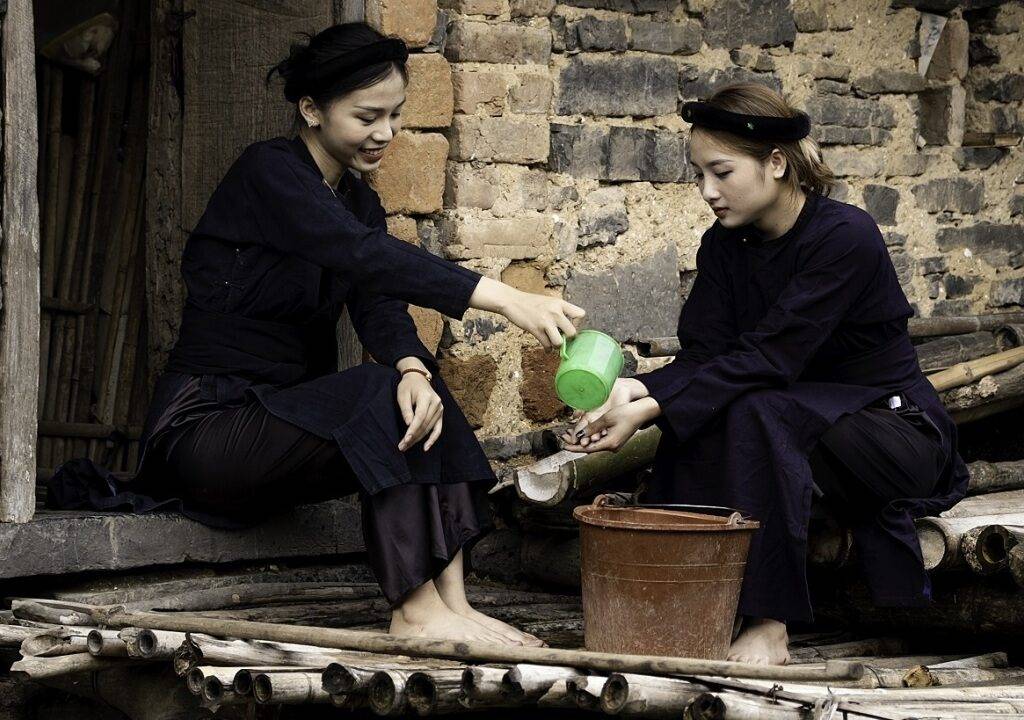 Belonging to one of the poor communes with difficult traffic conditions, no hotels or homestays for overnight trips are available in Na Vi village; however, the friendly locals will be willing to offer you a stay-over.
Or, for more convenience, you should book a room in Cao Bang city instead. There are numerous choices of affordable accommodation, ranging from 350,000 – 500,000 VND/night.
*Suggestions:
Jeanne hotel: 0912 130 126
Duong Ha hotel: 0206 6265 555
Primrose homestay: 0983 994 869
Yen Nhi Ban Gioc homestay: 0942 241 760
Read more: Best Son La tourism alternatives to Moc Chau plateau