Nam Can mangrove forest – The second largest mangrove forest in the world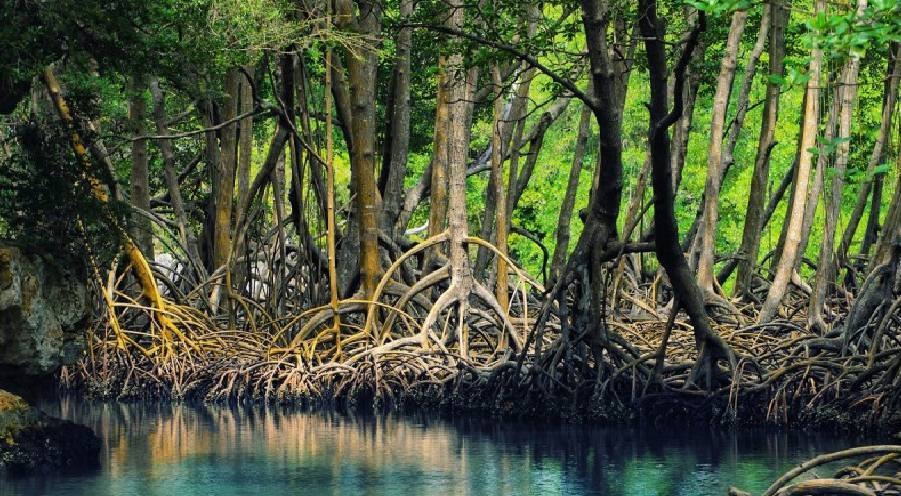 Nam Can has long been an extremely attractive tourist destination in Ca Mau. Referring to Nam Can, we cannot ignore the mangrove forests, located in the Ca Mau mangrove biosphere, impressing tourists with small rivers, long mudflats, and tall trees, which is also the home to multiple herds of stock.
1. About Nam Can mangrove forest
Ca Mau province belongs to the Mekong Delta, in the southernmost part of Vietnam. This V-shaped area looks like a peninsula with 3 sides bordering the sea. Along the mainland and coastal region is a unique and diverse ecosystem, which is known as the mangrove forest.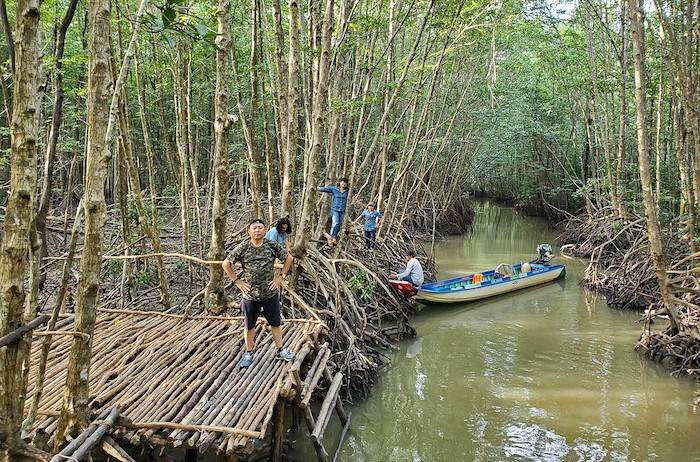 This vegetation includes numerous types of trees, such as mangroves, willow, cajuput, date palm, other kinds of ferns and vines, in which mangroves are the dominant species with high economic value; that's why the place is called the mangrove forest.
Nam Can mangrove forest is located in Tam Giang commune, Nam Can district, Ca Mau province. The place covers an area of 63,017 hectares, of which the mangrove biodiversity conservation is 252 hectares, becoming the second largest forest in the world after the Amazon.
Currently, the rare species of flora and fauna in Nam Can forest are super diverse. Besides, there are also 44 plants, of which more than 30 species, like lumnitzera racemosa, ceriops tagal, are found only in the mangrove forest environment.
Read more: A boat trip through the long green Persian carpet – Tra Su Cajuput Forest
2. The best time to visit Nam Can mangrove forest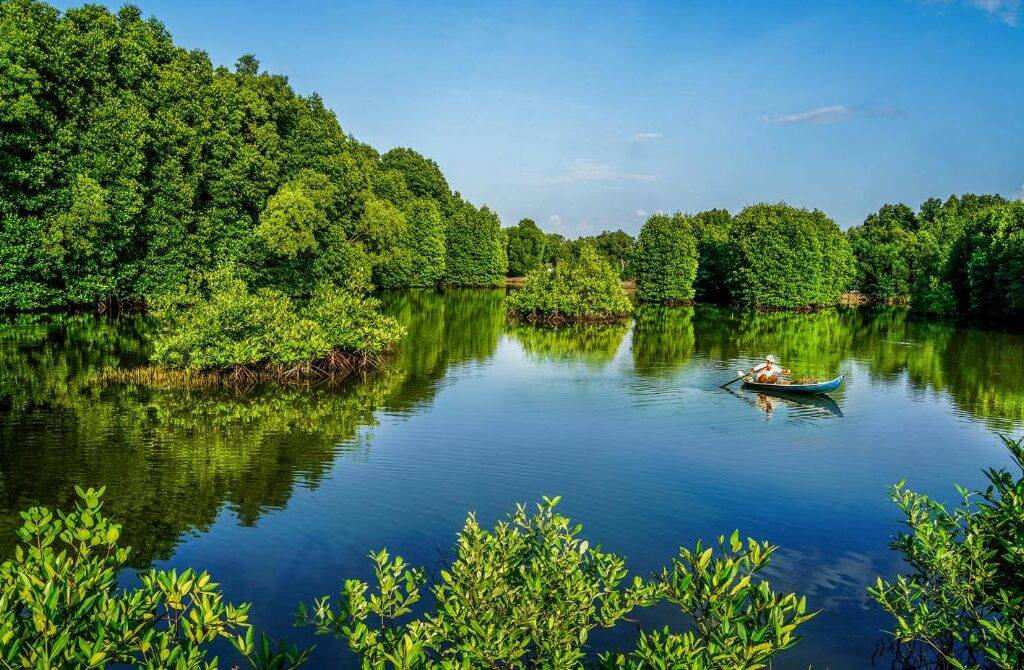 In each season, Nam Cam will present distinct beauty, visitors can come here at any time of the year. However, the two great times to experience and explore nature here are:
From December to February (Spring): This is the time when vegetation is developing while birds and animals also come there to find food and give birth. Such a beautifully natural picture! At this period, you can take a boat along the canals to admire the wonderful landscape here.
From March to April (The dry season): This is not the heyday of the plants, but in return, the mangrove roots and branches are on the water, creating unique shapes that make anyone interested.
Read more: BAY MAU COCONUT FOREST – THE "SOUTHWEST RIVER" IN HOI AN
3. How to get to Nam Can mangrove forest
– From Ho Chi Minh to Ca Mau
The distance is estimated at 290km, so the total travel time will vary depending on the type of vehicle you use.
+ Motorbike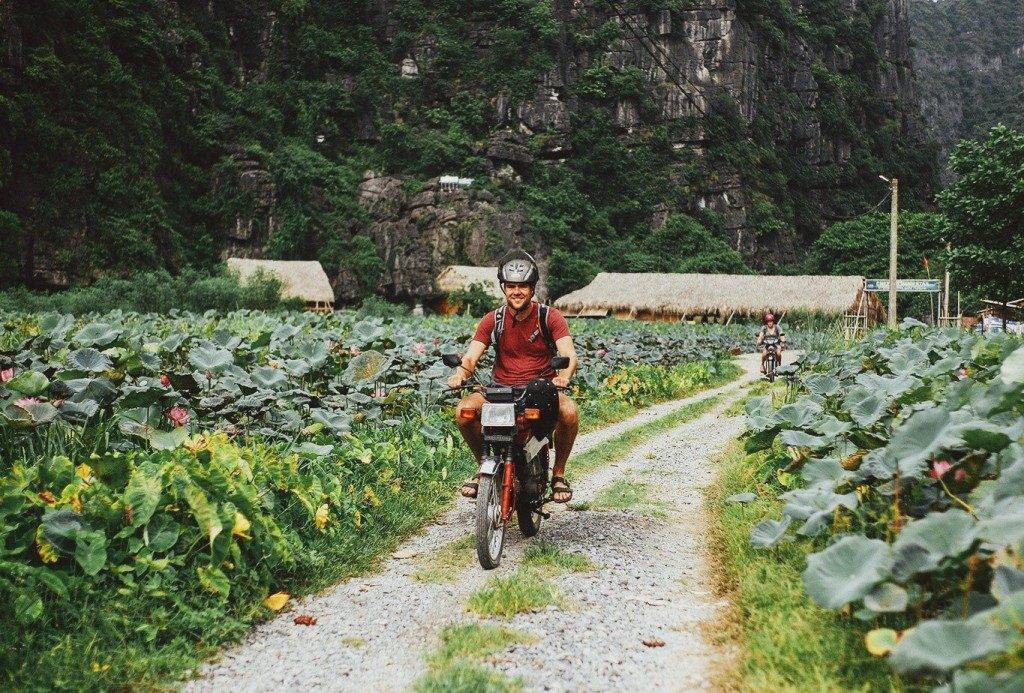 It takes 8 to 9 hours to travel from Ho Chi Minh City to Ca Mau, as the following route: Start from the city center > run in the direction of Binh Chanh > turn to Highway 1A > continue to go through the territory of Long An, Tien Giang, Vinh Long, Hau Giang > finally, you will come to the beautiful Ca Mau city.
+ Bus/Coach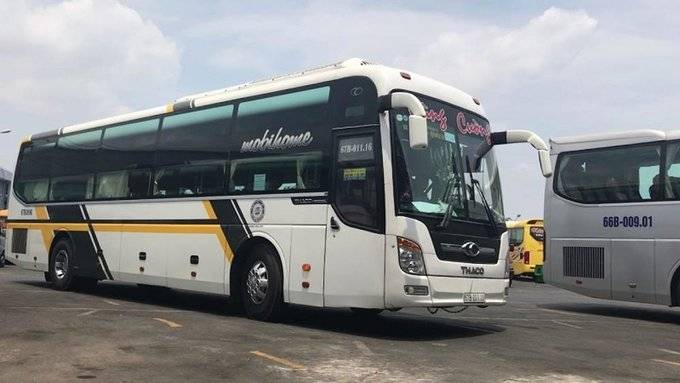 You can buy a bus ticket to Ca Mau at Mien Tay bus station for about 7-8 hours with the fare ranging from 170,000 VND to 200,000 VND.
+ Airplane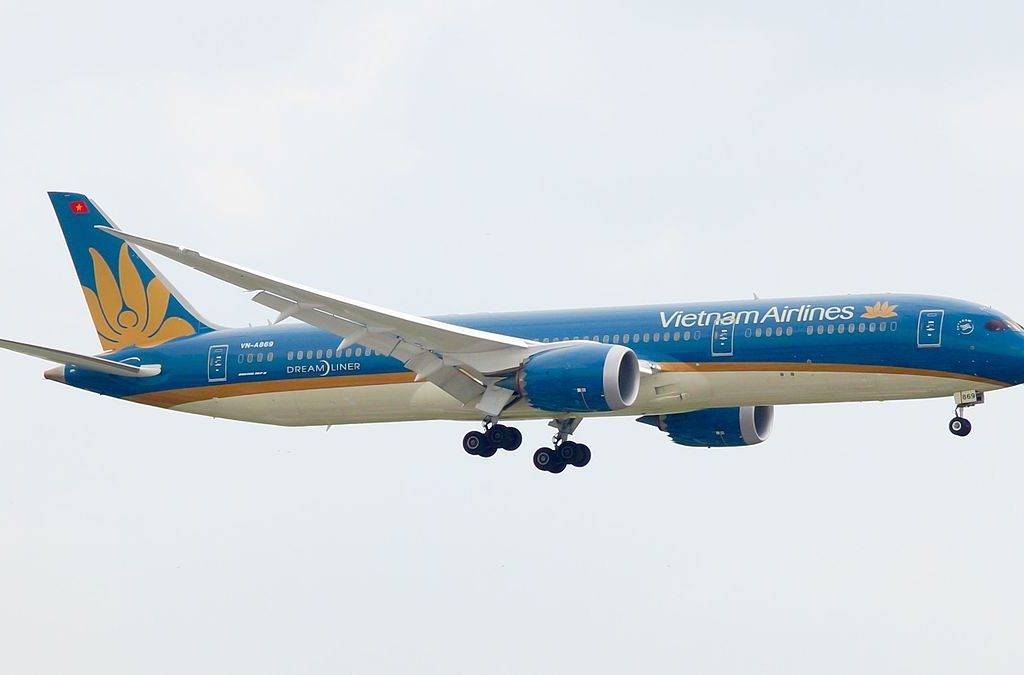 The plane is the fastest and most convenient way for you to travel from Ho Chi Minh City to Ca Mau. However, only the national airline Vietnam Airline operates this flight route of 1 hour 5 minutes with the price from 1,400,000 VND to 1,700,000 VND. Since the number of flights is limited, you should book the tickets as soon as possible.
– From Ca Mau to Nam Can mangrove forest
The forest is about 110km from Ca Mau city, so you can easily get there by motorbike, bus, or taxi. You need to move in the direction of National Highway 1A to reach Nam Can.
Read more: 4 thrill-seeking activities to try in Datanla Waterfall
4. Where to eat in Nam Can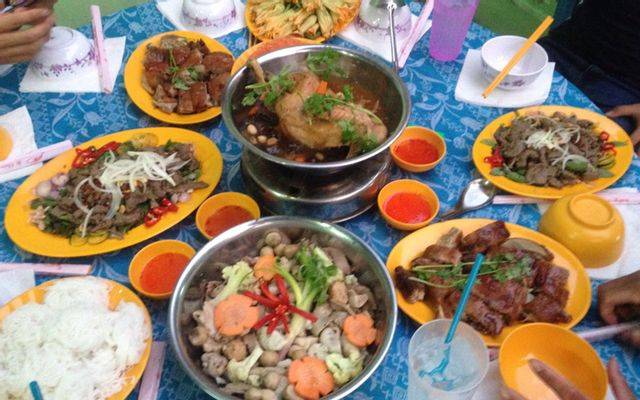 There are millions of unique local dishes that visitors should not ignore when coming here. For example, fried rats with lemongrass and chili, deep-fried anchovies, braised eels with cilantro, spicy Banh Tam, salt-roasted crab, etc.
* Some delicious yet cheap restaurants in Nam Can district you can refer to:
– 37 Sanh Quan at Nguyen Tat Thanh, Cai Nai Hamlet, Nam Can Town – Price: 40,000 VND – 250,000 VND.
– Am Thuc 779 at Hung Vuong, Area 4, Group 1, Nam Can town – Price: 40,000 VND – 100,000 VND
– Tang 2 restaurant (with a variety of notably seafood dishes) at Dinh Tien Hoang, Ward 9, Ca Mau City – Price: 15,000 VND – 400,000 VND
– Nhan Oc (specializing in snails) at 173 Bui Thi Truong, Ca Mau city – Price: from 25,000 VND – 77,000 VND.
– Hai Yen restaurant (specializing in all kinds of seafood) at Hung Vuong, Ward 7, Ca Mau city – Price: 30,000 VND – 100,000 VND.
5. Accommodation near Nam Can mangrove forest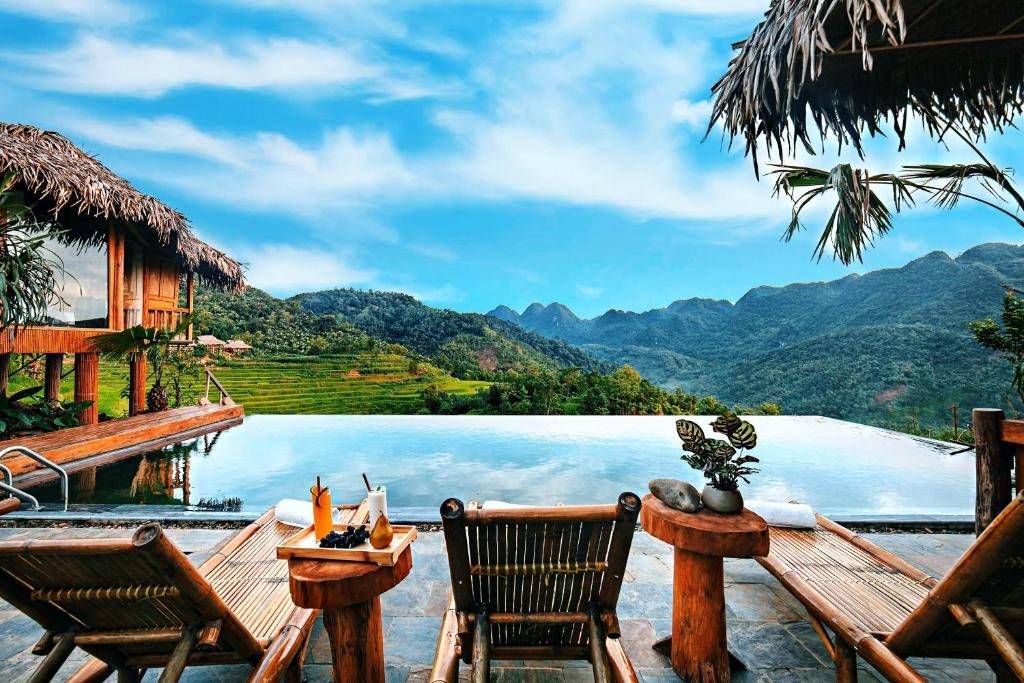 The most popular accommodation service in Nam Can mangrove forest is homestays since they're convenient to experience the lives of local people here. The price of motels and homestays is from 200,000 VND – 400,000 VND, which is very affordable.
* Some suggestions for motels and homestays in Nam Can:
– Ozon hotel: Ham Rong, Nam Can, Ca Mau – Phone: 0290.3876.868 – Price: 300,000 VND – 700,000 VND
– Cam Ha Hotel: 24 Ly Nam De, Nam Can, Ca Mau – Phone: 0780.3877.235 / 0908.877.235 / 0908.718.778 – Price: 150,000 VND – 300,000 VND – Email: [email protected]
– Ca Mau Trade Union Hotel: No. 25, Group 1, Nam Can Town, Nam Can District, Ca Mau Province – Phone: 0290.3730.761 / 0290.3730.510 – Price: 200,000VND – 250,000VND – Email: [email protected].
Read more: Ninh Binh, the land with masterpiece landscapes in most diverse terrain
6. The beauty of Nam Can mangrove forest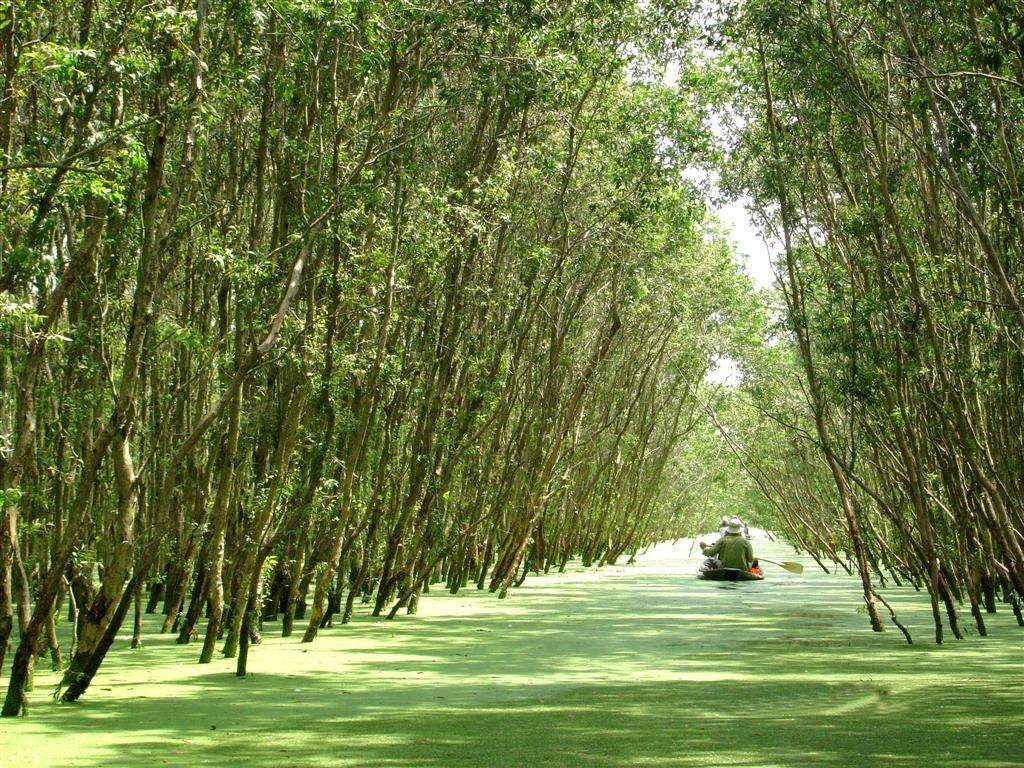 The most attractive thing in Nam Can mangrove forest must be the extremely diverse plant species, especially ferns. These trees grow alternately in the roots of mangroves; their green color blends in water, creating a very magnificent scenery.
You can take a boat to go deep into the forest to better admire the habitat and the animals' life, as well as see firsthand many hundred-year-old mangroves. On the way, sometimes you have to turn the branches of the mangrove tree to continue moving. The deeper you go inside, the fresher and cooler the air is. Also while on the boat, tourists can hear the boatman talk about the origin of the forest and listen to birds singing somewhere.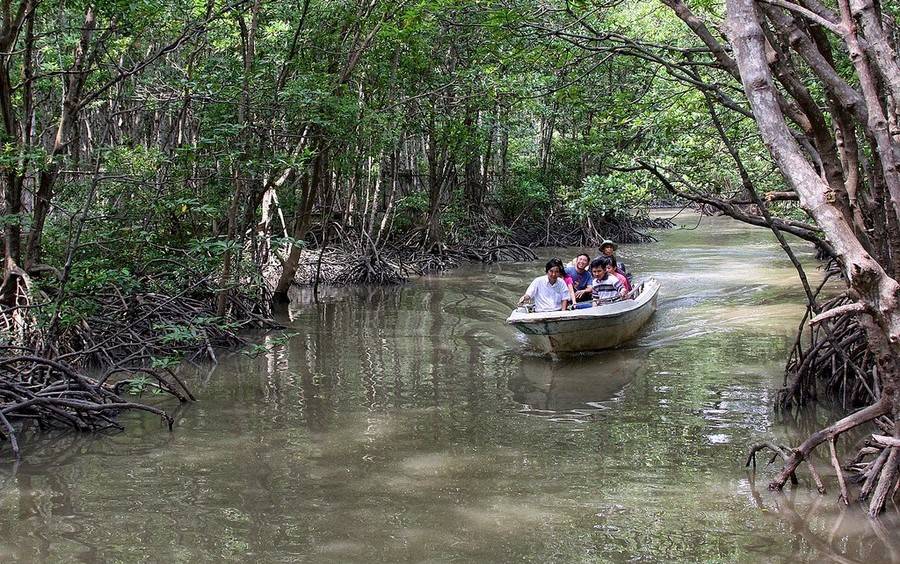 Most notably, the mangrove inert roots on and under the water surface stretch along the tangled canals of the Southwest, creating an extremely poetic picture.
The beauty of Nam Can mangrove forest is also embellished by its animals. When the breeding season comes, birds gather in the mangrove forest to feed and breed. Moreover, you will also admire other animals feeding on the flooded lawns with glittering dewdrops on top of grass. That peaceful and gentle scene will surely make any visitor fall in love with the land.
Read more: A flick through Ta Dung, the mini Halong Bay in Central Highlands
7. Notes when exploring Nam Can mangrove forest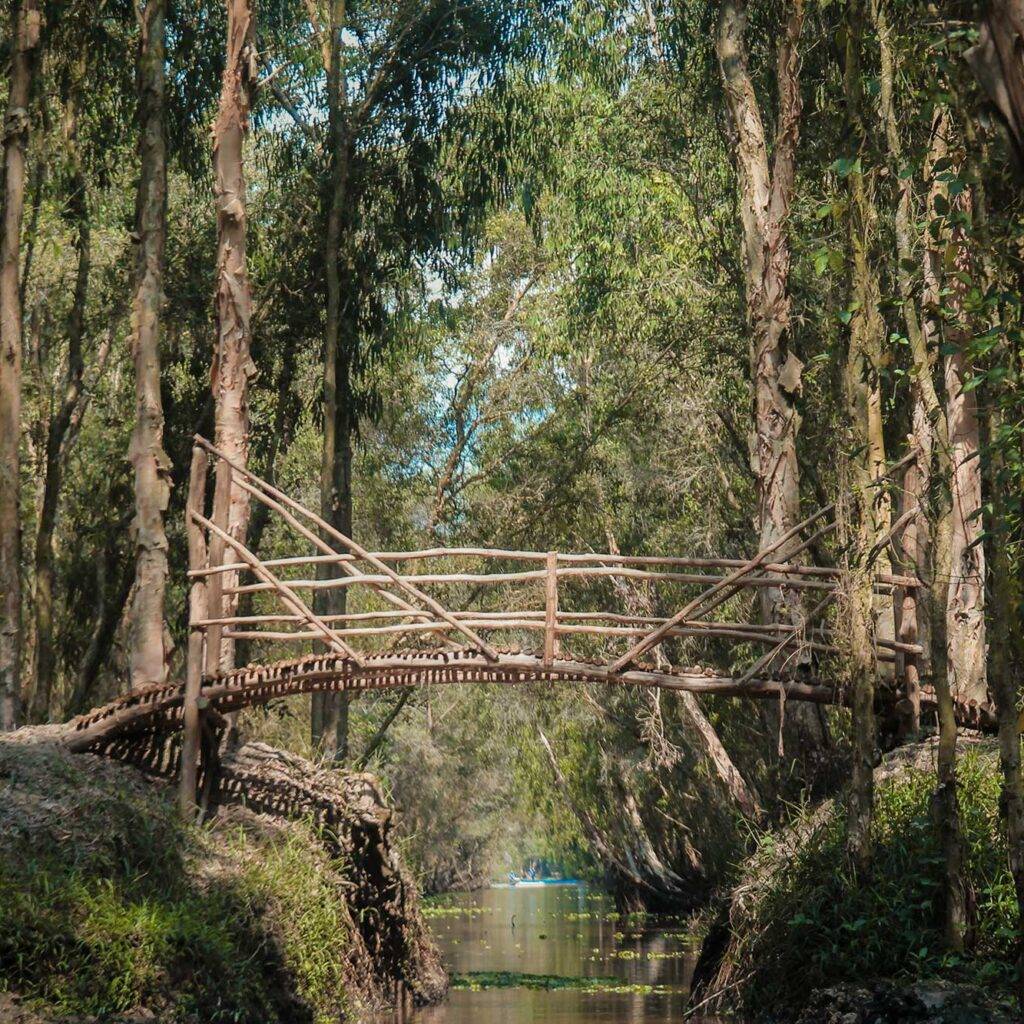 – Hiring tour guides: You should hire a local guide to help you go through the forest because the more you go deep inside, the more diverse nature is.
– Joining outdoor activities: You should fish yourself in the mangrove forest and enjoy the upshot right after getting on the land.
– Bringing repellent and allergy medicine: Because there are quite a lot of trees and strange insects, you should prepare yourself with allergy medicine, mosquito repellent when needed.
Currently, Nam Can mangrove forest is being preserved strictly as it welcomes thousands of domestic and foreign tourists to visit and study annually.
With an interesting motorboat traveling trip, you can float through the forests, seeing the vast biodiversity with different species of rare birds, animals, and reptiles, etc. Nam Can deserve to be the most interesting destination in Ca Mau that you cannot miss!