Ninh Binh, the land with masterpiece landscapes in most diverse terrain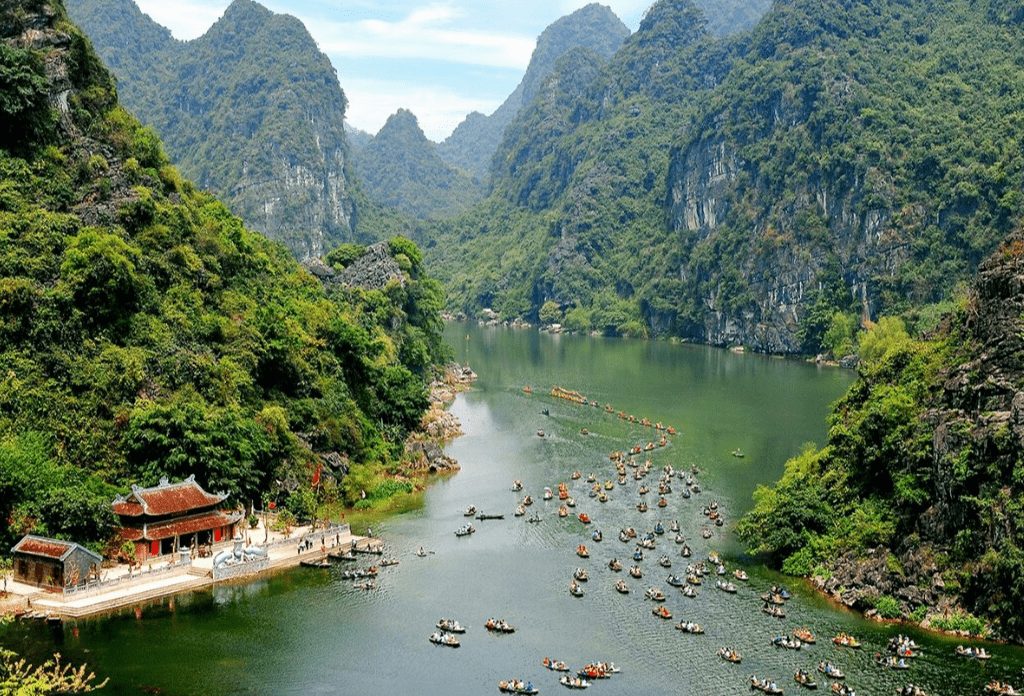 After the famous Hollywood movie Kong: Skull Island made a hit, Ninh Binh – the film's primary shooting site, became more exposed to international tourists for extraordinary landscapes. Indeed, the place is also named among the 14 Up-and-Coming Destinations in Asia to Visit by TripstoDiscover (with Sapa, Lao Cai).
With stunning authentic Vietnam sceneries, including both worlds heritage sites and record-breaking spots such as Trang An tourism complex, Tam Coc – Bich Dong, Bai Dinh pagoda, , Ngo Dong rice fields, Hoa Lu Ancient Capital, Thung Nham Bird Garden, etc, Ninh Binh has so much to offer tourists looking for a Vietnam serene trip yet full of wows.
I. About Ninh Binh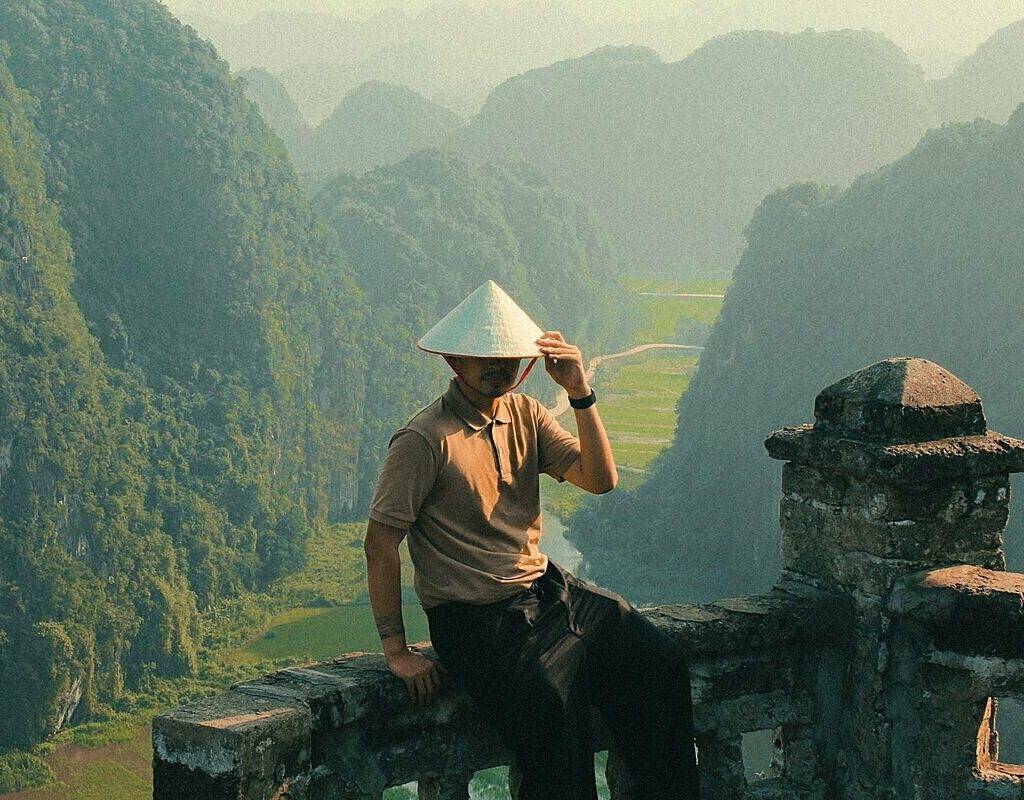 93 km southeast of Hanoi, lying at the end point of the bottom edge of the Red River Delta triangle, Ninh Binh features three types of terrain: mountains, coastal plain and lowland area. The mountainous areas in the northwest include Silver Cloud Peak in Cuc Phuong forest with an altitude of 648 m; the coastal plain in the southeast is home to numerous lakes, both natural and man-mad; forests in Ninh Binh have both production forests and special-use forests, of which, the Hoa Lu – Trang An forest has been recognized by UNESCO as a world heritage site in the Trang An landscape complex.
In addition, Ninh Binh has a coastline of 18 km, which is the shortest one in Vietnam. The coastal and marine areas here have also been recognized by UNESCO as a world biosphere reserve. Not only that, the flooded limestone mountains create many interesting caves such as Tam Coc – Bich Dong, Van Trinh cave, Tien cave, Thien Ha cave, Trang An cave, Ma Tien cave, Hoa Son cave.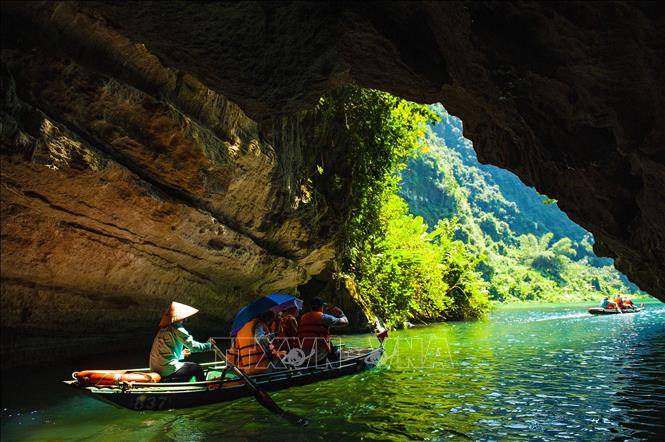 Back to the period 968 – 1010, Ninh Binh was chosen to be the very first capital of Vietnam throughout three dynasties Dinh, Tien Le, and Tien Ly. The land was an important location in terms of military, traffic, topography, and cultural history.
Ninh Binh is located in a humid subtropical area with a tropical monsoon climate, characterized by cold, dry winters and hot, humid summers with rains. The two best times to visit Ninh Binh are spring and early summer. In the spring, from January to March, the climate is not too cold, which is also an ideal time for spiritual tourism activities at Bai Dinh pagoda, Trang An, Stone church. Meanwhile, the summer time from April to June is cool with a little rain, suitable for plants to grow, especially the ripe yellow rice fields in Tam Coc and the diverse ecosystem of Cuc Phuong forest.
Read more: The magnificent interprovincial coastal road from Ninh Thuan to Phu Yen
II. How to travel to Ninh Binh
*From Hanoi: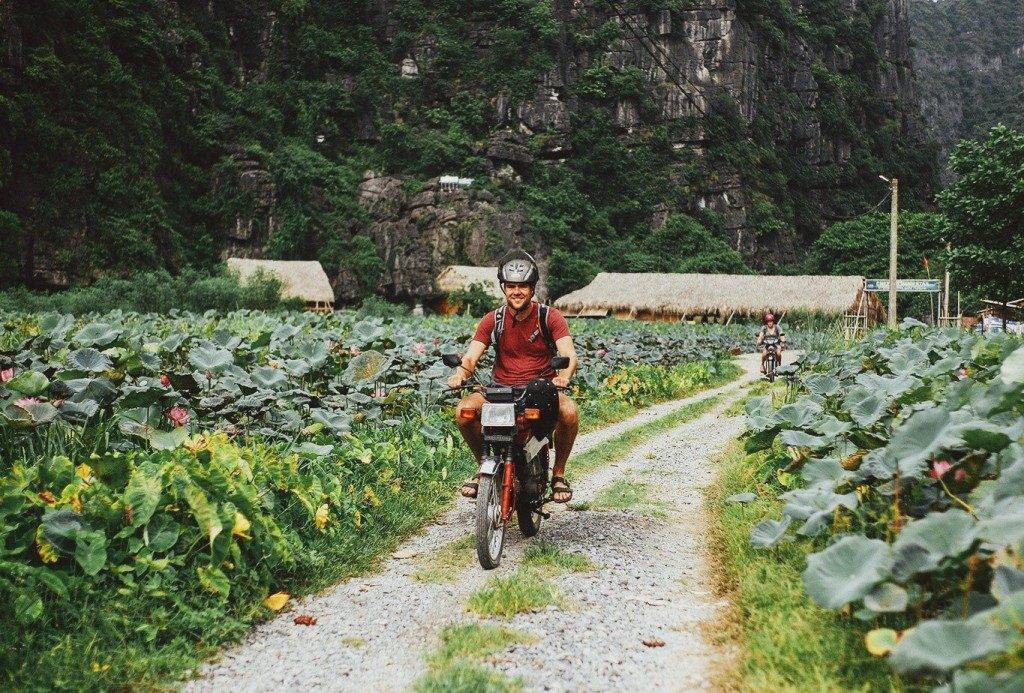 Since the distance Hanoi – Ninh Binh is just about 90km, it's quite convenient to use different transportation to travel.
You can either catch buses at My Dinh, Giap Bat or Yen Nghia Bus Stations for about 100.000 – 150.000 VND/person, or riding a motorbike to Ninh Binh by yourself to save costs and time. The journey direction should be: From the center of Hanoi, follow Liberation to Giap Bat bus station, then turn left to Phap Van – Cau Gie highway. Continue to move in the direction of Phu Ly – Ninh Binh.
*From other provinces/cities:
Train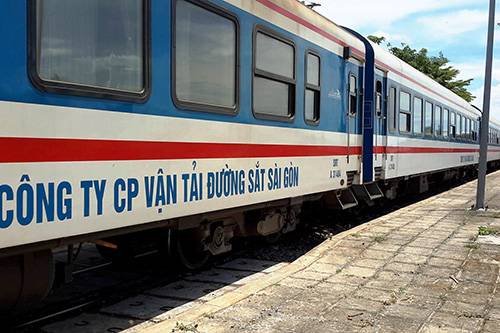 Ninh Binh Train Station is located near the city center, so you will easily be accessible to the province from other places by train at 500,000 – 650,000 VND/ticket, depending on your departure.
Other provinces from the North: choose the SE1 (19:30), SE3 (22:00), SE5 (9:00), SE7 (6:00) and SE19 (20:05) trains. The travel time is about 2 hours.
From Ho Chi Minh City: choose SE2 (1:38), SE6 (16h55), SE8 (12:49) trains. The travel time will take more than 20 hours.
Plane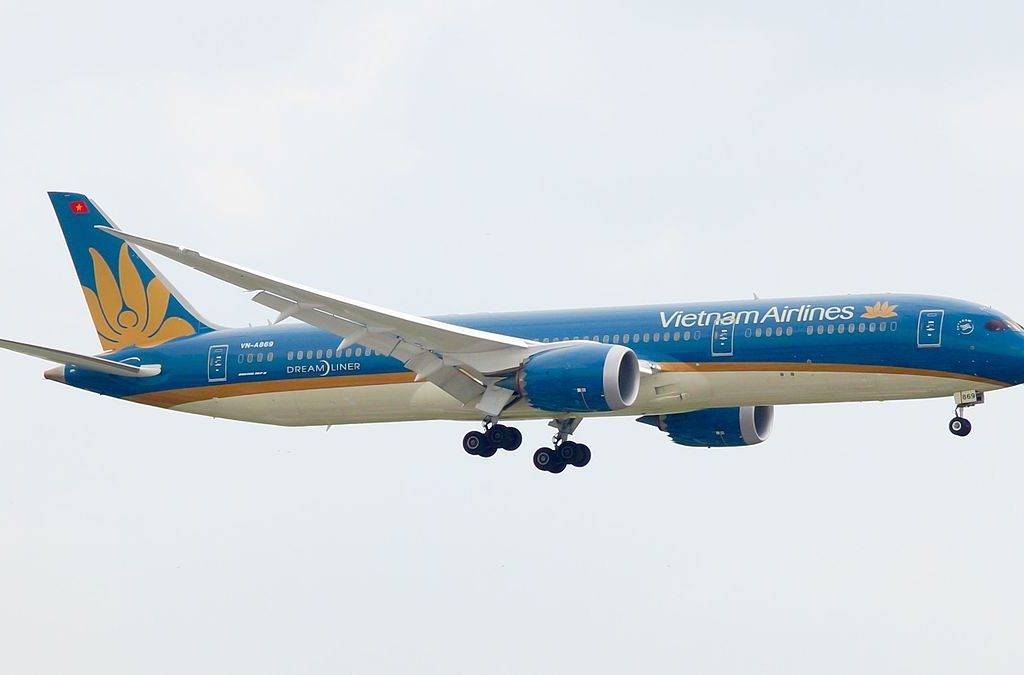 You can also travel by plane from where you are to Hanoi, then from there, continue to move to Ninh Binh by bus or motorbike.
III. Where to stay in Ninh Binh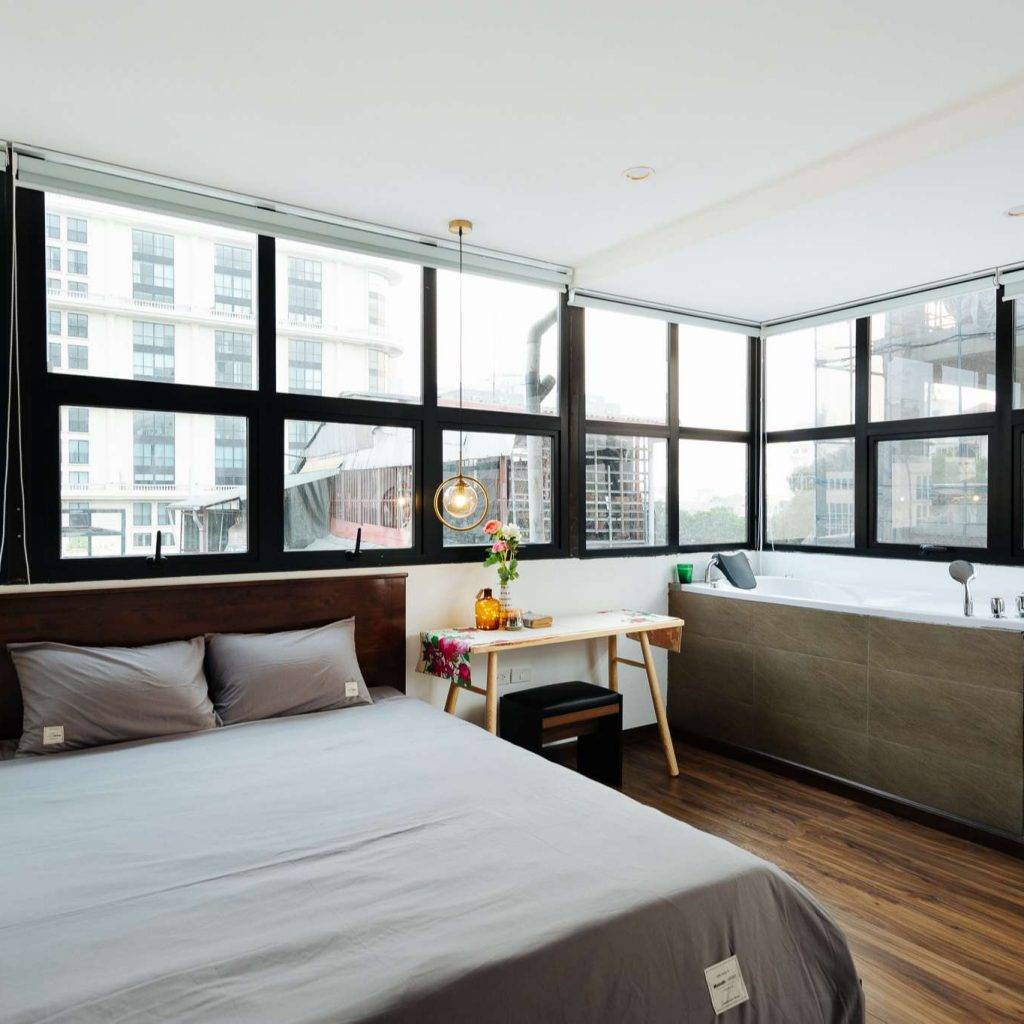 The hospitality system in Ninh Binh is flourishing day by day to meet all segments. You can find a variety of hotels around the city, from affordable to advanced. Still, it's recommended to stay in the city center area to easily visit different places.
If you are planning a vacation at luxury hotels, refer to these few names like Emeralda Resort Ninh Binh, Tam Coc Lavender Homestay, Ninh Binh Hidden Charm Hotel And Resort. Their prices range from 1,500,000 – 2,500,000 VND/night.
For mid-range hotels from 400,000 – 700,000 VND/night, you can choose to stay at Hoa Lu 2 Hotel, or Gold Ninh Binh Hotel. They are all in the city center and fully-furnished.
In case you prefer a quiet space and close to nature, then homestay is the right choice for you. Some famous homestays in Ninh Binh are Sparrow's Song Homestay, Tam Coc Sweet's Home, and Hang Mua Family Homestay; the prices range from 200,000 – 300,000 VND/night.
IV. Where to visit in Ninh Binh
1. Trang An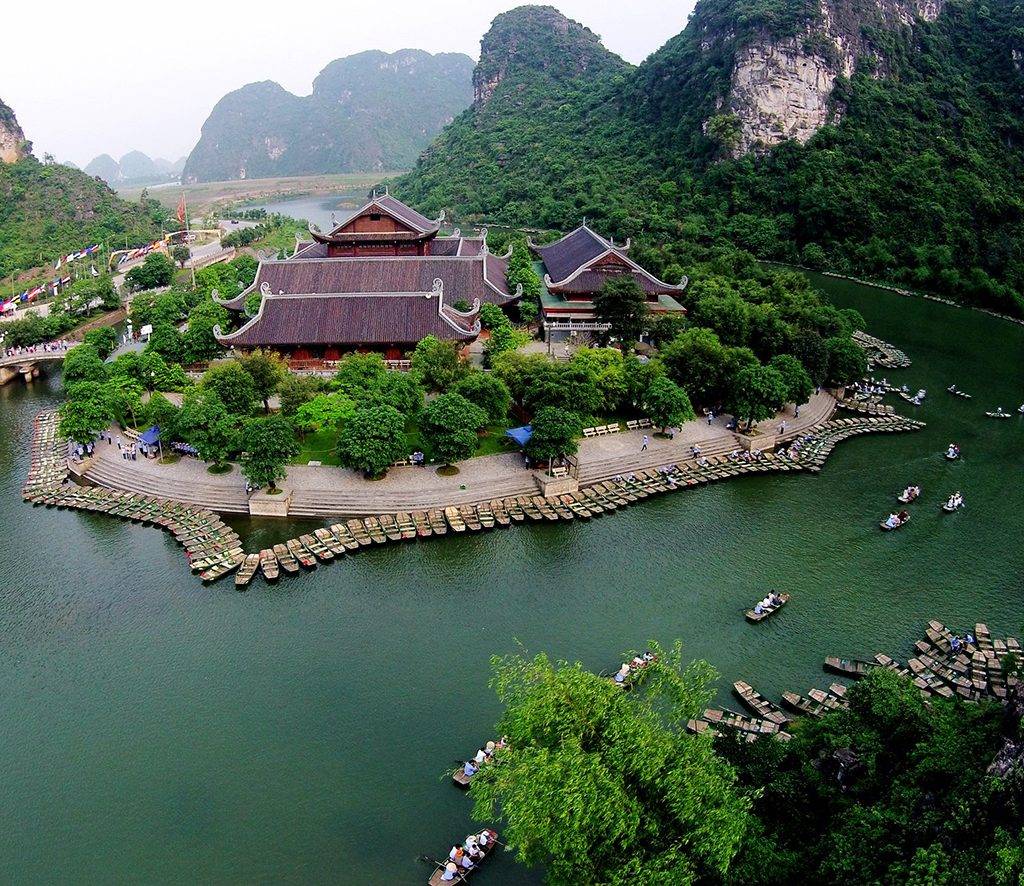 With an area of ​​over 6000 hectares, Trang An is known as "Ha Long Bay on land" with its natural cave complex and unique limestone mountain system. 48 caves connect with 31 wetlands and 2km of waterborne caves like Sinh Duoc, Dia Linh, Toi or Sang; each cave features exactly like its own name, for example, Toi Cave has unexpected openings while Sang Cave contains extraordinary stone stalks. Thanks to its beautiful unspoiled natural scenery, Trang An has been recognized by UNESCO as a natural heritage and a world cultural heritage.
The destination can either be accessed through simply walking or traveling by organized boat tours lasting for more than 1 hour. You can choose between two routes – one going through 9 caves, while the other will pass 4 caves and the set of the movie Kong: Skull Island. Comfortably sitting back while the boat weaves through the caves, you will see firsthand the system of natural stalactites pouring into the water. The boatman will also stop at certain places for you to visit. You can also paddle the bamboo boat with friends if you want.
Admission: 250,000 VND/adult, 120,000 VND/ child ticket, 6 people per boat. The guide fee will cost 300,000 VND/tour.
2. Hoa Lu Ancient Capital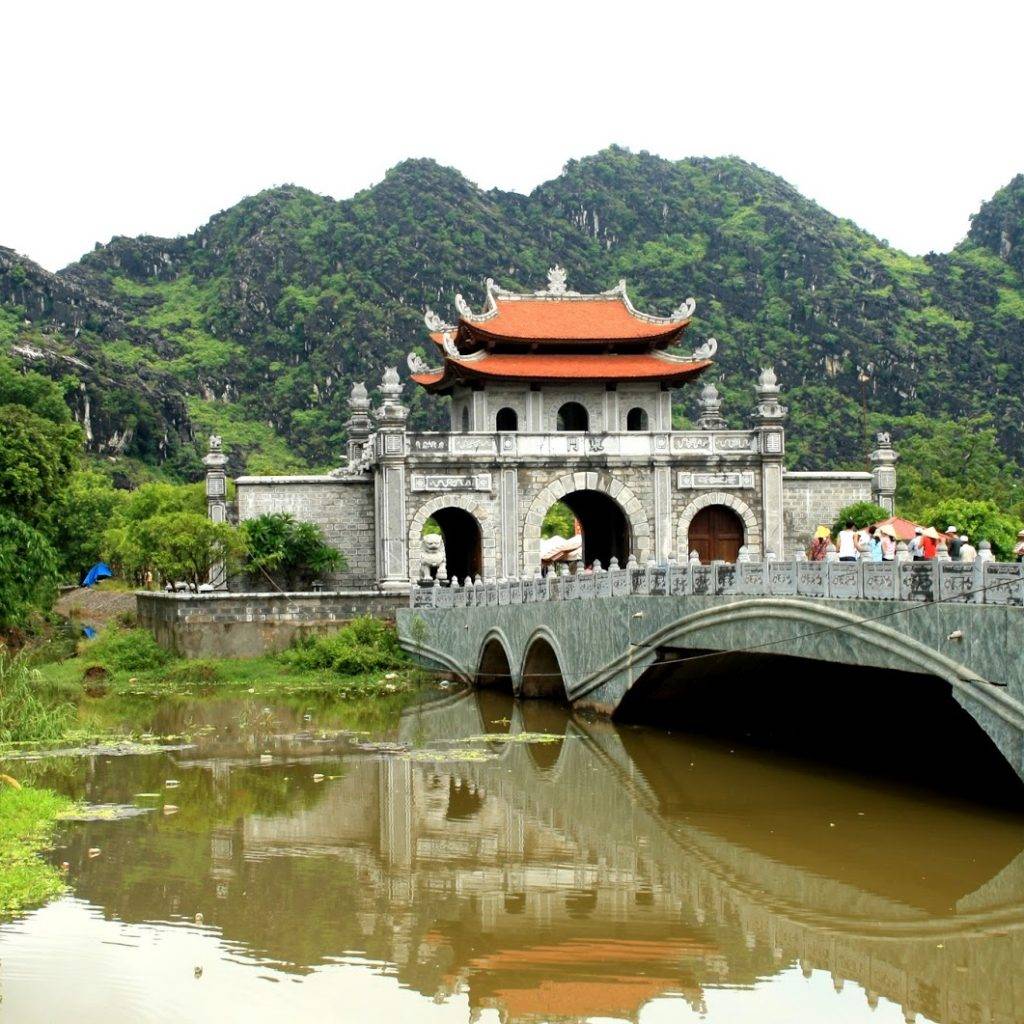 Hoa Lu Ancient Capital, one of the four core areas in Trang An World Heritage complex, is a system of relics related to the historical figures in three dynasties, Dinh, Tien Le and Tien Ly. Hoa Lu was the first capital of the centralized feudal state in Vietnam with historical imprints: the country's reunification, the defeat of invaders, and the process of moving the capital to Hanoi (1010).
Coming here, visitors can visit the temples of King Dinh and King Le. All the works bring distinctive architecture of wood carving by Vietnamese folk artists in the 17th century, with many precious and rare antiques preserved such as palace bricks engraved with the word Dai Viet Quoc military citadel and Buddhist scriptures engraved with Sanskrit characters.
King Ding Temple was built in the style of domestic and foreign affairs with the main axis towards the east, the front facing Ma Yen mountain. King Le Temple worships King Le Dai Hanh, Queen Duong Van Nga, Le Long Dinh, Princess Le Thi Phat Ngan and General Pham Cu Luong. The place is located 300 meters from the temple of King Dinh Tien Hoang, in the east citadel of the ancient capital.
Admission: 20,000 VND/person
3. Tuyet Tinh Coc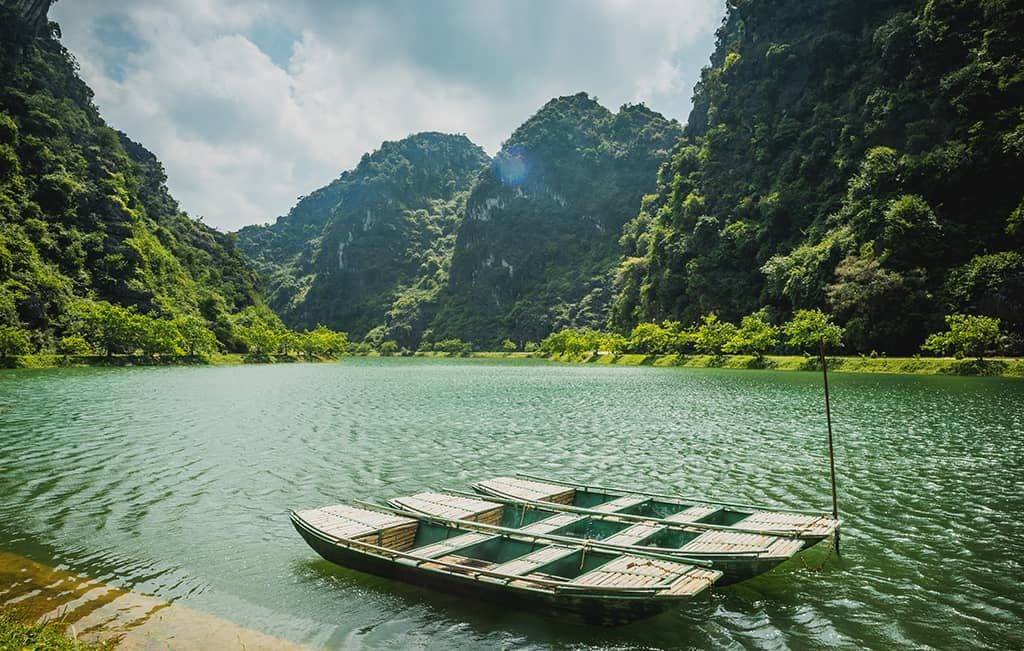 Not far from Hoa Lu Ancient Capital is Tuyet Tinh Coc, with the original name of An Tiem Cave, where King Dinh Tien Hoang used to build a law school, raise wild animals. There is a temple where Queen Duong Van Nga came to practice Buddha at the end of her life.
Tuyet Tinh Coc stands out with emerald green water surrounded by green rocky mountains all year round. One of the pleasant things about this place is the very clean environment. Trash cans are placed everywhere, the cleaners are always cleaning up. Another plus point is that around the lake area, there are many flowers planted, softening the dryness of the surrounding rocky mountains.
Admission: 20,000 VND/person.
4. Bai Dinh Pagoda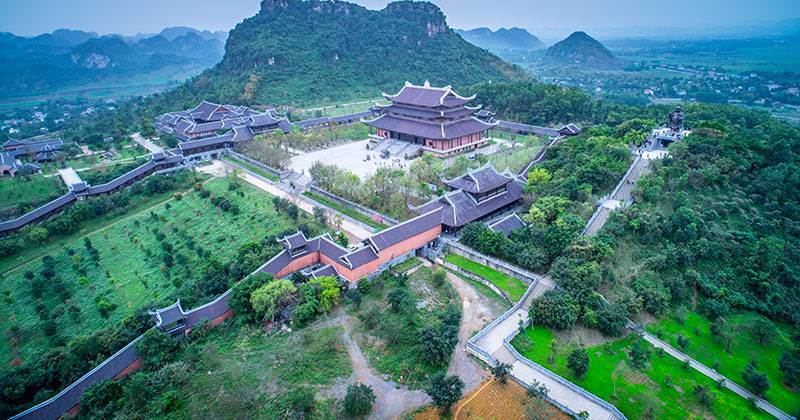 Located at the western gateway of Hoa Lu ancient capital, 15 km from Ninh Binh city, Bai Dinh Pagoda is a large temple complex known for many Asian and Vietnamese records such as the Asia's largest golden bronze Buddha statue, the longest Arhat corridor in Asia, and the largest bronze Maitreya statue in Southeast Asia.
The dynasties in the capital Hoa Lu at that time respected Buddhism, therefore, the pagoda played a vital role in local spiritual life. This is also the place where King Dinh Tien Hoang chose to set up an altar to pray to defeat the 12 warlords. Over 1,000 years of history, Bai Dinh Pagoda still preserves many cultural features of Vietnamese history.
Today, the pagoda complex currently covers an area of ​​1700 hectares, including 27 hectares of ancient Bai Dinh pagoda area, 80 hectares of new pagoda area and areas such as cultural park and Buddhist academy, reception area and park. landscape, roads and parking lots, Dam Thi lake area, liberation lake.
Admission:
Tram ticket: 30,000 VND/person
Tickets to visit the stupa: 50,000 VND/person
5. Tam Coc – Bich Dong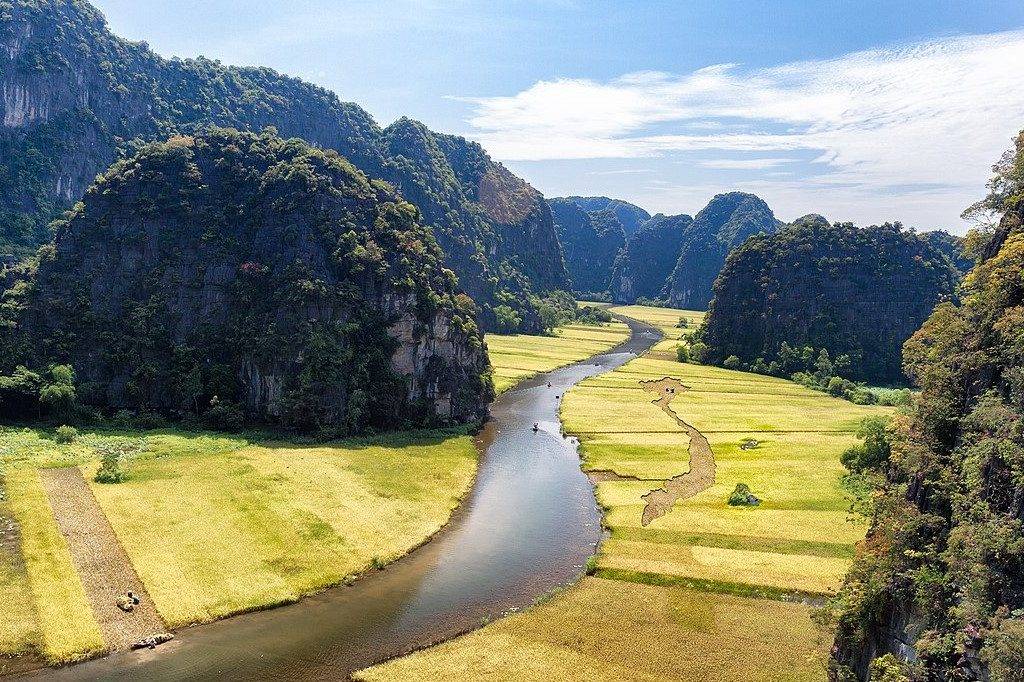 Tam Coc means "three caves" with a series of caves including Ca cave, Hai cave and Ba cave, created by the Ngo Dong river crashing through the mountain.
Ca cave is 127m long with a cave entrance over 20m wide, through a large mountain. Penetrating inside, you will feel the cool air and admire various stalactites hanging down with different shapes and sizes. Nearly 1km from Ca cave is Hai cave with a length of 60m which also has peculiar limestone shapes. Ba cave has a length of 50m, near Hang Hai, with a lower height than the other 2 caves, like a giant stone arch.
Bich Dong, known as "Nam Thien De Nhi Dong" (the second most beautiful cave in Vietnam), is located 2km from Tam Coc. Bich Dong, also means "green grotto", consists of a dry cave located halfway up the mountain – where Bich Dong pagoda is located and a water cave piercing through the mountain called Xuyen Thuy Dong. A part of Bich Dong, Fairy Grotto is even honorably regarded as an "Elysium on Earth".
6. Cuc Phuong National Park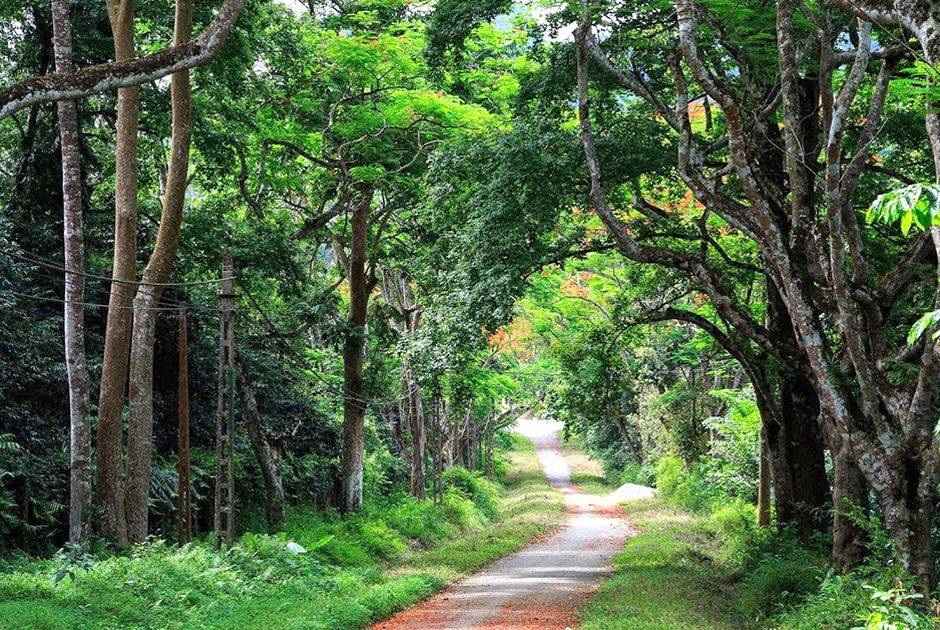 This is the first nature reserve in Vietnam and is also a special-use forest located on the boundary of three provinces, Ninh Binh, Hoa Binh, and Thanh Hoa.
With the characteristic of tropical rainforest that is green all year round, Cuc Phuong has an extremely rich and diverse flora and fauna. According to recent survey data, the forest has 2234 species of higher plants and mosses, in which, there are 433 species of medicinal plants and 229 species of edible plants; many species are also listed in the Red Book of Vietnam.
Regarding animals, has 122 species of reptiles and amphibians, 66 species of fish, nearly 2000 species of insects, 135 species of mammals. With 336 resident bird species, especially many endemic to Vietnam and Indochina, Cuc Phuong has long been an ideal spot not only for birdwatchers but also wild explorers.
7. Van Long Natural Reserve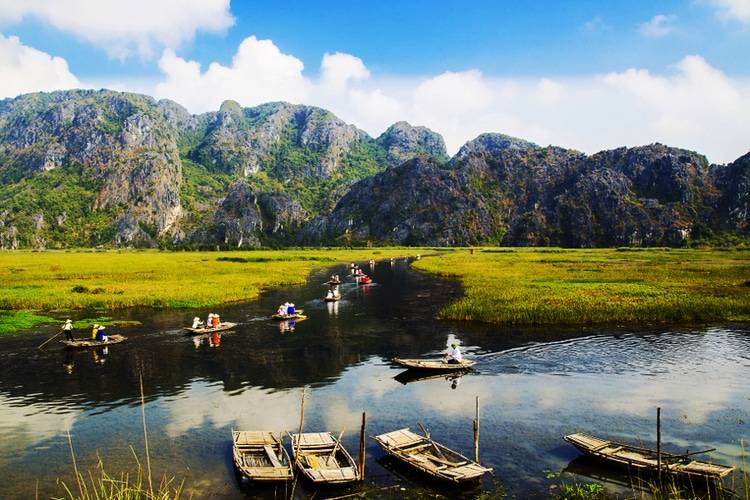 Van Long is the largest wetland nature reserve in the Northern Delta, which has been put into tourism since 1998 and is now a key tourist destination with records, the place with the largest number of white-breeded langurs and the place with the largest natural picture.
Not only that, but Van Long wetland also features extremely attractive landscapes likened to "the bay without waves" since the water surface is as flat and calm as a giant mirror. The water here is not blue as in the sea, but clear enough to show the layers of moss on the bottom. You will also be impressed by the backdrops from the limestone formations of multiple interesting names, Meo Cao, Mam Xoi, and Hom Sach.
Admission: 20,000 VND/ticket
Boat rental: 80,000 VND
8. Thung Nham Bird Garden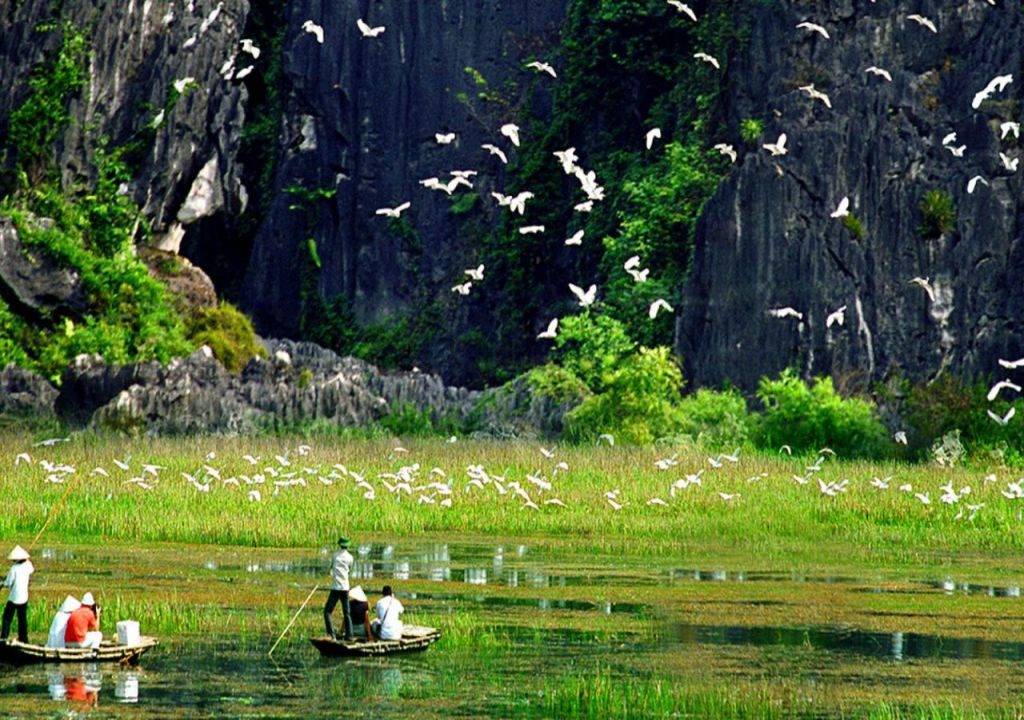 Thung Nham Bird Garden – Ninh Binh is a primeval forest space combined with flooded forest, which is home to many species of birds such as storks, cauldrons, storks, warblers, herons and egrets, especially two rare species. In the red book are cranes and phoenixes. To visit the bird park, visitors can rent a bicycle or take a boat tour. However, a boat ride is a good deal if you want to see the birds up close. The boatman will hang around the floating tree village for about 20-30 mins before heading back for you to observe the bird garden more closely.
Aside from the birds, tourists also found the park to be a lovely place to stroll around. Continuing the tour, the boat will take visitors to the caves in the route, including But cave, Vai Gioi cave, Tien Ca cave, etc. eye. However, there are a few other places that are dark so you need to prepare a flashlight or lamp to explore.
Thung Nham Bird Park has been renovated according to an integrated ecological architecture, including fishing tourism, garden tourism, visiting wetlands, primeval forests, caves, camping and climbing.
Admission: 100,000 VND/adult; 50,000 VND/child
9. Mua Cave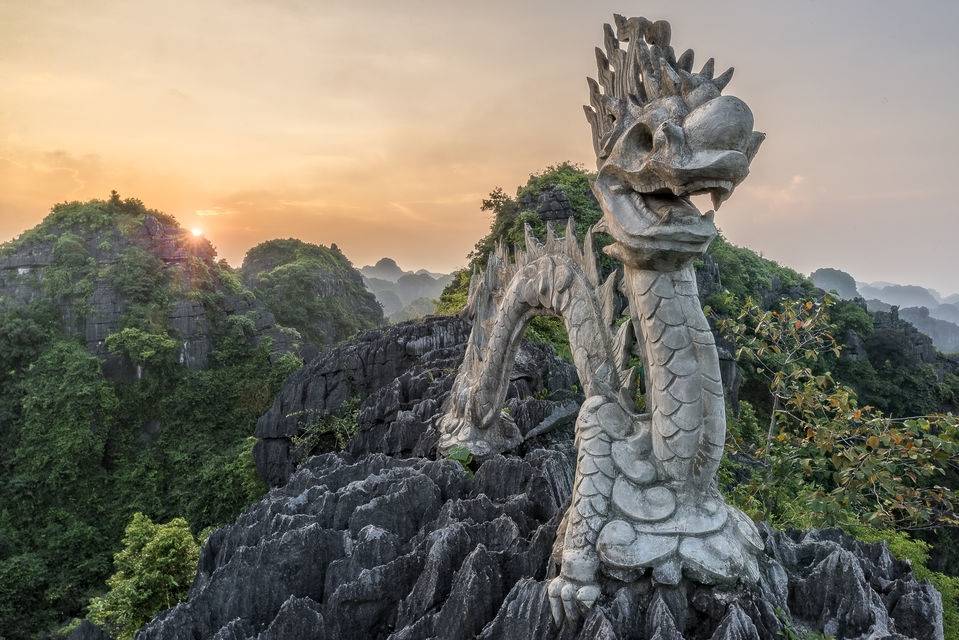 Mua Cave located at the foot of Mua Mountain is led by a road built in imitation of the Great Wall of China architecture with nearly 500 stone steps. Don't forget to bring comfortable shoes since the stairs are very steep. On the top of Mua mountain, there is a statue of a dragon stretching out, so the place is also called Ngoa Long mountain.
To a few people, Mua Cave might not be a notable site, but the view from the peak is absolutely worth a visit. From the top of Mua mountain, visitors can admire the stunning beauty of Tam Coc – Bich Dong area from the golden rice fields stretching to the vast river scenery. This also helps tourists understand the scenery and the area better. According to legend, when King Tran returned to Hoa Lu to establish Am Thai Vi, he often came here to listen to the beautiful ladies, concubines dancing and singing, so this place was named Hang Mua. It's highly recommended to come here when the sun is setting.
Admission: 100,000 VND/person
10. Kenh Ga Floating Village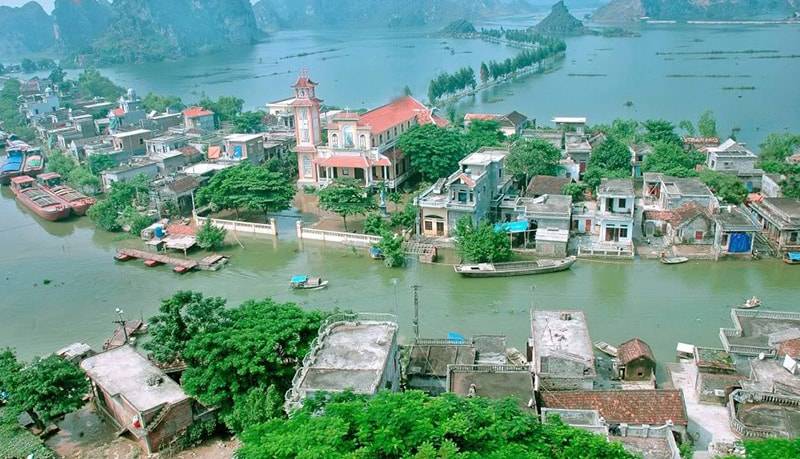 With a slight similarity to the floating villages in Red River Delta, Kenh Ga is the confluence between the Boi and Lang rivers flowing into the Hoang Long river, people also call this place Vong Am because the weather here is always warm all year round. The beautiful scenery here has caused many migrants to live here for a long time and do fishing, forming a fishing village called Kenh Ga.
The vast Hoang Long river flows smoothly around the village, winds through the lush green tree lines and embraces the bright red tile-roofed houses. Compared to other places in Ninh Binh, Kenh Ga Floating Village seems to be much less touristy, nevertheless, the place is incredibly appealing to those who look for beautiful countryside landscapes, and traditional rural life with hospitable locals as how Vietnam travel should be.
Originating from a cave next to Kenh Ga Floating Village, Kenh Ga Hot Spring is a must-try place when coming to the village. The hot spring is highly appreciated for the high amount of mineral ingredients, the clear and odorless water and the stable temperature at 53 Celsius degrees, which can help you to relax and cure some potential diseases.
Admission: 15,000 VND/person
Hot spring bath: 75,000 VND/person, free for children under 1 meter in height