Quy Nhon, a lucky find for magical sunrise on peaceful beaches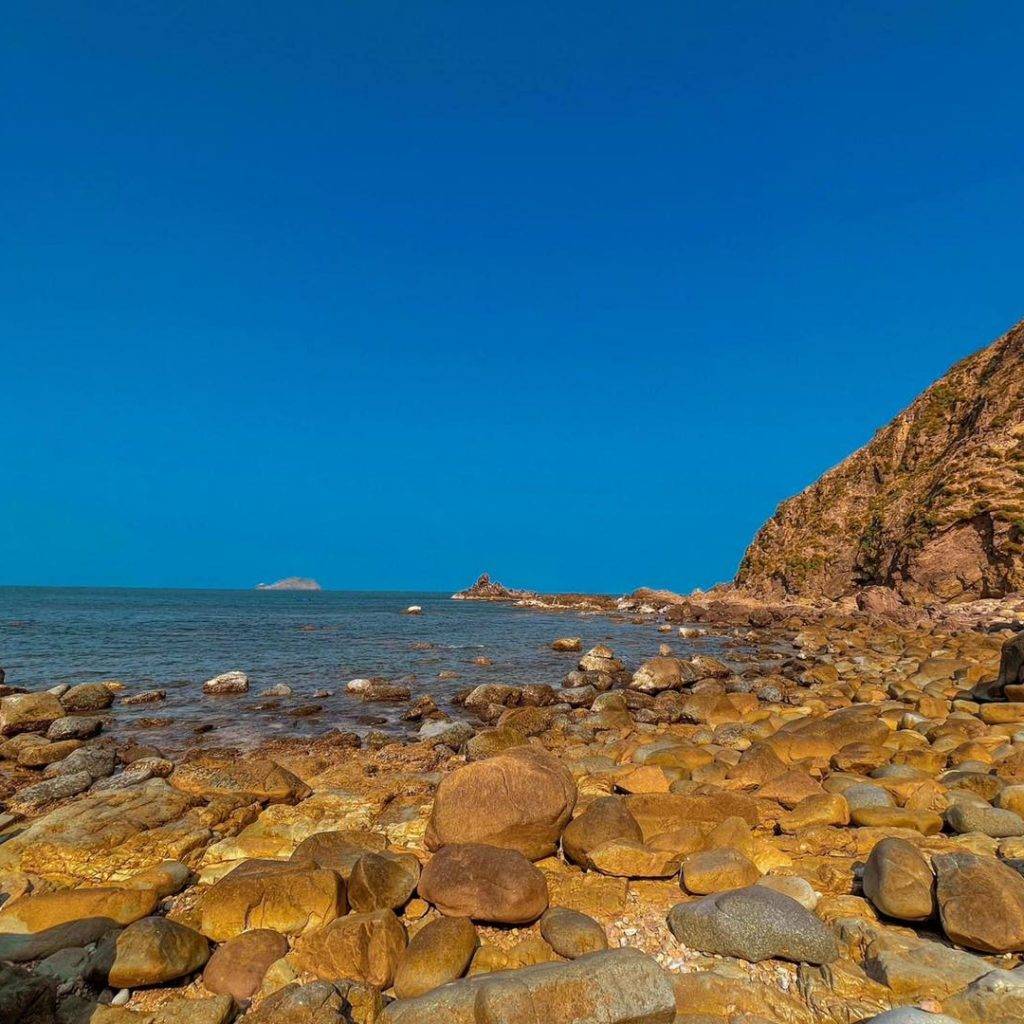 Nestled between the mountains on one side and the long curving coastline on the other, with ravishing blue water running along the fine golden sand, Quy Nhon promises to bring visitors an impressive vacation doing countless fun activities at spotless attractions: a leisurely walk to feel the cool air on the crescent-shaped beach road stretching 5 km from Mui Tan to Ghenh Rang, immersing yourself in the jade green beach playing with the waves, watching poetic sunrises at Ky Co – Eo Gio, or participate in snorkeling or canoeing in Hon Kho and Cu Lao Xanh, and so on. It's also not difficult to find a reasonable restaurant to stuff your hungry tummy right on the beach area, or at the nearby Xuan Dieu seafood food street, and the famous snack street Ngo Van So.
I. About Quy Nhon
Quy Nhon is situated in the southeast of Binh Dinh province, in the South Central Coast region of Vietnam, about 649km from Ho Chi Minh City.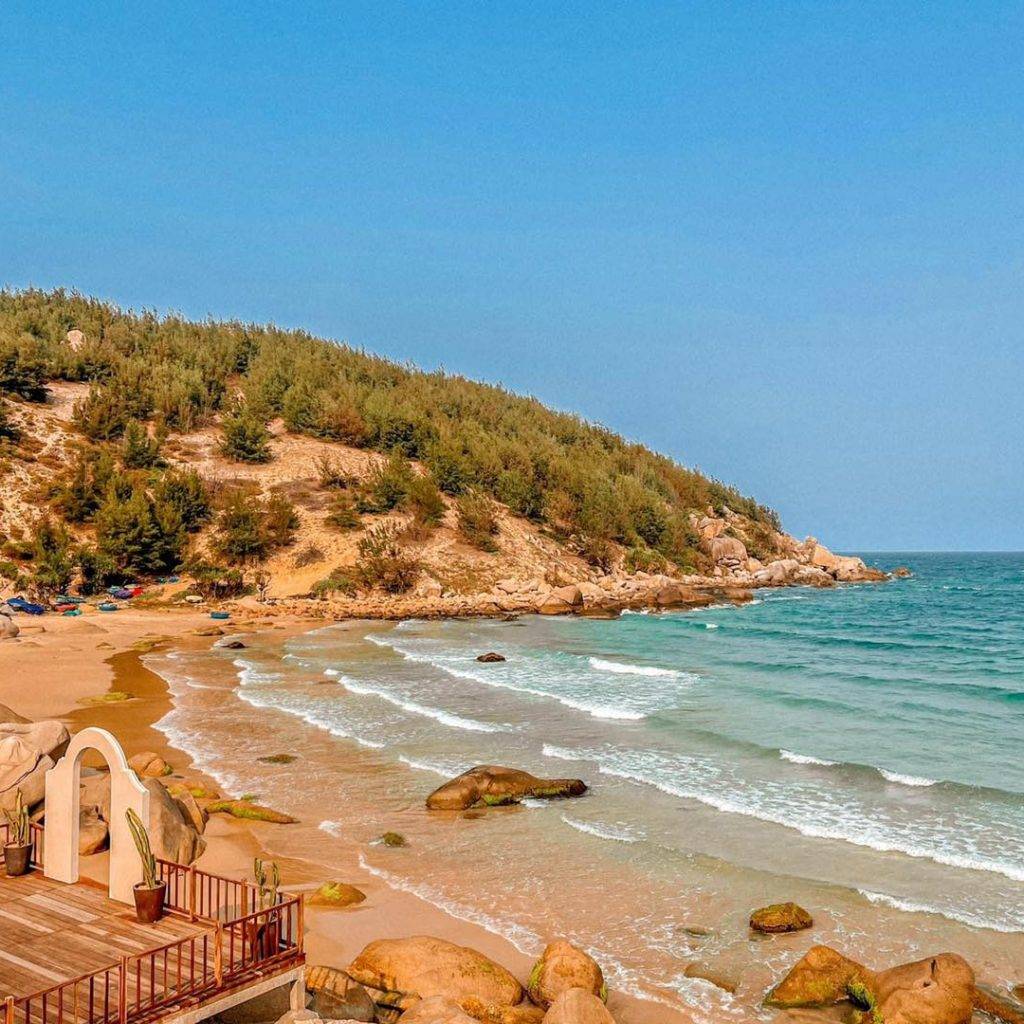 The diverse topography of mountains and sea is a tourist advantage for this small city, offering innumerable stunning attractions such as pristine beaches, breezy golden sands, unspoiled islands, and peaceful fishing villages. Going for a walk on the beach or cycling around the fishing village are great ideas.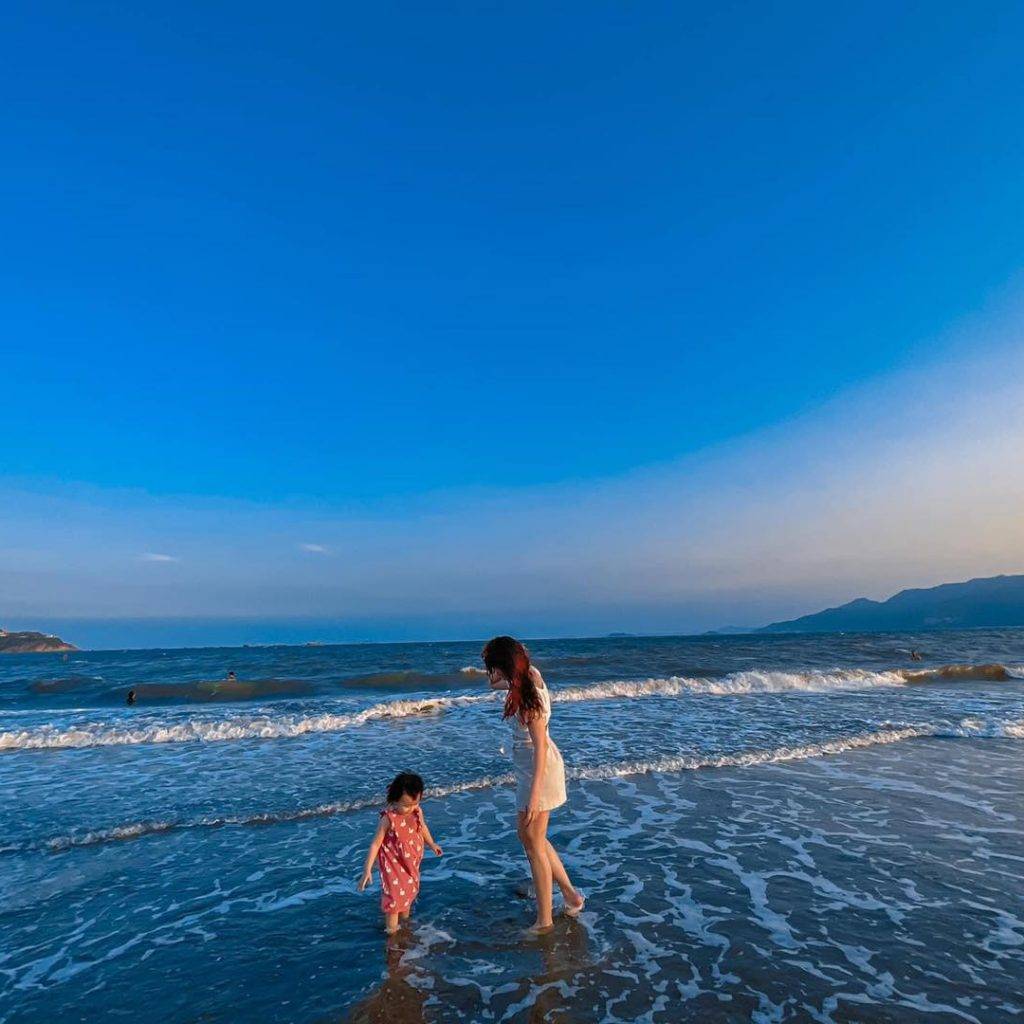 As the locals mainly do fishing and tourism, the pace of life here is quite tranquil. The city even quickly falls into silence just around 10 pm. Meanwhile, the most bustling places by night are the areas of CoopMart supermarket and Xuan Dieu street culinary.
The rainy season only happens the last 2-3 months of the year, from October to January next year. The rest of the time, the weather is dry, sunny but not sultry, especially from May to September, making it suitable for tourism activities both on the coast and offshore islands of Cu Lao Xanh and Hon Kho.
II. Where to visit in Quy Nhon
1. Hoang Hau Beach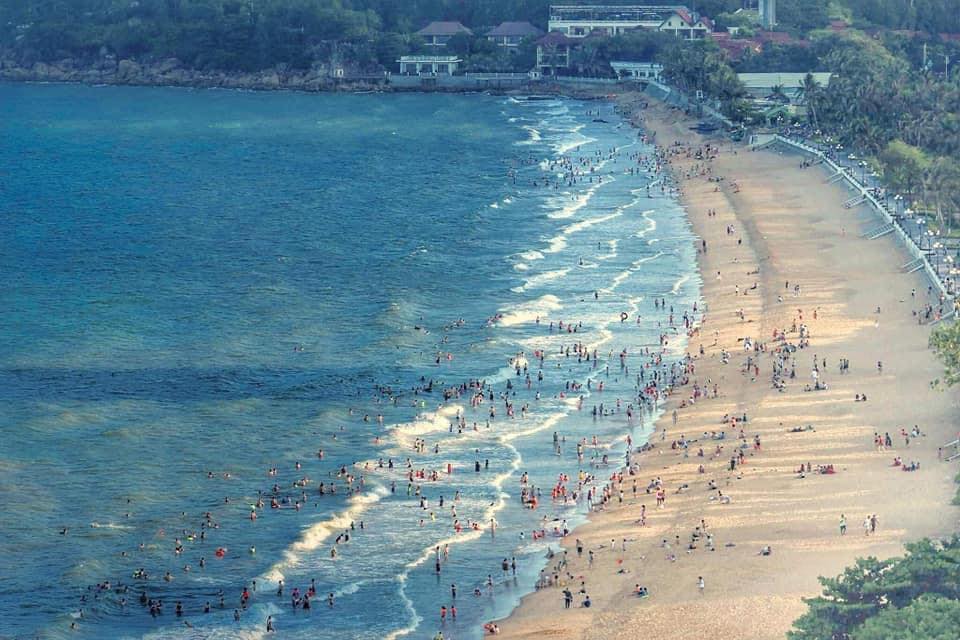 Hoang Hau is the main beach of the city, including two clear natural beaches, Tien Sa and Da Thu, both located in the Ghenh Rang area. Besides the striking blue water and gentle waves, the highlight of this area is the rocky shore made up of thousands of round, egg-shaped stones.
Tourists can reach this beach by motorbike or taxi, to easily combine visiting the stone church and the tomb of the famous Vietnamese poet – Han Mac Tu nearby.
2. Ky Co – Eo Gio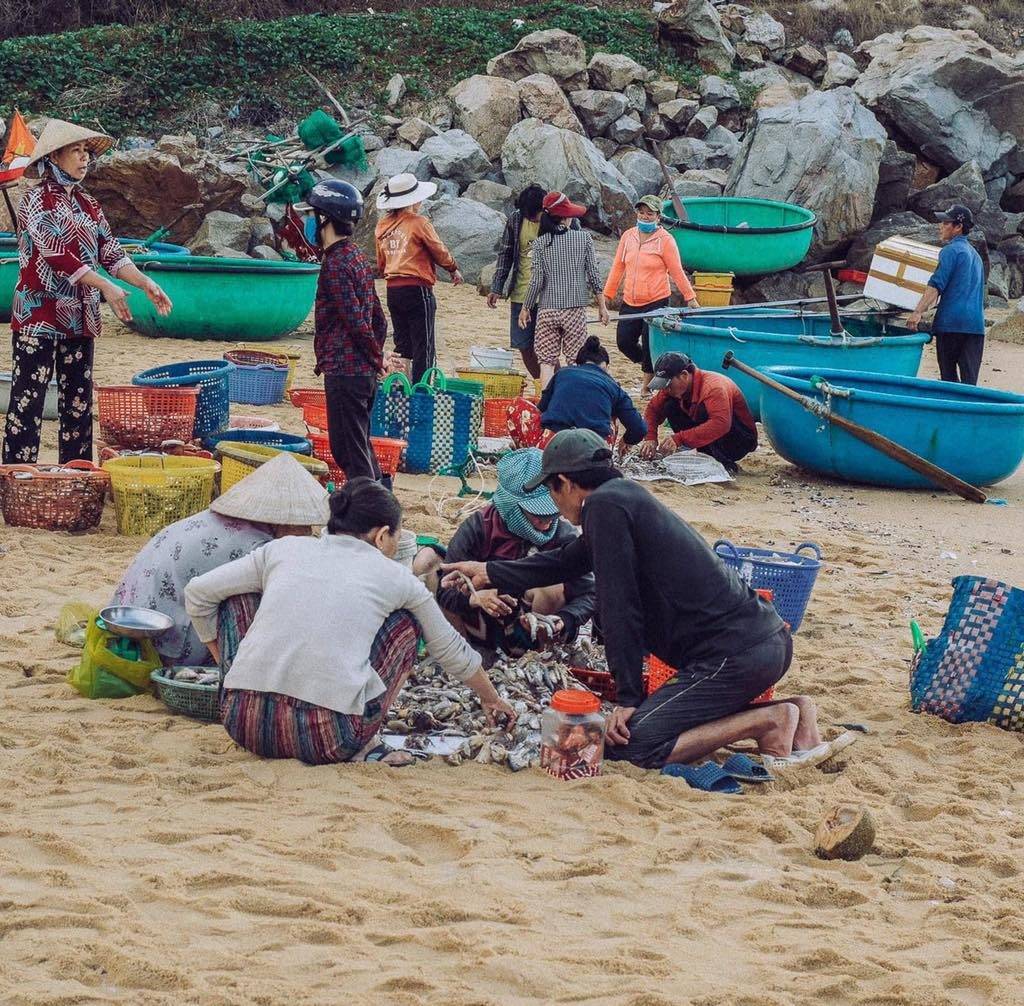 25 km northeast of Quy Nhon city, Ky Co beach has one side bordering the sea while the other 3 sides are hills and mountains. The beach here is shallow, crystal clear, and calm, suitable for families with kids. Tickets to visit Ky Co are 100,000 VND/person and the last transit ticket is 40,000 VND/person. In addition to swimming and diving activities, visitors can rent huts to relax on the beach, join jet skis, parachutes, or camp.
The east side of the city is covered by rocky mountains running along the coast with some high peaks on Den Mountain, Hon Mai, Hon Yen, Hon Chop Vung, and the furthest is Eo Gio. The name Eo Gio originates from the geographical shape of this area; as you look down from the surrounding cliffs, you will see a small strait covered by two mountain ranges. Eo Gio possesses a beautifully unspoiled coastal walking path that is not inferior to that of other famous places in the world. Along with Ky Co, tourism services here are also being promoted.
3. Cu Lao Xanh Islet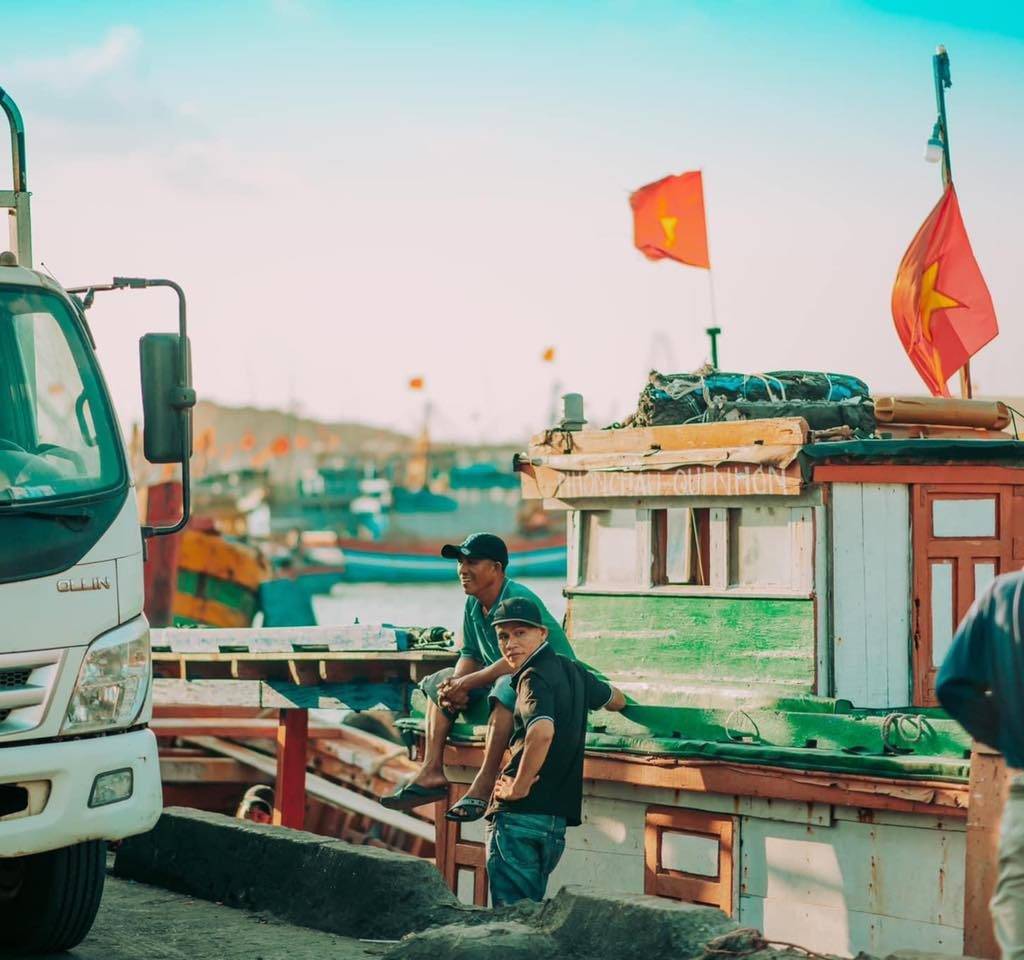 Cu Lao Xanh belongs to Nhon Chau island commune, 24km from the mainland, which is considered the "Pearl of the East Sea", with an area of 364 hectares with a population of about 3,000 people. As the name suggests, the small island is like a green pearl located in the middle of the sea with beautiful scenery from the endless green space covered by trees and the colors of the sky and the sea.
The lighthouse on Cu Lao Xanh island is also one of the few lighthouses over 100 years old. This place has become a beautiful symbol of the spirit of the local people living with the sea all year round, always helping boats locate in the waters of Binh Dinh and the South Central region.
4. Bai Xep Fishing Village
Depart from the city center to run along National Highway 1D about 13 km, you can come to this fishing village in Quy Hoa sea. Once ranked in the list of mysterious pearls of Asia by Business Insider, Bai Xep captures the peaceful beauty of a traditional fishing village, without the hustle and bustle of traffic or tourist crowds. Despite being untouched, tourism services, restaurants, and hotels here are still quite diverse.
There are many natural rock formations floating above the water, and the smooth golden sand is great for photo opportunities. In addition to enjoying the wild landscape, visitors can also explore the simple life of fishermen.
5. Hon Kho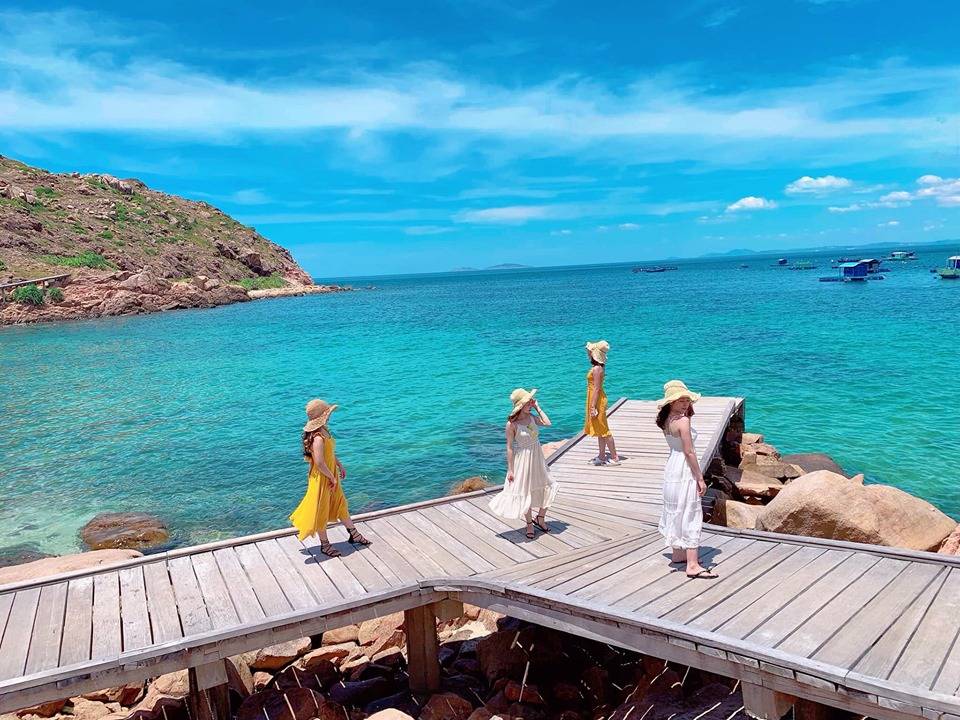 From Nhon Hai fishing village, visitors take a canoe or boat to Hon Kho in only about 10 minutes with a round-trip cost of 100,000 VND/person. Hon Kho is a must-visit destination for a day tour, with attractive elements – velvet green lawn, freshwater geysers from cliffs, a dirt road through the sea, peaceful wild features, and an Instagrammable wooden bridge.
Although it is a rocky beach, Hon Kho is a clean beach that still retains its inherent natural beauty. Additionally, there are also diverse, charming coral reefs that are evaluated no less than ones in Cham Island (Quang Nam). Or, if you are afraid of water, climbing is also an interesting option.
6. Cham Towers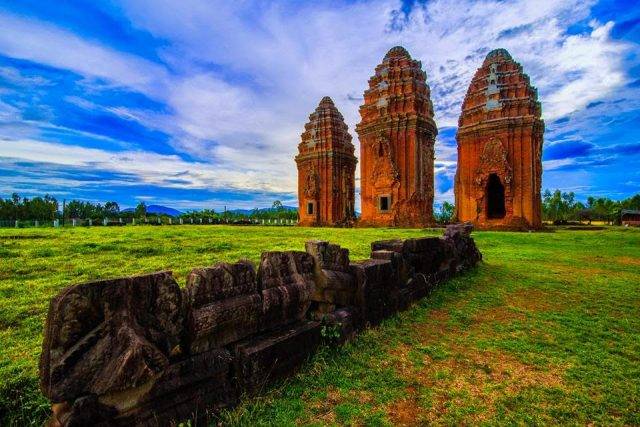 The Champa people settled in Quy Nhon and used this land as a port from the 11th to the 15th centuries. Therefore, scattered around the city area now are different ancient Champa relics, especially the cluster of towers dating from the 13th – 14th centuries; including the Twin Towers and Banh It Tower. For further, you can visit Canh Tien Tower and Duong Long Tower. Tickets to visit these Cham Towers are 10,000 – 20,000 VND/person.
The Twin Towers located right on Tran Hung Dao Street was built at the end of the 12th century, bearing bold Champa architecture with 2 towers, of which the North tower is 20m high and the South tower is 18m high. Experiencing innumerable events of the time, the tower has been ravaged and severely damaged. In 2008, it was restored according to the original shape and architecture.
III. How to travel to Quy Nhon
– Bus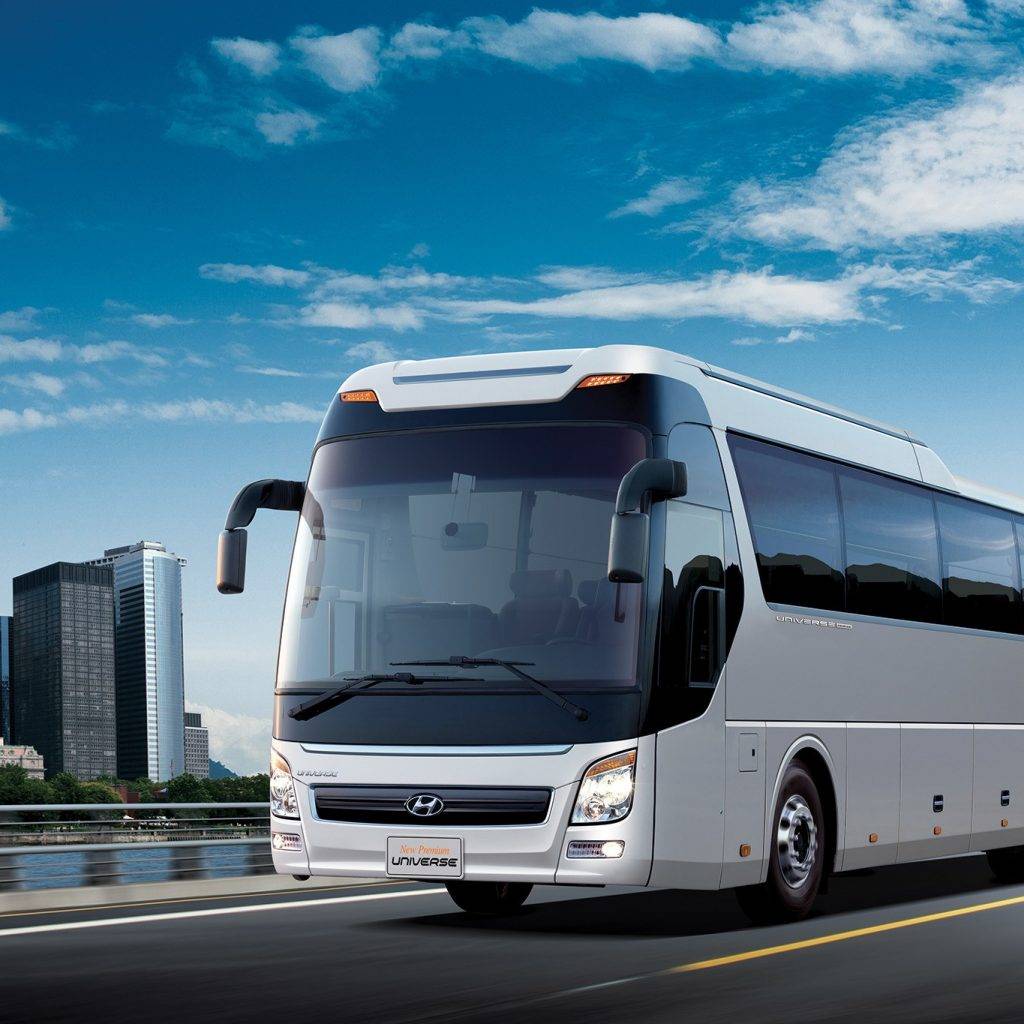 The price of a bus ticket from Ho Chi Minh City to Quy Nhon ranges from 250,000 – 400,000 VND, depending on the airline. Travel time is about 11 hours to 13 hours. Meanwhile, bus tickets from Hanoi to Quy Nhon usually cost over 500,000 VND, with a travel time of about one day.
– Plane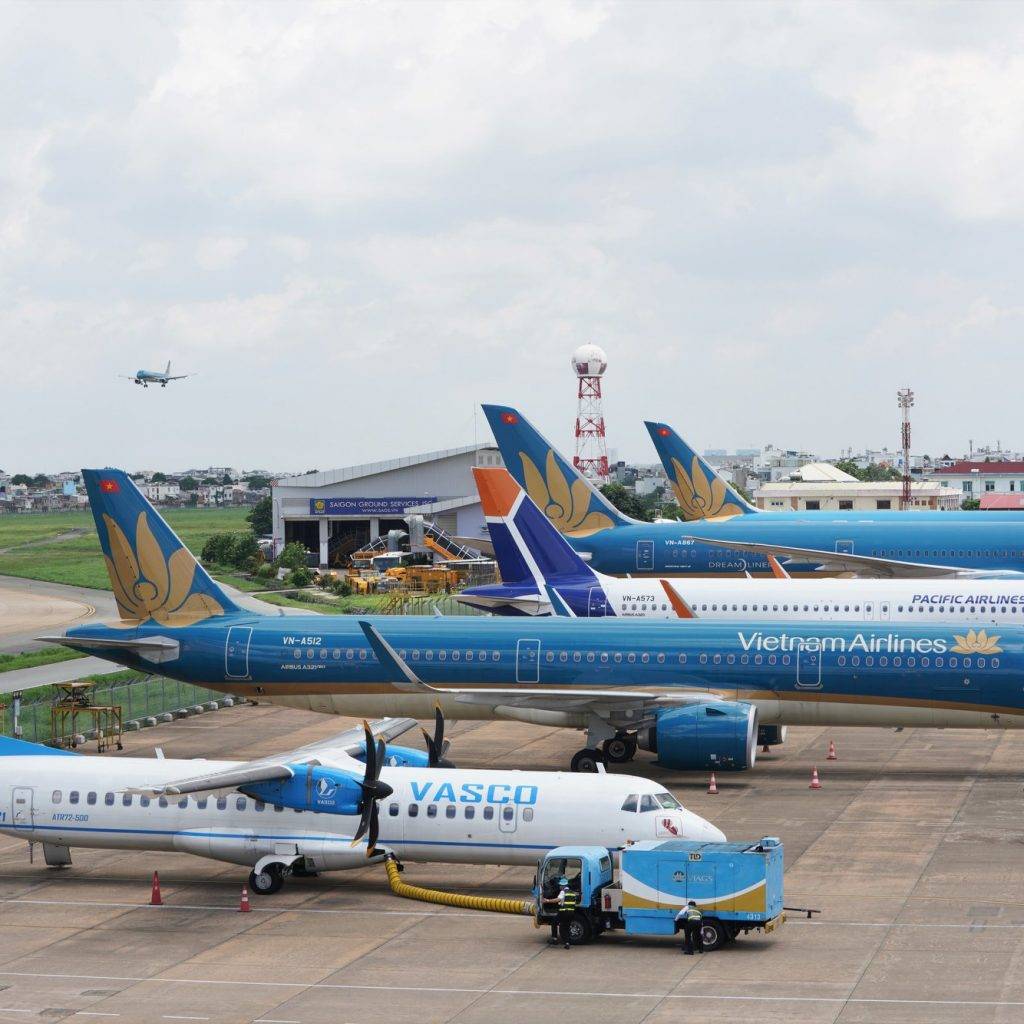 You can fly from Hanoi or Ho Chi Minh City to Phu Cat airport and go another 30km to reach Quy Nhon city with fares ranging from 470,000 to 2 million VND within around 60 minutes.
Currently, quite a few airlines operate direct flights from Ho Chi Minh City and Hanoi to Quy Nhon: Vietnam Airlines, Vietjet Air, Bamboo Airways. To buy air tickets to Quy Nhon at the best price, you should book tickets 2 or 3 months before the departure date.
– Train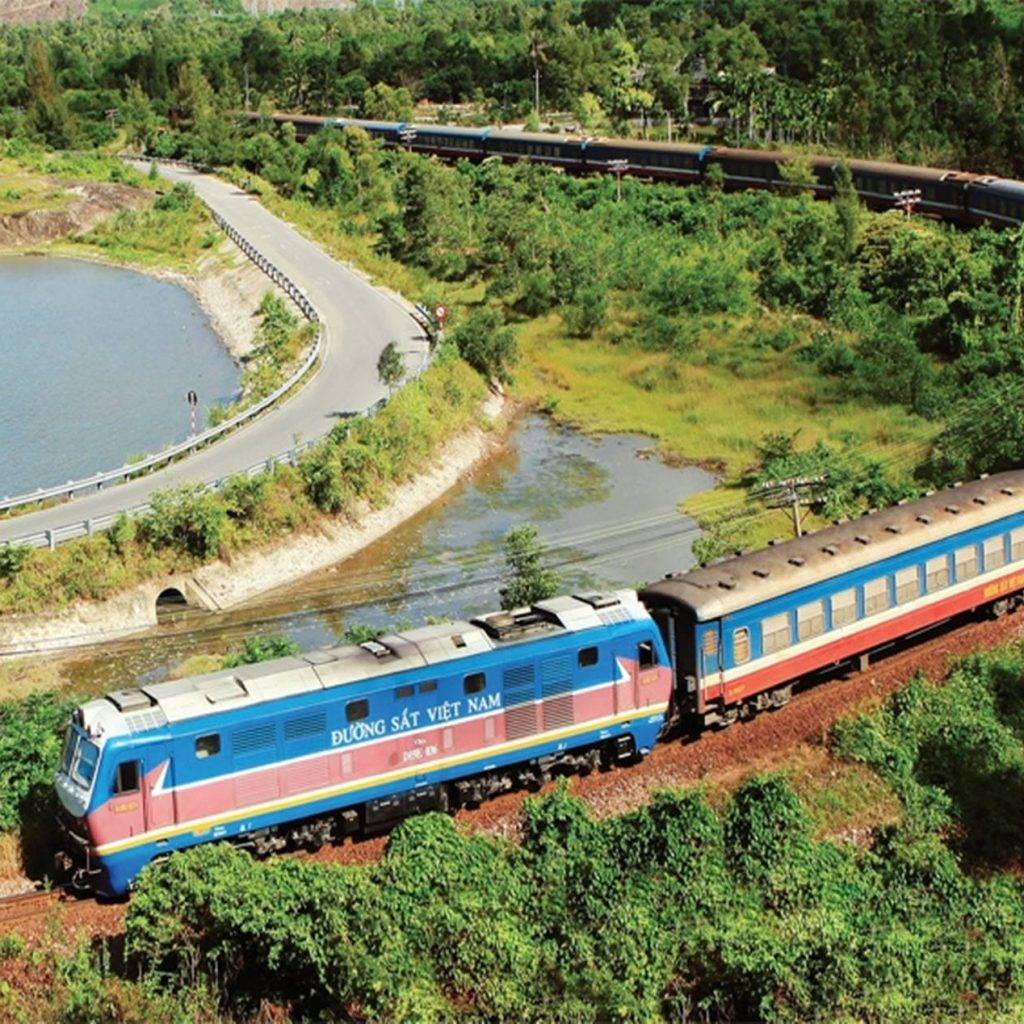 Numerous North-South trains run through Binh Dinh province and stop at Dieu Tri station. From Ho Chi Minh City, it takes you about 10 hours to get to Dieu Tri, and from there, you take a taxi to Quy Nhon about 30 minutes, with the fare ranging 500,000 – 800,000 VND and a taxi fee of about 200,000 VND. To save money, you can also negotiate to share with other passengers on the same route.
*Getting around the city:
To move around the city, tourists can rent motorbikes from 100,000 to 150,000 VND/day, or trams for 25,000 VND/km and 250,000 VND/60 minutes. As for reaching further locations, visitors should hire a taxi.
IV. Accommodation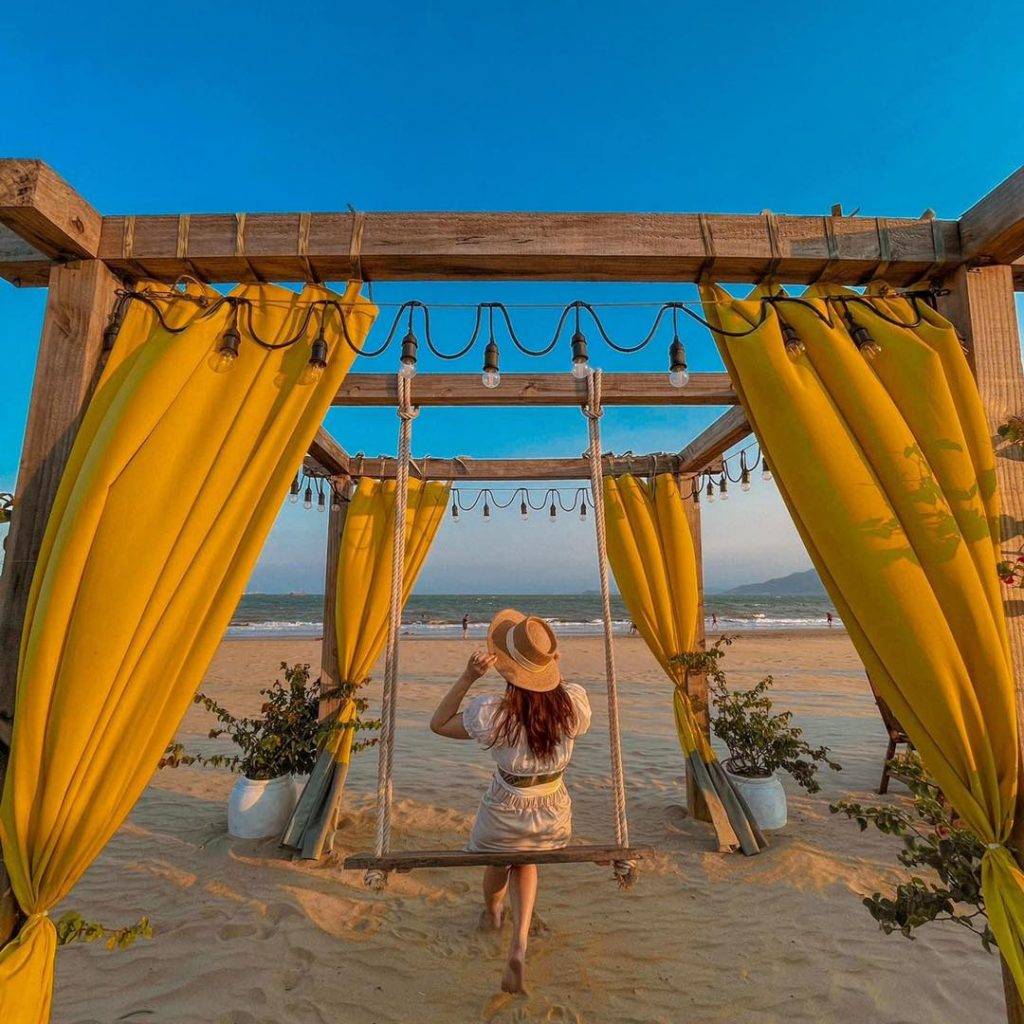 If you want to stay close to the sea, go to the end of Nguyen Hue and Xuan Dieu streets around Nguyen Tat Thanh monument, or at Bai Xep, Ky Co – Eo Gio. If you want a more tranquil place, look for hotels on the streets of Tay Son, An Duong Vuong, and Han Mac Tu. To enjoy luxurious services and amenities, like a swimming pool, private beach, spa, gym, or sea-view room, you can consider Crown Retreat, Avani Quy Nhon, FLC Quy Nhon, Casa Marina, Aurora, with prices from 1.6 – 5 million VND/night.
A night at hostels and homestays will range from 150,000 to 500,000 VND, while resorts and hotels of three stars or more will cost from 800,000 VND to about 1 million VND.
V. Discover Quy Nhon culinary
1. Banh Canh Cha Ca (Fried fish cake noodles)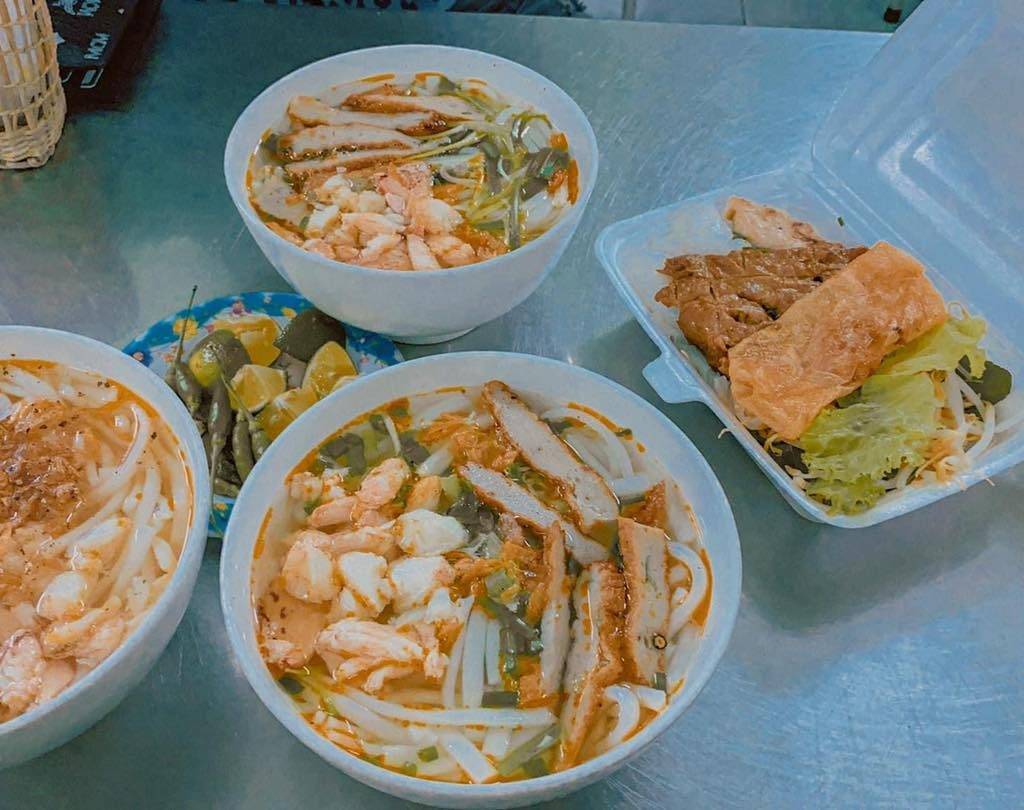 If you love the delicious and sweet taste of fish, don't miss Banh Canh Cha Ca, with prices ranging from 15,000 to 25,000 VND/bowl. There are two types of flour for noodles, rice flour and wheat flour. The noodles will be then served with fish cakes, quail eggs, and shrimp balls. For the best Banh canh cha ca, visitors can visit Bach Dang, Huyen Tran Cong Chua, Truong Chinh streets.
2. Banh hoi and Chao long
Banh hoi is a specialty you can find anywhere in Quy Nhon – Binh Dinh. Actually, these are two different dishes, but local people combine them to create an interesting breakfast. Banh hoi is a variation of fresh vermicelli, while the porridge is cooked quite thinly, with blood simmering with stewed broth from bones and pork intestines. One portion costs from 20,000 to 50,000 VND. Visitors can eat at Phan Boi Chau, Tran Phu, Dien Hong, Vu Bao, etc.
3. Seafood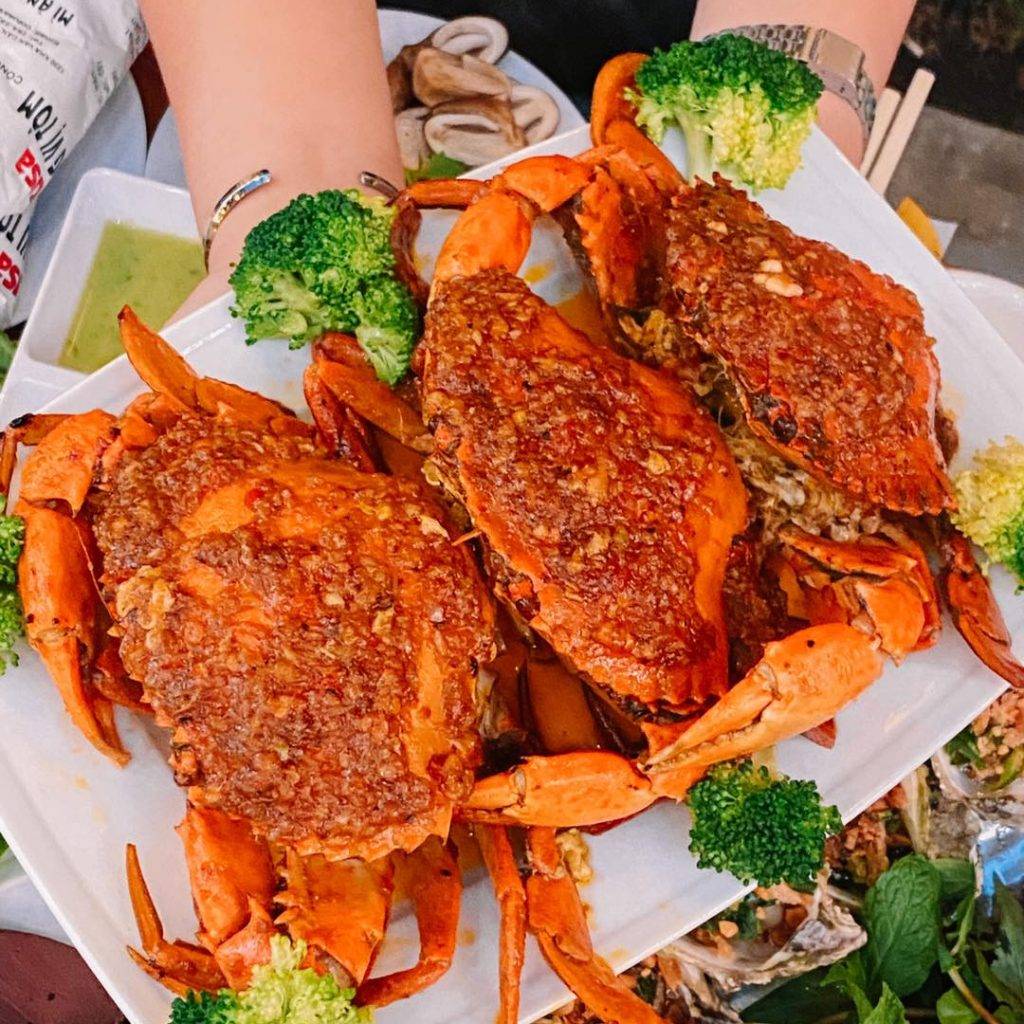 Seafood is an indispensable part of your food tours in the sea regions. In Quy Nhon, visitors should go to De Nhat Quan, at 126 Nguyen Tat Thanh, which is open all night. The price here ranges from 30,000 – 200,000 VND/dish. Besides, there is a Vua Cua O Loan restaurant in the O Loan lagoon area. True to its name (Vua Cua = King of Crab), the crab is super big, fresh, and firm. The highlight dishes to try are crab with salted egg sauce, fried crab with tamarind, and crab hotpot. Bay Thom Nguyen Chanh Restaurant at Lot 5 Ho Bieu Chanh, featuring diverse delicious food from oysters, crabs, and snails, is also a popular place to visit.
4. Lagu soup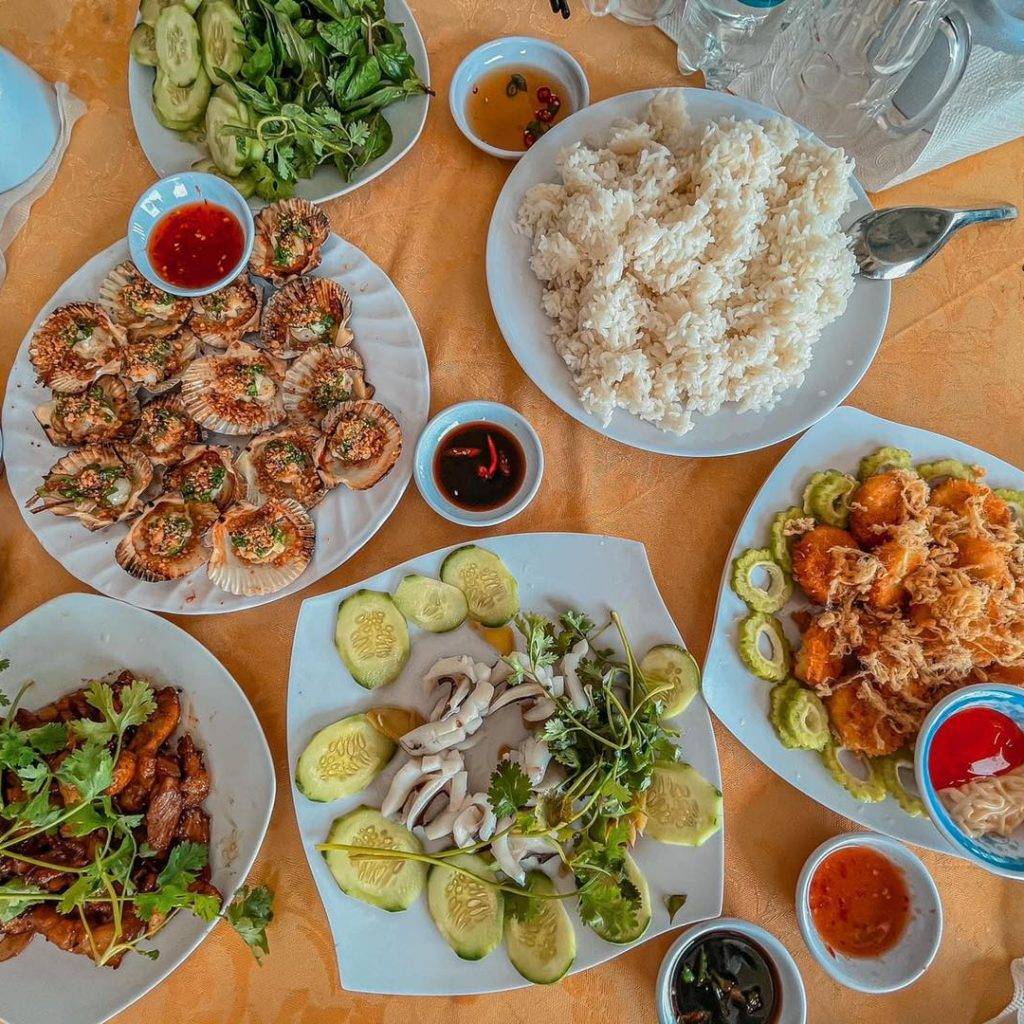 This is one of the oldest dishes in Quy Nhon, consisting of a bowl of broth and hot crispy bread. The broth will be cooked from pork and vegetables, such as lotus seeds, sweet potatoes, carrots, and red beans. A portion of Lagu soup costs 25,000-30,000 VND, and the most famous address is in alley 171 Nguyen Hue street with more than 30 years of experience.