THE ULTIMATE HO CHI MINH TRAVEL GUIDE (PART 2)
Coming to Ho Chi Minh City, you can participate in all kinds of entertainment activities, from affordable to luxurious, from family activities to couples. At this final part of Ho Chi Minh travel guide, let's explore the famous tourist attractions as well as other forms of entertainment.
VI. Ho Chi Minh City Tourist Attractions
Ben Thanh Market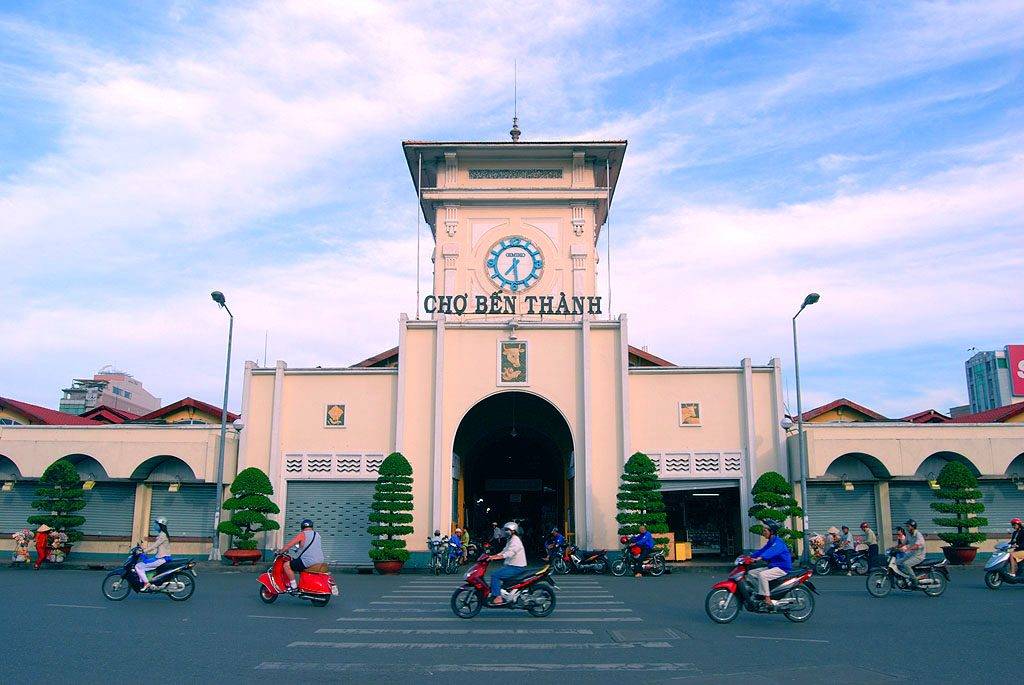 Ben Thanh Market is located in the heart of the city. All 4 doors facing the main roads, such as Phan Chu Trinh, Phan Boi Chau and Le Thanh Ton, while the other direction is Quach Thi Trang Square.
Inside the market, there are enough traditional and modern items to buy as gifts for family and friends. Ben Thanh Market is also one of the ideal places to enjoy traditional Vietnamese food. Tourists can stop by food stalls with local specialties like fried fish or iced refreshments. One note is that when shopping here, you should bargain a bit to get the best price.
Address: Between Phan Boi Chau – Le Thanh Ton – Phan Chu Trinh – Quach Thi Trang Square, Ben Thanh Ward, District 1.
Notre Dame Cathedral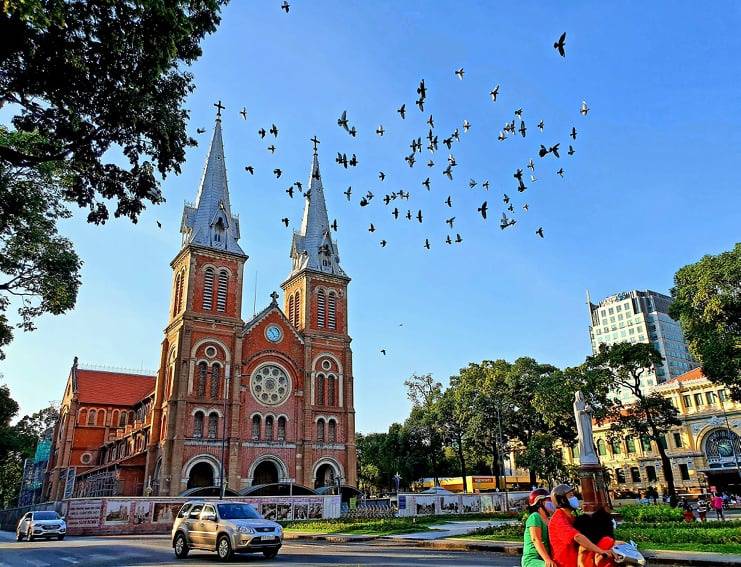 Notre Dame Cathedral is a distinctive landmark in the heart of Ho Chi Minh City. Its twin square towers rise almost 60 meters above the city, capped by iron spires. Located on the main street of the city center, this cathedral features European architecture combined with beautiful Roman and Gothic styles. Also, it has the largest bell in Vietnam. Notre Dame Cathedral is an important cathedral of Saigon diocese and the pride of the city people.
Address: Notre Dame Cathedral Basilica of Saigon, Ben Nghe, Ho Chi Minh City.
NOTRE DAME CATHEDRAL – A SOLEMN ARCHITECTURE IN THE CITY CENTER
Independence Palace (Reunification Palace)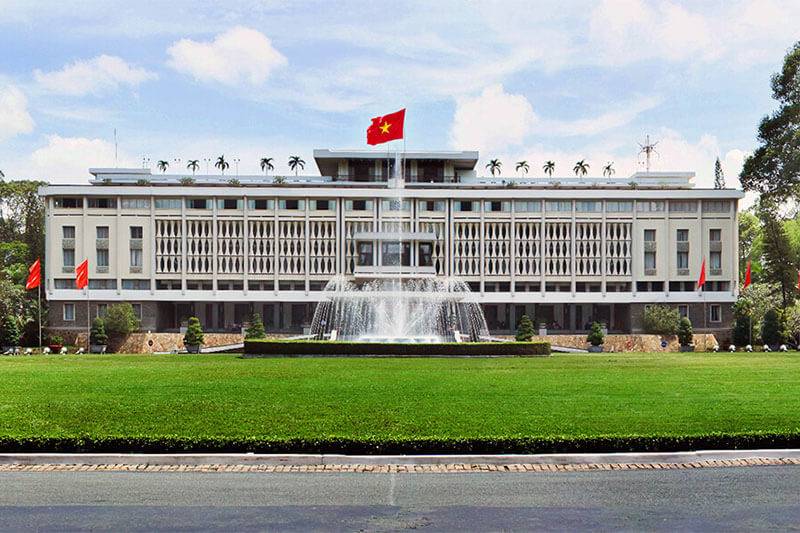 Located at 135 Nam Ky Khoi Nghia Street, the Independence Palace is an architectural work that goes into the history of the nation. During the resistance war against the US to save the country, this was the workplace of the government of the Republic of Vietnam government. After the liberation, this place is classified as a special national monument. Visiting here, visitors will admire the first-hand items from the old regime with many evidence marking the independent moment on April 30, 1975.
Currently, on the occasion of April 30 or September 2 every year, thousands of people come here to visit as well as to commemorate the heroes who have fallen for national independence.
Address: 135 Nam Ky Khoi Nghia, District 1, Ho Chi Minh City.
War Remnants Museum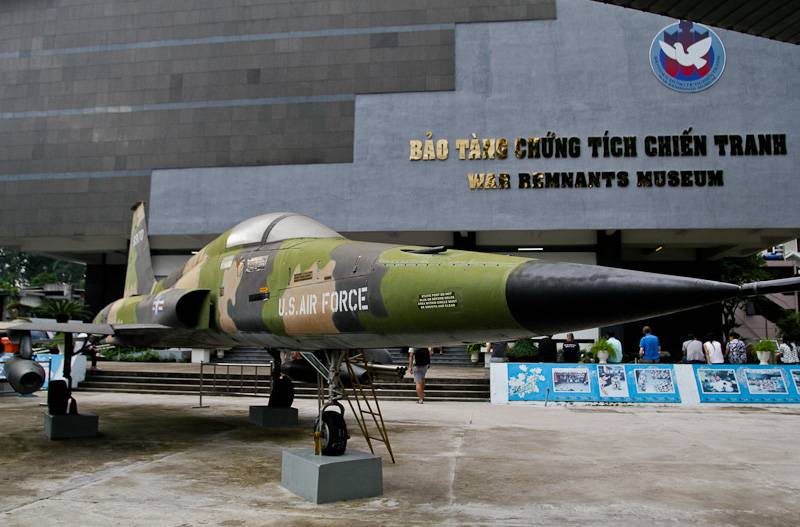 Established in 1975, Vietnam's most-visited museum tells the tragic story of the war that shook the world. The War Remnants Museum examines the scars of the Vietnam War through well-arranged exhibits of pictures, documents, and artifacts. The experience can be gruesome enough to leave a lasting memory – especially Monsanto's Agent Orange section. You'll leave the museum thinking one thing: war is hell.
Address: 28 Vo Van Tan, Ho Chi Minh City.
Cu Chi Tunnels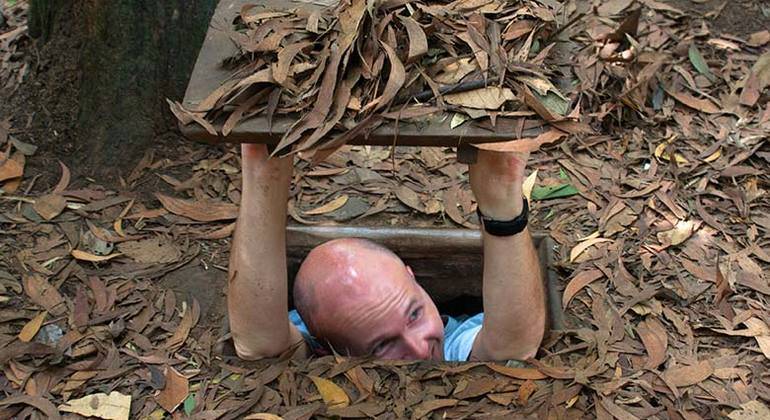 About 70 km from Ho Chi Minh City to the Northwest, this is a map of the transformation of troops and people of Cu Chi during the resistance war. Cu Chi Tunnels make visitors admire because the building is deep in the ground, with many niches like spider webs, numerous floors, with accommodation, meeting places and fighting battles. The total length of this area is more than 200 km.
Address: Phu Hiep Hamlet, Phu My Hung Commune, Cu Chi, Ho Chi Minh City.
Sai Gon Opera House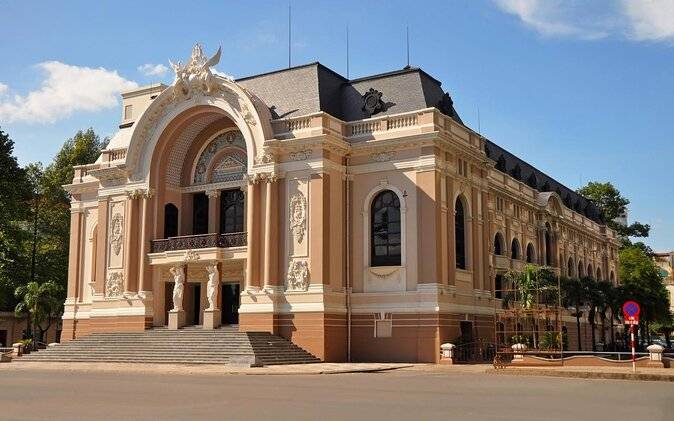 Also known as The Municipal Theatre of Ho Chi Minh City, Saigon Opera House is eye-candy for architecture buffs – especially fans of the French colonial style. It was built as Opera de Saigon in 1897 by Eugene Ferret, a French architect, to entertain French colonists. Both the Ho Chi Minh City Ballet Symphony Orchestra and Opera perform here, and tickets are available at the box office or local travel agents. In the area around the opera house are some of the city's new shopping malls and exclusive hotels.
Address: 7 Lam Son Square, Ben Nghe Ward, District 1, Ho Chi Minh City.
Nguyen Hue Walking Street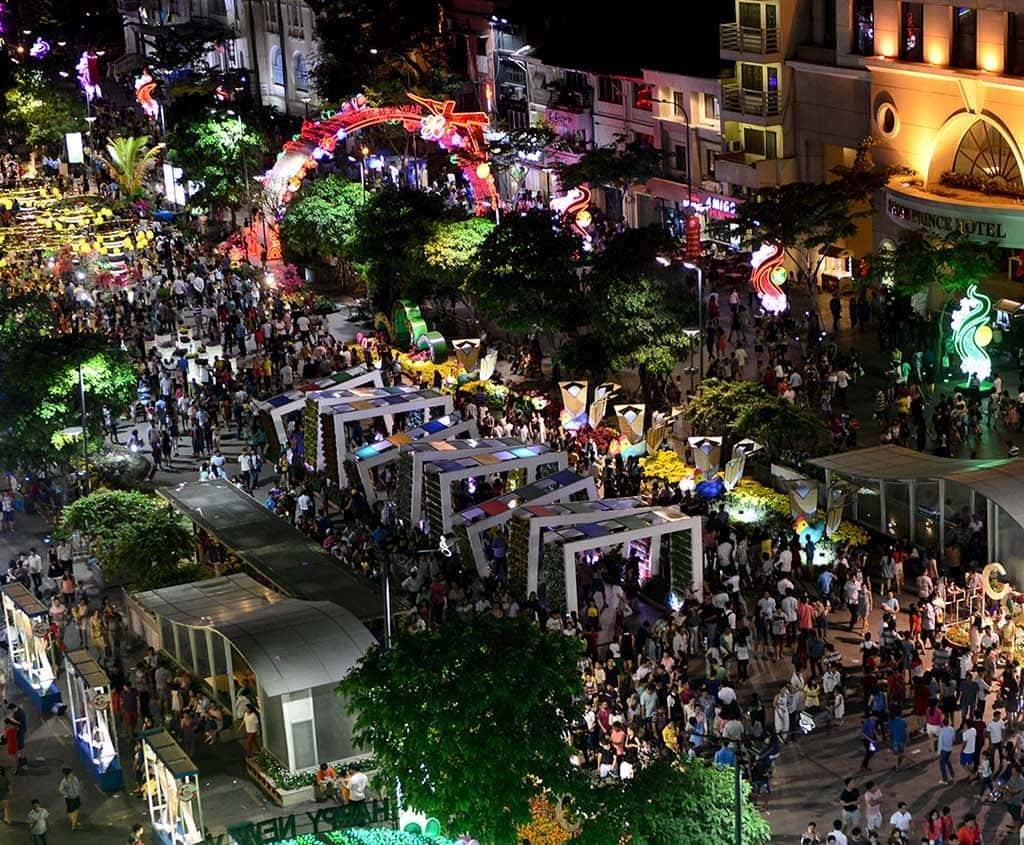 Nguyen Hue Walking Street is an indispensable name to visit Saigon. Built in April 2015, the area is 670m in length and 64m in width. Along the city center, this striking pedestrian street features granite foundation, two large fountains, many trees and a modern sound and light control system.
In the evenings and weekends, people and tourists often come here to take a walk and enjoy the vibrant atmosphere. Along the two streets are stalls selling specialty of Saigon such as com tam (broken rice), coffee, banh mi, sweet soup, etc.
Address: Nguyen Hue, District 1, Ho Chi Minh City.
VII. Other Entertainment Activities
Spas and Massage shops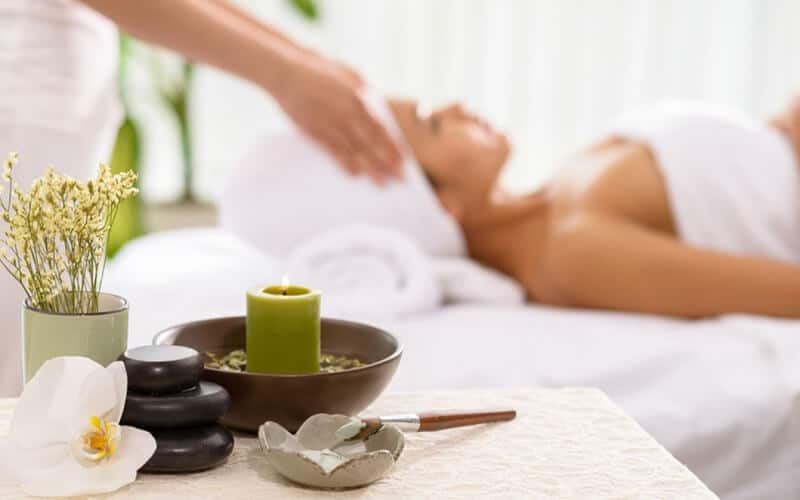 Ho Chi Minh City massage shops and spas offer visitors a much-needed relaxing session after a day of sightseeing. While most hotels in the city have award-winning spas, you'll find that standalone wellness centres are equally impressive as most come with unique features, such as fitness classes, hairstyling, nutrition therapy and game rooms. They offer an extensive range of holistic facials, traditional massages and body treatments, as well as professional wellness experts with years of experience. There are some names you can refer:
District-1: Temple Leaf spa, Saigon Heritage Spa & Massage club, etc.
District-2: Moc Huong Spa Thao Dien, AVEDA Herbal & Wellness, etc.
District-3: La Maison de L'Apothiquaire Spa, Eden Spa, etc.
Bars and Clubs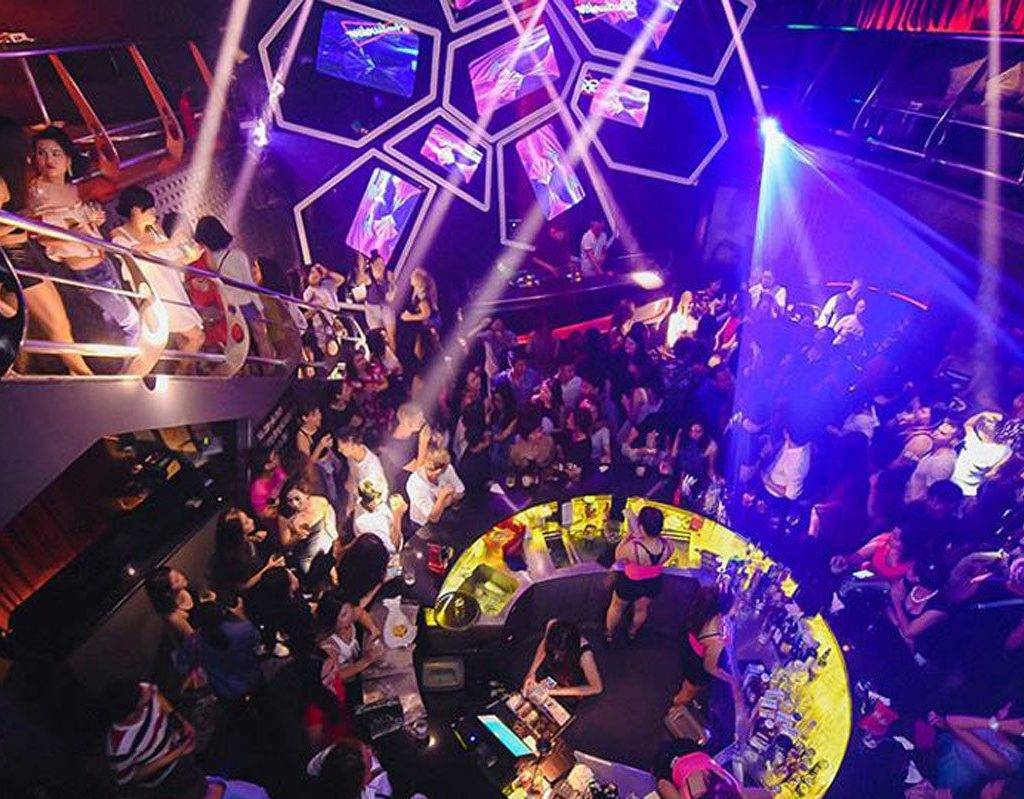 Ho Chi Minh City loves to drink. At all times of day, on some corner of every district, alcohol is consumed in mass quantities. More often than not, this means beer splashing across red plastic tables as mountains of empty bottles grow on the asphalt below. However, beyond the sea of tiny chairs and stools, there's a thriving scene of actual, physical saloons. With endless options, District 1 is the epicenter of Ho Chi Minh City's bar scene. There are a few name for you to visit:
District-1: Qui Lounge Bar (Le Thanh Ton street), Indika (Nguyen Van Giai), etc.
District-2: The Deck Saigon (Nguyen U Di street), Buddha bar (Thao Dien), etc.
District-3: Shri Restaurant & Lounge (Nguyen Thi Minh Khai), RFC bar (Tu Xuong), etc.
Rooftop bars: The View Rooftop Bar (Pham Ngu Lao), Saigon Rooftop Bar (Cong Truong Lam Son), etc.
DISCOVER SAIGON NIGHTLIFE: BEST BARS AND PUBS

BUI VIEN WALKING STREET – THE BUSTLE BACKPACKER'S STREET IN SAIGON
Shopping places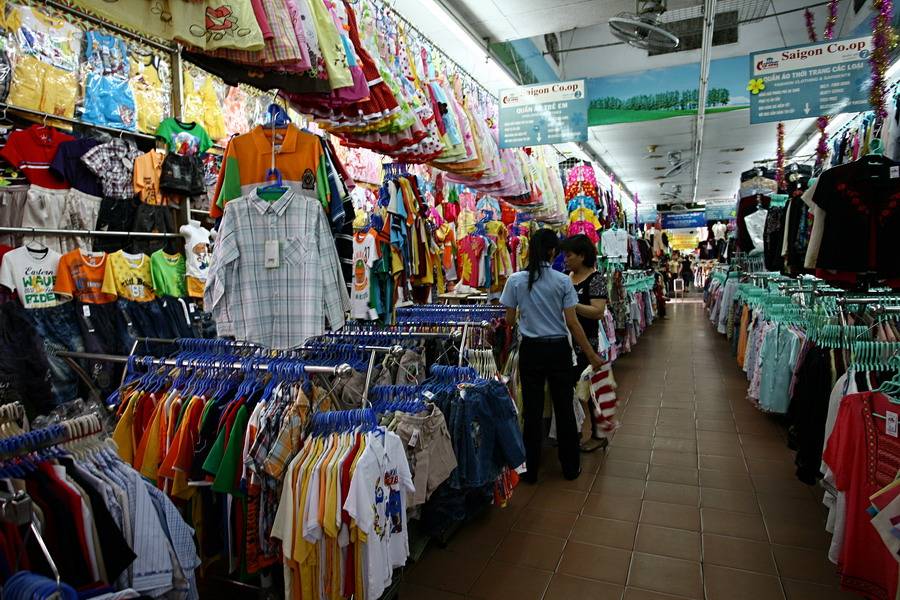 The city also has booming developments of huge shopping malls all around the city with well known international brands. If you are not seeking for International brands, Ho Chi Minh City still has many things to offer you at low price. In this article, we will recommend you cheap shopping in ho chi minh City, that are popular among locals and tourists.
You can take a look at:
For fashion & clothes: Sai Gon Square, Nguyen Trai Street, Le Van Sy Street, etc.
For groceries & souvenirs: Ben Thanh Market, An Dong Market, etc.
Saigon is also a paradise of interesting coffee shops. Here are some recommendations:

LOST IN THE "CAFE APARTMENTS" AT 42, NGUYEN HUE

TOP 3 SAIGON CAFES FILLED WITH TREES

5 MUST-CHECK-IN CAFES IN SAI GON

BONJOUR CAFE THE ART – THE CAFÉ OF "MILLIONS OF FLOWERS"
Final words
Ho Chi Minh City is an overwhelming place – and not just because of the traffic. There's so much do here, whether you're a lover of history, art, cuisine, culture or nightlife. With so many great options, many travelers worry they'll leave something out. Hopefully, our comprehension of Ho Chi Minh City travel guide will help you out! Thank you for reading!