Hanoi Train Street offers a close-up train view for perfect Instagram shots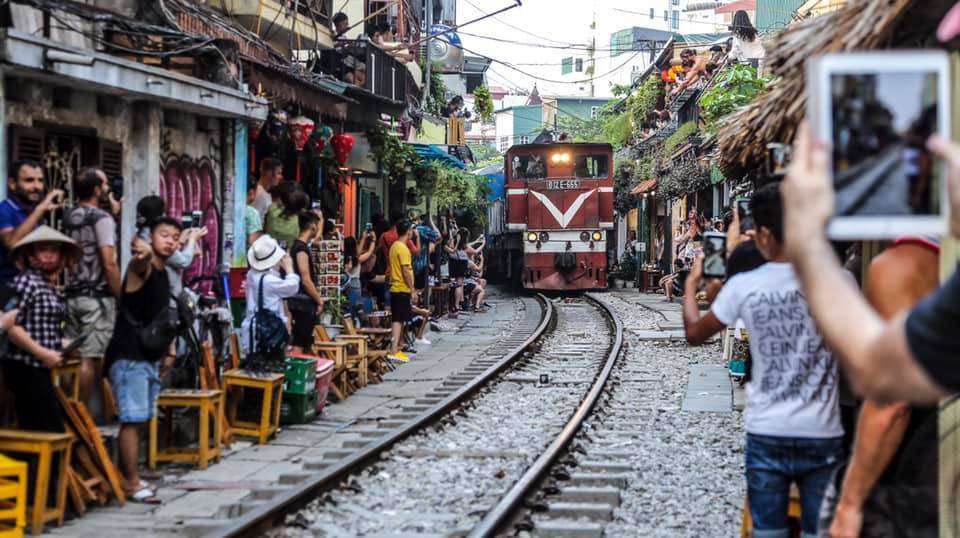 The usual train road right by the capital's center suddenly became one of the most popular attractions. At Hanoi Train Street, you will be both sipping a cup of specialty egg coffee and chatting with friends, while clearly feeling the noise of the train running through this small hamlet.
Residential houses, stalls, small cafes and bars, all are just a few inches from the rail. Twice a day, a speeding North-South train passes, bringing a glimpse of startling sight as well as a surreal experience.
Read more: Villa cafes in Hanoi – The places to keep memories of the capital
1. Local life by the rails hits the attention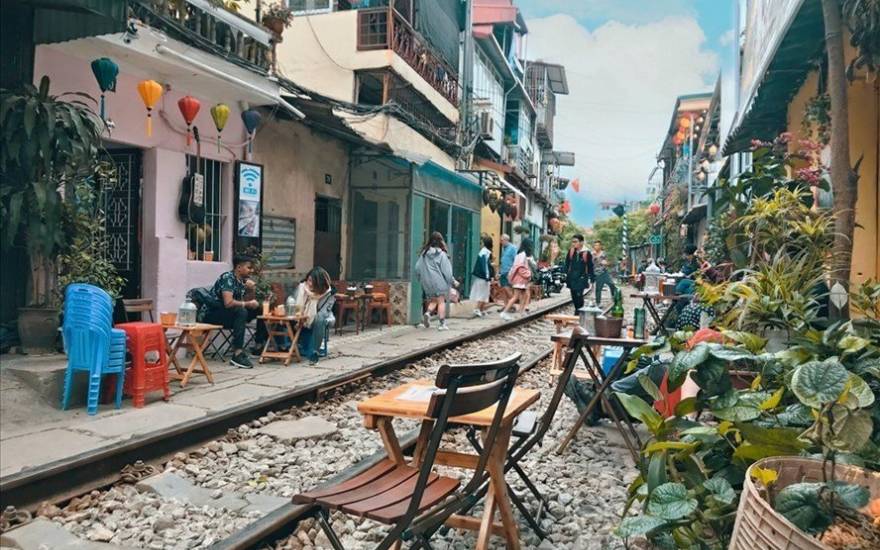 After the British Dailymail and NatgeoTravel published a series of impressive photos of trains running through a densely populated residential area in Hanoi, innumerable international readers were captivated and came here to admire the incredible life of the locals. Also, most Tripadvisor readers vote this Hanoi Train Street as one of the must-visit spots in the capital.
The neighborhood attached to the railroad crossing has become a familiar part of the residents' daily life. The blend of traditional houses with colorful walls and ancient train tracks creates an interesting background giving many photo opportunities. Each house is only about 15 – 25-meter square; in which, all daily activities take place along the railway safety corridor.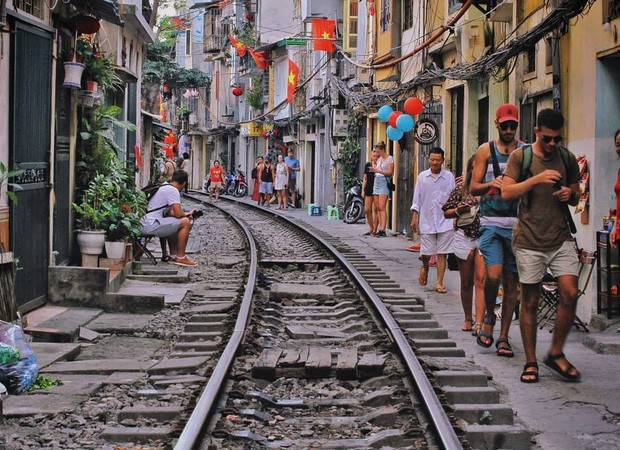 There, you literally walk down the train track, while on either side are bars and cafes. The article also suggested the best thing to do here is enjoy a cup of egg coffee and chat with friends, while waiting for a train to pass inches away from you.
Whenever a train is about to pass, usually 15 minutes before, the cafe owners will hurry to clean up tables and chairs, reminding guests to be mentally ready to stay away from the train. Then, visitors are required to stand close to the shop wall to avoid accidents.
The shop owners are friendly and helpful as they enjoy having customers in their place of business. It's best to find a place you want to order something from, then they will inform you when the train comes, or they will have a clear train timetable in front.
Read more: Hanoi Walking Street offers a leaming look at the capital's nightlife
2. Where is Hanoi Train Street?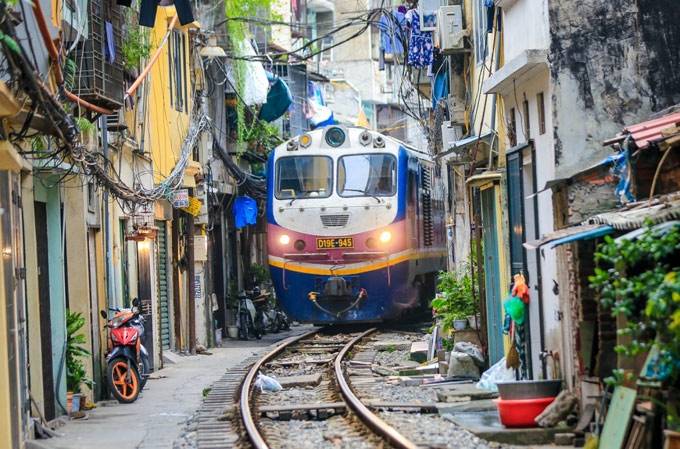 This unique small hamlet is located along the two-kilometer railway strip from Dien Bien Phu road to Phung Hung street in the middle of Ba Dinh district. You can straightforwardly move there by many different means of transportation such as bicycle, car, motorbike, or bus. Still, motorbikes are the most convenient and will also cost about 10,000 VND/each to park. The place is available to visit from 6:00 – 00:00 daily.
To be more secure, pay attention to the time train schedule below:
Monday – Friday: 6:03, 6:13, 7:03, 19:00; 19:45, 21:03, 23:03, 22:33.
Weekends: As above and 8:43, 9:20, 11:40, 15:23, 17:36.
Since activities happening around the train rails are considered extremely risky, barriers are now placed around the area to stop strangers from walking onto the tracks. To enter the area, you need to go with a guide who has access to the various bars/cafes inside.