TOP 5 broken rice (Com Tam) eateries in Saigon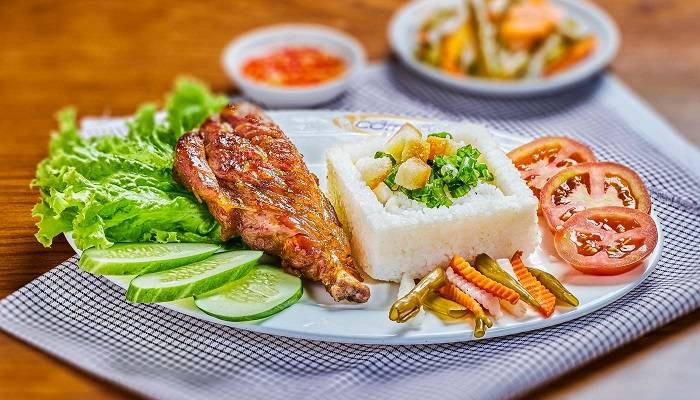 People keep saying that "Going to Saigon without eating broken rice is really an imperfective trip". Saigonese eat broken rice perhaps as much as Hanoians eat pho, therefore, all over the Saigon alleys are countless big and small broken rice shops.
The quintessential part of broken rice is in the type of rice. The broken rice seeds are especially fragrant and sweet. When cooked, they are neither too dry nor too fluffy, making diner never get bored.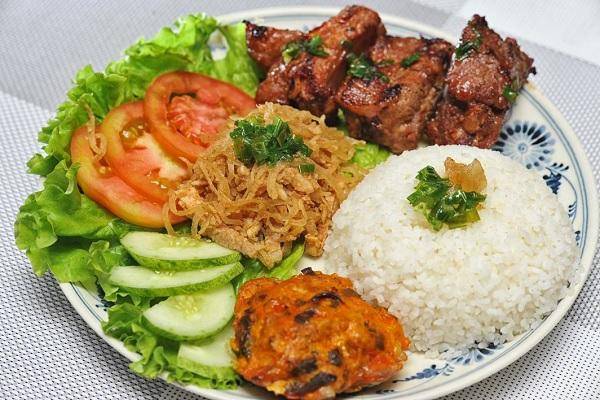 The best food items in broken rice are ribs, pork skin, and spring rolls. In which, the ribs, the star of the dish, are marinated from different types of flavors. After being grilled on the charcoal stove, the ribs slowly absorb rich spices, then turn golden and crispy outside yet soft inside. It also spreads an attractive typical odor that if you smell once, immediately think of the yummy Com Tam.
Now, we are going to explore the best 5 broken rices in Saigon!
Read more: 5 MUST-CHECK-IN CAFES IN SAI GON
1. Com Tam Ba Ha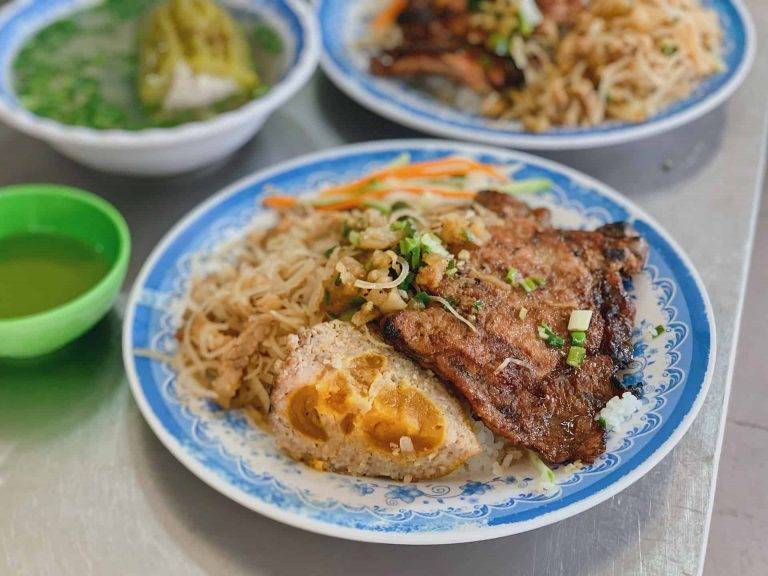 Ba Ha is one of the most popular broken rice shops in Ho Chi Minh City. The familiar meal here includes broken rice, grilled chopped fish, salted eggs, and chicken thighs.
The highlights attracting diners are delicious steamed salted egg and rich fish-sauce-fried chicken thighs. If you want to try this famous salted egg, you should come to the shop a bit early. Other plus points of the shop are the clean space and the food is beautifully presented.
– Address: 389 Hung Phu, District 8, HCMC
– Opening hours: 16h00 – 20h30
– Price: 35,000-65,000 VND/dish
Read more: 5 best alleys for a Saigon street food tour
2. Com Tam Ba Ghien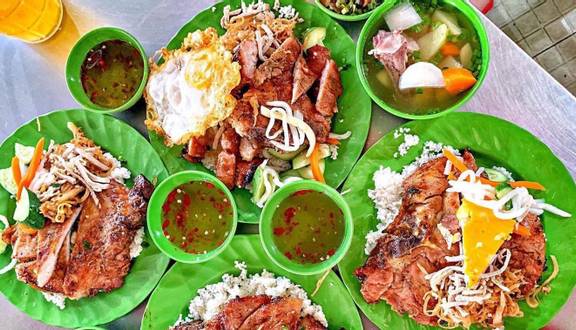 Ba Ghien is a restaurant with more than 20 years of experience in Saigon. The shop is popular with many people thanks to the big pork ribs. The ribs here are so especially soft, well-marinated, and tasty. The quality of the food is highly appreciated by many diners.
You can order more steamed eggs, fried eggs, sausages, pork balls-which are added vermicelli, pork skin, or pickles.
– Address: 84 Dang Van Ngu, Phu Nhuan district
– Hours of operation: 7:00 – 21:00
– Price: 24,000-104,000 VND/dish
Read more: The floating Saigon cafe away from stuffy city space
3. Com Tam Bui Sai Gon
Bui Sai Gon is a famous brand of broken rice with chain stores everywhere in Ho Chi Minh City. Therefore, you can conveniently choose the nearest shop to eat their delicious broken rice.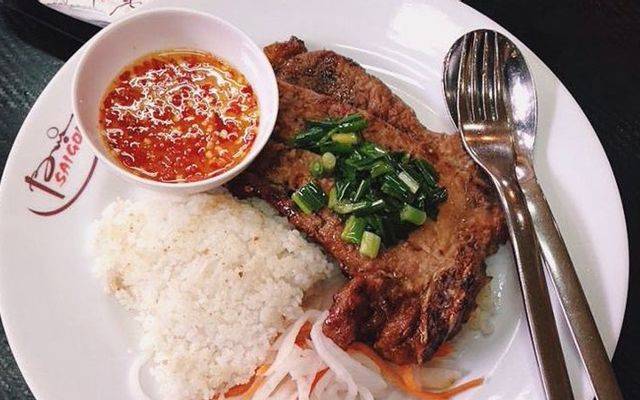 One serving of broken rice here is full of fragrant rice, and crispy, fragrant rib tips. Moreover, the dipping sauce is perfectly rich and mouth-watering. You can order more items, such as black chicken eggs, bitter melon soup, pork skin, etc. The restaurant is open all day, from early morning until late at night, so you can enjoy this broken rice at any time.
– Address: Thach Thi Thanh Street (District 1), Le Van Luong (District 7), Dien Bien Phu (Binh Thanh District), Phan Van Tri (Go Vap District)
– Operating hours: 06:30 – 23:30
– Price: 45,000-60,000 VND/dish
Read more: Cafe Bệt – A unique cultural feature of Saigon
4. Com Tam Moc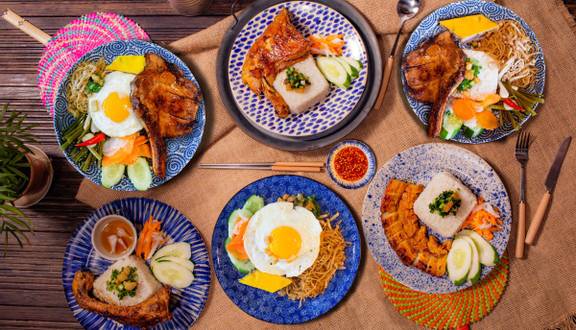 Moc is a broken rice shop popular among office workers. The rustic dishes and vintage decor here will make you feel like returning to Saigon in the 1970s and 1980s.
Since the location is right in the center of District 1, the price is higher than the general premises. Still, the restaurant is beautifully decorated as well as clean with very polite staff. Besides, the menu here is quite diverse to bring diners a lot of choices.
– Address: 85 Ly Tu Trong, District 1
– Opening hours: 10:00 – 21:30
– Price: 48,000-92,000 VND /dish
Read more: The standard Arabica coffee at Saigon Coffee Roastery
5. Com Tam Ba Muoi (a late-night shop)
This broken rice shop is located in alley 294 of Xo Viet Nghe Tinh street, near the Hang Xanh overpass. From the alley about 200m, you can already smell the appealing scent of fried onion and fragrant grilled ribs. Although it is located deep in the alley with a few low tables, this anonymous shop is always crowded. The later at night, the more crowded.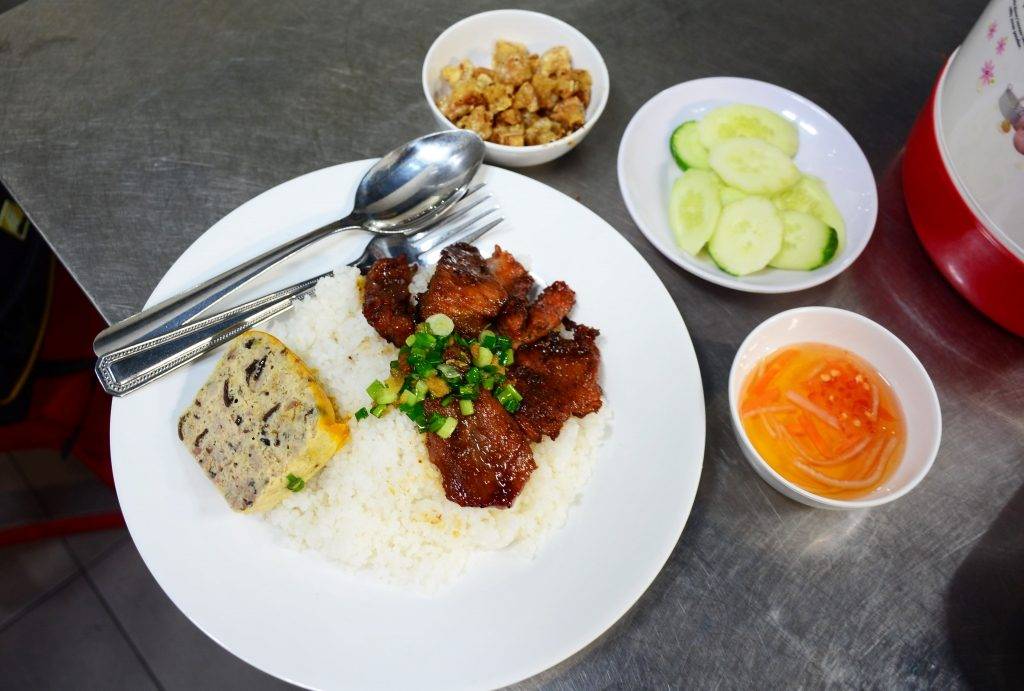 The shop does not have a certain name, but regular customers call it Ba Muoi – which is also the owner's name. Mrs. Muoi said that the shop has been open for nearly 30 years. The dishes here are processed according to the Western Vietnam style. In addition to broken rice, there are also Pha Lau, caramelized pork and eggs, stewed fish with pepper that served with hot sour soup.
– Address: No. 294/35 Xo Viet Nghe Tinh, Binh Thanh district
– Hours of operation: 21:00 – 4:00
– Price: 35,000 – 55,000 VND /dish
Hopefully, with this article, you can find yourself a suitable eatery to enjoy broken rice on your Saigon trip!
Read more: BEST PLACES TO SHOP IN SAIGON