Da Nang – The most liveable city with harmony landscapes
Emerging among magnificent mountains and the blue sea, Danang, Vietnam's most worth living city, has gradually been a center of tourism in South Central.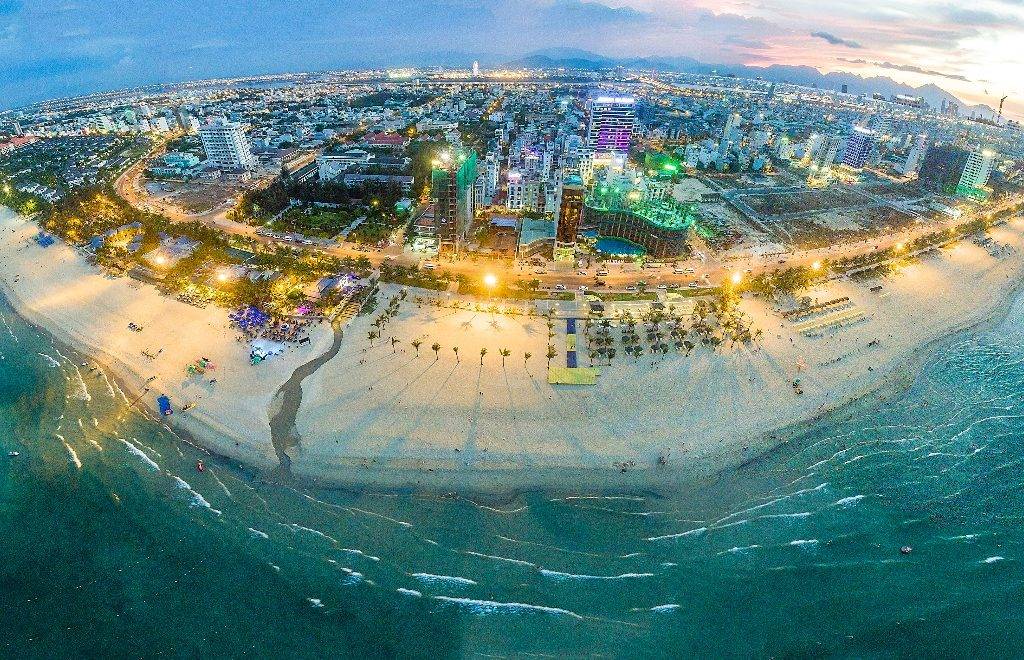 Swim in beautiful My Khe Beach, have a fun day in Bana Hill, climb to the primeval Son Tra Peninsula and Ngu Hanh Son Mountain, or ride on majestic Hai Van Pass; these are just a few in tens of interesting things to do in Danang. Along with that, there is no shortage of modern resort amenities with modish condos, luxury resorts, spas, and theme parks. Young, modern and dynamic, but the city still retains its original charm, including hospitable locals, amazing street food, and the gentle rhythm of daily life.
I. About Da Nang
With a total area of ​​1,256.53 km2, Da Nang is fortunately blessed with a mixed terrain of high mountains, deep rivers, and steep hills, midlands alternating with eye-catching coastal plains. Not only that, but Da Nang has also become a bridge connecting different surrounding world cultural heritages. Only 30km away is the ancient town of Hoi An – which used to be the resounding Southeast Asia's economic trade; not far away is the mysterious My Son Sanctuary and 100 km to the North is Hue Ancient Citadel; or much further is the majestic Phong Nha Cave.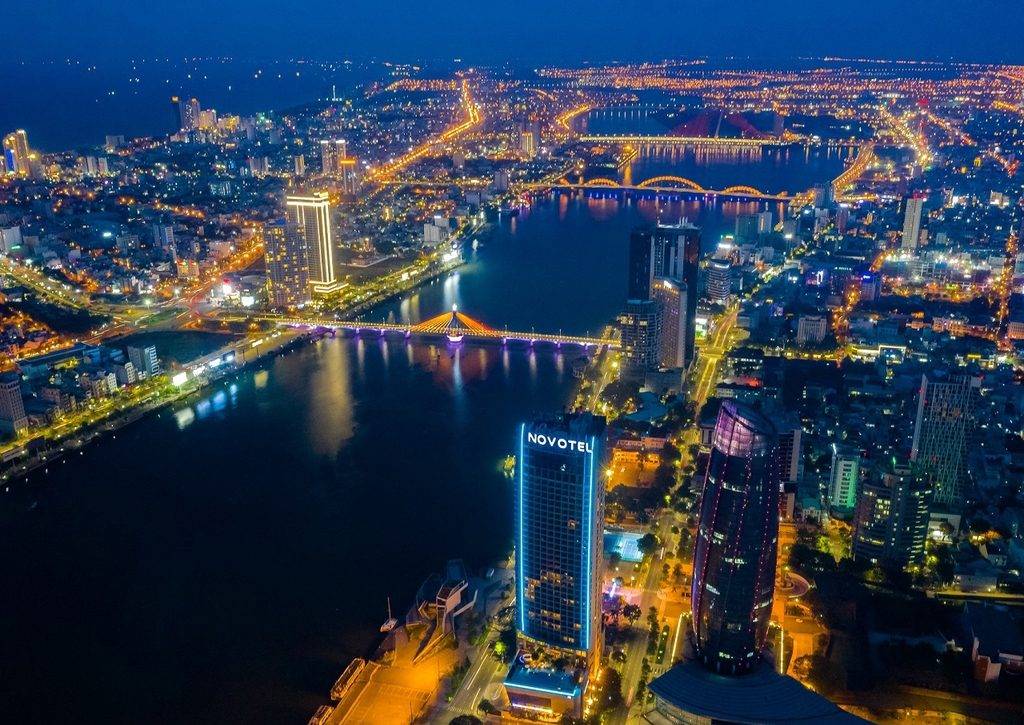 Da Nang is also known as a green-clean-civilized city, without such scenery of heavy traffic jams or beggars rushing down the street. The residents are truly precious as well; they are friendly and nice to all visitors, especially, not forcedly solicit tourists to any service or sale.
Due to this great image and manner, this place is chosen to be the venue for the International Fireworks Competition started from 2008, with the participation of numerous teams from all over the world, attracting the attention of a large number of international travelers.
II. The ideal time for Da Nang Tourism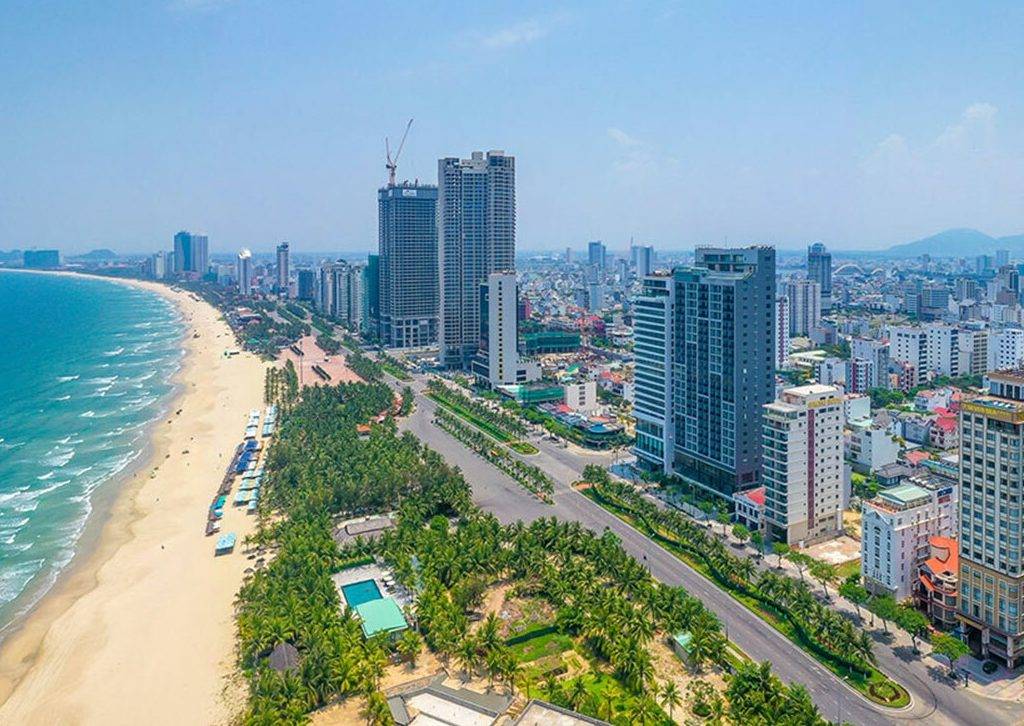 Da Nang has a tropical climate with two distinct seasons. The dry season stretches from June to the end of August, which is also the high season for domestic tourists. During this period, the weather is super hot and sunny, so beach activities are promoted to the fullest.
However, the best time to visit Da Nang is from February to May since the atmosphere is cool with less rain, making it convenient for exploring both beaches and mountains, especially without hustling in the crowd. Meanwhile, in the rainy season, usually from October to January, the climate will be colder and stormy sometimes.
III. Vehicles to Da Nang
Like a knot in the North-South traffic axis, the means of transportation from other places to Da Nang are countless.
– Airplane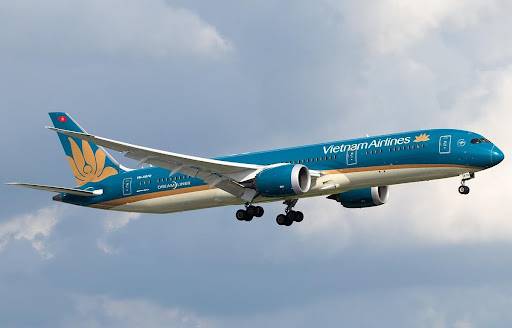 This is the most popular and time-saving means to come to Da Nang. However, during the tourist season from June to September, the fares are quite high, ranging from 700,000 – 1,000,000 VND/round, and quickly sold-out. So, if you already have a plan, try to find cheap flights of Vietnam Airlines, Jetstar Pacific, or Vietjet Air two or three months in advance.
– Train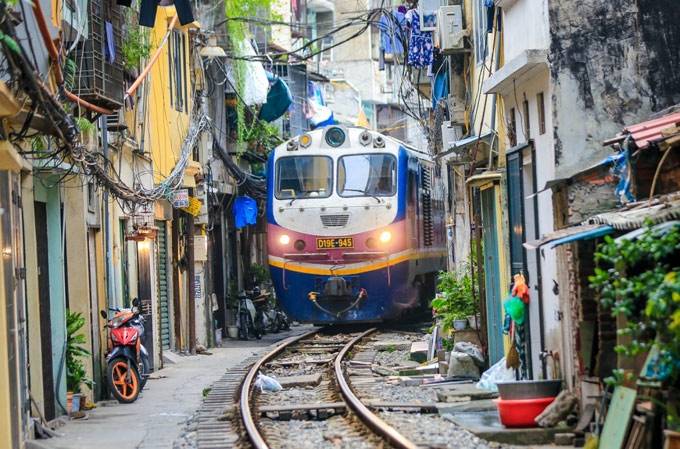 Da Nang has a North-South railway, therefore, the train is an affordable means to choose to go to Da Nang. During the journey, travelers can admire the constantly-changing wonderful landscapes outside the window.
Since the travel time often lasts for more than 10 hours, you should buy a night bed seat to be less tired. The train fare ranges from 400,000 – 1,200,000 VND /person/way, depending on the type of chair.
– Bus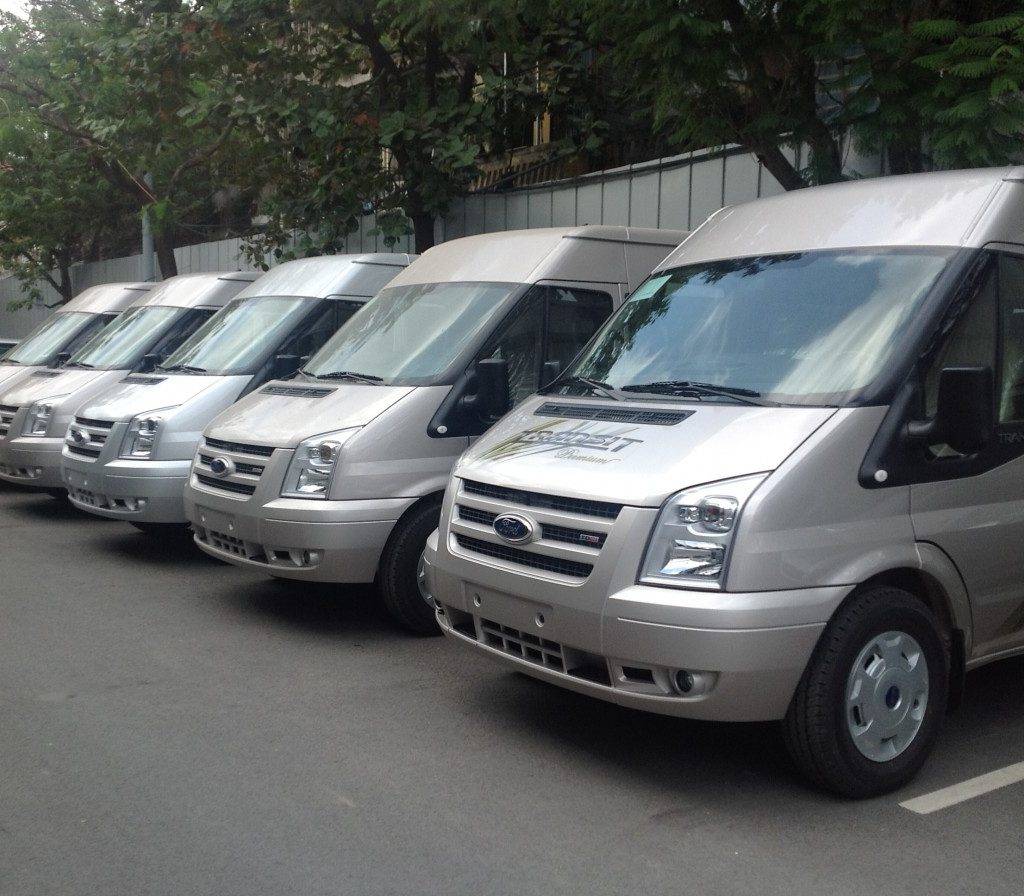 Da Nang Bus Station is located in the city center, and all provinces have routes to Da Nang at only 300,000 – 500,000 VND/way, so if you intend to travel by bus, remember to contact the bus operator before going.
From Hanoi, you can take a bus to Da Nang from Nuoc Ngam, Giap Bat, and My Dinh Bus Stations, while from Saigon, you should take the bus from Mien Dong Bus Station.
** Transportation to get around the city
As mentioned, Da Nang traffic is quite open and easy, and tourist attractions are also quite close to each other, so the most suitable form of moving around the city is riding a motorbike.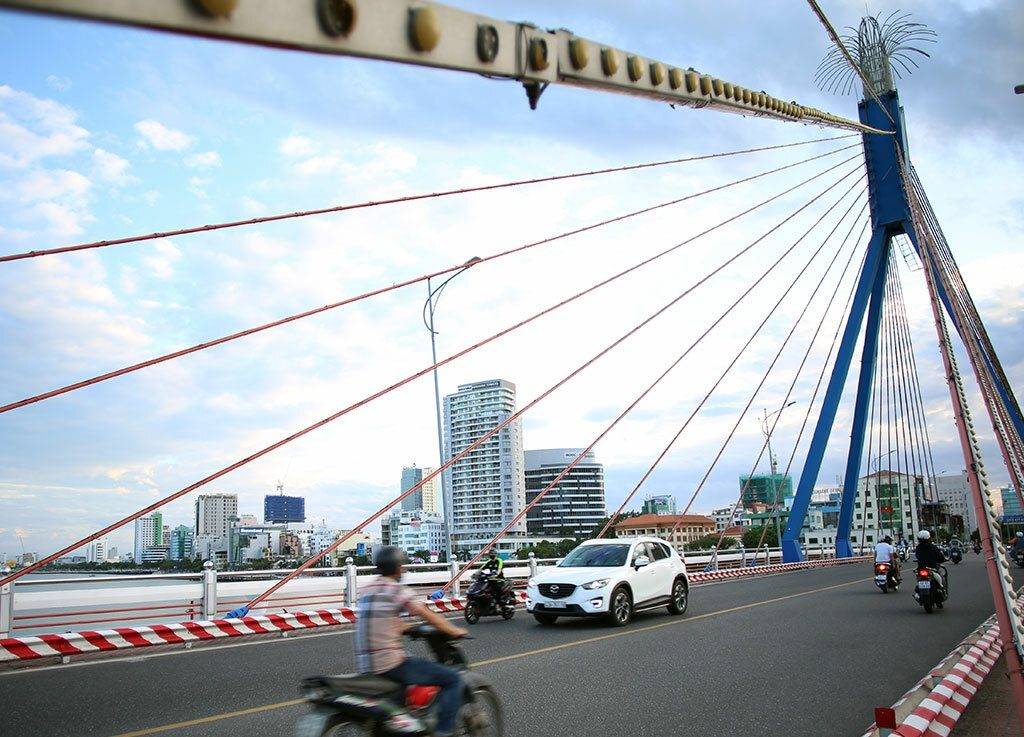 The rental price is about 80,000 VND – 200,000 VND/each/day, depending on the motorbike type. You can rent the vehicle right at your hotels or contact these three stores below:
1. Phuong Binh car rental service
– Add: 04 Phan Huu Ich
– Tel: 0906.40.80.40 / 0984.241.372
2. Song Han car rental service
– Add: 86/26 Thi Sach, Hai Chau district
– Tel: 0905.304.050 – 0962.200.179
3. Binh Minh Company
– Add: 36 Ta My Duat, An Hai Bac ward, Son Tra district
– Tel: 0986.862.986
For those who cannot ride a motorbike, you can take either a grab bike or taxi (Mai Linh – 02363.56.56.56; Vinasun Green – 02363.68.68.68) to travel around the city.
Read more: EXPERIENCE RENTING MOTORCYCLE IN DA NANG
IV. Accommodation in Da Nang
With the rapid development, along with the increasing number of tourists coming every year, the accommodation system in Da Nang is growing more and more as well;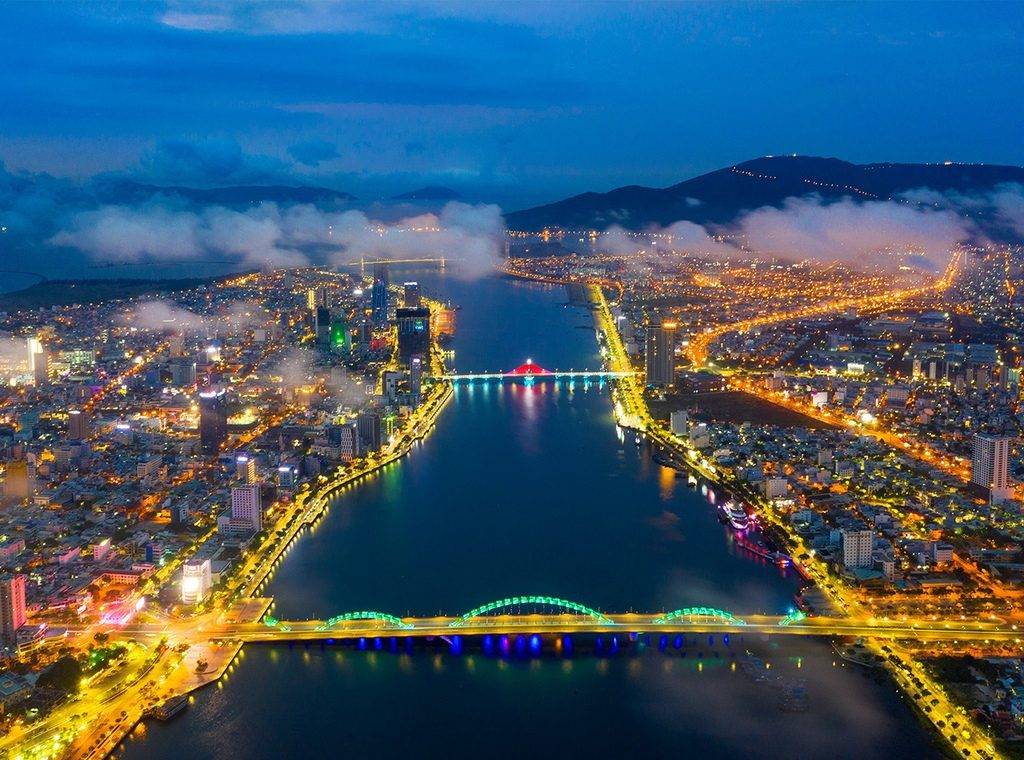 Scattering around the whole city, it's not hard to pick a well-furnished homestay or fancy hotels for your stay. Nevertheless, choosing a place near the beach is more reasonable. In addition to quickly rushing to the seawater, you can also travel to nearby attractions such as Son Tra Peninsula, Marble Mountains, Hoi An, and Hue.
Da Nang hotel prices change depending on the season. In the peak period, the budget hotels will range from 350,000 – 600,000 VND, 3-4 star hotels are 650,000 – 3,000,000, high-class resorts and beach-front villas will be from 5,000,000 or more. On the contrary, in the low season, prices will often drop by 30-40%.
V. What to do in Da Nang
– Swim in My Khe Beach
Located in Son Tra district, only 2.2 km from the center of Da Nang, My Khe Beach has been selected by multiple international newspapers, like Forbes and CNN, as one of the top beautiful beaches in the world.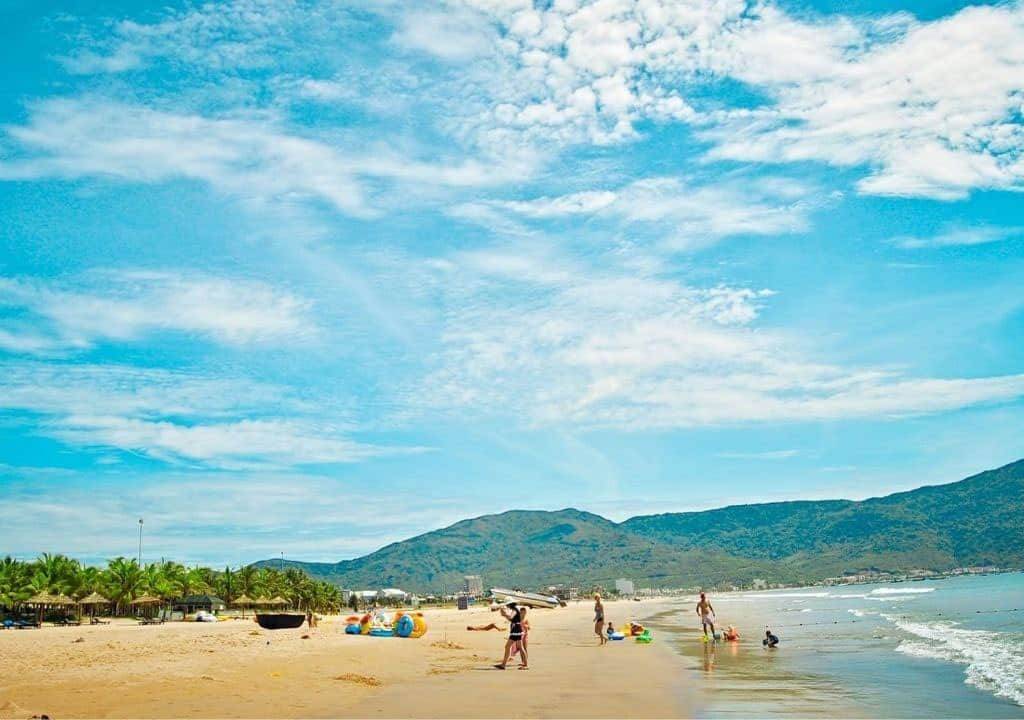 The beach is divided into 3 zones and stretches for nearly 60km extending from the foot of Hai Van Pass to Marble Mountain. It has a pristine look with a naturally curving white sandbank, as well as gentle waves, making it safe for families with kids and beginners. Close to the shore are rows of green coconut trees and a few beach-front bars with some benchers for sunbathing. You are expected to buy some drinks to comfortably use the chairs.
Most of the time, the place is always full of both tourists and locals, so it's better to arrive here early in the morning till late noon not to see too many flocks of people. Beach swimming is also prohibited from 6:30 pm onwards.
– Explore the wild in Son Tra Peninsula
Son Tra Peninsula is the only synthesis of the natural forest ecosystem associated with the sea in Vietnam, which is also a giant shield and green lung of Da Nang City. The atmosphere here is extremely airy and pleasant. According to scientific research, every day the forest here recreates enough oxygen to supply 4 million people.
Son Tra forests are almost in primeval form with unique flora and fauna; there are 289 species of plants belonging to 271 genera and 90 families. It has been estimated that nearly 300 rare and precious brown-shanked douc langurs, red-faced chickens, monkeys, and other rare animals are recognized worldwide.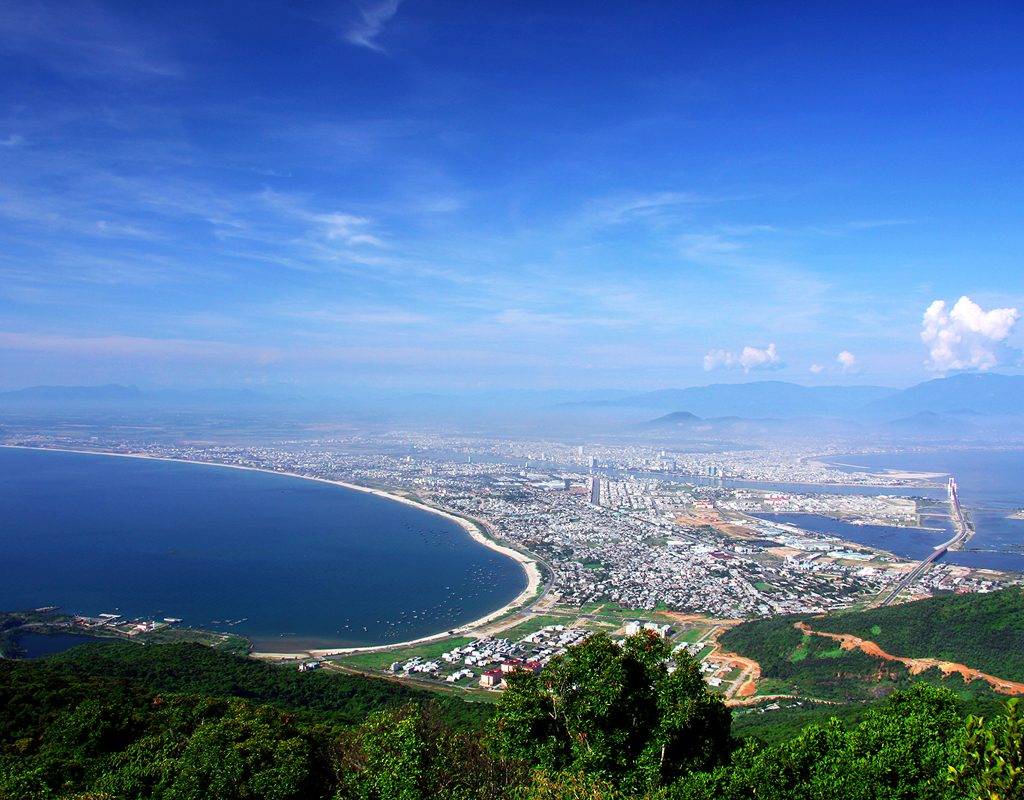 From the foot to the top of Son Tra peak, we can encounter many charming sceneries and attractions. Around the foot are fine white sand beaches such as Bai Bang, Bai Rang, Bai But, Nam beach, and Da Den freshwater beach, along with Om stream and Da stream falling from the mountainside. On the way to the top, you can visit Linh Ung Pagoda – a famous tourist temple with a giant Buddha statue facing the sea. The inhabitants believe that her blessing helps them avoid dangerous storms.
From the top of the mountain, visitors can admire the whole city in a bow shape, Marble Mountains, Ba Na Hill, Cham Island, and even the majestic Hai Van Pass.
Read more: SON TRA – THE UNIQUE PENINSULA OF VIETNAM
– Trek to Ngu Hanh Son
About 8 km from the city center to the southeast, Ngu Hanh Son, also known as Marble Mountain, includes 5 limestone mountains representing the five elements of Wood, Fire, Earth, Metal, and Water. Visitors have 2 ways to get to the top of the mountain, which are by elevator and climbing stairs.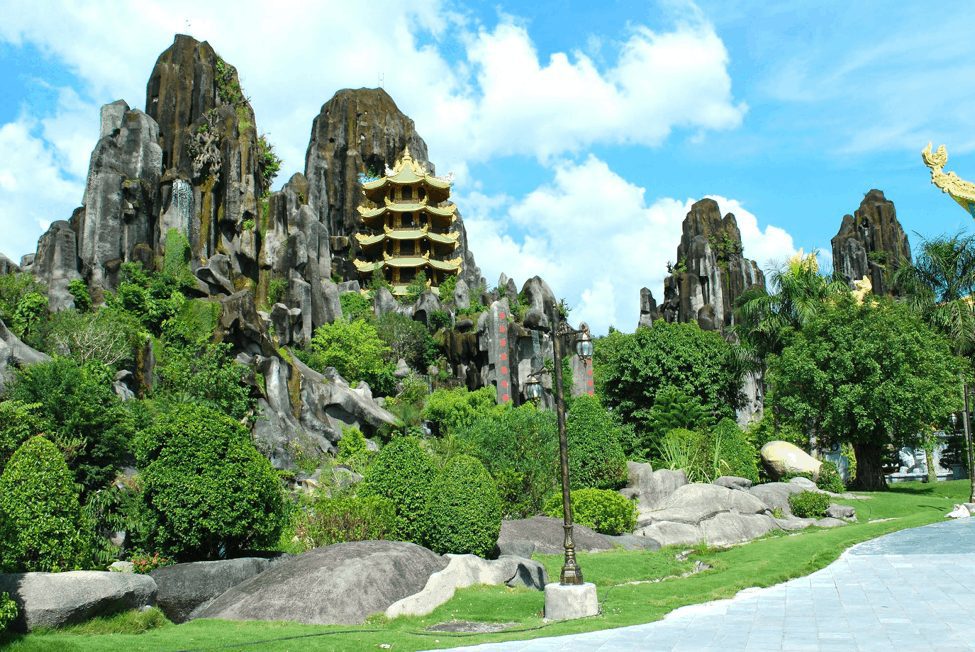 Because in the tropics there is a lot of sunshine and rain, so the limestone has been dissolved for a long time, so the beauty here is very mysterious and fanciful, especially in the caves. Caves in the Marble Mountains are open caves, with many holes connecting to the outside, so the cave is always cool and airy, unlike the closed caves in other places such as Phong Nha, Ha Long Bay, and Lang. Paint, etc.
The place is also famous for the Non Nuoc fine arts village producing many marble artifacts that are famous all over the country and even abroad. The historical records show that before the Vietnamese came here, the Cham people worshiped their gods in caves and shrines. The Vietnamese immigrants brought Buddhist culture and beliefs here and built more temples and pagodas, making this place very diverse and harmonious in identity.
– Visit the fairy land Ba Na Hill
At an altitude of 1,487m above sea level, Ba Na is considered a "temperate area in the rainforest" because of its cool climate all year round, in a day you can enjoy 4 seasons: Spring, Summer, Autumn, and Winter. From the foot of the mountain to the top of Ba Na, visitors have to take a cable car for 15 minutes at 850,000 VND/adult and 650,000 VND/child.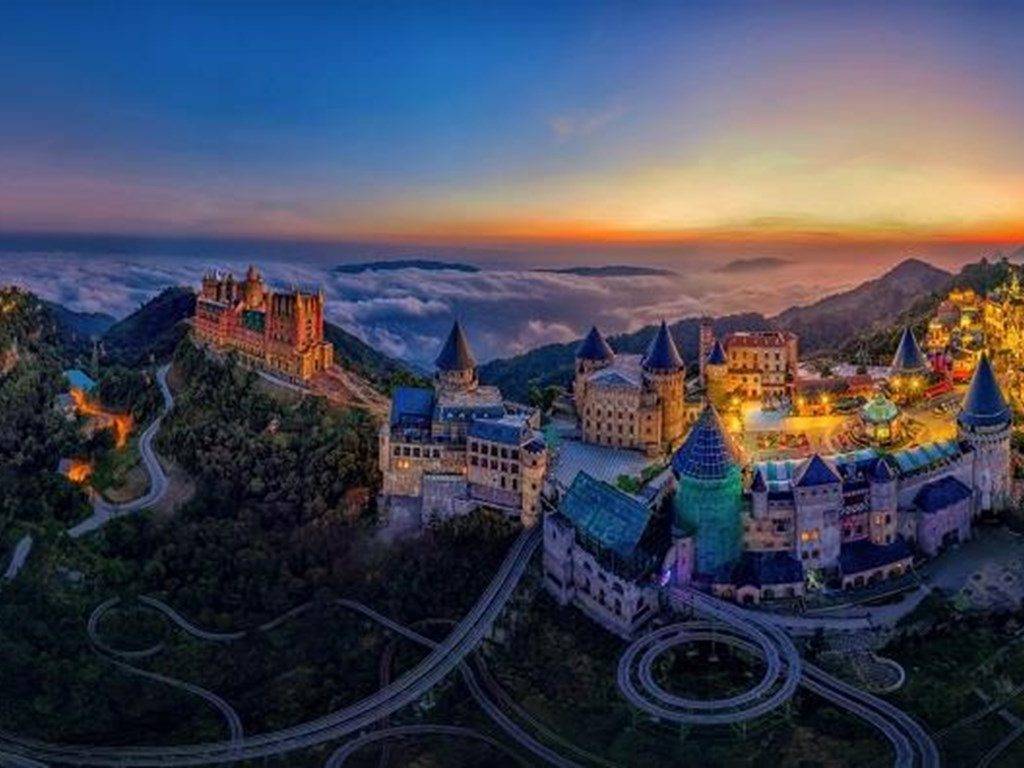 This place was once explored by the French and made a resort by the cool air and natural beauty. Despite the artificial French architecture, Le Jardin D'amour flower garden, Fantasy park, Ba Na Hill still has quite the natural scenery of the ever-green forest surrounding. Recently, the image of the Golden Bridge has already hit the internet with its distinctive architecture.
Coming to Ba Na Hill is more convenient nowadays since there is a bus with a reasonable fare of 136,000 VND/ person/ two ways. If you travel to Ba Na hill by motorbike, you need to be careful because even though the road is easy, it is quite long and winding.
Read more: 10 EXCELLENT EXPERIENCES ONLY AT BA NA HILLS
– Check-in at all the bridges around the city
Interestingly, Da Nang is also known as the city of bridges. There are a total of 6 bridges across the romantic Han River running in the heart of the city.
The most typical one is the Han River Bridge, which is still the only cable-stayed swing bridge in Vietnam, bringing curiosity to many Da Nang tourists. This special bridge was designed and built by a team of Vietnamese experts and engineers in the period 1998 – 2000.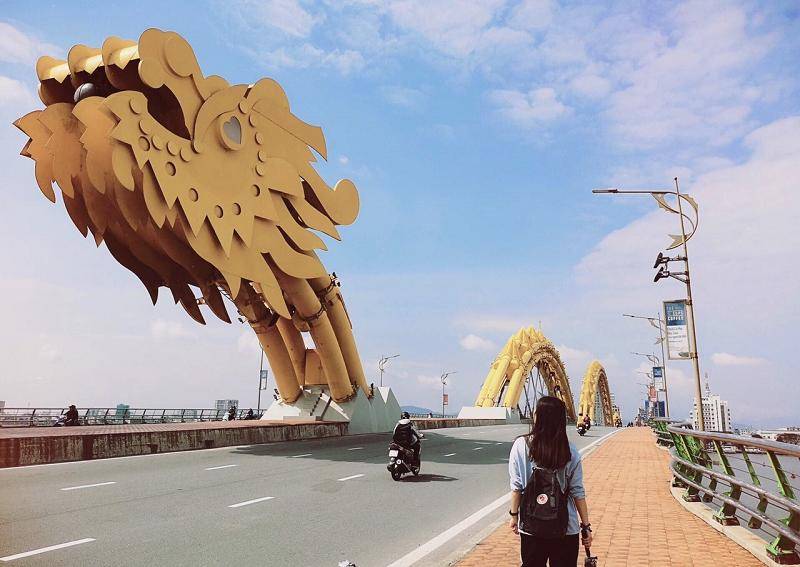 For newer architectures, visitors can walk at Tran Thi Ly Bridge with sail-shaped cables with unique color-changing led lights. Not far away from there is Dragon Bridge, connecting Da Nang airport with My Khe Beach, with a design simulating a strong Ly dynasty dragon reaching out to the sea. Dragon Bridge has become an important architectural symbol of the city. Another highlight is that visitors can admire the fire-breathing and water-breathing from the dragon's head every Saturday and Sunday at 9:00 p.m.
On peaceful days, visit Thuan Phuoc Bridge across the sea to see the intersection between Han River and Da Nang Bay, to feel the grandeur of nature. Thuan Phuoc Bridge is a hammock bridge west of the Han River, the bridge is located in a special position, where the Han River flows into the sea at the mouth of Da Nang Bay.
Going back in history, we will visit the oldest bridge, Nguyen Van Troi, also the only bridge in the city in 1965s. Currently, this bridge is kept as a souvenir of Da Nang to serve the pedestrian street.
Read more: 7 NECESSARY THINGS TO KNOW BEFORE ARRIVING AT DANANG AIRPORT
– A thrilling ride through Hai Van Pass
Hai Van Pass is one of the most beautiful and impressive coastal passes in the world. Hai Van Road is precarious and crooked, standing out among the majestic green mountains. Sometimes it bends and hugs the mountainside. Sometimes it takes a sudden turn, creating fancy zigzags.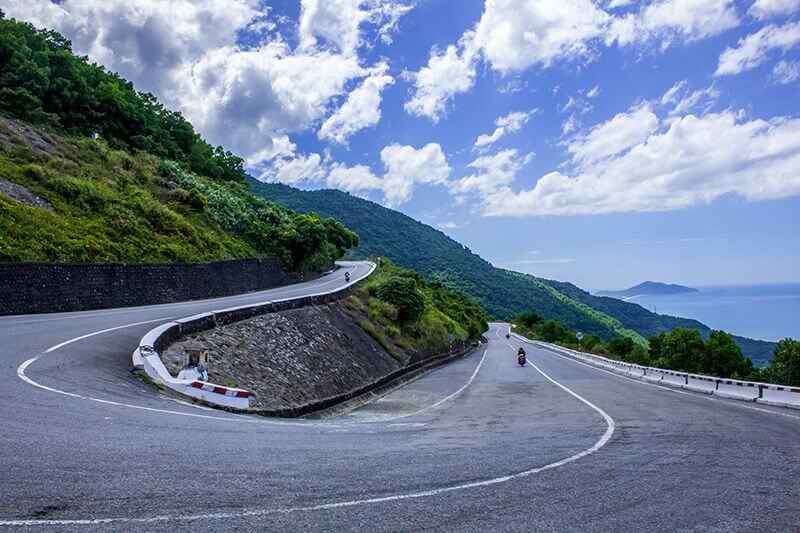 Conquering Hai Van Pass by motorbike is the best feeling that attracts lots of thrill-seeking motorcyclists. Traveling by motorbike gives you the flexibility to stop at different places on the pass to take a break, take photos, and rest.
Departing from Da Nang, after about 1 hour, you will reach the foot of Hai Van pass. From the top of the pass, one can see the whole sky, Bach Ma Mountain range hiding behind the mist, the North-South train line hovering below and the blue sea touching the horizon. Standing in the north of the pass, we can see the fishing village and the jade-green Lang Co bay with a long, picturesque white sand beach. Meanwhile, in the south is the whole of Da Nang city, Tien Sa port, Cham island, and the green Son Tra peninsula.
– Experience amazing Da Nang street food
It would be a miss not to mention the local street food. Da Nang cuisine may not be as sophisticated as Hanoi or as diverse as Saigon, but it has its own special features of the Central taste.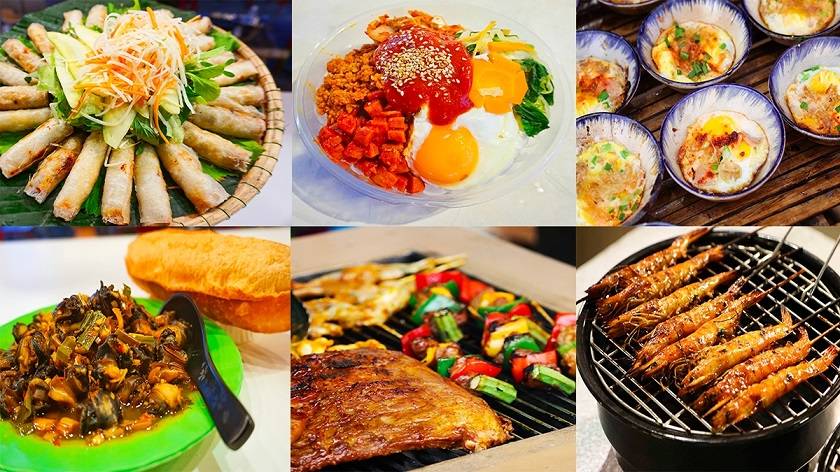 All typical dishes of the sunny and windy central strip are available in Da Nang, from bun ca (fish vermicelli), bun mam (fish sauce vermicelli), nem (spring rolls), Binh Dinh tre, Phu Yen wine, Quang noodles, Cao Lau, Hoi An chicken rice to the elegant cakes, banh beo, banh bot loc, from Hue Ancient Citadel.
You can easily find it on the streets of the city, or if you have a chance, visit Con market or Han market to discover the whole world of street food hidden inside. At night, go to My Khe beach to mingle with fresh seafood parties at popular to luxurious restaurants.
Read more: Han Market – The biggest shopping paradise in Da Nang