Top-notch natural destinations in the sunny-windy Central Highland province, Gia Lai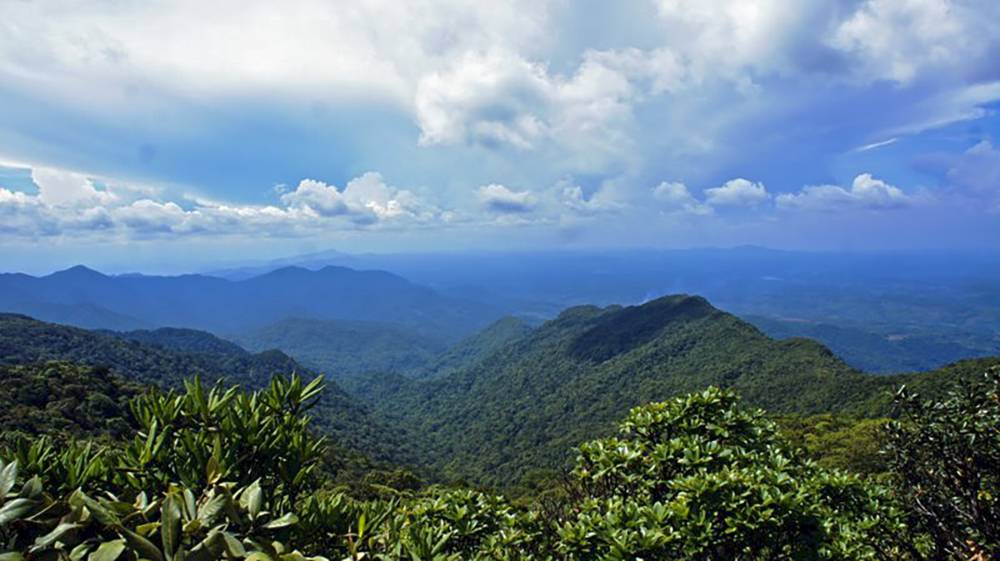 While Northwest mountainous regions fascinates tourists with the poetic vast golden rice fields, gentle murmuring streams, or lovely rustic tinh truong houses of the ethnic people H'Mong, Tay, Dao, etc., Central Highland provinces stand out for ever-green primeval forests, marvelous swift-flowing waterfalls, coffee and pepper hills on basalt red soil, and stilt houses of locals whose characteristic dark skin tones.
Gia Lai province, a representative with the most complete convergence of mentioned details, will be a brand new worth visiting spot in Viet Nam. Kon Chu Rang Nature Reserve, Chu Dang Ya Volcano, Bien Ho, Kon Ka Kinh National Park, and Van Village's newly discovered ancient rocks are must-visit ecological landscapes to stop by at once while in here.
I. About Gia Lai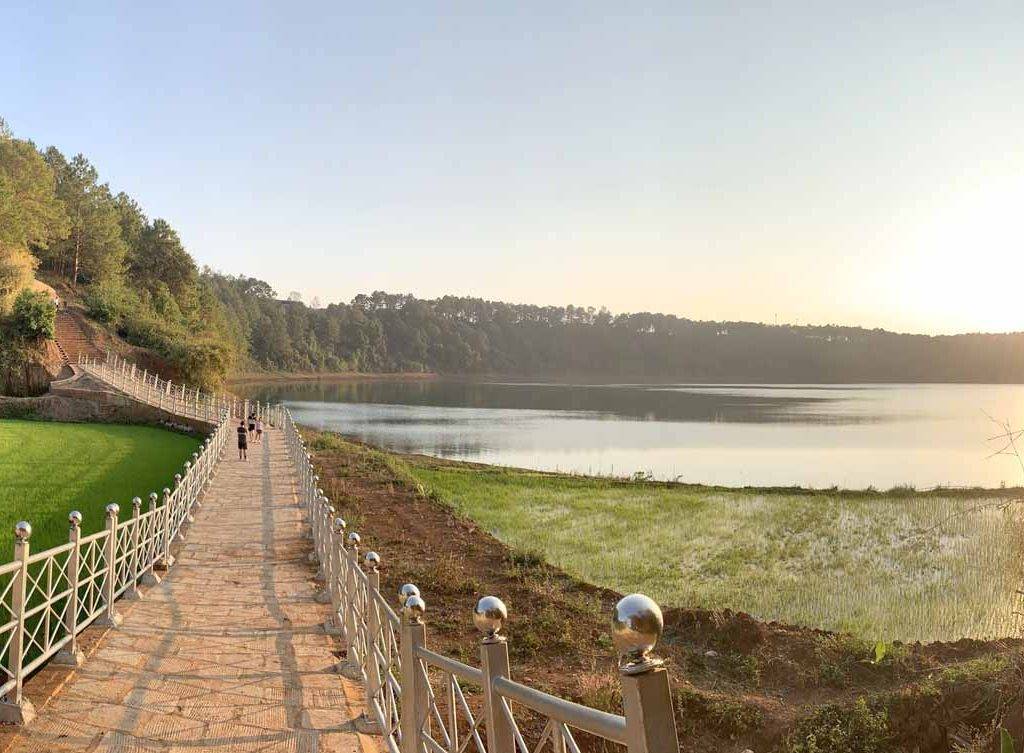 Approximately 600km from Ho Chi Minh City, Gia Lai is located on part of a large ancient rock foundation with an average altitude of 700-800 meters above sea level. The province's territory also lies almost entirely east of the Truong Son mountain range. The volcanic terrain weathered over years becomes varied with undulating plateaus, hills, and relatively low-lying areas.
Besides the available potentials, Gia Lai features a very convenient traffic position with two National Highways 14 and 19 not only going throughout the provinces and cities of Vietnam but also connecting National Highways 78 (Cambodia) and National Highways 18 and 16 (Laos).
Indigenous culture in Gia Lai especially expresses through the Jrai and Bahnar ethnic people's farming lifestyle and the architecture of communal houses, stilt houses, and grave houses. Their "Cong Cultural Space in the Central Highlands" has also been recognized by UNESCO as a representative intangible cultural heritage of humanity.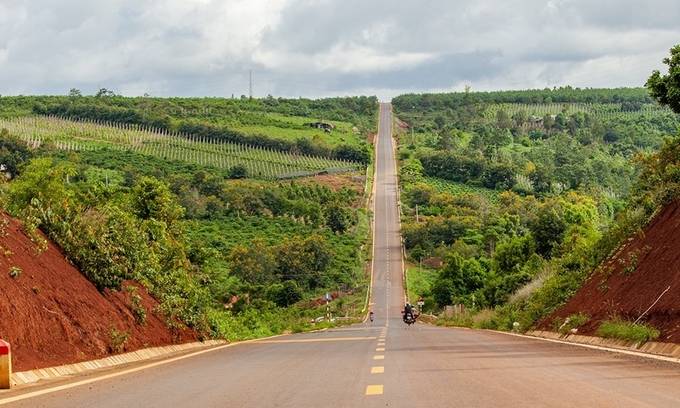 Gia Lai has two distinct seasons; the dry season starts from December to April and the rainy season from May to October. The best time to visit Gia Lai is usually from November to early April next year. On the contrary, in the rainy months like June – August, the road will become muddy and slippery, not suitable for tourism.
Currently, there are direct Vietnam Airlines flights from Hanoi, Danang, and Ho Chi Minh City to the domestic airport in Pleiku – Gia Lai. Plus, from Ho Chi Minh City, tourists also have two more economical options, Vietjet and Jetstar flights. Additionally, you can also go to Gia Lai by sleeping bus that takes around 12 hours.
II. Notable natural attractions in Gia Lai
1. Chu Dang Ya Volcano
From Pleiku city to the northeast about 30km, Chu Dang Ya is a million-year-old volcano that has been inactive for a long time. According to the Jrai people living in Ia Gri village at the foot of the mountain, the name Chu Dang Ya means "wild ginger" in the local language.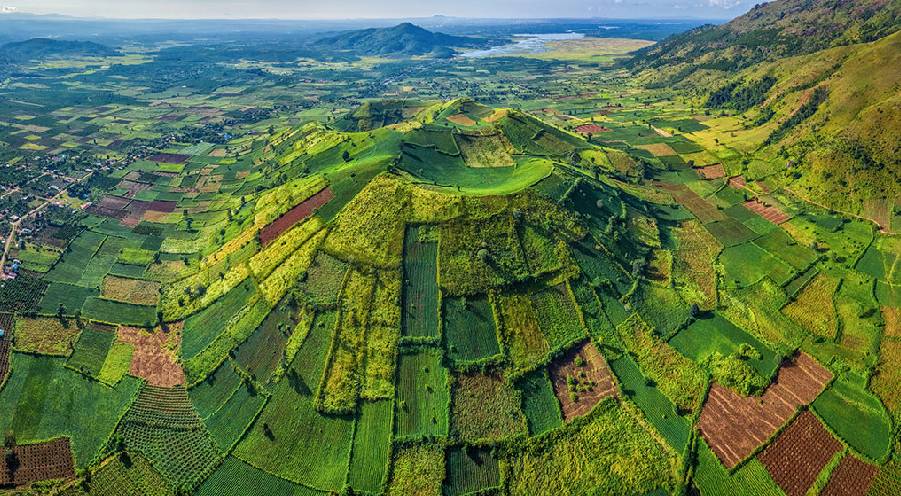 Reaching the top of this funnel-shaped Chu Dang Ya Volcano, the mountain opens up a large valley of 3 serial craters. In the season of wild sunflowers, the hillsides coat brightly yellow rising to the craters. Meanwhile, in the rainy season, Chu Dang Ya is covered with immense green fields of food crops.
The vestiges of lava over millions of years left Chu Dang Ya as a fertile and rich red basalt land, creating great conditions for growing crops. Each season, the residents alternately cultivate rice, vegetables, sweet potato, taro, or galangal in several square fields with vivid colors creating an interesting picture. Wandering through the region, visitors will encounter remaining lava balls of various sizes and shapes.
Read more: Best Son La tourism alternatives to Moc Chau plateau
2. Bien Ho – The eyes of Pleiku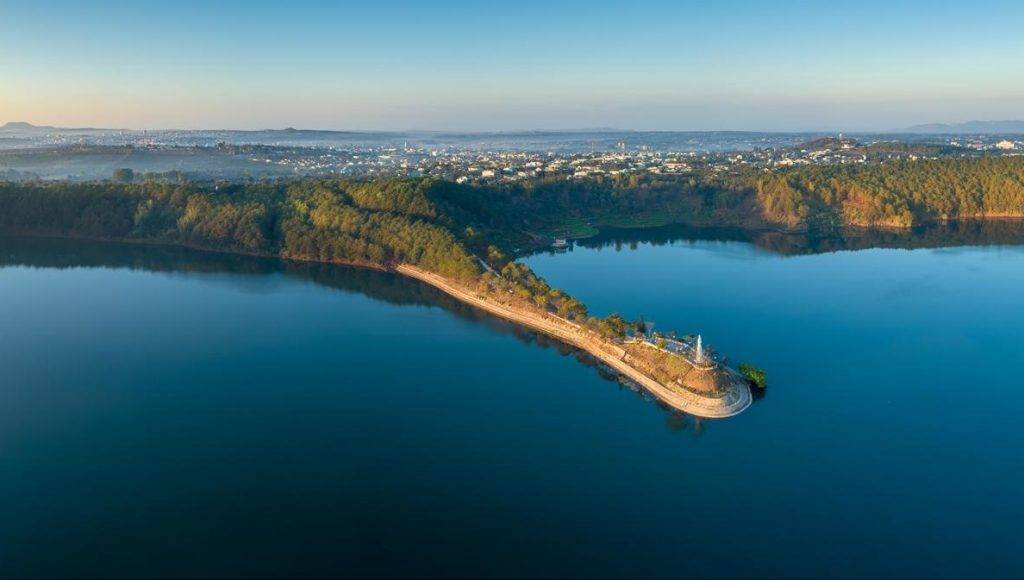 Bien Ho, or T'Nung Lake, is likened to the blue jade among the Central Highlands mountains. T'Nung in the local language means "sea on the mountain" because the lake is originally formed from three craters.
Bien Ho used to be the source of domestic water for the whole of Pleiku city. Surrounded by mountains and natural forests, this 220-ha lake is also known as "a bottomless lake" as it is difficult to determine its depth.
The paved road leading to the lake is covered with the shades of large pine trees along both sides. Going straight down are the stone steps leading closer to the lake; from here, you can totally admire the calm emerald-green water. To explore nature more, rent a canoe to move along the lakes through the jungles witnessing all kinds of birds. Remember to prepare a fishing rod if you want to leisurely do something while spending time here.
Read more: 7 breathtaking stops in the paradise of adventure trekking – Bat Xat
3. Kon Chu Rang Nature Reserve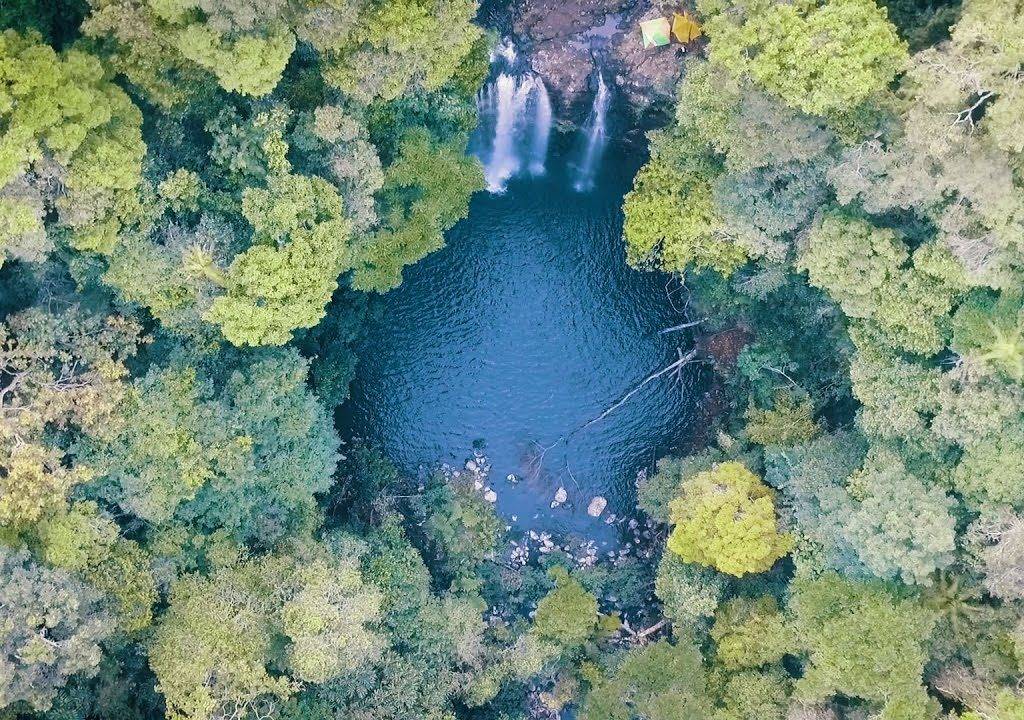 For those who want to explore the rich flora and fauna world, do not miss Kon Chu Rang Natural Reserve. This place covers 15.9 thousand hectares, belonging to both Gia Lai province and a part of Quang Ngai province, on the Truong Son mountain range. In addition to rich vegetation, the area also has countless majestic streams and waterfalls.
Kon Chu Rang Nature Reserve has about 833 species of higher plants with 18 species listed in Viet Nam's Red Book and 7 species in the world's Red Book. In which, there are numerous endemic plants and precious orchids. The fauna is also extremely diverse with 392 species, including rare names such as langurs, gray-shanked douc, red-cheeked gibbons, or Truong Son gills.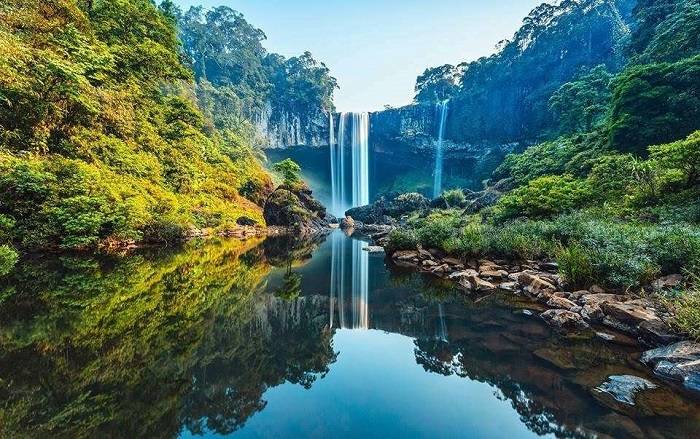 While trekking through the Reserve, tourists will learn about the system of waterfalls ranked first in the country with 12 large waterfalls of 10 meters high, of which the most famous is Hang En Waterfall. Hang En Waterfall, also known as K50 waterfall, between Binh Dinh and Gia Lai has been likened to a fairyland thanks to the beautiful 54m high white water pouring down among wild natural scenery.
To conquer Kon Chu Rang to the fullest, you need to equip a full range of items, such as climbing shoes, jungle gear, insect repellents, drinking water, sleeping bags, tents, and food. Luggage should be as compact as possible, and it's better to have a guide with you.
4. Ancient stone rocks at Van Village
The attraction is literally unique stone rocks on the bank of a wild stream at Van Village found recently. According to the Heritage Management Department of Gia Lai, the stream flows through many villages before emptying into the reservoir of Ialy Hydropower; in its section through Van Village, a two-hectare undulating carpet of innumerable rocks emerges, creating an exotic scenery. Each block of hexagonal stone bars is relatively regular and quite similar in shape, standing perpendicular, obliquely, or parallel to the ground.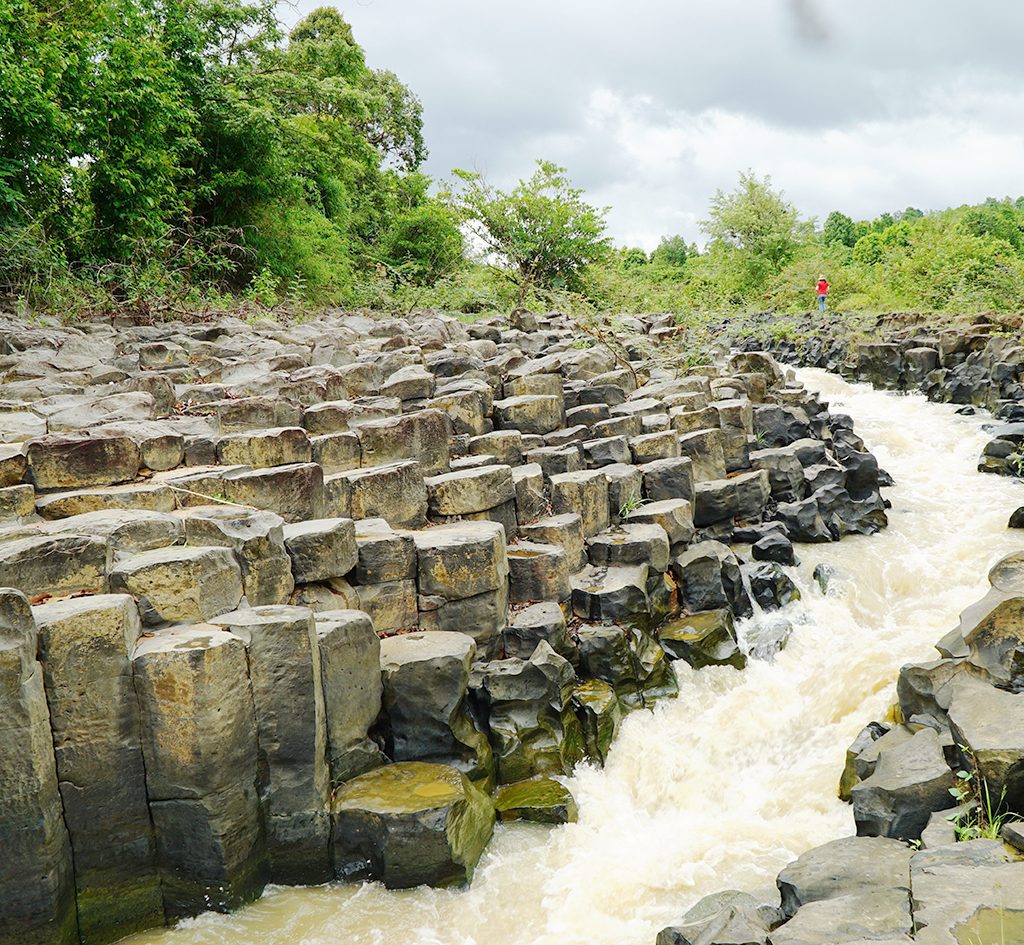 The geological values of this ancient rock population here correspond to Ganh Da Dia (Phu Yen) in terms of structure and age. It still remains unclear to know how many ancient rocks are inside the dam or underground in this area, but according to common logic, the rock veins are more than what is exposed.

The previous geological fluctuations and the power of the water flow later probably created strange beauty for this ancient rock population. The rocks, which are magma erupting from volcanoes with terrible hardness, have been polished by persistent currents, making them appear solid in large pieces. In some places, the ancient rock blocks were also submerged by water or penetrated through holes. Many caves and holes of all shapes and sizes appear throughout a large hydropower downstream area.
Read more: Ninh Binh, the land with masterpiece landscapes in most diverse terrain
5. Kon Ka Kinh National Park
Kon Ka Kinh National Park has an area of ​​42,057.3ha, mostly primary forest. The name Kon Ka Kinh is also understood as the highest mountain peak, with 1,748m compared above sea level, so this place is considered "the roof of Gia Lai".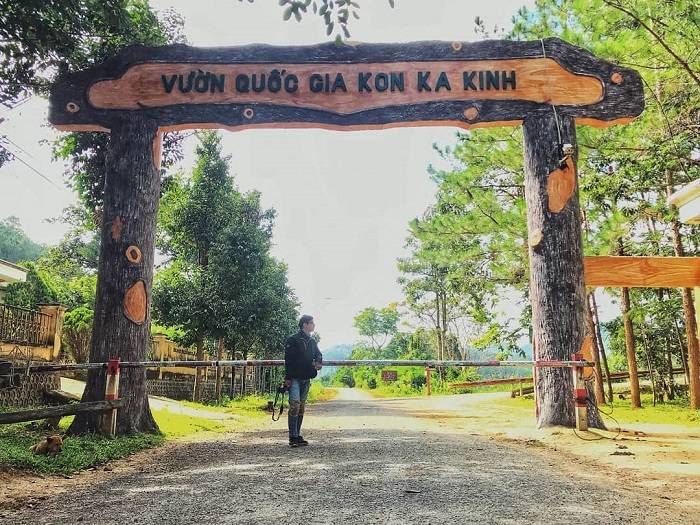 The long and tangled vines can initially make tourists a bit uncomfortable at first; however, these vines are natural bridges between the forest canopy layers for small animals to move and live, creating favorable conditions for biodiversity. Mixed with ancient trees of hundreds of years, bright vegetation often changes color depending on altitude and light density where they live.
Abundant food sources and well-protected natural ecosystems have helped Kon Ka Kinh preserve multiple precious animal species such as brooding cats, leopards, fire leopard, tigers, large gills, and a few endemic bird species, including the Kon Ka Kinh babbler – a symbol of this National Park.
Climbing to the top of the peak, visitors will catch a majestic panorama view of the Truong Son mountains covered by clouds dotted in silks of white waterfalls.
Read more: Xuan Son National Park, a charming nature-centered site to beat the city heat