Ly Son Island, ancient offshore volcanic spot turning into hidden photo gem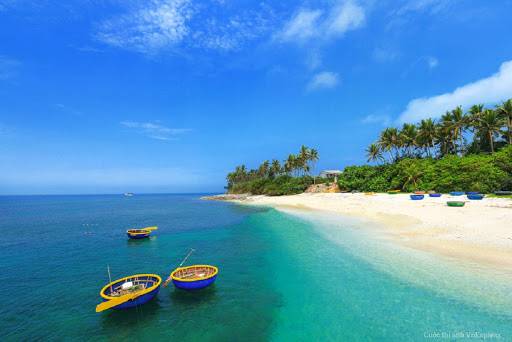 15 nautical miles from the mainland, Ly Son Island offers an exquisite experience of simple living where you will immediately immerse in the rustic combination smell of garlic, salt, and beach. The landscape here is stunning with turquoise beaches, untouched islets, and unique headlands; Thoi Loi Mountain, Cau Cave, garlic or scallion fields, To Vo Gate, and Be Island are must-go attractions. Still, the attraction of the island also lies in different historical sites, cultural activities, as well as kind, hospitable locals with English barely spoken.
I. About Ly Son Island
Ly Son is an island district of Quang Ngai province, located about 30 km from the shore, with an area of ​​​​nearly 10 km2, currently home to more than 20,000 people. The place consists of three islands: Big Island, Small Island, and Mu Cu Island, in which Big Island, also known as Cu Lao Re, is the center of Ly Son. The island is a vestige of a volcano with 5 mouths of 25-30 million years ago, currently forming 5 mountains that are the source of the groundwater for all the islanders.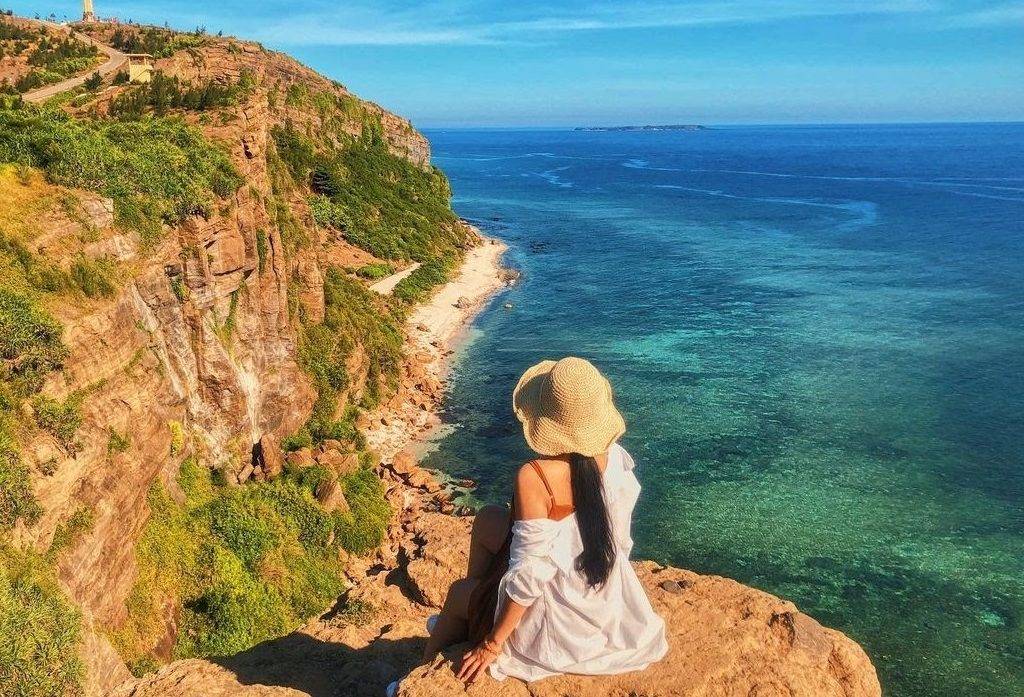 As being under development, this area is quite deserted with numerous unspoiled turquoise beaches where tourists can expect a true break from the crowd. Every year, there are many spiritual rituals held here such as the Paracel Swearing Ceremony, Tu Linh boat racing festival, etc.
The best time to visit Ly Son Island is from June to September when it becomes super sunny and hot. In contrast, the period from October to December is a stormy season, so bad weather may affect travel from the mainland to the island.
Read more: Con Son Island – The remarkable historical spot with a paradise of unveil beaches
II. What to do in Ly Son Island
1. Big Island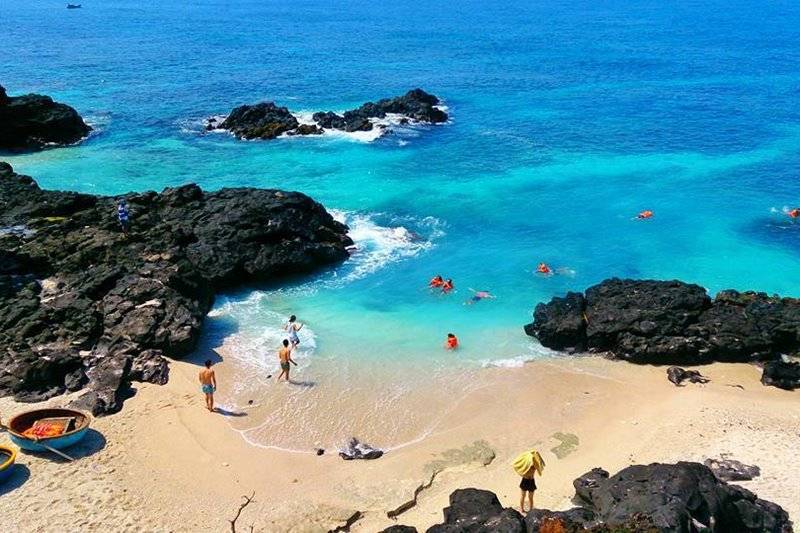 The island, only 8km from the port, is divided into two areas, East Village and Western Village. While in the Western Village located Chuc Pagoda, To Vo Gate, you can watch the sunset at Thoi Loi Mountain and visit Volcanic Crater, Hang Pagoda, Cau Cave, Mu Cu Island in the East Village. Moreover, from here, tourists can go canoeing to Small Island to swim at numerous charming beaches.
2. Small Island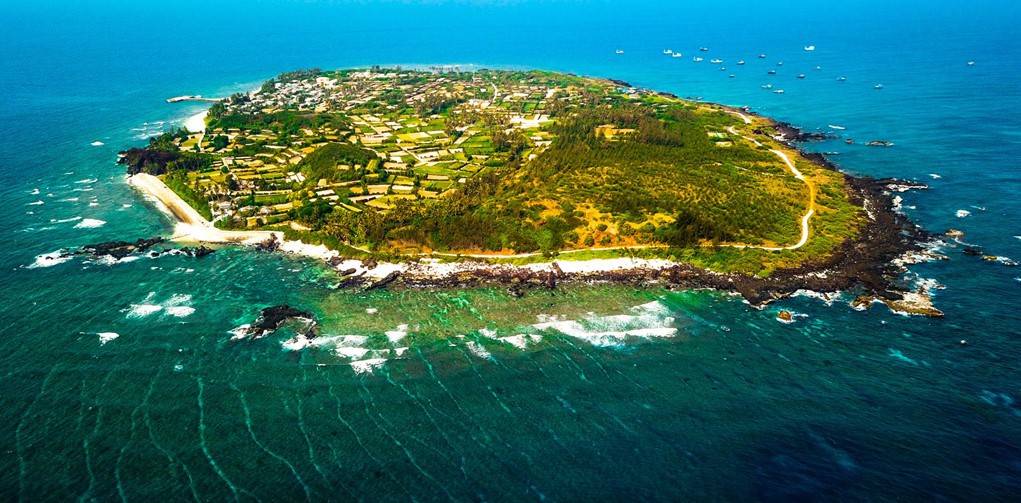 10 minutes away from the main island, Small Island is home to 80 households with about 400 people. The ship ticket to get here is around 40,000 VND/person. There are three beaches to visit: Chinh Beach, Ong Rua Beach, and Dua Beach. If Dua Beach is famous for clean, blue seawater, Chinh Beach is a paradise of seafood restaurants and bars.
3. To Vo Gate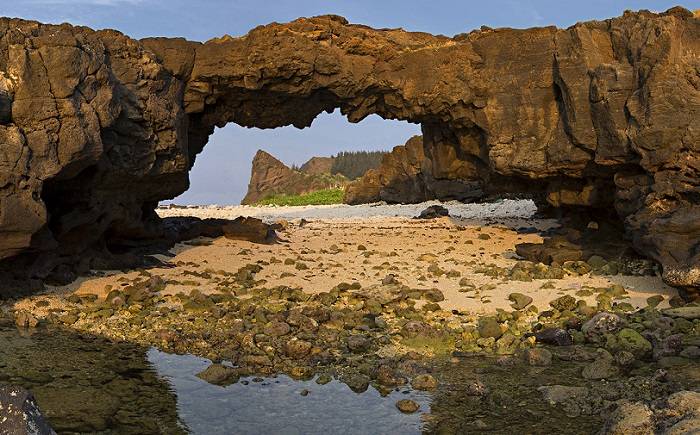 To Vo Gate is actually a beautiful natural lava rock arch about 2.5m high at Western Village, Ly Son Island. From the main jetty to the welcome gate of Ly Son, turn left and follow the small path to Duc Pagoda, you will see a small rocky outcrop close to the sea – this is also an ideal spot to watch the sunset. From the Gate looking to the south is a prosperous fishing village of fishermen.
Read more: The pristine Phu Quy island with mini Grand Canyon-alike cliffs
4. Thoi Loi Peak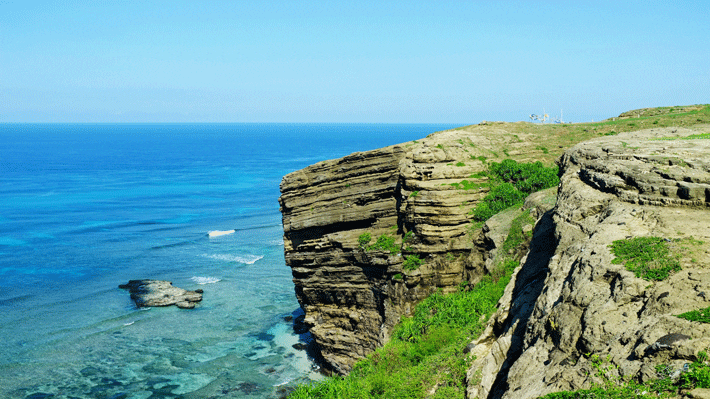 If you want to admire the whole Ly Son island, go to Thoi Loi peak – the highest peak here (149m). On the crater that has been dormant for 2.5 million years, there is a freshwater lake put into use for both Big Island and Little Island. That miracle is called by the people here "creating life in the midst of death". Besides, on the top of the mountain, there is also a flagpole fluttering the national flag.
5. Cau Cave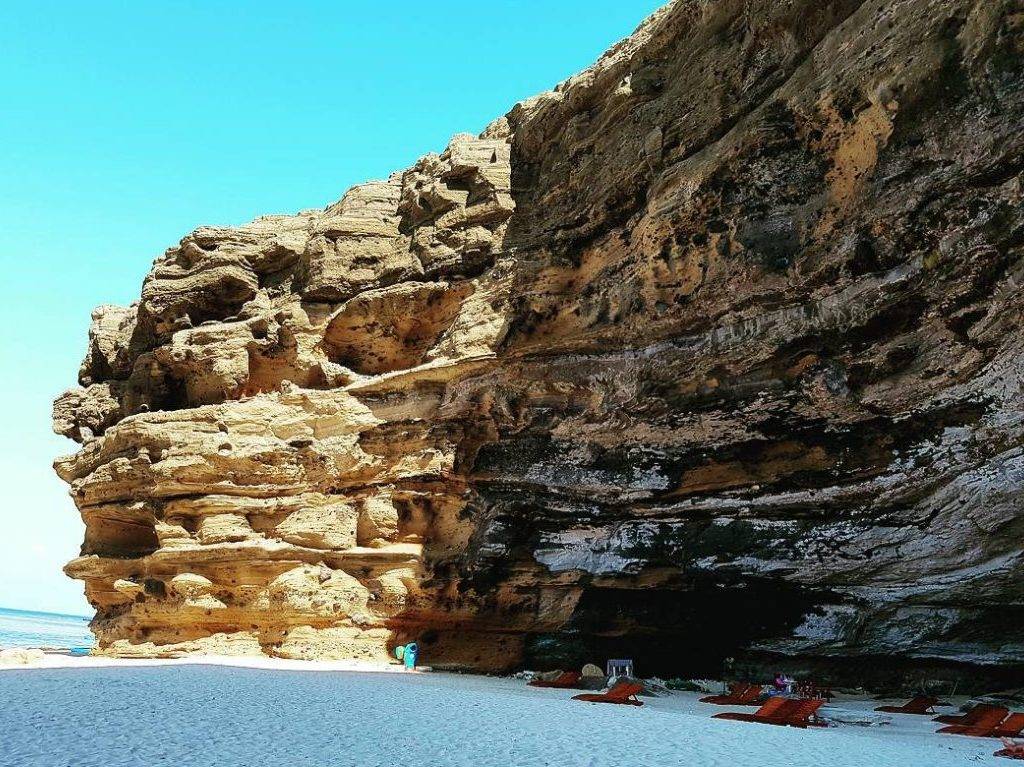 Cau Cave, at the foot of Thoi Loi mountain to the northeast, was eroded by waves and sea winds, carved deep into the mountain thousands of years ago. The air is utterly fresh with wind blowing and the waves hitting the cliffs all year round. However, the sand is not smooth, much as the sharp rocks and coral scattered around the shore, so be careful if you have the intention to swim here. Snorkeling is also one of the best things to do in this area. You can ask a local boat for 50,000 VND/person with the rower, life jacket, water shoes, and masks if you don't have a snorkel or swim goggles.
6. Hang Pagoda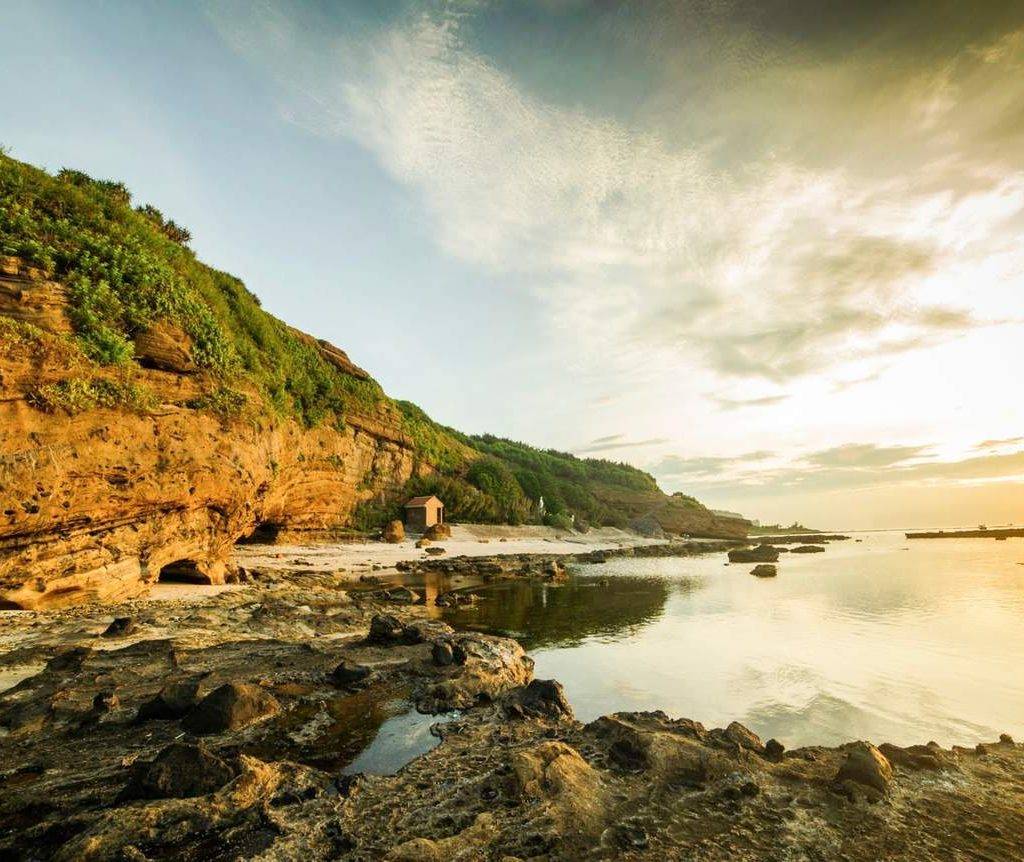 This nearly 400-year-old pagoda, also known as Thien Khong Thach Tu, is located in a large cave in the north of Thoi Loi Mountain. The space inside is described as a miniature fairyland – both wide and high – with a large statue of Buddha and a lovely lotus pond. The altars inside Hang Pagoda are made of natural stalactites combined with meticulous sculptural art dating back to the Champa era. The other two highlight features are "Sky Way" and "Evil Way" – two narrow aisles in the opposite direction, which are extremely impressive.
7. Garlic fields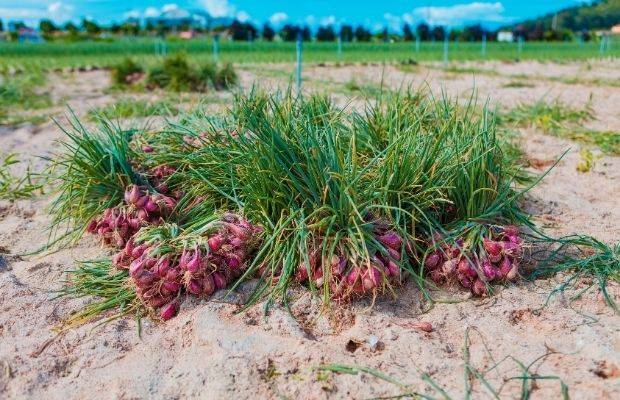 Visitors effortlessly find garlic everywhere on the island, but most concentrated at the foot of two inactive volcanoes, Gieng Tien and Thoi Loi. Since it is planted on sand interspersed with basalt soil, looking from afar, it's like the garlic is grown from vast white sand areas interwoven as a chessboard. The sunny and windy climate in Ly Son gives the garlic here a pungent and mildly spicy smell, suitably processed into exotic local dishes – such as garlic salad.
The most suitable time for Ly Son Island tourism are: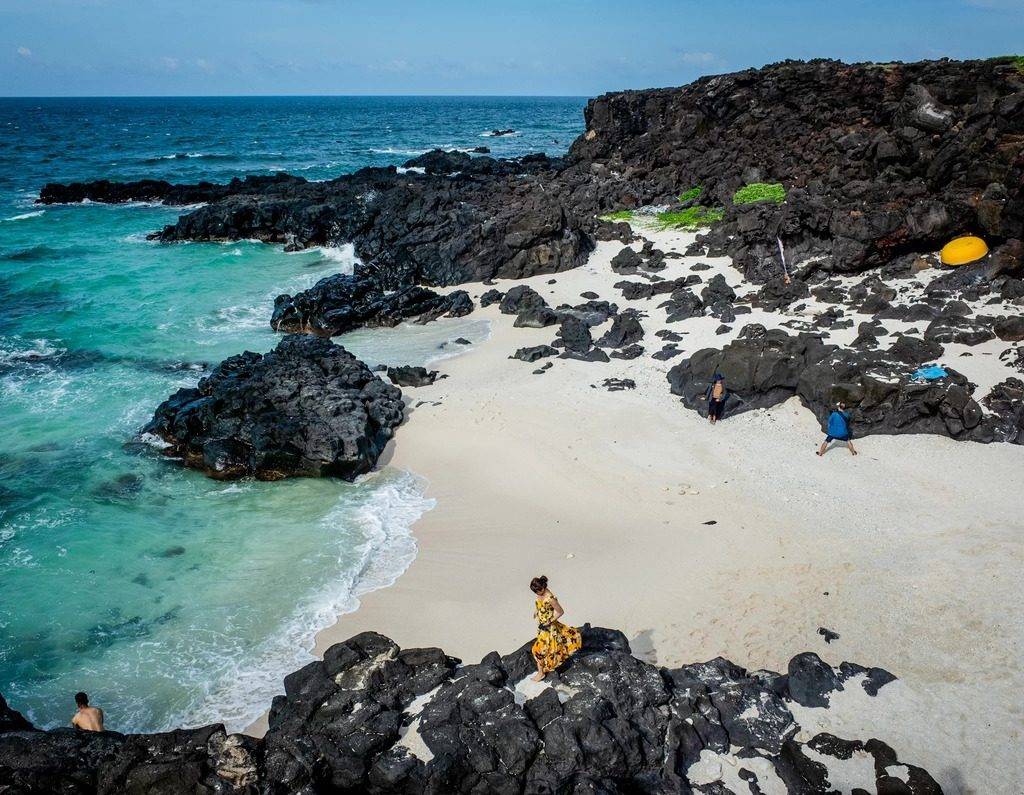 In summer, from June to September, the weather is quite lovely and sunny, ideal for going to the beach.
Ly Son garlic season starts in September and ends around early December.
The ceremony to remember Hoang Sa soldiers takes place on March 18-19-20 (lunar calendar)
Read more: Binh Hung Island appears as an unpolished pearl in Khanh Hoa
III. Getting to the island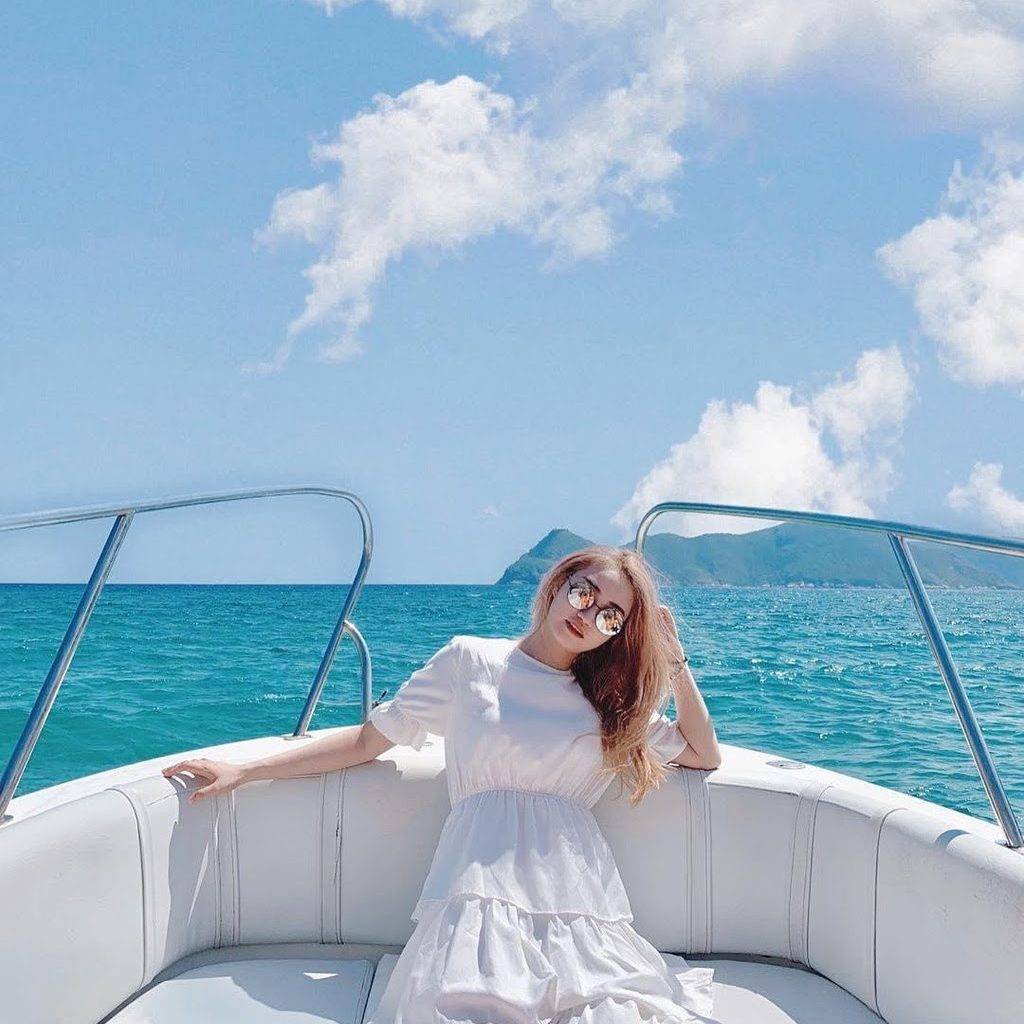 From Quang Ngai city, visitors follow Highway 24B to Sa Ky port, then go to the island by speedboat and rent a motorbike to visit the monuments on the island. There are 2 types of boat to Ly Son Island: the 30-minute boat for 155,000 VND/ticket and the one-hour boat for 135,000 VND/ticket. The departure time varies at 7:30, 9:30, 11:30, 13:30, 15:30.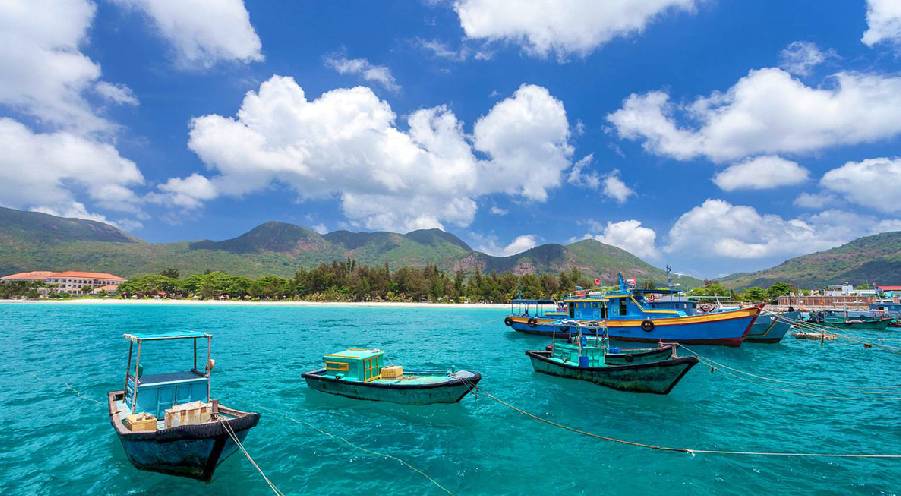 *Transportation around the island: To capture all the details about the island, it's better to use a motorbike. You can rent a vehicle at your hotel or homestay at about 120,000 – 150,000 VND/day. The other means to travel on the island is by taxi, however, it's quite expensive, approximately at 30,000 VND/km.
IV. Accommodation
Depending on needs and budget, you can choose different accommodating options in Ly Son. Note to stay around the port as it's close to most of the restaurants and also more vibrant at night.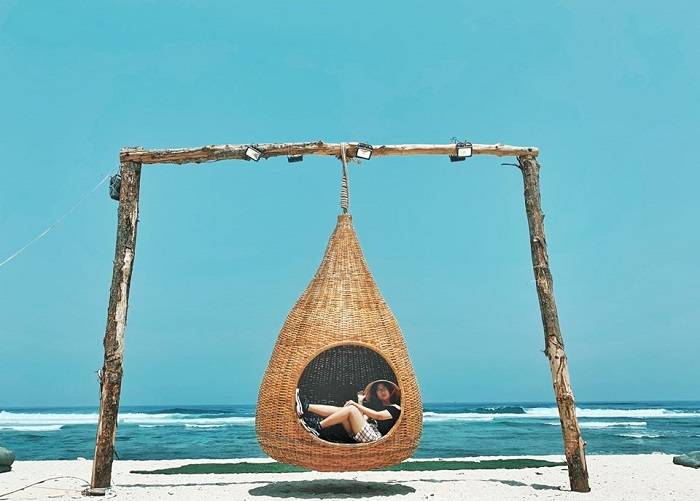 The most luxurious hotel in Ly Son is Muong Thanh, priced from 1,600,000-2,500,000 VND/room, including shuttle service from the port to the hotel.
And more suggestions: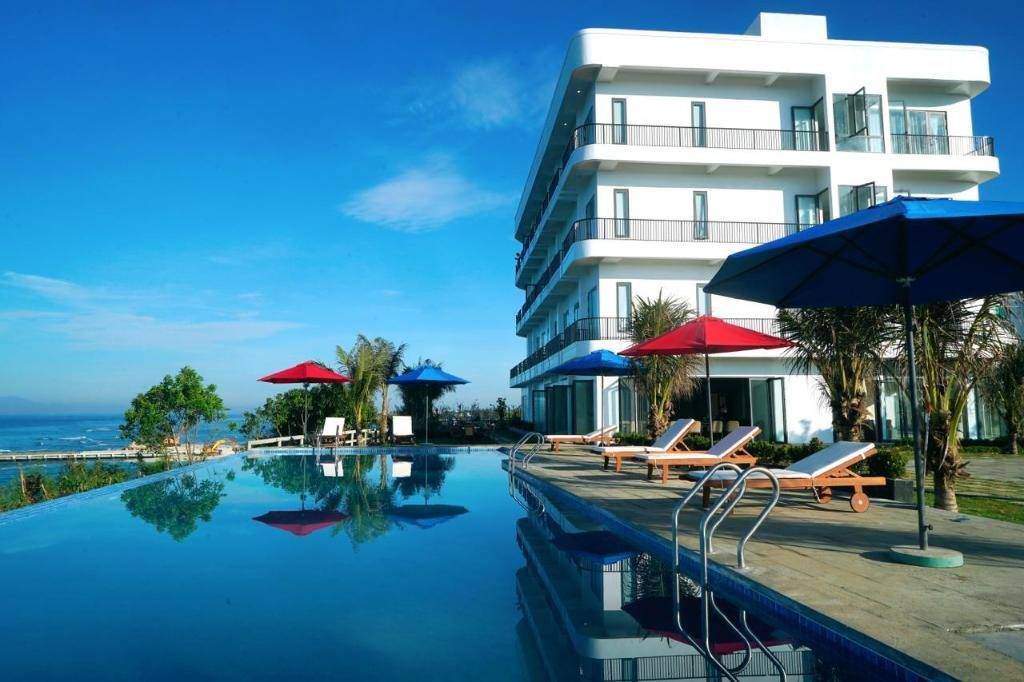 Central Ly Son: 1,000,000 VND/room (0255 3867 979)
Phat Thinh Motel: 150,000 – 200,000 VND / room (0977 701 285)
Ms. Thuan Homestay: 100,000 – 150,000 VND/double room (0379 647 871)
Read more: THE PARADISE PHU QUOC ISLAND – THE VERY FIRST VIETNAM'S OFFSHORE CITY