Xuan Son National Park, a charming nature-centered site to beat the city heat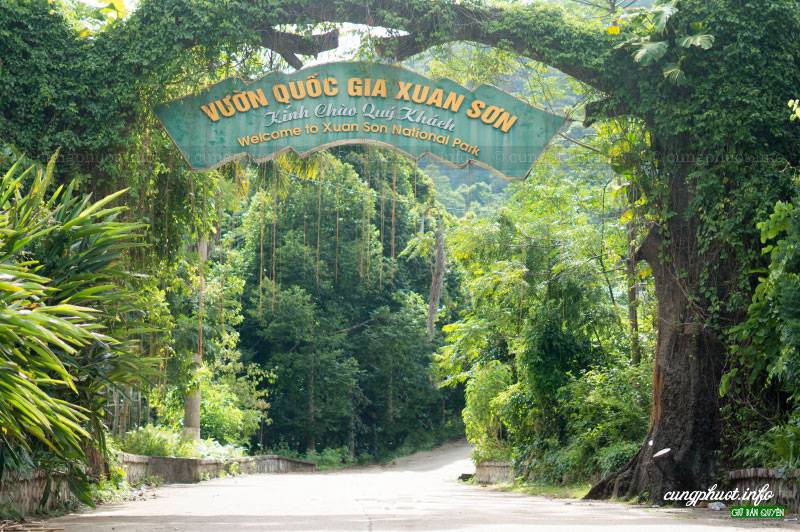 Though owning a fairly large area of ​​15,000 hectares and classified as one of the largest Vietnam's national parks, Xuan Son still maintains its inherent wild features that offer holidayers an experience associated with nature in such a large fresh space full of topography: limestone mountains, forests, caves, waterfalls, streams and rustic villages in the valley. After the extreme trek to Ten Mountains and several explorations in ancient caves of Lang, Lap, Coi, etc, it's ideal to stroll or take a bide ride into the peaceful villages of the Muong and Dao ethnic groups with simple stilt houses full of the scent of sticky rice and wood stove smoke. Within a day, you can experience four seasons: the morning is the weather of spring; the noon is the warmth of summer; the afternoon makes people vibrant with the gentle breezes of autumn, and the evening is covered with the cold of winter.
I. About Xuan Son National Park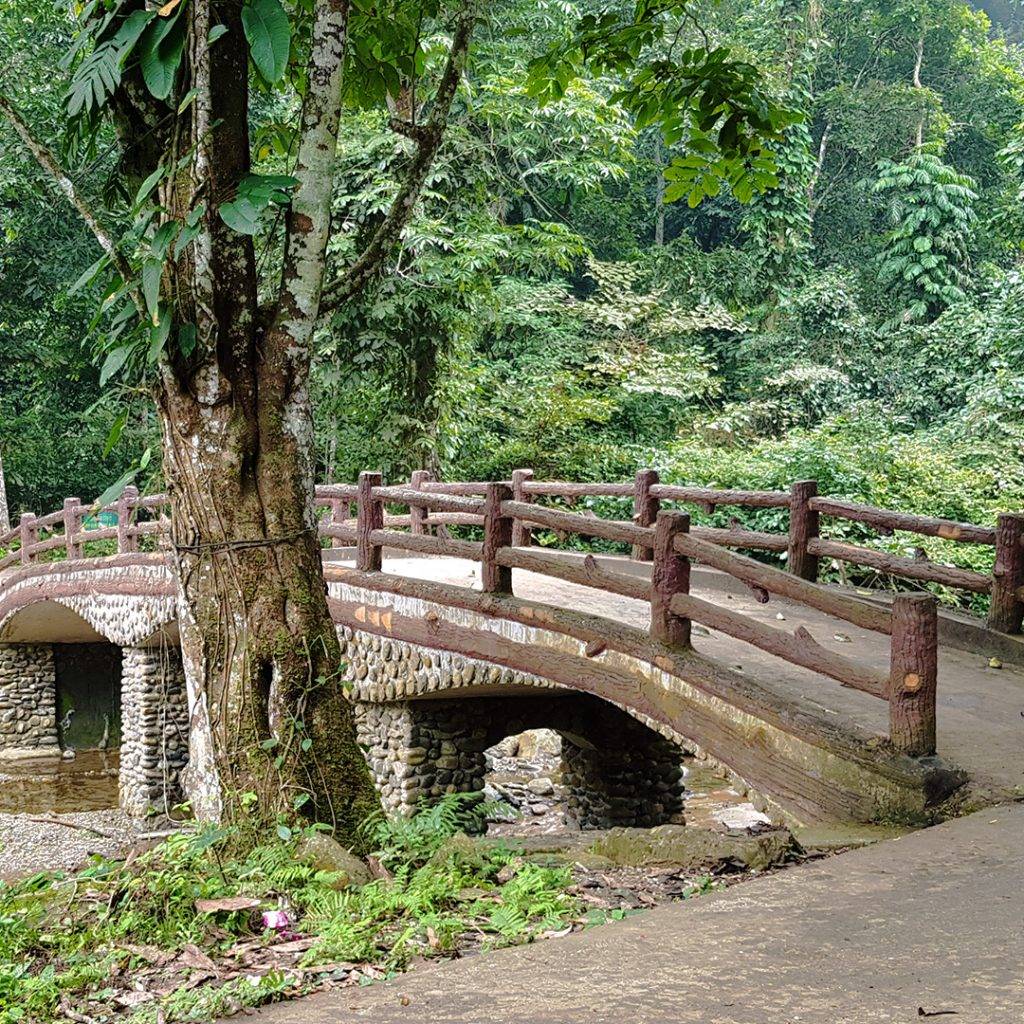 120 km from Hanoi, Xuan Son National Park is located at the end of the Hoang Lien Son range and in the southwest of Tan Son district, on the triangle between the boundaries of the three provinces of Phu Tho, Hoa Binh, and Son La. It's the only national park with primeval forests on limestone mountains, in which there are 3 peaks over 1000m high, namely Ve Mountain, Ten Mountain, and Can Mountain.
The diverse terrains create rich landscapes, including limestone hills, vast forests, natural caves, and waterfalls. The primeval forest here is currently home to countless rare and precious species of flora and fauna, specifically 1,179 species of plants, 75 species of reptiles and amphibians, 241 species of birds, and 76 species of mammals.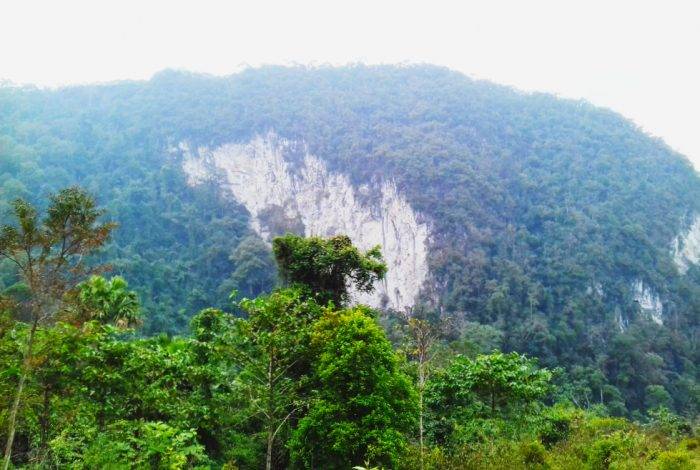 The Muong and Dao ethnic groups are mainly concentrated in the villages of Lang, Du, Lap, Thang, Xoan, Ong, and Dam. They still do the farming and weaving work while turning their old split houses into lovely homestays to develop community tourism.
The weather at Xuan Son National Park is divided into 2 distinct seasons, from November to April every year is the dry season and the remaining months are the rainy season. In the dry season, the roads are clean, convenient to move around the area, but the greenery will not be greatly fresh and lush. Moreover, in the rainy season, the streams and waterfalls are filled with water, making the scenery more majestic.
II. What to do in Xuan Son National Park
1. Experience local life at Xuan Son ethnic villages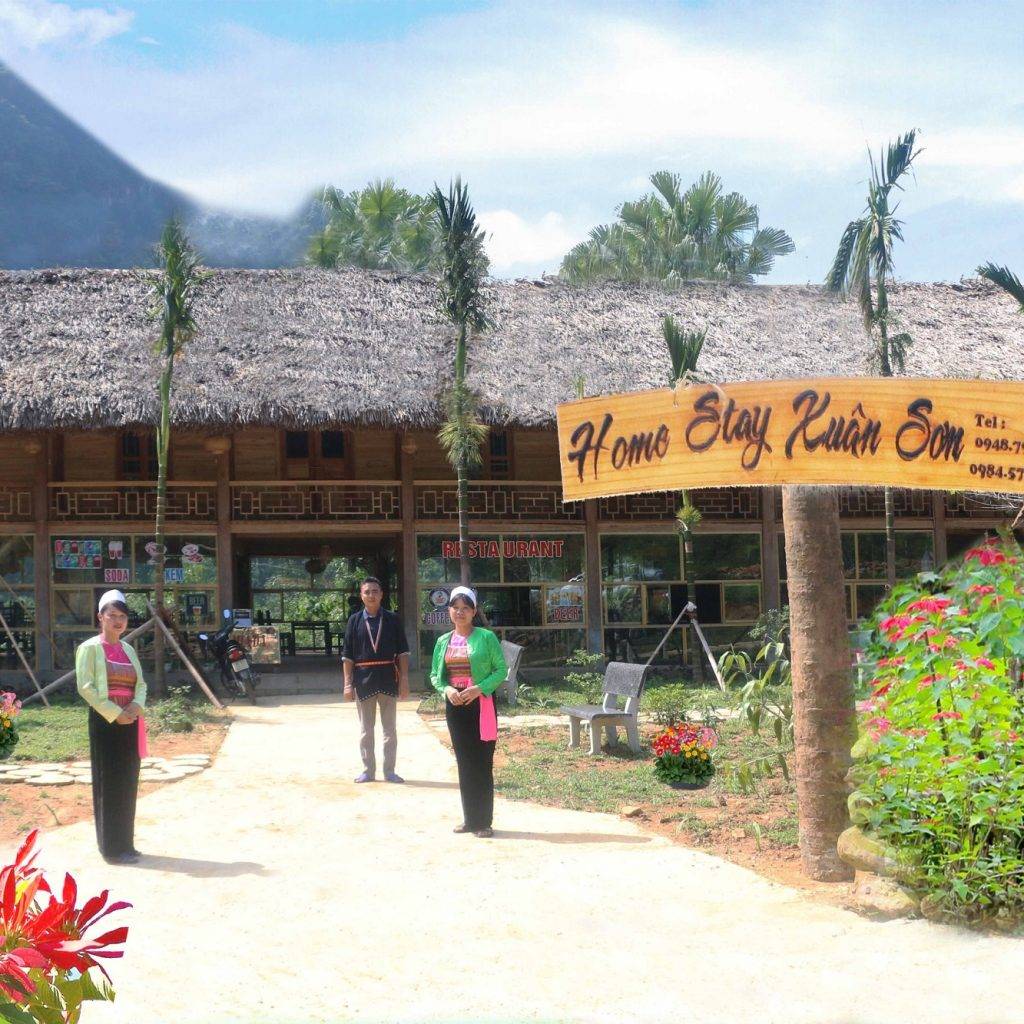 Walking into the ethnic villages here is a good opportunity to learn about the life, customs, and habits of the indigenous Muong and Dao people. On the way to Xuan Son, just cross the Heaven Gate slope, you will reach Ban Du (Ban means village), the central village in this National Park. Ban Du is well-known for the lonely bananas (also known as Mint bananas). Around a dozen kilometers from Ban Du is Ban Lap, which is quite small with only about 30 households. The people's life in Ban Lap mainly depends on the forest by collecting firewood or fishing from streams. Next is another small village called Ban Coi, surrounded by towering lush mountains.
The residents' generosity will not fail to amaze tourists, they will be willing to cook a feast from home farmed and grown food to treat guests. Not only that, but visitors can also directly participate in activities such as catching fish in the stream, weaving brocade cloths, learning to cook local specialty dishes.
2. Explore mysterious caves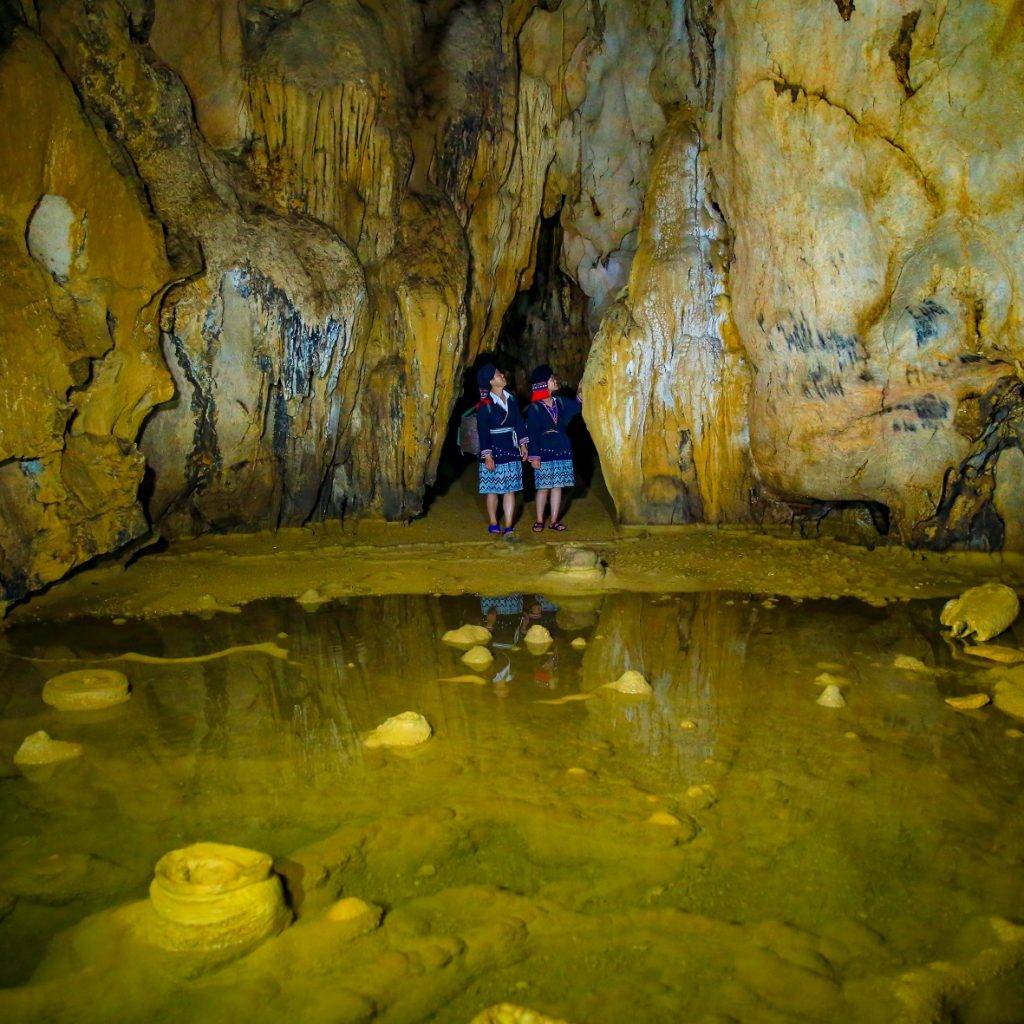 Due to the weathering process over time, there are 16 caves with diverse attractive stalactites. Some caves to visit should be Son Tinh, Tho Than, Coi, Lang, etc. We can also see Lung Troi waterfall and Nine-Storey waterfall in the distance from these caves' mouths.
At an altitude of 400 m above sea level, Lang cave has streams flowing all year round to Ban Lap and then back to Ban Coi, every place it goes appears a plain with a lake of about 4-5 hectares wide where numerous fish species inhabit. Crossing the winding forest roads going downhill is a wide field where Son Tinh cave is situated; in contrast to the narrow and vertical entrance that's only enough for one person to get into, the space inside is super large, which is able to accommodate hundred people. Although located deep in the park, Coi Cave seems to be the most popular thanks to the cool swimming hole near its entrance, where visitors can enjoy a small picnic and camp.
Read more: Phong Nha – Ke Bang, the oldest major limestone karst ecosystem in Asia
3. Trek to innumerable peaks and hidden waterfalls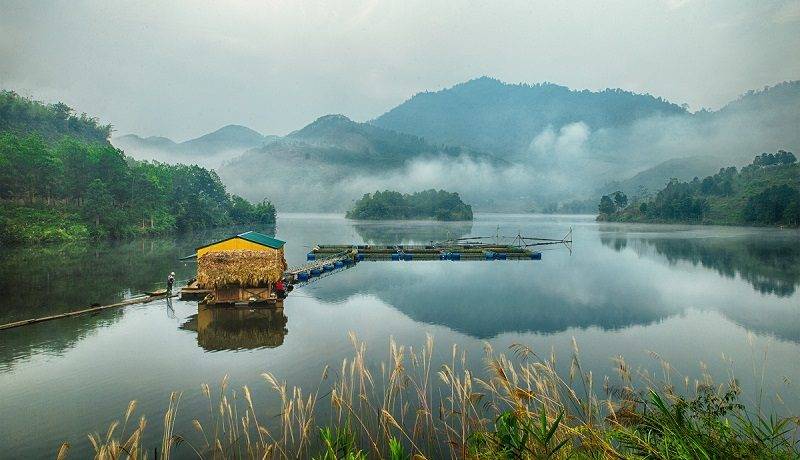 The vastness of the park has created many hidden paths suitable for treks suitable for different levels of health conditions. Whether it is hiking through dense jungle or climbing high mountain peaks with steep slopes, Xuan Son National Park has it all. The most recommended place to trek is the top of Mount Ten, which usually takes around half a day.
A forest hike leading to the wild Lung Troi waterfall is also a nice idea. You can swim in the falls; however, it's only for adults, while the more children-friendly areas are streams near Coi Cave because the water there is shallower.
If you simply want to immerse in nature without much effort and adventure, opt for camping, as long as you make sure not to litter around and be respectful to the locals. There are plenty of perfect places to set up outdoor tents and feel the natural background cutting you off from the pressures of the busy life out there.
4. Enjoy delicious specialty at homestays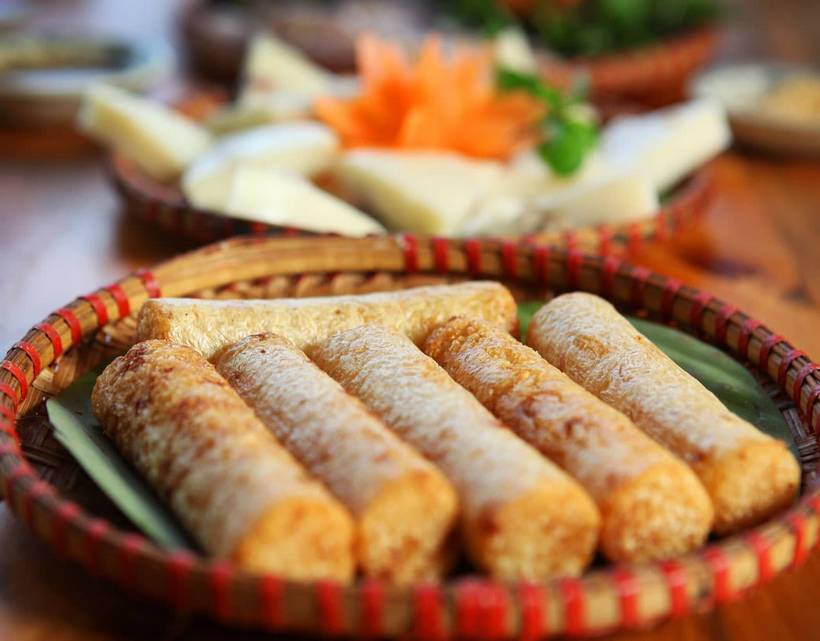 You might not find any restaurant or eatery in the park, however, homestays are ideal spots to enjoy Xuan Son specialties. The hosts will help you prepare traditional dishes in their daily meals for 100,000 – 150,000 / pax. You may encounter some dishes, such as stream fish, crab, local vegetables – bo khai, rau san, lon man, all of which are processed with bold local flavor. In addition, there is also com lam rice cooked in a bamboo tube served with thit chua (sour pork) that is exotic yet extremely tasty.
Read more: BA VI NATIONAL PARK – THE RELAXING DESTINATION FOR FAMILY AT WEEKEND
III. Getting there
Xuan Son National Park is situated in Tan Son, on Highway 32 from Hanoi to Yen Bai. The road is quite convenient, so you can travel to the park either by motorbike or bus.
1. Motorbike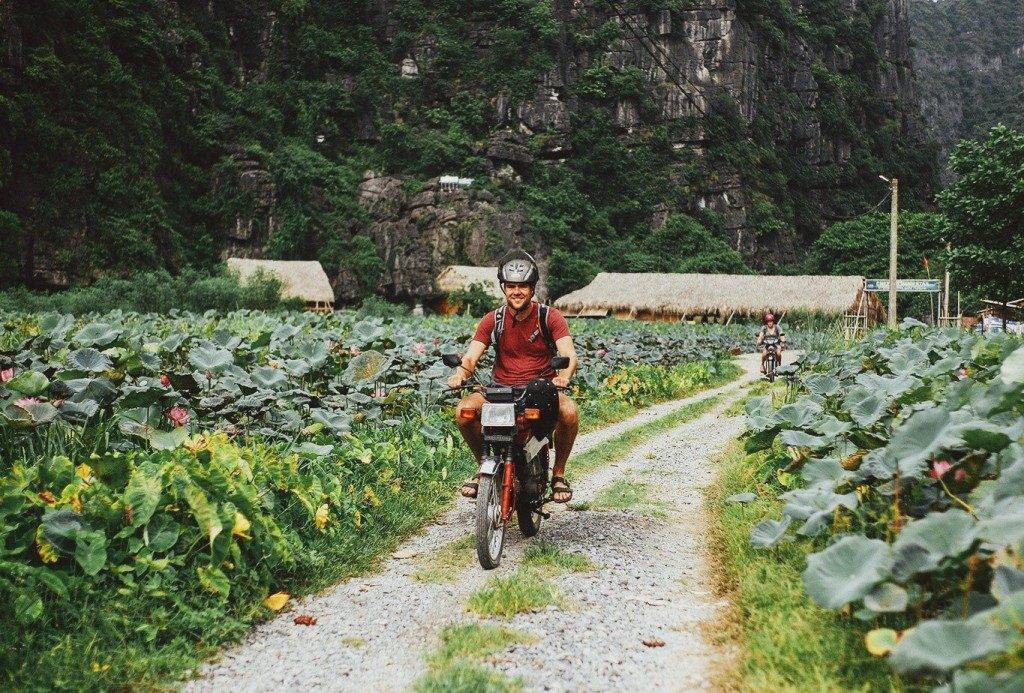 Here are the two fastest routes for motorcyclists:
– From Big C Thang Long, follow Thang Long Boulevard straight to DT87a road (Near Ba Vi National Park), turn left hand then go straight through Dong Quang bridge, turn right to road 317, and then continue to run straight to DT316 street (section This road goes through Thanh Thuy mineral spring area), at the end of this road, turn left and go to Thanh Son bus station.
– From Hanoi National University, go straight along road 32 across Trung Ha bridge and then turn left along the dyke road, there will be signposts to Thanh Son. From the Thanh Son intersection, turn right along Highway 32 (there is a sign that goes to Xuan Son about 40km) and keep going straight until you see the sea turn left to Xuan Son.
2. Bus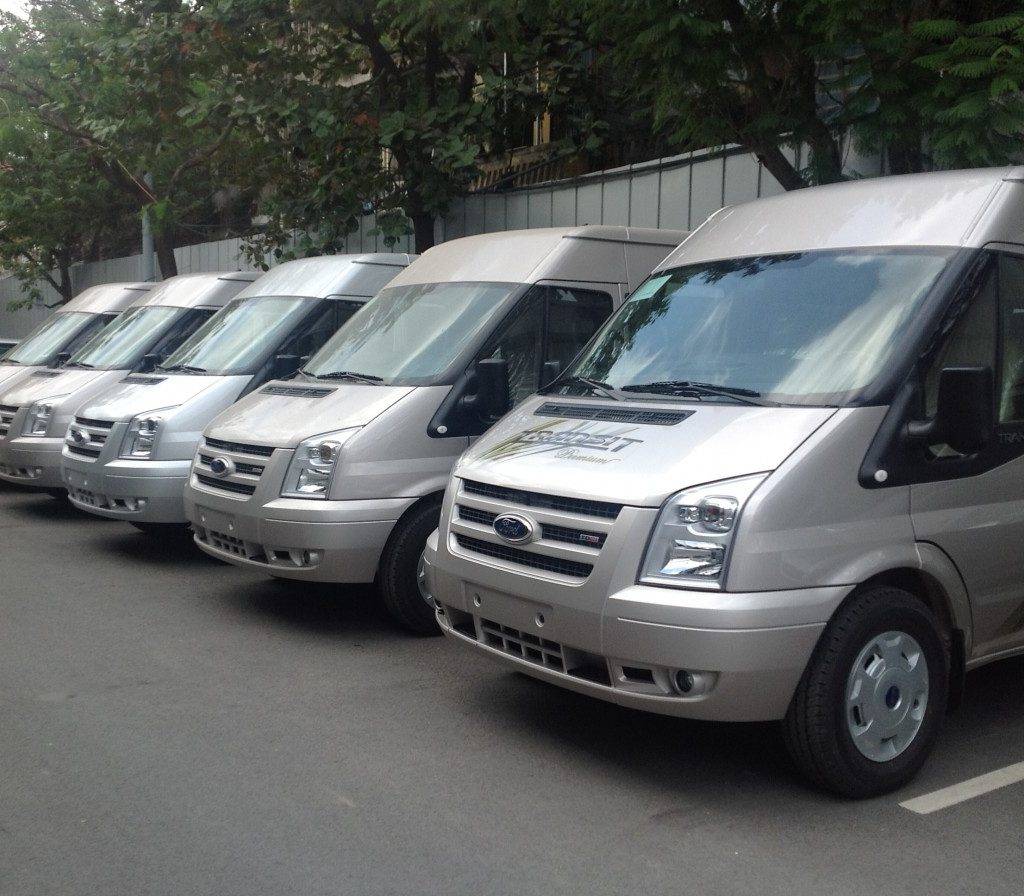 You can go to My Dinh bus station to catch some direct bus routes from Hanoi to Tan Son with a fare of only 60,000 – 70,000 VND/person. From Tan Son bus station, you travel by motorbike or taxi to Xuan Son National Park. Since the path to the park is quite rough, visitors have to walk for about 1.5 km more.
*Some reputable bus companies:
– Son Vi: 0944 680 666
– Duy Thuan: 0976299355
Read more: Adventurous off-road experiences by motorbike on Ho Chi Minh Highway
IV. Accommodation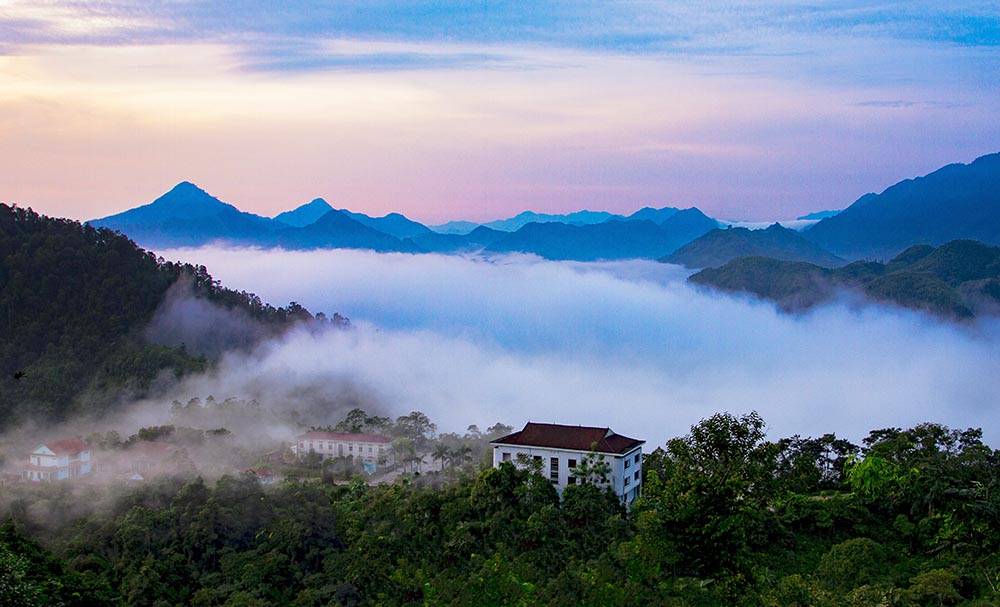 There are a number of homestays in the Xuan Son National Park area, offering favorable options for tourists to stay and discover the unique cultural values of the Dao and Muong people living in Du, Lap, Lang, Coi and Du villages. Room rate is rather affordable, from 250,000 VND/night/double room to 400,000 VND/night/dorm for 8 people and 800,000 VND/night/ dorm for 20 people. They also have both air conditioners and hot water, as well as bicycle rental and cooking services.
*Suggestions:
– Sen Homestay
Address: Ao Chau lagoon, Ha Hoa, Phu Tho
Phone: 0845 831 234 – 0868 803 001
– Lam Homestay
Address: Ban Du, Xuan Son, Tan Son, Phu Tho
Phone: 0943 924 996
– Ky Tam Homestay
Address: Lap village, Xuan Son, Tan Son, Phu Tho
Phone: 0989 866 005
Read more: Vietnam's first national park, Cuc Phuong, boast the vital green lung around the northside