Hoi An Ancient Town by night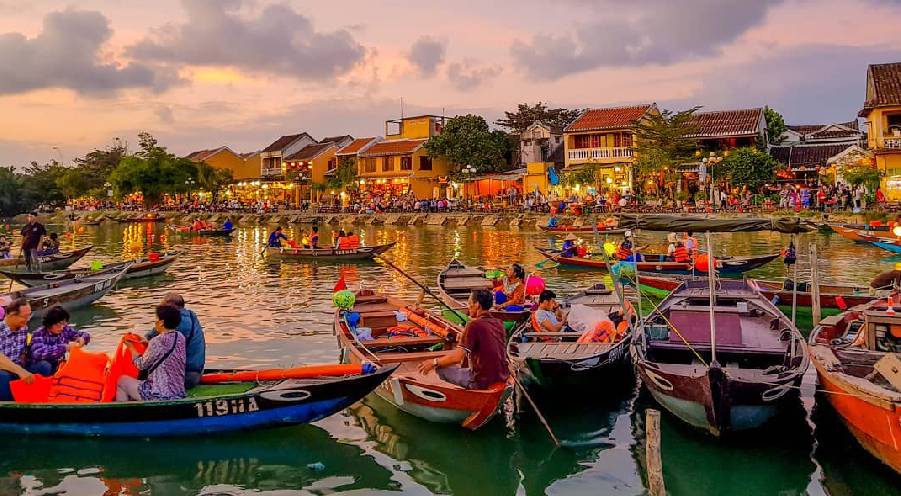 It is no coincidence that Hoi An is in the top 20 cities with the best nightlife worldwide. The ancient town is not only appealing during the day, but also extremely sparkling and charming at night, therefore, more and more tourists come here just to admire the beauty of Hoi An by night.
The following article will present the best must-try activities in Hoi An Ancient Town at night, let's check it out!
1. Watching the sunset from a rooftop cafe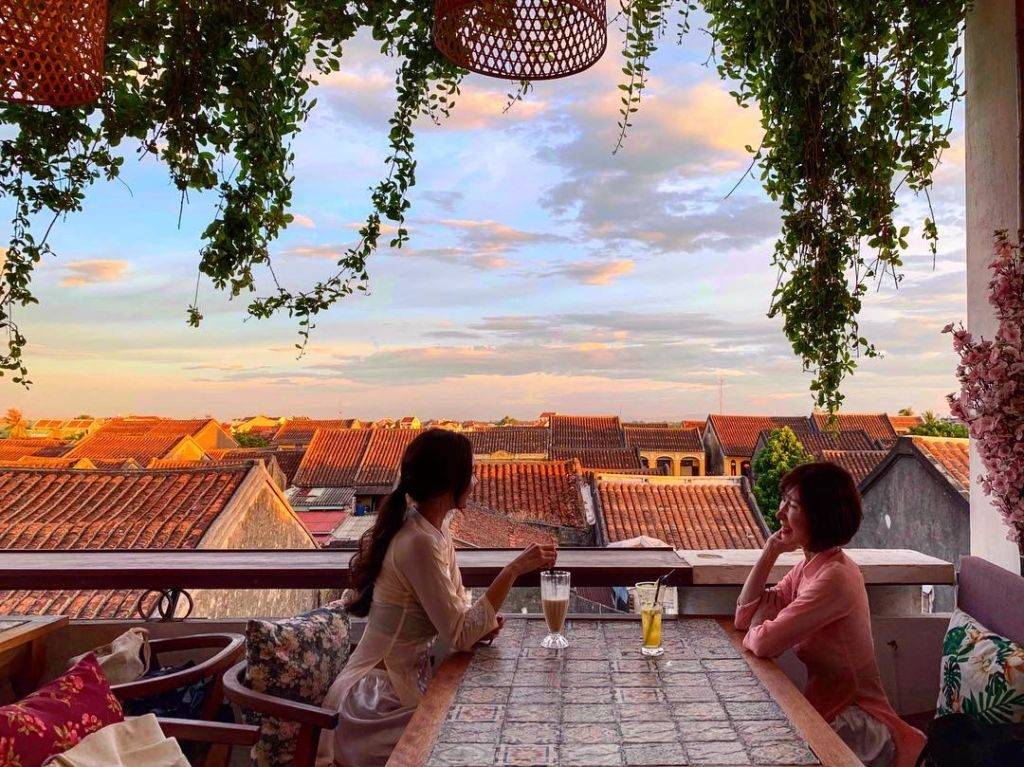 A large number of cafes are available in Hoi An, from popular to luxurious, from Western to Vietnamese. To have a panoramic view of peaceful Hoi An, you should choose the rooftop cafes/bars located on the banks of Hoai River.
These places overlooking the old town are really ideal to watch the sunset, which is truly a once-in-a-lifetime experience.
Read more: Hoi An Walking Street – Venice of Vietnam
2. Discovering the culinary paradise in Hoi An at night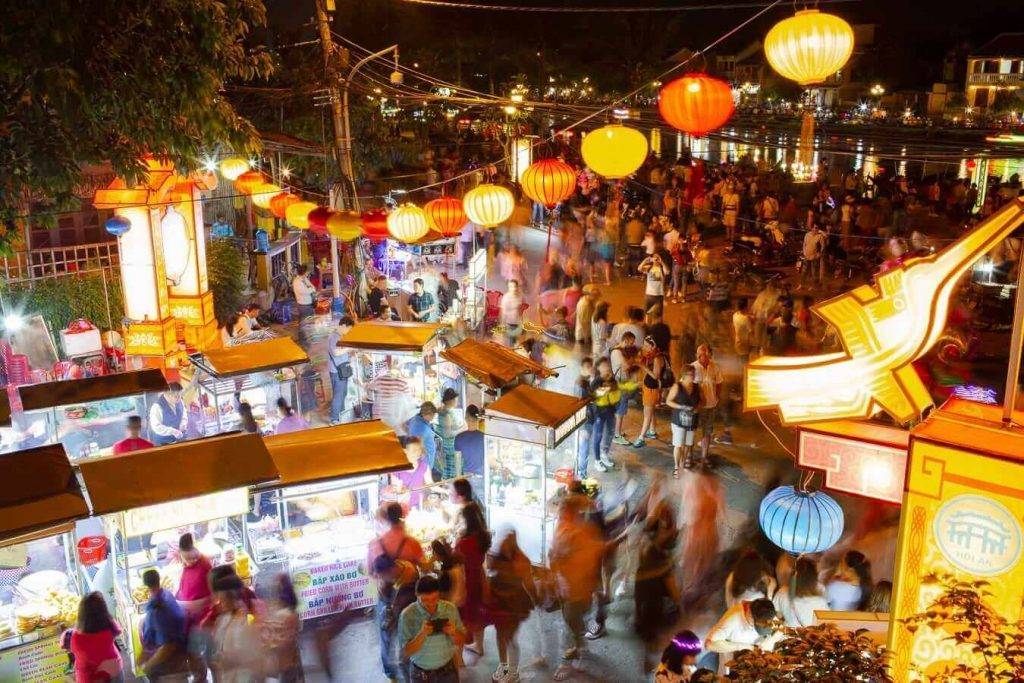 Hoi An tourism is not just about walking around the old town, sitting on a boat, and dropping lanterns, but tourists also have a chance to explore the night market with rich and varied dishes imbued with the essence of Central people here. The street vendors along the banks of Hoai River with a few simple tables and chairs will give you a nostalgic feeling.
Relaxing by the river bank and order for yourself a Cao Lau bowl, Banh Xeo, or mixed sweet soup, tofu, etc., to enjoy is nothing more wonderful.
* Notes:
– Always ask for the price before sitting at any stall.
– Look for stalls with lots of locals, or lots of paper in the ground because that means the food there is delicious and popular with the locals.
– Don't focus too much on cleanliness since you're trying street food!
3. Taking pictures of Hoi An Ancient Town by night
As usual, every day after 6 pm, the whole town will gradually sink into a warm shimmering scene of thousands of twinkling lanterns on the street as well as lotus paper lanterns along Hoai River where you can see a part of Hoi An from Bach Dang Street. At night, the city appears sparkling fancifully by the golden light from old houses, creating an extremely dreamy scene, that's why Hoi An is considered as Venice in Vietnam.
Moreover, there are a lot of nice-looking corners for you to freely "check-in", that could be the ancient yellow walls with colorful lanterns, or that could be the whole view of the Japanese bridge from An Hoi island direction or from Bach Dang street.
Across the town, from the streets to shops, restaurants, and pubs, locals still keep a 17th-century tradition of lighting lanterns. Electric light bulbs and other modern things will have limited use. Thanks to that, tourists can fully admire the exquisite beauty of an ancient city.
Read more: HOI AN SHOPPING GUIDE: WHAT TO BUY WITH PRICE
4. Exploring Hoi An night market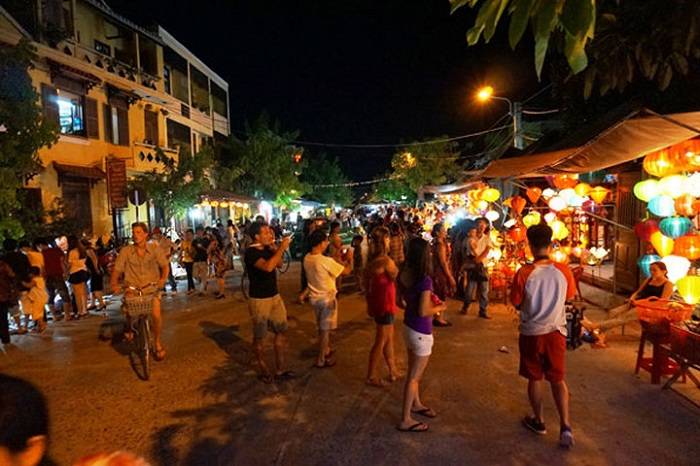 When night falls, street vendors will display their products on covered trolleys or tiny tables along the sidewalk. You can easily find many specialties of Hoi An there, such as Cao Lau, grilled meat noodles, chicken rice, Banh Beo, Banh Xoai, Banh Mi or even Thai sandwiches, snacks, barbeques, etc.
In addition, this Hoi An night market area also gathers numerous restaurants and bars, as well as street shops, where you can freely enjoy Hoi An cuisine, drink beer or buy some small souvenirs, like lanterns, keychains, bags, hats,…for friends and relatives.
Read more: EXPLORE NGUYEN HOANG NIGHT MARKET – THE BUSIEST NIGHT MARKET IN HOI AN ANCIENT TOWN
* Notes:
– Although Hoi An night market is quite safe, you should still pay attention to your own properties when walking in the crowd.
– Do not hesitate to bargain. The locals here love to haggle. Usually, you should pay about 75% of the price they offer. If you don't agree with their price, just say "No, thanks". Sometimes the seller will call you back and give you a better price.
5. Drinking draft beer in Hoi An at night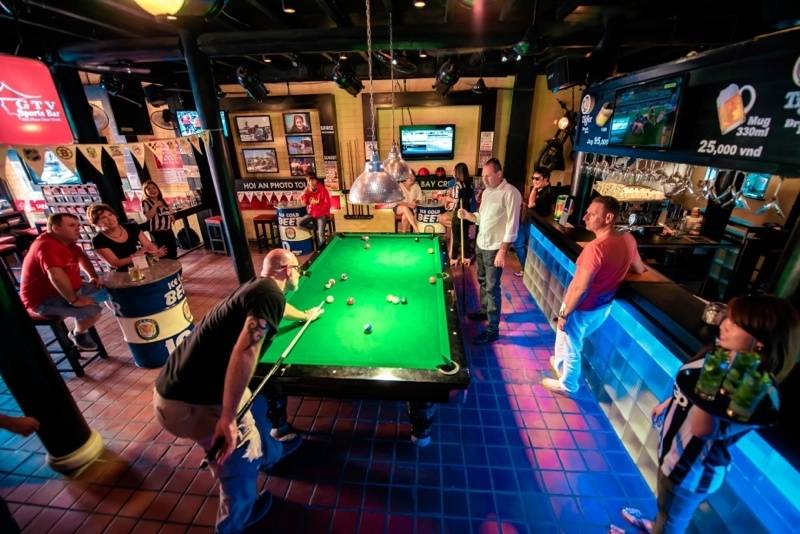 Hoi An draft beer stalls usually do not have specific billboards, but you can recognize them effortlessly by full yellow draft beer glasses placed on nice small plastic tables. Beer here is often produced locally and newly-fermented, so it is still fresh with a very low alcohol content of just under 0.5%.
Each glass of draft beer in Hoi An Ancient Town has a price ranging from 5,000VND – 6,000VND. Served with draft beer are different types of authentic Hoi An snacks: roasted peanuts, grilled fish/squid, and crispy rice paper.
Read more: HOI AN NIGHTLIFE:THE FINEST BARS AND PUBS
6. Having dinner on a boat on Thu Hoai River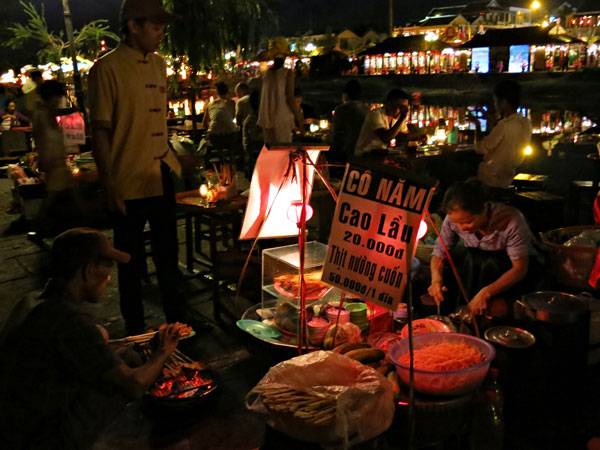 If you want an unforgettable romantic experience, boarding a wooden boat for dinner is a good idea. While dining, you will be able to enjoy the stunning view of Hoi An at night as the sunset reflects the last light on the river.
From this unique sight, you will feel the rustic life of the riverside people most honestly.
Dinner on the boat will give you a great experience of watching the delightful sunset on Hoai River, along with learning the culture of the indigenous people. Normally, each river trip with dinner would last about 2 hours.
7. Walking around Hoi An Ancient Town at night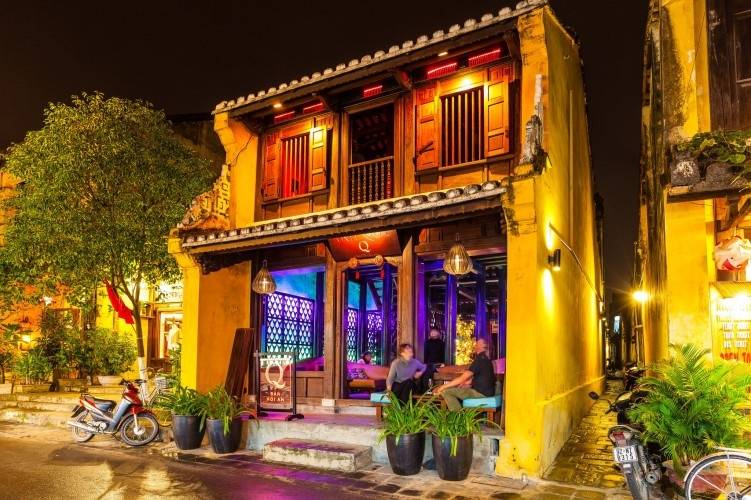 Hoi An by night is splendidly decorated by lanterns of various shapes hanging around the street, from house to house, from alley to alley. It would be even more wonderful if you walked hand in hand with your lover, or friends and family along the small street while releasing your souls into the crowded.
Motorbikes will be banned from 5 pm, so tourists can freely explore without being bothered by any vehicle.
8. Play Bai Choi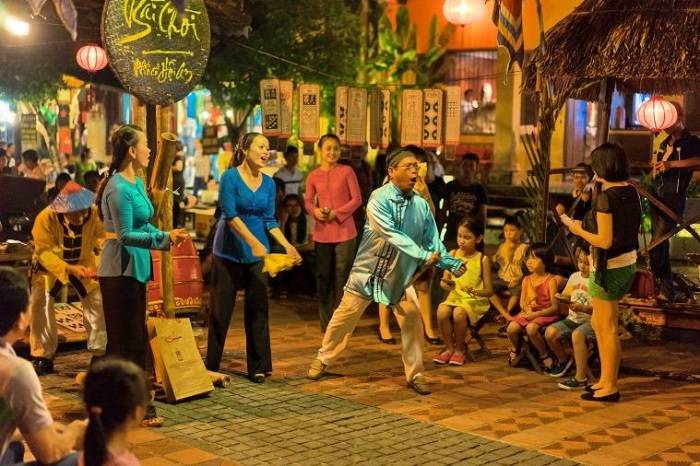 Bai Choi is a traditional game in Hoi An attracting not only domestic visitors but also foreigners. Bai Choi is usually played near An Hoi Bridge in a large yard. When joining the game, you will need to buy some cards, then listen to folk songs performed by the artists here. At the end of each song, the name of a playing card will be announced. If you have 3 cards mentioned, you will be the winner and receive the gift.
9. Releasing lanterns on the river in Hoi An at night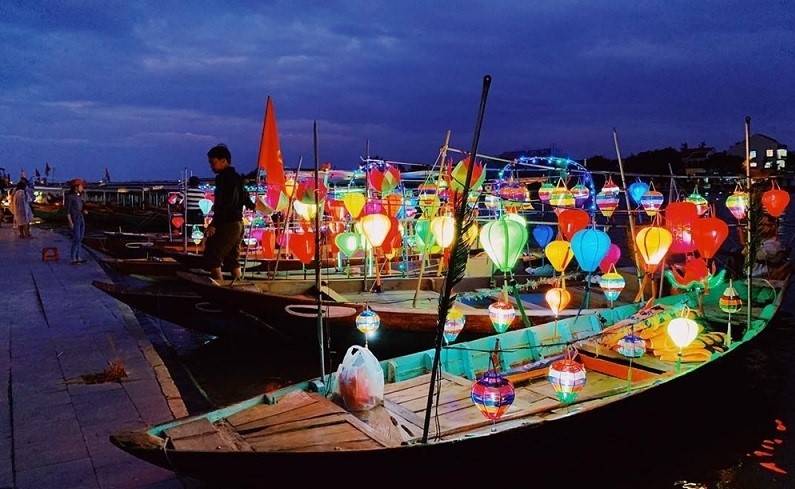 After 6 pm, when the old town is lit up with sparkling lanterns, is the best time to release paper lanterns with small candles down on the starry Thu Bon river. You can find cute little girls in ao dai – traditional Vietnamese clothes – wearing non la hold baskets full of pretty small paper lanterns. It's recommendable to buy a few lanterns and drop them into the river, which is believed to make your wish come true.
* Notes:
– The lanterns usually cost only from 5,000 VND to 10,000 VND, so you can bargain if needed.
– You can also sit on a small boat on the river to release lanterns and admire the beauty of Hoi An at night with a ticket price of only 20,000 VND / person.
10. Chilling in the bars/pubs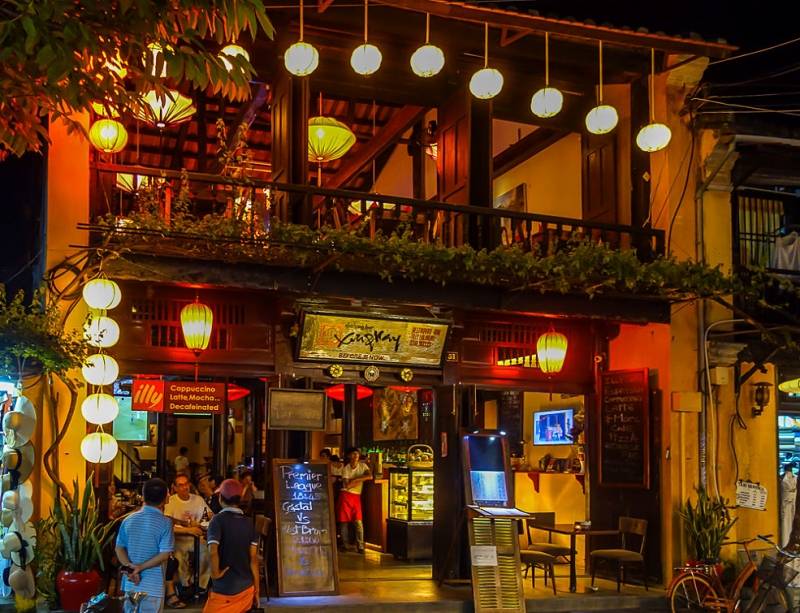 For those who are keen on the vibrant atmosphere in Hoi An, chilling in the late-night pubs or bars near An Bang beach or the old town is a must.
While the bars in the old town have a narrow and cozy interior space, close to the classic design, the ones at An Bang beach are more spacious with airy thanks to the fresh breeze from the beach.
If possible, you should admire Hoi An Ancient Town from about 1 to 2 am. At this time, the neighborhood is almost completely quiet because there are not many tourists or roadside eateries.
Following that, you will feel a different and completely tranquil Hoi An under the light of lanterns. This scenery will make you feel like you are like in a fairy tale.
Read more: TOP 7 THINGS TO DO IN HOI AN