10 most famous Vietnamese dishes in the world
Food is a proudly essential part of making up Vietnamese tourism. Pho, Bun cha, Banh mi, Spring rolls, etc. are not only loved and praised by tourists but also voted to the top attractive street food by CNN, NatGeo. Let's take a look at 10 most impressive Vietnamese dishes to foreign friends worldwide!
1. Pho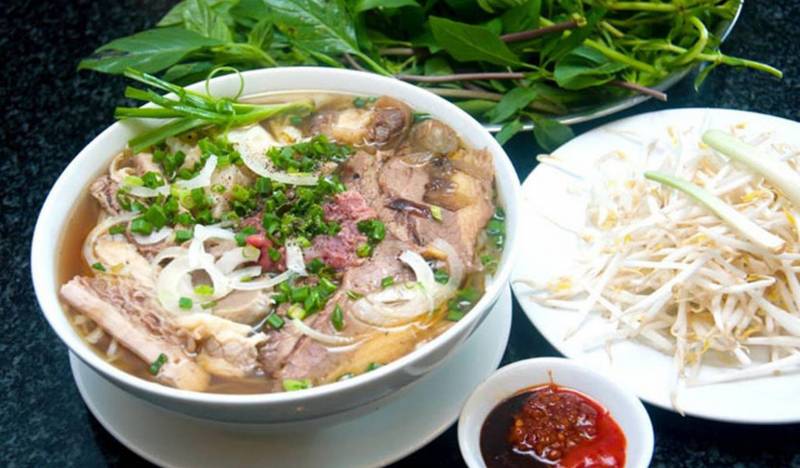 Pho is a typical dish that symbolized Vietnamese cuisine. Pho has been voted by CNN, BBC, Business Insider over and over as the top dishes in Asia. In 2016, the World Records Union – Worldkings voted pho as one of the three best Vietnamese dishes in the world.
The sweetness of the broth simmered from pork/beef bones, along with the soft, fragrant rice noodles, the medium-rare beef, and little chopped onions enhance the special flavor for Pho. The dish also appears in numerous international luxury and high-class restaurants as the quintessence and beauty of Vietnamese cuisine.
Read more: TOP 7 PLACES TO EAT PHO IN HANOI
2. Bun cha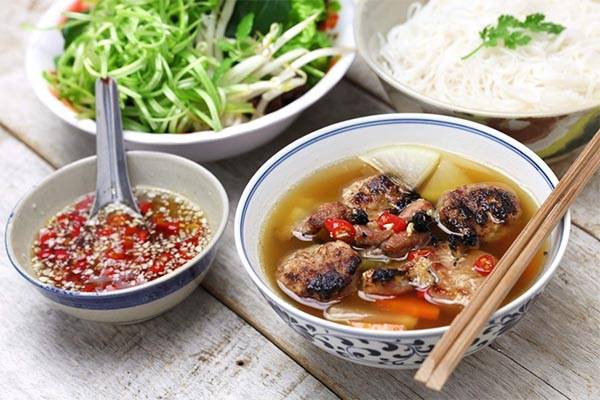 Hanoi Bun cha appears on both CNN's top 10 most delicious summer dishes and National Geographic's top 10 of the world's best street food. Bun cha was mentioned many times after former President Obama enjoyed it with chef Anthony Bourdain at Le Van Huu, Hanoi.
Bun cha is evaluated as a perfect combination of flavors – spicy, sour, salty, sweet. The hot grilled meat pieces go so well with the freshness of vermicelli and vegetables, creating such an unforgettable taste.
Read more: Bun Cha 74 Hang Quat
3. Banh mi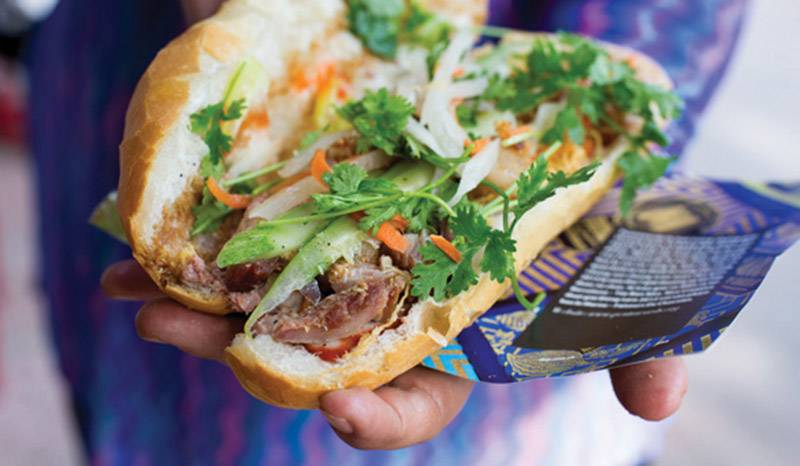 Vietnam Banh mi has left an impression, even a "fever", on the world's street food. In 2014, Banh mi was among the top 20 best street food in the world voted by Huffington Post magazine. Also, In 2016, the US's travel site Fodor's Travel launched 20 of the best street food in the world, of which Vietnam Banh mi topped the list.
Banh mi's fillings vary in each region, but in general, they are still full of tasty things, such as eggs, floss, sauces, barbecue, ham, pate, veggie, and pickles.
Read more: BANH MI IN HANOI CUISINE
4. Spring roll (Goi Cuon)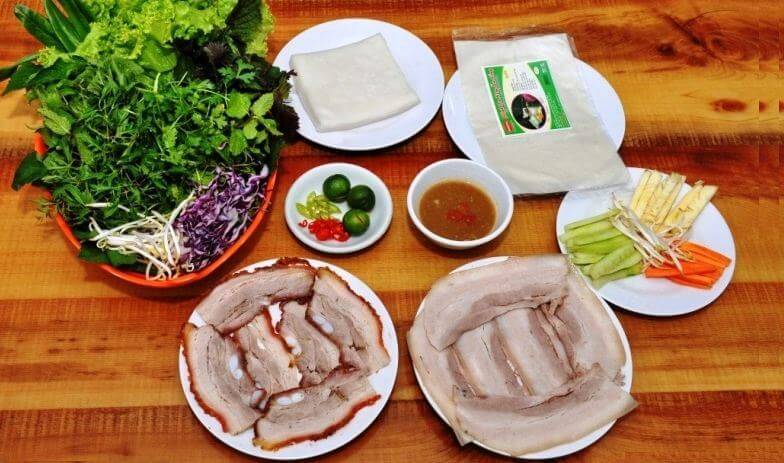 Spring roll is one of two Vietnamese dishes that have appeared in CNN's list of 50 best dishes in the world in 2011. Later, many travel sites, like Roughguides, also recommended the food to tourists.
Fresh spring roll features easy instructions with simple ingredients, including rice paper, shrimp, meat, raw vegetables. We roll it all in rice paper and serve with sweet and sour fish sauce. The spring roll is both eye-catching and delicious, so it easily wins foreign visitors' hearts.
5. Crab noodle soup (Bun Rieu Cua)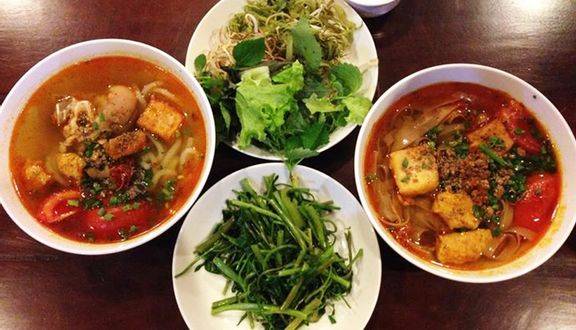 Crab noodle soup is also a dish voted by CNN in the top 20 most attractive street food in Asia.
To cook the broth, they first need to filter the ground or crushed crabs for meat, then add tomatoes for a mild, sweet, and fresh taste. After that, they serve with rice noodles, raw vegetables, and golden fried tofu to make the dish more complete.
6. Xeo cakes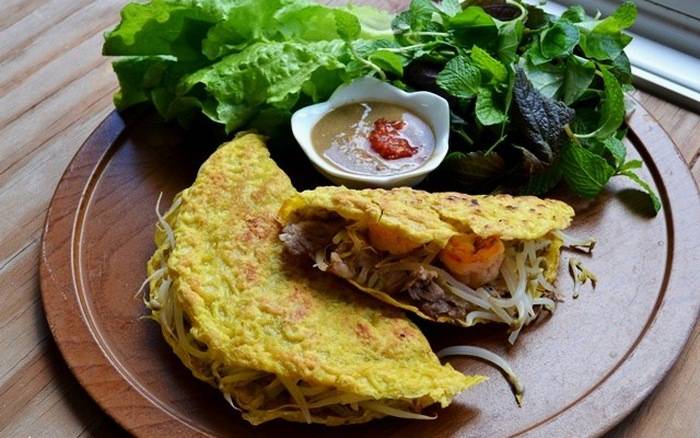 Xeo cakes are one of the Vietnamese dishes appearing in the Street Food Congress 2016 (WSFC) held in Manila, Philippines, in 2016. CNN voted Xeo cakes to the top favorite street food in 2016, as well as to the most delicious dishes of 2017.
Xeo cakes have a golden crispy cover while the inside is full of pork, bean sprout, and shrimp. The dish is served with a variety of raw vegetables and sweet and sour fish sauce. Xeo cakes originated in South Vietnam, but nowadays, they are also available in all parts of the country, and each place has a distinctly delicious taste.
Read more: THE XEO CAKE SHOP IN SAIGON SELLS ITS OWNS FLOUR FOR 7,000 VND/PIECE
7. Hue beef noodle soup (Bun Bo Hue)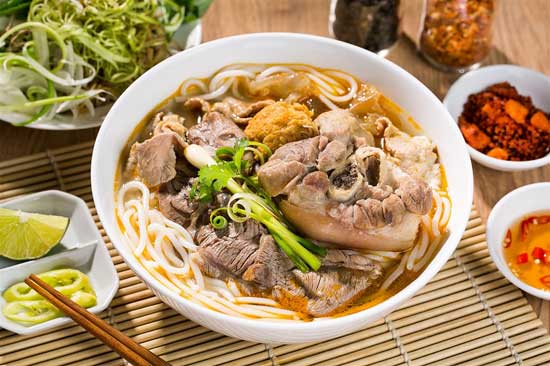 The Asian Record Organization has put Bun Bo Hue in the top 100 Asian delicacies in 2016. In an episode of "Anthony Bourdain: Parts Unknown" on CNN channel, the famous American chef commented: "Bun Bo Hue is the best soup in the world ".
Bun Bo Hue comes from Hue, the ancient capital of Vietnam with a very special cuisine. Bun Bo Hue is favored for its characteristic delicious flavor. In which, the rich broth is simmered from pork and beef bones, adding a little fish sauce, beef, noodles, then eaten with raw vegetables, sliced banana flowers. All blend together to create the appeal of this dish.
Read more: THE FOREIGN NEWSPAPER RECOMMENDS 10 BEST BUN BO HUE SHOPS
8. Grilled banana sticky rice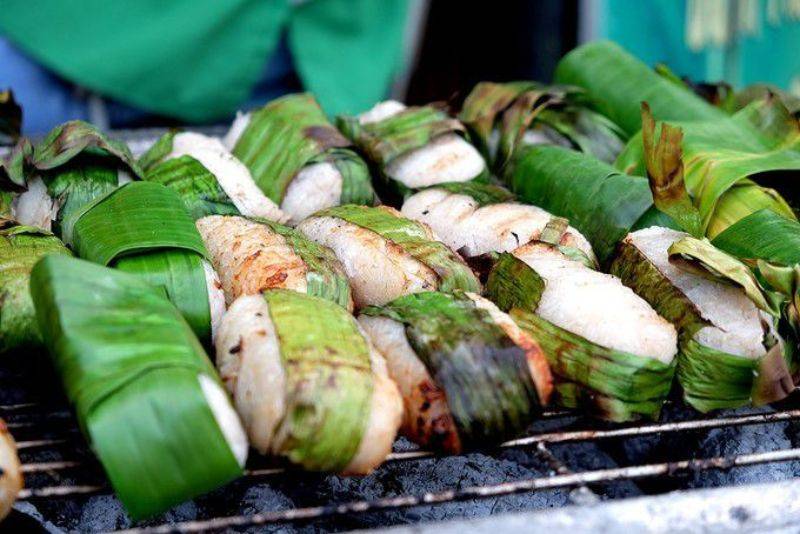 Grilled banana sticky rice, a casual but popular dish, was honored and voted the most popular street food at Singapore Street Food Fair 2013.
The soft sweet bananas and fragrant sticky rice, along with the greasy texture of coconut milk and roasted peanuts, create a spectacular taste that diners will never forget!
9. Egg Coffee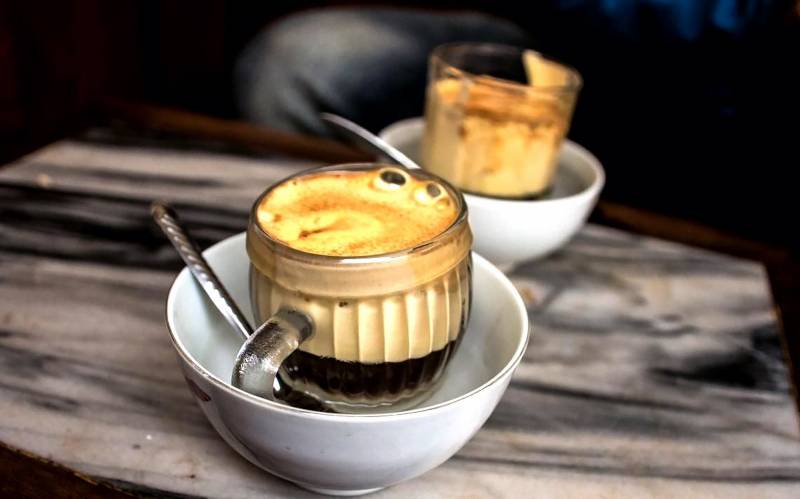 Vietnam's Egg Coffee ranks first in the list of 17 recommended types of coffee when traveling around the world on Buzzfeed. Perhaps this drink is a bit unique and strange to foreign visitors. Its hard-to-find-nowhere flavor comes from the characteristic bitterness of coffee mixed with the greasy taste of egg yolks, sweetened condensed milk, and sugar.
Read more: FOUR CAFÉS WITH BEST EGG COFFEE IN HANOI
10. Cao Lau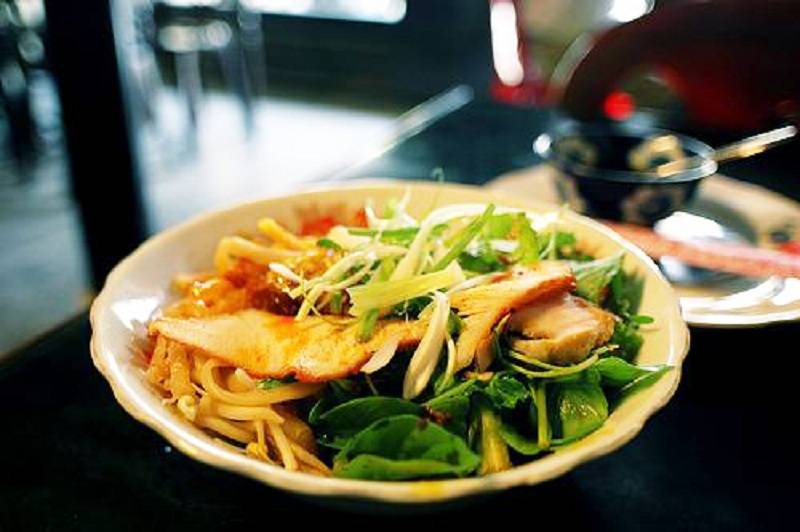 In the article in September 2019, CNN called Cao Lau the culinary symbol of Hoi An. Before that in 2014 and 2017, Cao Lau also appeared on HuffPost and Guardian. The authors likened this noodle soup to a hidden treasure and a representative dish for Hoi An's history. At the same time, Hoi An Cao Lau has voted for the best street food in Asia by Traveler (Australia).
Cao Lau includes golden noodles, shrimps, pork, and raw vegetables. Enjoying a bowl of hot Cao Lau, visitors can partly feel the quintessential taste of the Ancient Town.
Vietnam is well-known for a diverse cuisine which is especially attractive to both international visitors and local people. In addition to the above recognized dishes, Vietnam also has lots of other delicious dishes that visitors should not miss when visiting this S-shaped country.