10 most famous beaches in Da Nang
Da Nang is well-known for not only the scenic spots and unique bridges, but also the amazing natural landscape and pristine beaches with fine white sand, clear blue water, attracting millions of tourists every year. Here are the top 10 most notable Da Nang beaches.
1. My Khe Beach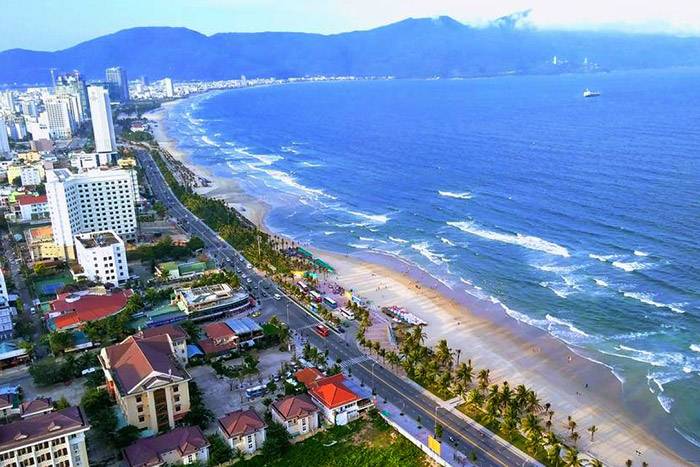 Address: Phuoc My Ward, Son Tra, Da Nang
My Khe Beach is nearly 1km long, becoming a popular destination for its clear blue water, smooth white sand. The American magazine Forbes voted the beach as the world's top attractive beach. Of course, that is why My Khe beach is also the most beautiful beach in Da Nang with a lot of tourists visiting.
Visitors can participate in new and unique types of tourism activities, such as boat rowing, canoeing, swimming competition, beach volleyball, etc. Around the area are many affordable yet delicious seafood restaurants to help visitors quickly regain strength after playing at full capacity.
Read more: Da Nang – The most liveable city with harmony landscapes
2. Non Nuoc Beach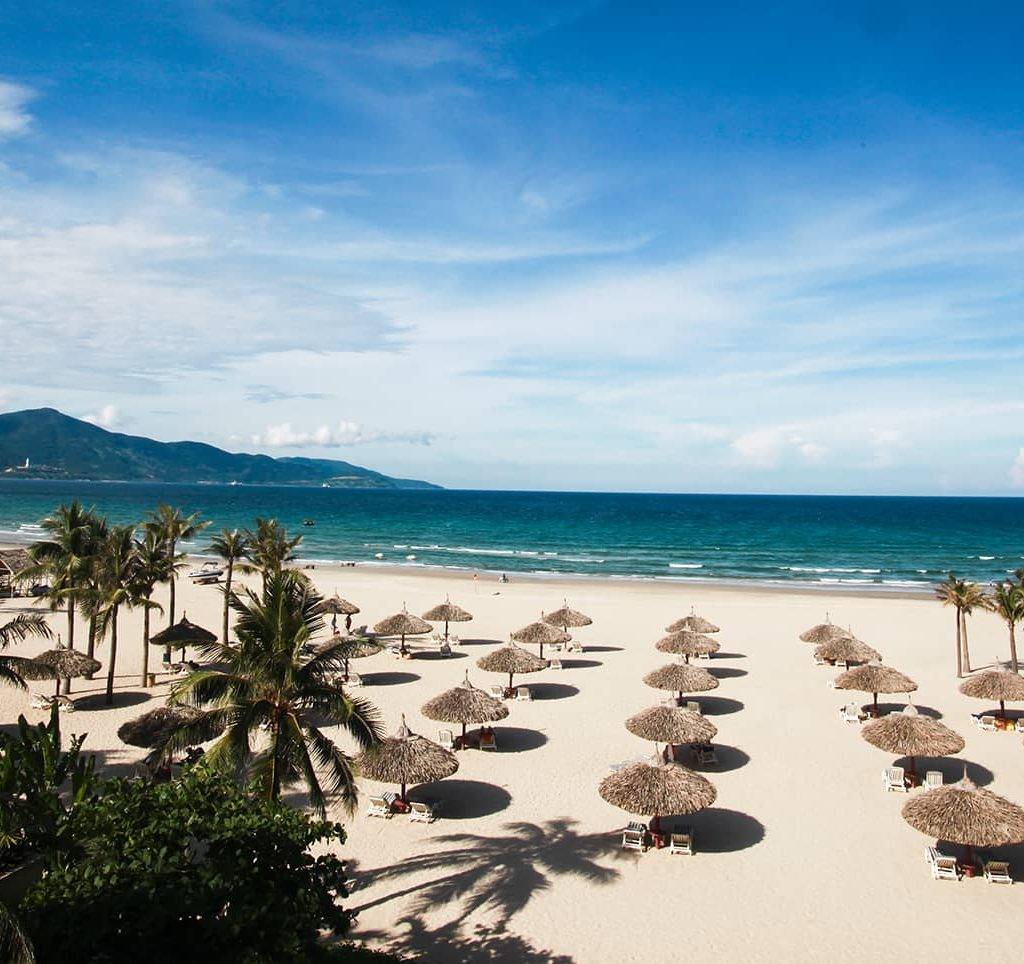 Address: Hoa Hai Ward, Ngu Hanh Son, Da Nang
Non Nuoc Beach features the fresh beauty of clean white sand up to 5 km with a gentle slope, along with the clear blue water. The wind here is strong enough to blow away the summer heat, while in winter, there is always sunlight to warm people up!
The distinct thing about this beach is the presence of numerous undulating cliffs, where we can sit and listen to the whispering waves.
Read more: EXPERIENCE RENTING MOTORCYCLE IN DA NANG
3. Nam O Beach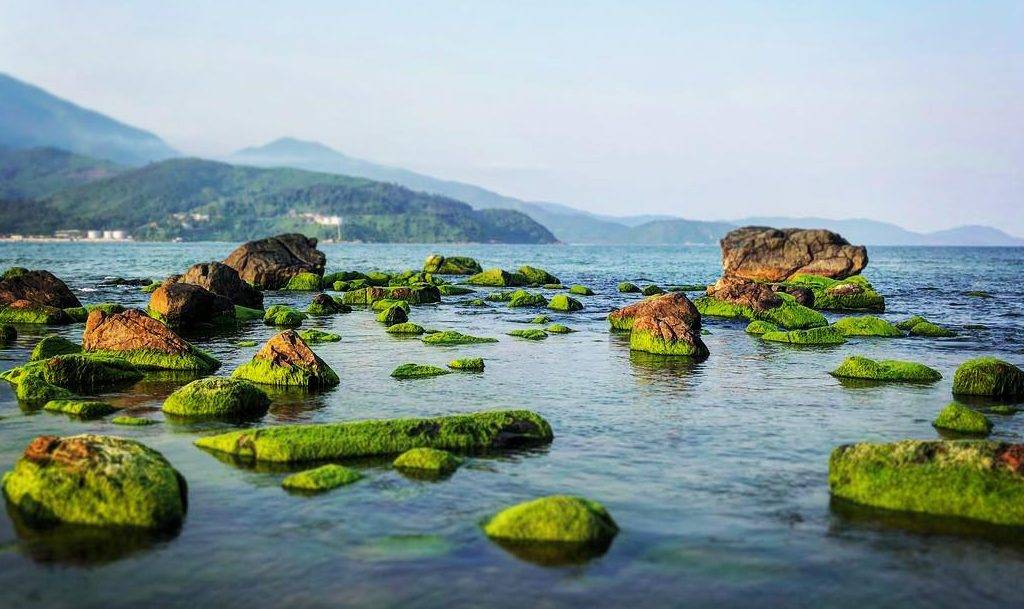 Address: Hoa Hiep Ward, Lien Chieu, Da Nang
17km from Danang city center to the Northwest, which is quite far from the downtown, but the beach is still loved by foreign tourists and even locals.
Nam O Beach has a moderate slope along the foot of the mountain, so the landscape here is fairly wild. The beach is divided into 2 parts by Nam O Reef. Thanks to the gentle waves, people can comfortably take pictures as well as swimming here, especially children. How wonderful that we can come here to build sandcastles, pick up shells then write our names on the sand, and take memorable photos!
Read more: 5 DELICIOUS RESTAURANTS IN DA NANG
4. Bac My An Beach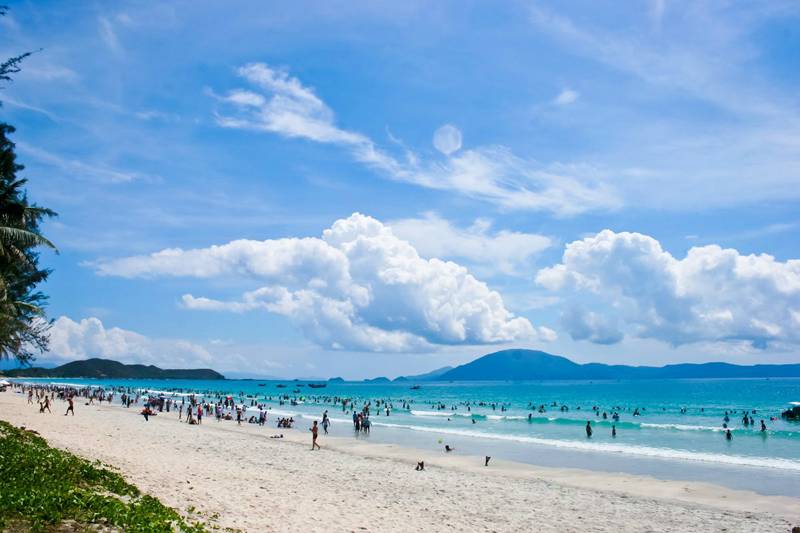 Address: Bac My An, Ngu Hanh Son, Da Nang
Bac My An Beach is endowed with nature to become one of the most beautiful beaches in Da Nang. With flat sand and cool blue air, the spot is extremely suitable for chilling.
From Bac My An beach, visitors will be able to see the immense sea and the big blue with boats sailing to the horizon.
5. Beaches around Son Tra peninsula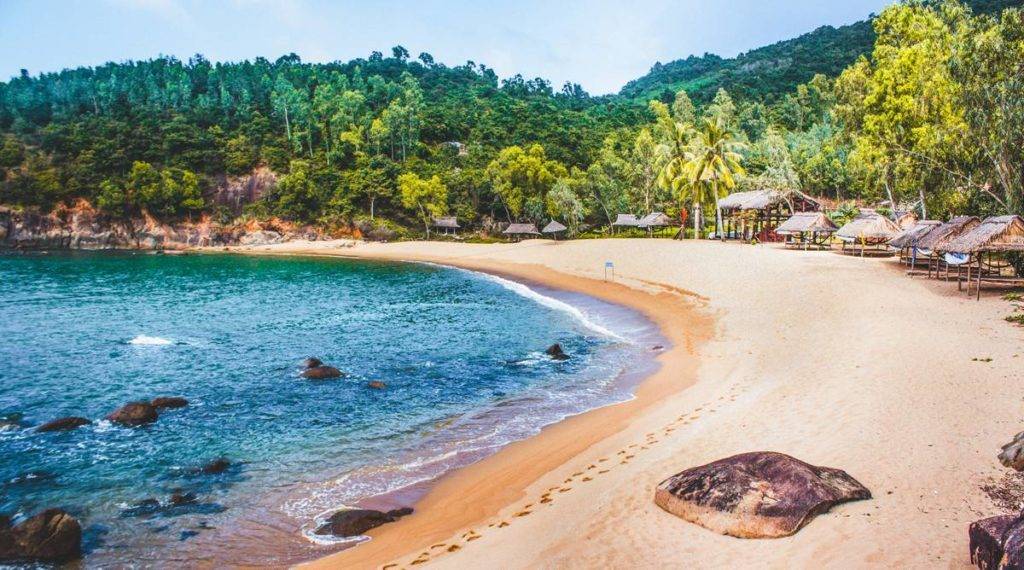 Address: Son Tra, Tho Quang, Da Nang
Son Tra peninsula is an island formed from three high-rise mountains: Mount Nghe, Mount Mo Dieu, and Mount Co Ngua. There are a lot of vast blue beaches, such as Bac beach, Nam beach, But the beach, Tien Sa beach, Con beach, which are all suitable for resort activities, swimming, fishing, rock climbing, diving, watching the coral.
In addition to amazing beaches, Son Tra peninsula is also an ideal place to explore adventure with thousands of programs like mountain climbing, forest exploration, sightseeing, etc.
Read more: TOP 5 LUXURY HOTELS IN DANANG
6. Xuan Thieu Beach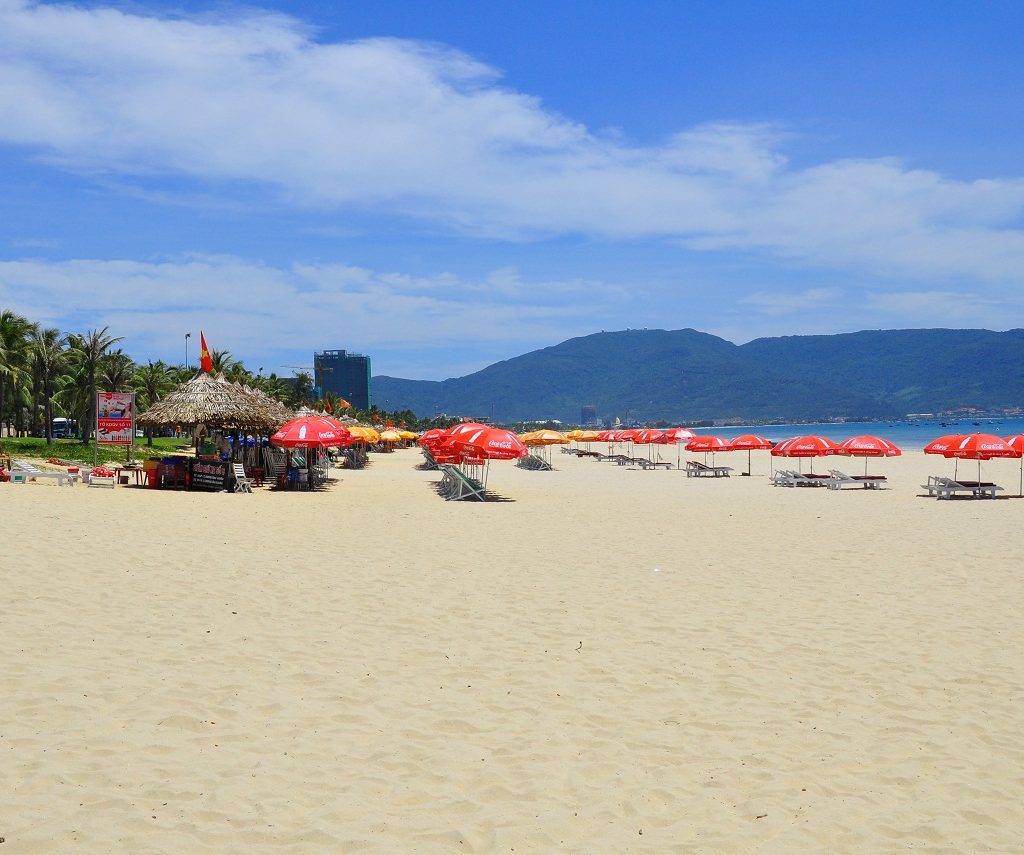 Address: Hoa Hiep Nam, Lien Chieu, Da Nang
Xuan Thieu Beach is located in Lien Chieu district, about 3km from Nam O beach to the South. The beach here is clean, beautiful, and unspoiled, with fine white sand and vivid blue water.
Xuan Thieu Beach always attracts countless visitors coming, especially young people. Tourists will be able to play water motorbikes, take a boat to watch the sea plus food services, rent a camping tent at the beach when coming to Xuan Thieu beach. In general, this is a perfect place to have for families or friends' vacations when traveling to Da Nang.
7. Thanh Binh Beach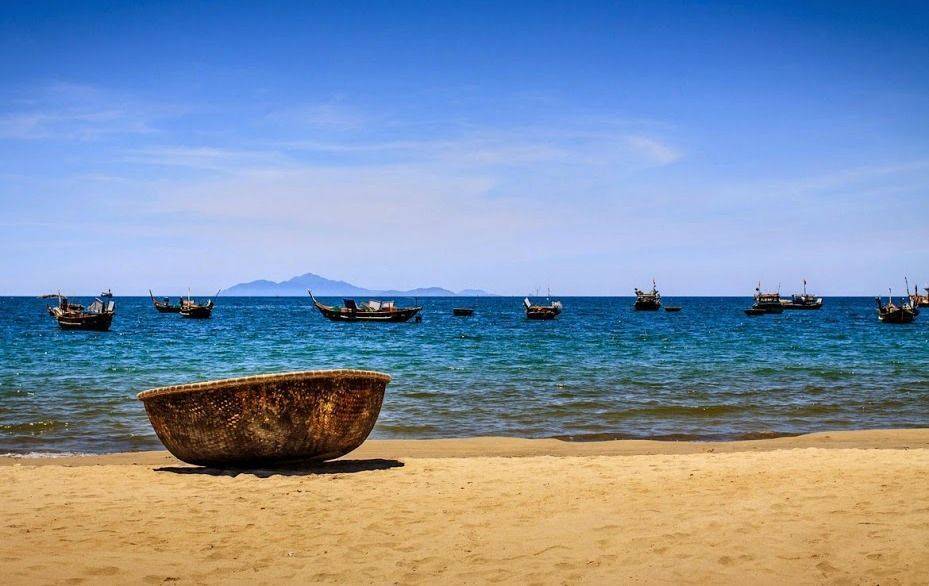 Address: Thanh Binh Ward, Hai Chau District, Da Nang
Unlike other Danang beaches, Thanh Binh is located in the inner city, at the end of Ong Ich Khiem street. True to its name (Thanh Binh means peace), the seawater here is calm and safe, therefore, multi marine tourism services about windsurfing, canoes, yachts have been developed recently.
Besides, due to a convenient location, with poetic and romantic scenery, Thanh Binh attracts many tourists to come here. As a result, tourism services become more and more plentiful and diverse, one of those is the rise of international-class hotels.
Read more: 6 RECOMMENED CHEAP DANANG SEAFOOD REASTAURANTS
8. Bai Chuoi Beach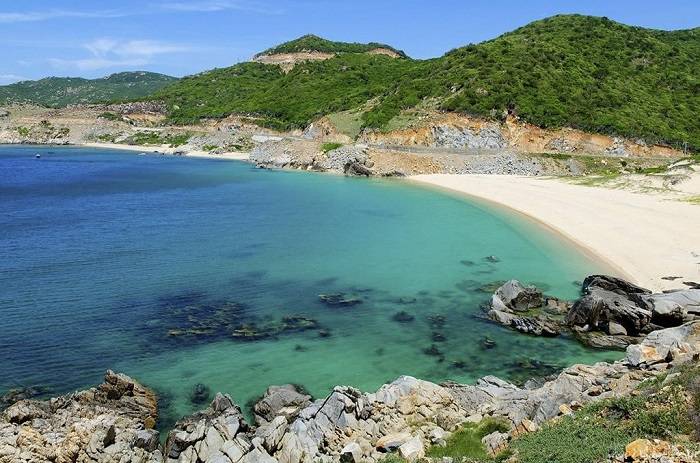 Address: Lang Co town, Phu Loc district, Thua Thien – Hue province
Bai Chuoi is in the North of Hai Van, in the territory of Lang Co, Hue city. The region is also 40km from Da Nang, taking a 1-hour drive along the Hai Van pass. The beach is nestled between the two highland cliffs, giving a pristine feeling.
You should climb to the top of the mountain to enjoy the panoramic view of Bai Chuoi because this is a mysterious and wild frame to admire at least once in a lifetime.
Read more: 10 MUST-VISIT DANANG TOURIST DESTINATIONS
9. Lang Co Beach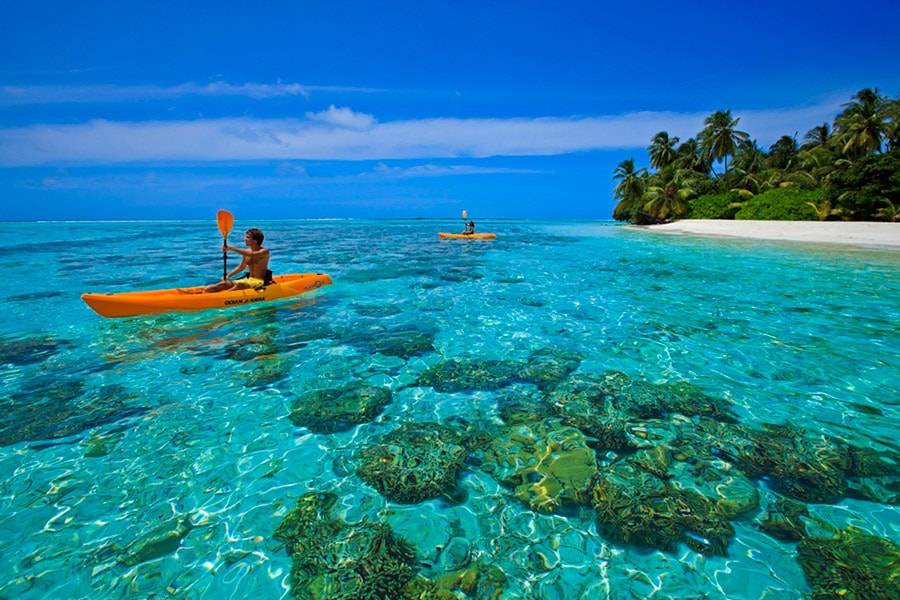 Address: Lang Co town, Phu Loc district, Thua Thien – Hue province
Lang Co Beach is located near Hue, 30 km from Da Nang city. It will be more wonderful when you go up against Hai Van pass and capture the fanciful scenery of the fishing village and Lang Co beach from afar.
The 10-kilometer fine white sand with deep blue water and a green lake among dense forests surrounded by towering mountains paint an unforgettable natural picture.
Read more: Lang Co Bay, the pure marine beauty leaning picturesque mountain backdrop
10. Lang Van Beach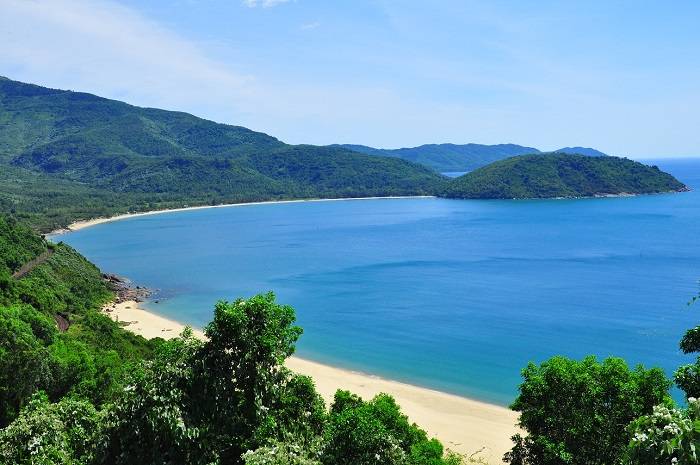 Address: Hai Van Pass, Hoa Hiep Bac Ward, Lien Chieu District, Da Nang
Located at the foot of Hai Van Pass, Lang Van Beach deserves to be ranked among the most beautiful pristine beaches in Vietnam. This place is likened to a forgotten rustic village, so it is very quiet and peaceful.
Lang Van Beach is a great place for those who love to experience wild traveling. Having an enjoyable camping night among such natural beauty will be an unforgettable memory. In this area, tourists can easily find vacant spots for camping as well as dry firewood to make a fire. In the early morning, you can see some villagers coming here to fish in the dreamy dawn of the sea.
If you are going to have a trip to Da Nang, do not forget to visit the top-ten beaches we just mentioned. Remember to bring a good quality camera to capture unforgettable moments in your adventure journey. Wish you will have a great trip!
Read more: DANANG: THE MOST FAMOUS MARKETS