7 experiences make your Hanoi trip in autumn golden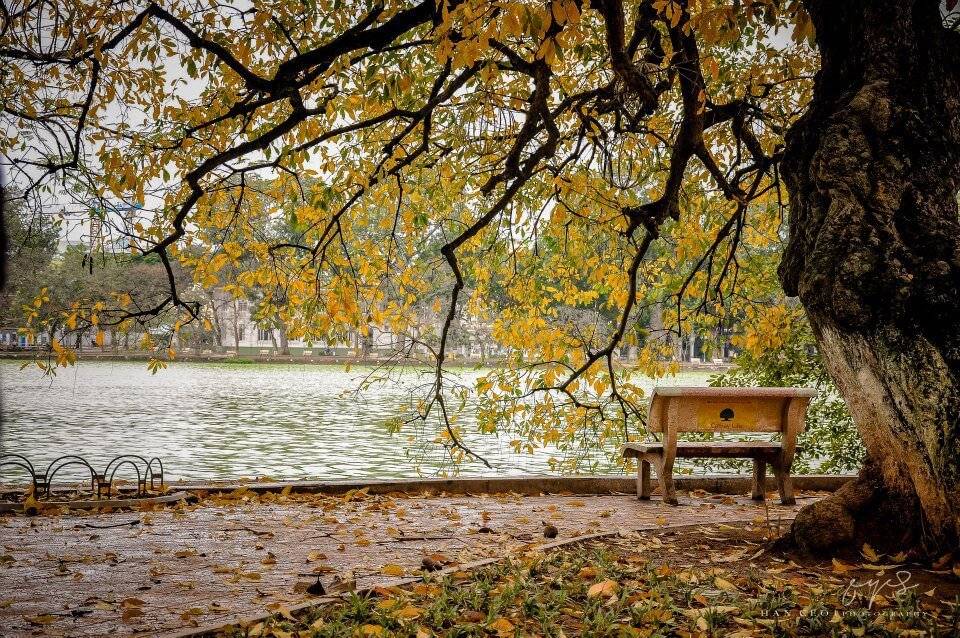 The period from late September to November, when the weather turns to sunny and chilly autumn with gentle breezes, is supposed to be the best time to visit Hanoi. The capital coats with an idyllic color of falling leaves and seasonal flowers, mixing with the passionate fragrance of milk flowers. Strolling on tranquil tree-shaded streets, watching the iridescent sunset over West Lake, sitting on an ancient corner capturing street vendors carrying buckets full of white daisies, chrysanthemum, heather, as well as enjoying Com or a cup of hot egg coffee to dispel the cold are engrossing things to do to fully enjoy the romance of autumn in Hanoi.
7 must-do things in Hanoi during autumn
1. Walk around Phan Dinh Phung street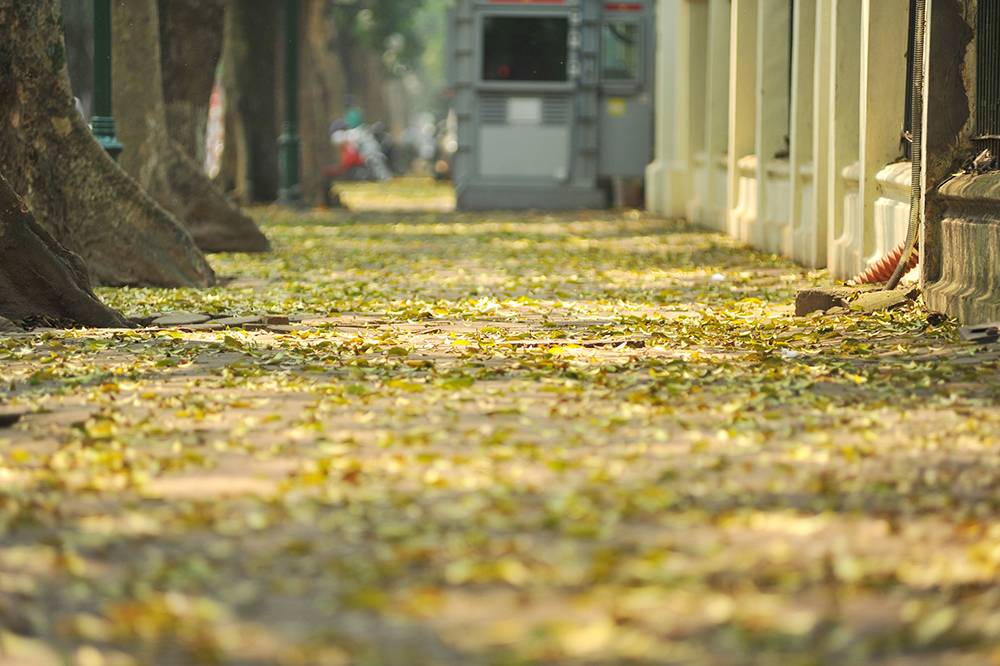 Phan Dinh Phung Street is known as one of the most romantic streets in Hanoi due to three rows of hundred-year-old trees shading to spacious, airy sidewalks. When autumn comes, both sides of the street are covered with beautiful red leaves, together with golden rays of sunlight creeping through each canopy creating a charming opt for photography. Plus, it's not difficult to see vendor florists with bicycles carrying a basket of flower types: lilies, lotus, chrysanthemum, daisies, etc., this rustic image breaks through the cool color of towering tree lines.
On Phan Dinh Phung Street also stand numerous intact ancient French villas – probably the most beautiful villas built by the French in Hanoi – with diverse architectures, from Neoclassical style to French-Chinese style, Indochinese style.
Read more: Hanoi City Tour: Explore the capital in one day
2. Try the specialty of Vong village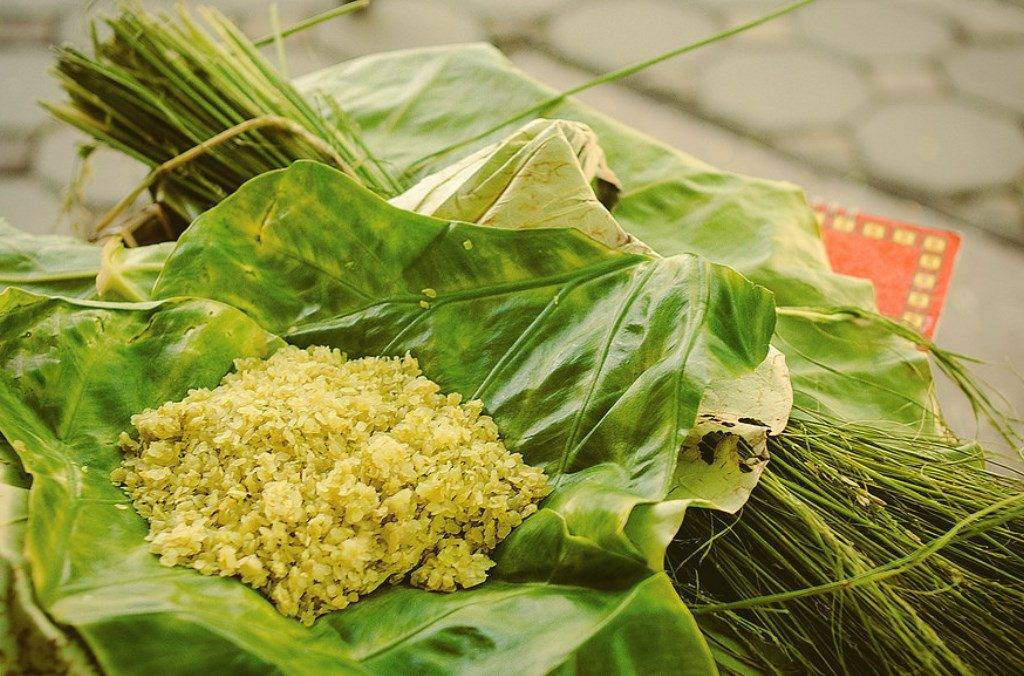 The Vong village's Com (green sticky rice), originating thousands of years ago, has become a famous autumn specialty dish in the capital. The Com flakes are crispy with a so fragrant colostrum flavor that just passing through Com vendors, you can smell its typical scent. To feel the flavor to the fullest, you have to chew it slowly to catch the sweet taste and fresh-milk-like aroma spreading to the tongue. The sellers often wrap Com with lotus leaves and tie with dry straws, which will keep the green flakes longer and moister.
From the simple Com ingredient, Hanoians have transformed it into multiple delicious dishes, such as sweet soup, Com cake, Cha Com – this dish can be combined with all kinds of food, like sandwiches, pho, vermicelli, etc. The price of fresh Com is about 20,000 VND/gram.
Read more: Hanoi Train Street offers a close-up train view for perfect Instagram shots
3. Sip a glass of Sau drink on the sidewalks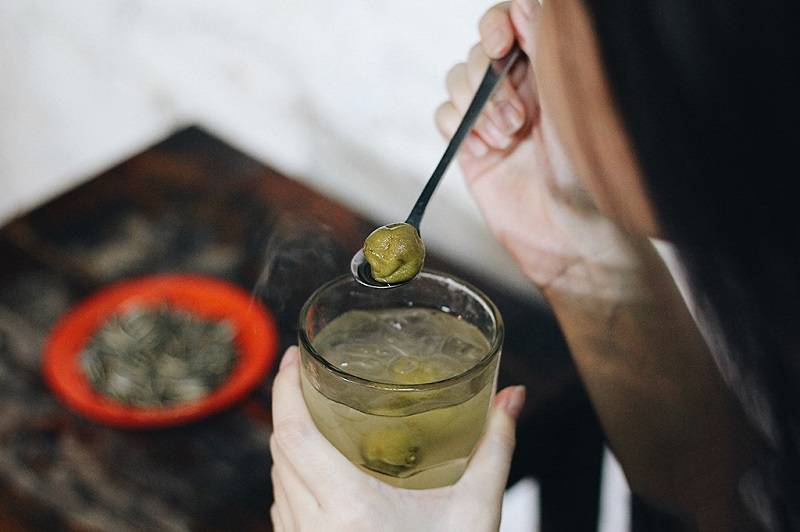 This drink is made from the fruit called Sau that can be found anywhere on the sidewalks and alleys in Hanoi during autumn. Locals will soak Sau into sugar water until they completely dissolve and blend together, they will bring this combination liquid to make a refreshing beverage. The Sau drink has a sweet and sour taste, mingled with the slightly peppery of ginger. Any time of the year, you can find this drink on the sidewalks and corners of Hanoi since the soaked Sau water can be maintained for long; still, autumn is considered the beginning season of this drink.
Spending time with friends chatting and enjoying a glass of Sau drink will make your Hanoi autumn afternoon more fulfilling. The price for a cup of Sau water is only 10,000 VND.
4. Watch the sunset at West Lake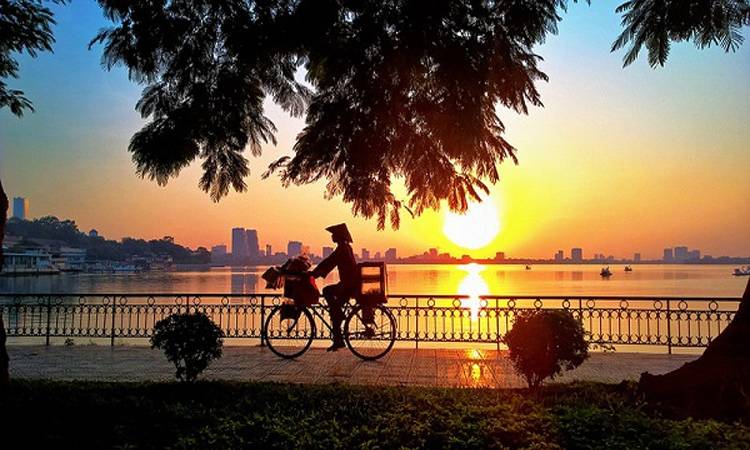 In the middle of the crowded city with high-rise buildings, West Lake is a rare place for Hanoians to enjoy a peaceful, relaxing space. West Lake is known as the largest natural lake in the capital and is also considered as one of the most beautiful sunset-watching spots thanks to the open space welcoming the vast blue sky without being obscured by skyscrapers. It's ideal to come here on a bright sunny day without clouds, especially from 5 p.m onwards, to enjoy the best sunset backdrop. Additionally, with shady tree lines and wide clean paths along the lake, this is a favorable place to run and cycle.
After a tiring walk, you can drop by beautiful cafes next to the lake for a cup of coffee and lay back looking over the beautiful scenery. In addition to fancy shops Maison de Blanc, LeMarz Coffee Roastery, Maison de Tet Decor, Platform coffee & cake, 6 Degrees, sidewalk cafes located along Thanh Nien street are not a bad idea, where you can buy Hanoi's specialty ice creams: West Lake ice-cream, Thuy Ta Ice-cream, Trang Tien Ice-cream.
5. Enjoy egg-whipped cream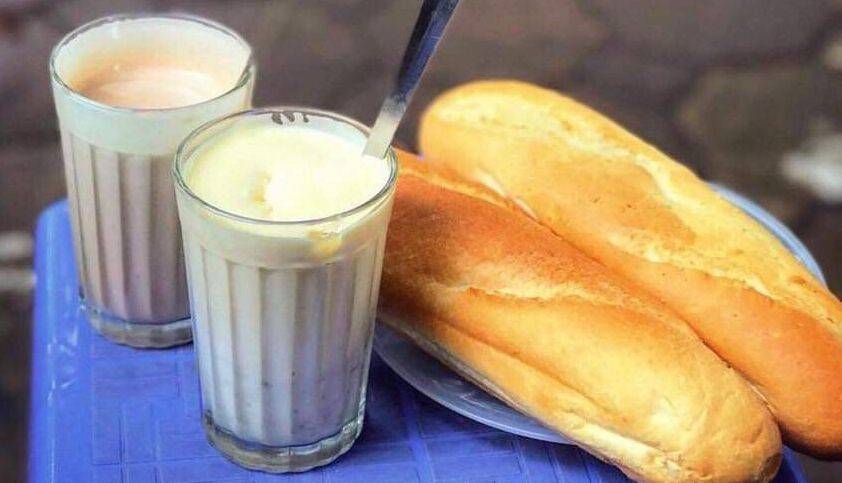 The next exciting Hanoi autumn experience is enjoying a cup of egg-whipped cream. This delicious snack is also a childhood memory of countless Hanoians, therefore, you can see many whipped cream shops around the city, but the most famous one is Mrs. Khanh's on Hai Ba Trung street.
Each cup of egg-whipped cream consists of only 2 egg yolks and a little sugar, which is carefully beaten until fluffy, soft, and then added with different flavors like vanilla, coffee, matcha, or a whole spoon of green beans. This dish is suitable to eat while it is still hot to fully feel its greasy taste and light sweetness. Also, you can order a baguette to dip with the mixture. A glass of egg-whipped cream costs 20,000 VND. Try to come to the shop in the morning or early afternoon, before the shop is crowded with people flocks in the evening.
Read more: The difference between Hanoi and Ho Chi Minh
6. Sniff the scent of milk flowers
When autumn comes, it's time for the milk flowers to bloom and spread their aroma throughout the city, mostly on the streets of Nguyen Du, Le Duan, Quan Thanh. Contrary to its pure and fragile beauty, this white flower has a rather strong fragrance that might leave a lasting impression.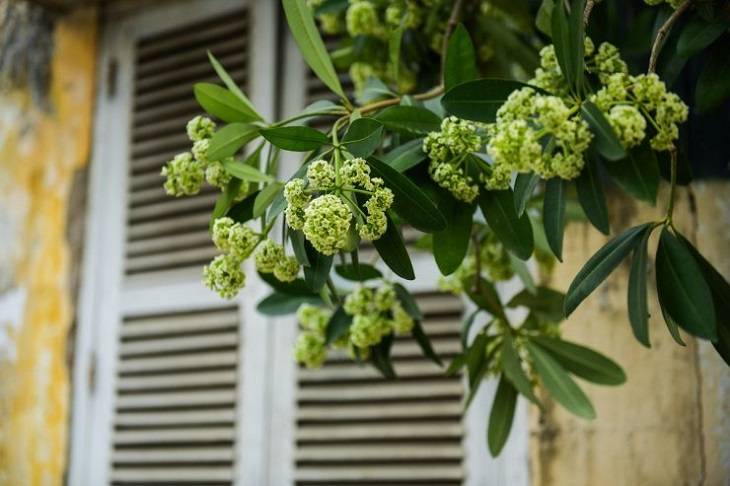 This special flower also has a characteristic way of emitting its scent, that is, the closer it gets to nighttime, the more milky flowers give off their bold fragrance. While some tourists seem to enjoy this scent, many locals are afraid of this overpowering smell, which might make them "suffocate in the middle of the night". Whether you like it or not, inhaling the scent of milk flowers on the streets of Hanoi is still a natural thing when the city is in the autumn. In case you are allergic to this flower smell, you'd better stay off those streets with dense milk flower trees mentioned above.
7. Visit Hanoi's night markets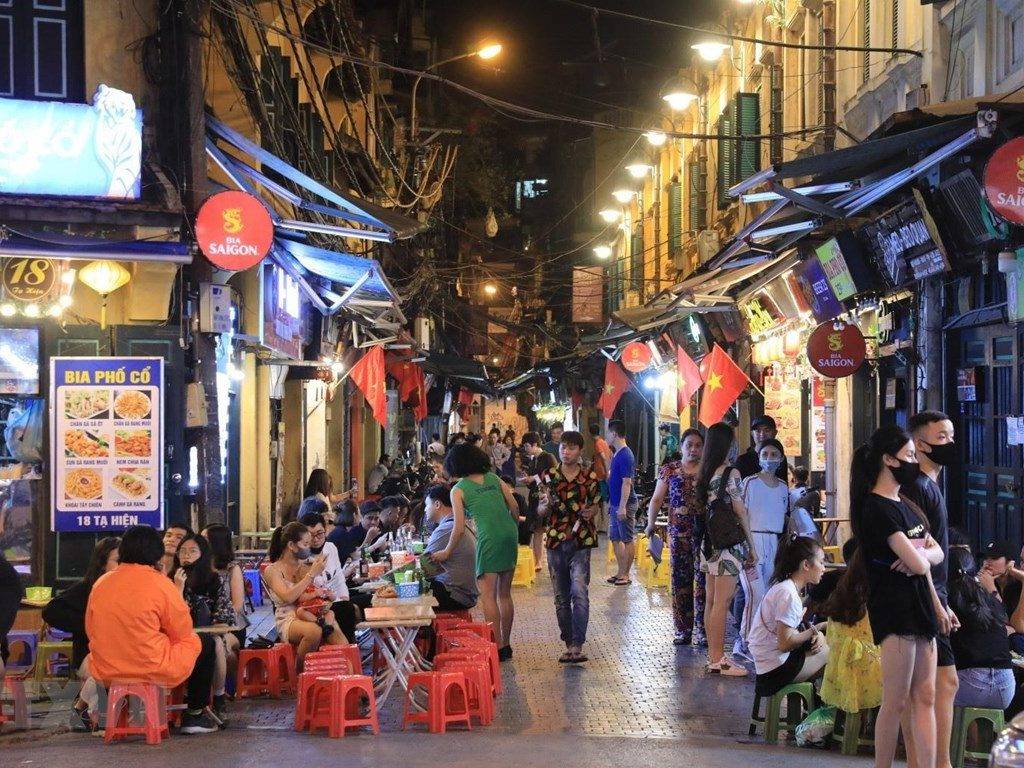 Dong Xuan Night Market is located in Hanoi Old Quarter, stretching about 3km from the beginning of Hoan Kiem Lake through Hang Ngang, Hang Dao, and Hang Duong. On every weekend evening, from 6 pm to 11:30 pm, the two ends of the market is the place for traditional folk art performances such as cheo singing, quan ho, ca tru, etc., while the center is for trading and food court. Contrary to summer, autumn is the right time to come here without worrying about the hustle and bustle of the crowd.
Visitors can find a variety of household goods to luxury items here; Or, clothes, shoes, accessories, and souvenirs. Here, you will be spoiled for shopping with prices ranging only from 50,000 – 200,000 VND. Not only that, but you can also explore the unique cuisine of Hanoi through typical dishes, such as crispy fried cakes, fried spring rolls, mixed sweet soup, pho, o mai, etc. Don't miss the hot pork cartilage & rib porridge at the end of the market area, which will help you dispel the night cold effectively.
Notes when visiting Hanoi in autumn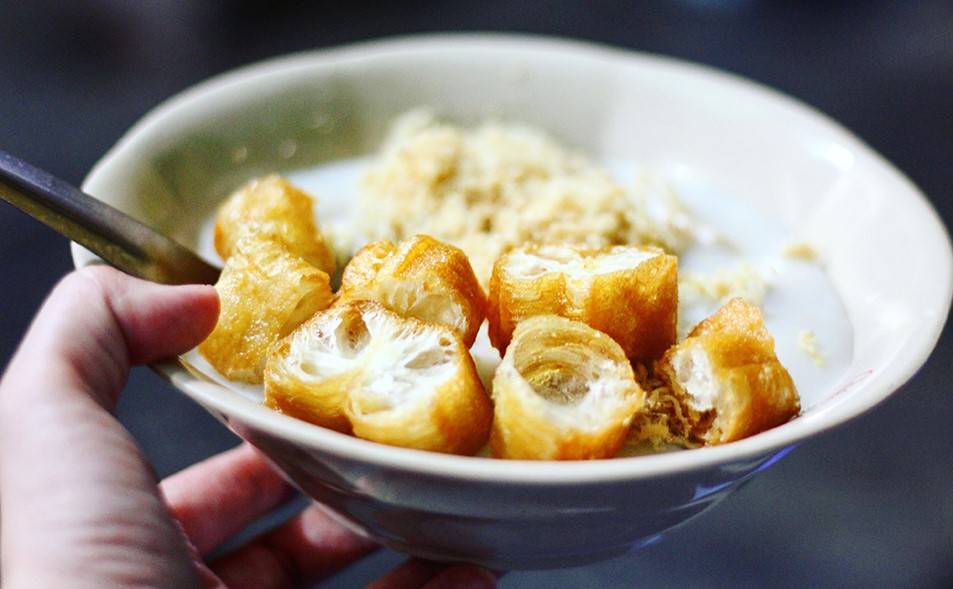 Cloudless blue skies and gentle winds will refresh you while exploring this charming city. However, sudden showers can surprise you anytime, so always prepare a mini umbrella with you.
Don't forget to pack some long-sleeved shirts or light jackets to stay healthy in this weather.
Sunscreen, sturdy walking shoes, city maps, and cash should be handy to make your city walk-around easier.
You can also rent a bicycle to explore Hanoi. The price of bicycle rental is from 5,000 VND/hour and 90,000 VND/day.
Read more: Hanoi Walking Street offers a leaming look at the capital's nightlife