Hai Tac Islands, the raw pearl under radar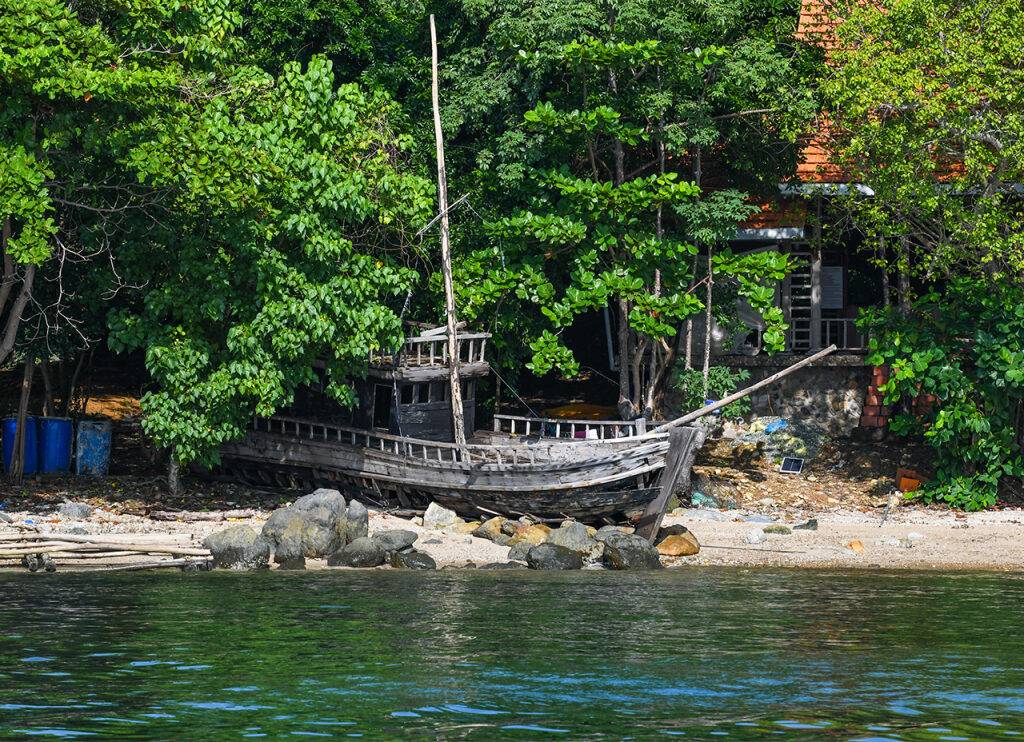 Less noticed than Phu Quoc Islands, this pristine archipelago ten nautical miles off the coast of Vietnam was once a den of pirates (hai tac in Vietnamese) – that is also the reason for its name, Hai Tac Islands. However, coming to the area today, visitors will not catch any traces of those buccaneers or their treasure chests, but only simple fishing boats anchored on calm, crystal clear water, as well as the gentle fishermen's peaceful villages scattered around. The unspoiled beauty will get visitors temporarily to ignore modern life out there to restfully lie in a hammock between rows of shading palm trees, or be busy catching fresh seafood on an offshore day with the locals.
I. About Hai Tac Islands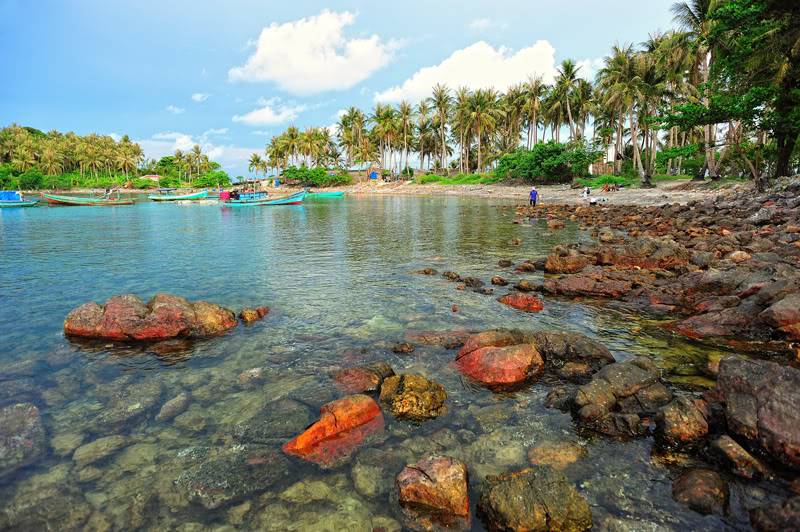 Hai Tac Islands (Pirate Islands) is an archipelago in Tien Hai commune, Ha Tien city, located nearly 28 km and about one-hour speedboat ride from the mainland.
The archipelago includes 16 large and small islands, which are mainly composed of Cretaceous shale and sandstone. Hon Tre Lon (Hon Doc) is the largest and most densely populated island, where local residents live mainly by fisheries and tourism. Due to the geological features, the islands are scarce with fresh water.
As located in the Ha Tien – Rach Gia Bay area to the Gulf of Thailand, an important trade route from China to Western countries, around the 17th – 18th century, the islands were ideal for pirates to ambush and attack passing merchant ships. Until the early 20th century, they were still raging.
Read more: Vietnam's first national park, Cuc Phuong, boast the vital green lung around the northside
*Notes: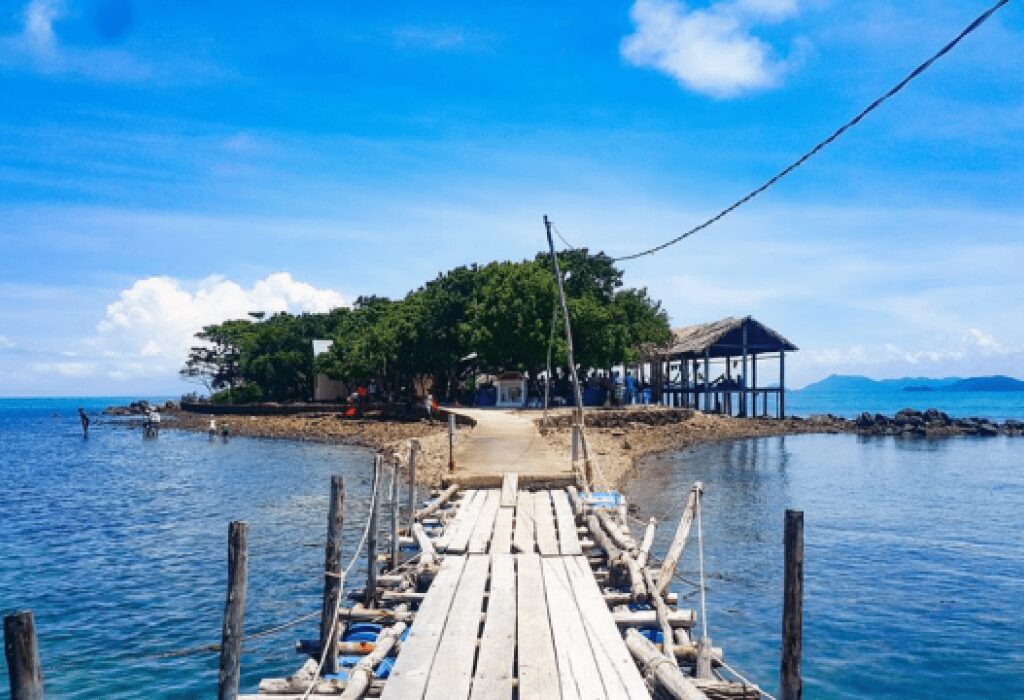 – At the end of 2016, it was announced that ferry operators in Ha Tien did not allow foreigners to Hai Tac Island. Therefore, you should check the situation carefully before planning the trip.
– Hai Tac Islands do not have electricity and internet. There will be two daily power cuts at noon and at night. Visitors need to prepare batteries, power banks and 3G/4G sim cards in advance to comfortably enjoy the journey.
* Best time to visit Hai Tac Islands
The weather in Hai Tac Islands is divided into two different seasons. Accordingly, the rainy season usually starts from May to October, while the dry season lasts from November to April next year. For better experience, you should come here around the months of December – April next year. At this time, sunlight spreads over the place, the waves are calm, perfect for different sea activities.
Read more: THE PARADISE PHU QUOC ISLAND – THE VERY FIRST VIETNAM'S OFFSHORE CITY
II. What to do in Hai Tac Islands
1. Swimming in the sea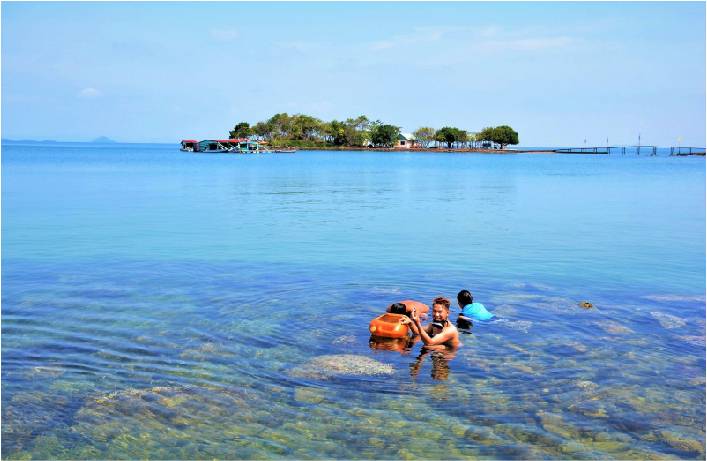 The highlight of Hai Tac Islands is the smooth and gentle white sand beaches stretching several hundred meters, especially not full of tourist groups. Visitors can freely chill out on the sea or participate in activities, like scuba diving, watching coral reefs or catching crabs and snails in the rocky crevices. Not only that, you can ask the locals for a boat ride hitting other alluring islets.
Read more: Phu Yen – The no-human-sign coastal land in South Central Vietnam
2. Strolling around the islands by bike
The only road along the coast is quite flat, so you can stroll or peddle a bike on this path to enjoy the cool breeze and explore the villager's life, then stop at any point to watch the sunset or sunrise.
3. Fishing and enjoying seafood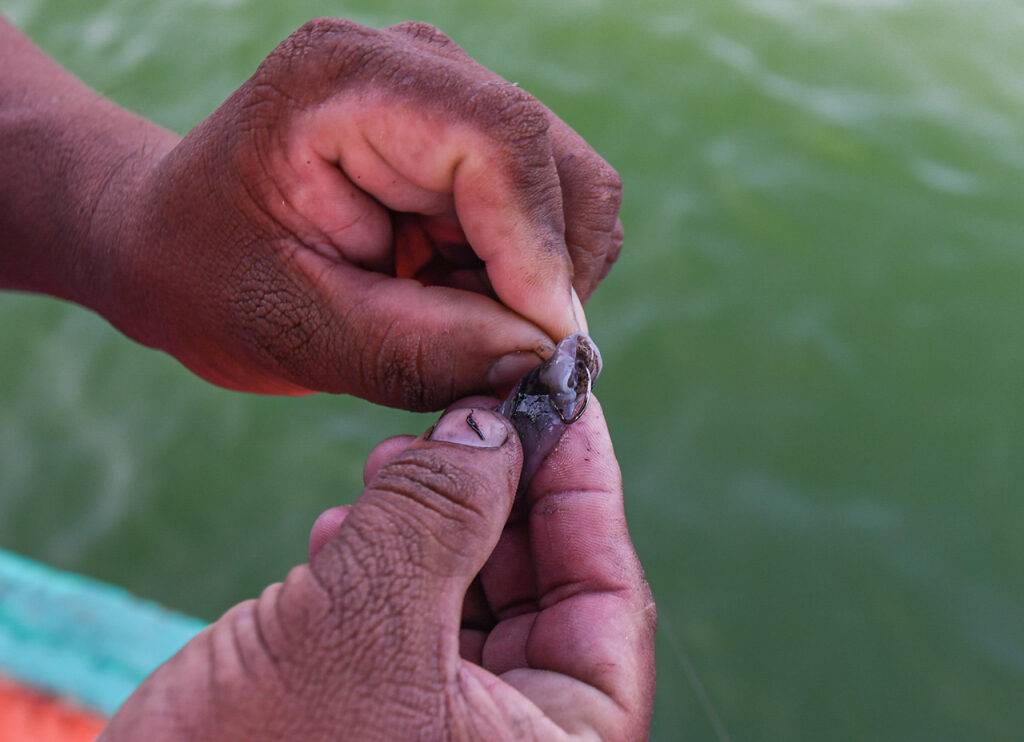 The specialty in Hai Tac Islands is sea urchin. The residents carry metal tongs and dive to a depth of about 3m to harvest urchins. Visitors with good diving skills can join the locals to experience this interesting activity, then process them together to serve raw or grilled with onion fat. Moreover, other seafood here also varies from fish, shrimp to squid, crab, with extremely affordable prices, about 120,000 – 140,000 VND/kg.
* Getting there
From Ho Chi Minh City, you can travel by motorbike along the two following routes to arrive in Ha Tien, Kien Giang.
– Option 1: Saigon > National Highway 1 > Highway 80 > Vam Cong Ferry > Long Xuyen > Chau Doc > Vinh Te Canal > Ha Tien.
– Option 2: Saigon > Highway 1 > Long An > Highway 62 > Vietnam-Cambodia border > Chau Doc > Ha Tien.
From Ha Tien, you continue to buy boat tickets to reach Hai Tac Islands with prices ranging from 40,000 – 50,000 VND/ticket/person. The boat ride takes about 1 hour 30 minutes.
*Note:
– Monday – Thursday: only 01 trip/day departing at 9 am and returning at 14:30.
– Friday – Sunday: 02 trips with the same time schedule.
*Travelling around the islands:
Only one road runs across the area, so travelers can ride either bicycle or motorbike around the islands without fear of getting lost. Besides, you can also take a motorbike taxi at 50,000 VND/pax for a distance of 7km, the plus for this is to have your own guide on the trip. To visit nearby islets, you can ask for a rental boat service at 300,000 to 400,000 VND.
Read more: HOW TO SAVE MONEY FOR PHU QUOC TRAVEL THAT YOU SHOULD KNOW
III. Accommodation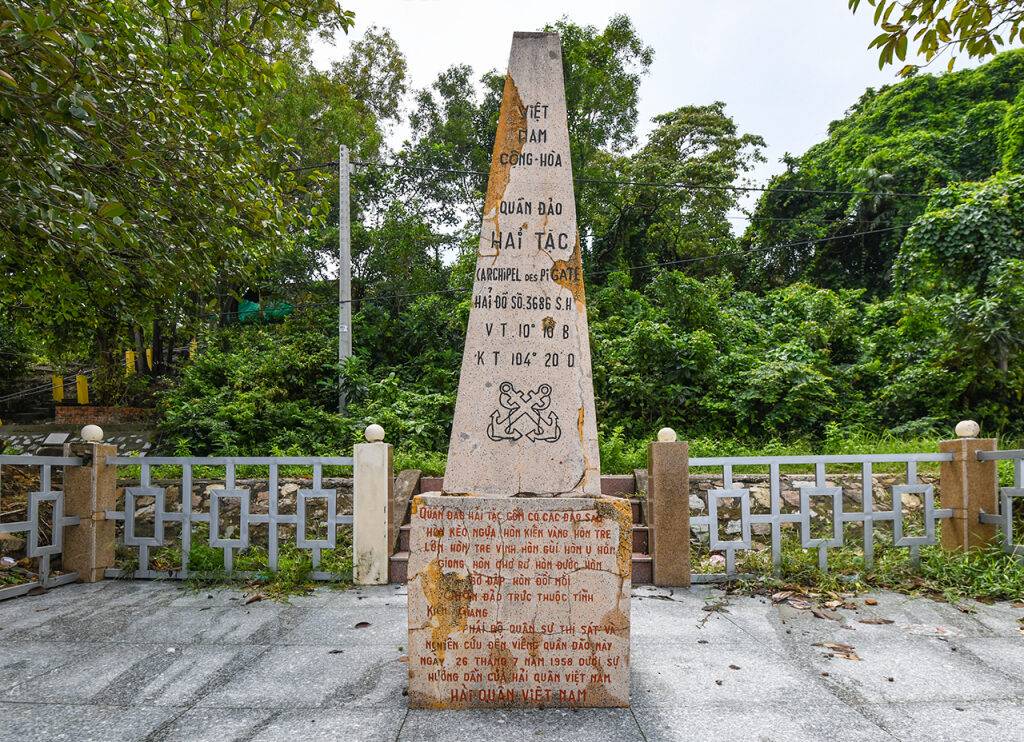 Since housing services have not been developed on Hai Tac Islands, tourists have to either sleep in camping tents on the beach or rent rooms from locals at a fairly cheap price, only 50,000VND/guest. Each room can accommodate from 2 to 4 people.
Read more: Specialties of Phu Quoc