Phu Quoc – The pearl island to play all week
Phu Quoc, the pearl island of Vietnam, always captivates tourists by its peaceful beauty, clear blue water, diverse marine ecosystems, and rich cuisine. Below are 10 extremely attractive activities that you definitely cannot miss when visiting this island.
1. Beaches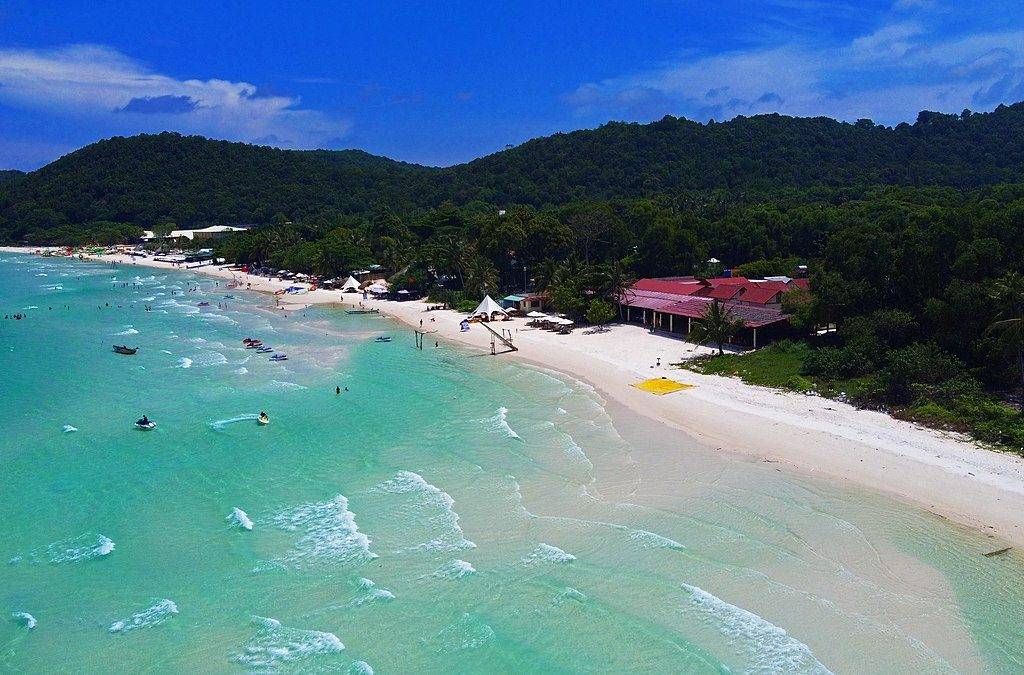 Phu Quoc owns endless coastlines with white sand and clear water. So, the first thing you should do when setting foot on this pearl island is swimming on nice beaches, such as Bai Truong, Bai Dai, Bai Sao, Bai Khem, Bai Ong Lam, etc. These beaches are favored for blue seawater, smooth waves, and low slope. But that's not all, there are still many other pristine paradise-like beaches waiting for you to explore!
Read more: THE PARADISE PHU QUOC ISLAND – THE VERY FIRST VIETNAM'S OFFSHORE CITY
2. Coral watching and snorkeling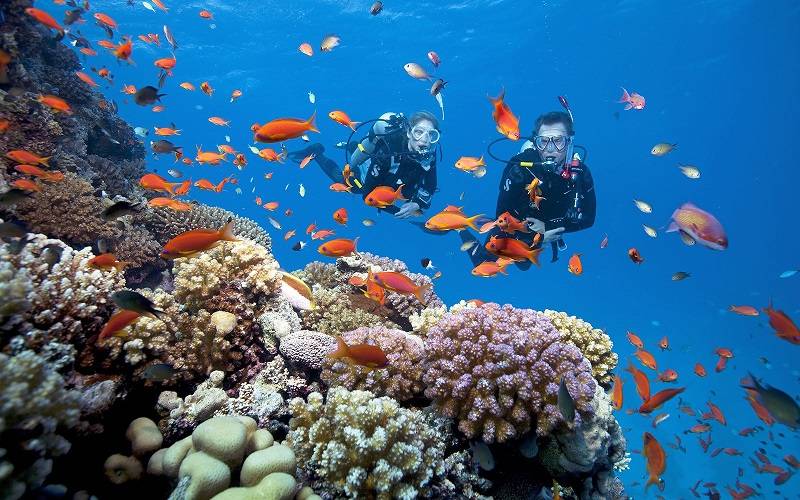 Nature favorably bestowed Phu Quoc 480ha overflowing corals of about 360 types, both hard and soft corals. At the same time, the place is also home to 152 fish species, 98 species of seaweed, and all kinds of aquatic life, all of which create the most diverse and richest marine ecosystem in the country.
It would be an omission if you visit Phu Quoc without diving to see the brilliant coral reefs. Hon Thom, an untouched area with clear blue water, is the most perfect diving spot to watch coral. This is also a large location for aquaculture and pearl farming in Phu Quoc island.
3. Sunset at Dinh Cau Cape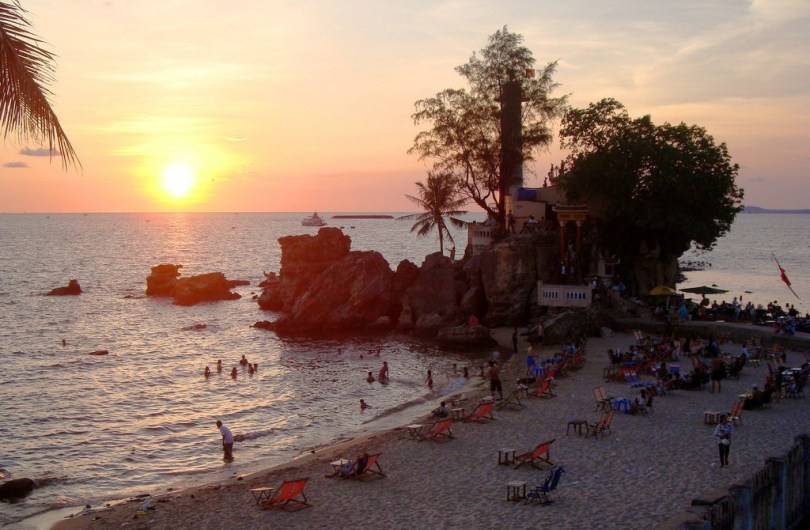 Watching the sunset at Dinh Cau Cape is one of the most unforgettable experiences on Phu Quoc Island. Thanks to rock rapids shaped like a mountain reaching out to the sea, when the sunlight of the sunset starts to shine on Phu Quoc beach, the place appears extremely dreamy and romantic. This is also the time when the seawater dyes a shimmering yellow light to bring out an artistic beauty. The sun slowly set like a pearl sinking into the ocean, making the sea surface brighter as well.
From Dinh Cau, you can have a panoramic view of Duong Dong Sea – a particularly poetic landscape. The sun from far away gradually goes down to the horizon, while the sea surface is sparkling orange and then turning purple, this will definitely be a spectacular image to leave in visitors' memory.
Read more: TRIP TO SOUTH PHU QUOC
4. Night squid fishing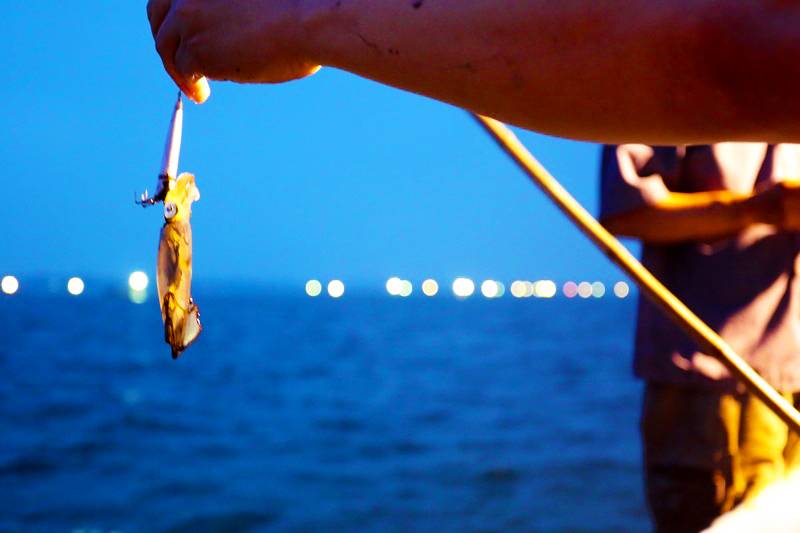 When night falls, the whole of Phu Quoc Island becomes quiet, but the lives of offshore fishermen are still hustling with the shining lights like a bustling city, that is also the time to experience the relaxing and fun squid fishing. Night squid fishing tours usually start from the evening until about 9 pm. If you travel in groups, you can rent a private boat or join with other guests. The ticket price is about 330,000 VND per person, depending on the season.
There is nothing like when you can catch squid with your own hand or pick up swordfish, bluefish floating on the sea. Your trophies will be those fresh squids or fish that will be then processed and served right on board.
5. Dawn watching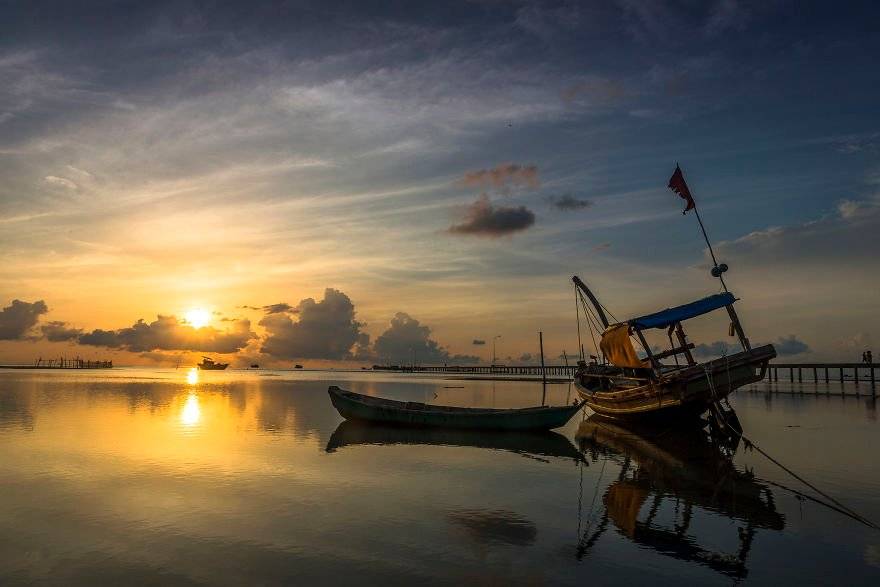 It is not difficult to admire dawn in Phu Quoc, but the best place to watch the sunrise on the island is Ham Ninh fishing village. You should wake up early and come here at about 4:30 to feel all the peaceful scenery of the coastal fishing village. You will also witness a beautiful sunrise on the sea when the sun slowly emerges.
A few beautiful sunrise spots to visit: Ham Ninh fishing village, Bai Sao and Bai Khem.
Read more: EXPLORE HON THOM – PHU QUOC
6. Desert islands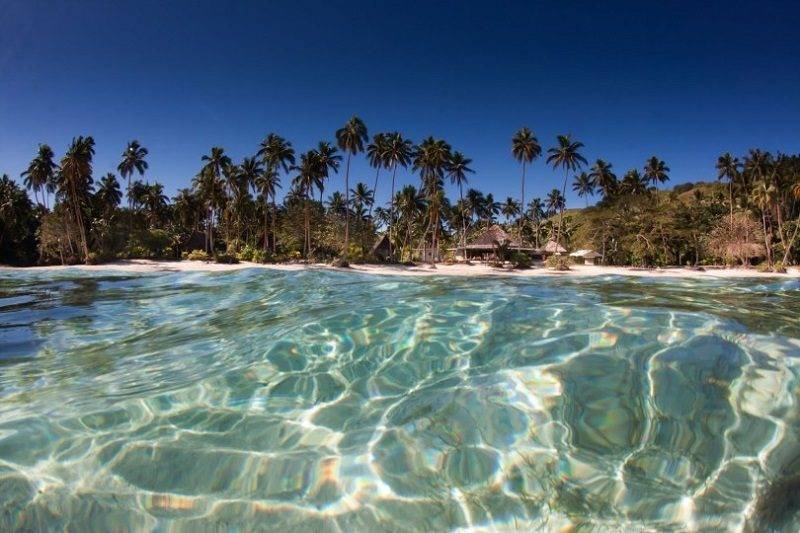 Phu Quoc still has many fallow islands that few people have set foot in. To explore these places, visitors can rent boats and ask locals for transport to the area of Mui Ong Doi, Hon Dam to experience the isolated life from the modern world. However, visitors should only go to deserted islands when the weather is nice, the sea is calm and must be carried by local people, but not by yourself.
7. Phu Quoc National Park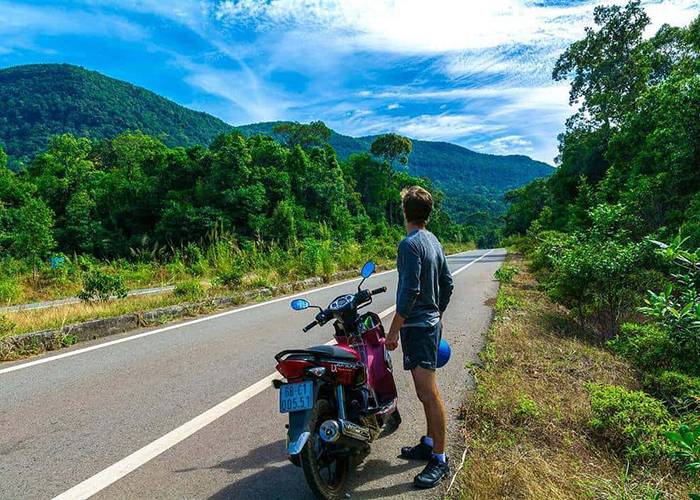 Phu Quoc National Park was launched in 2001, located in the North of the island, and occupies about 70% of the island area, more than 31,000 hectares. Within the area, there are three large mountain ranges, including Ham Ninh Range, Ham Rong Range, and Ganh Dau Range with 60km of beautiful coastline.
Entering Phu Quoc National Park, you will begin the journey to conquer and explore primeval forests with diverse flora and fauna. The road through the National Park will take you to the top of Mount Chua at an altitude of 565m, which is considered the roof of Phu Quoc, on the Ham Ninh mountain circuit. Standing on the top of the mountain, you can view 4 directions of beautiful natural scenery.
Read more: HOW TO SAVE MONEY FOR PHU QUOC TRAVEL THAT YOU SHOULD KNOW
8. Phu Quoc Prison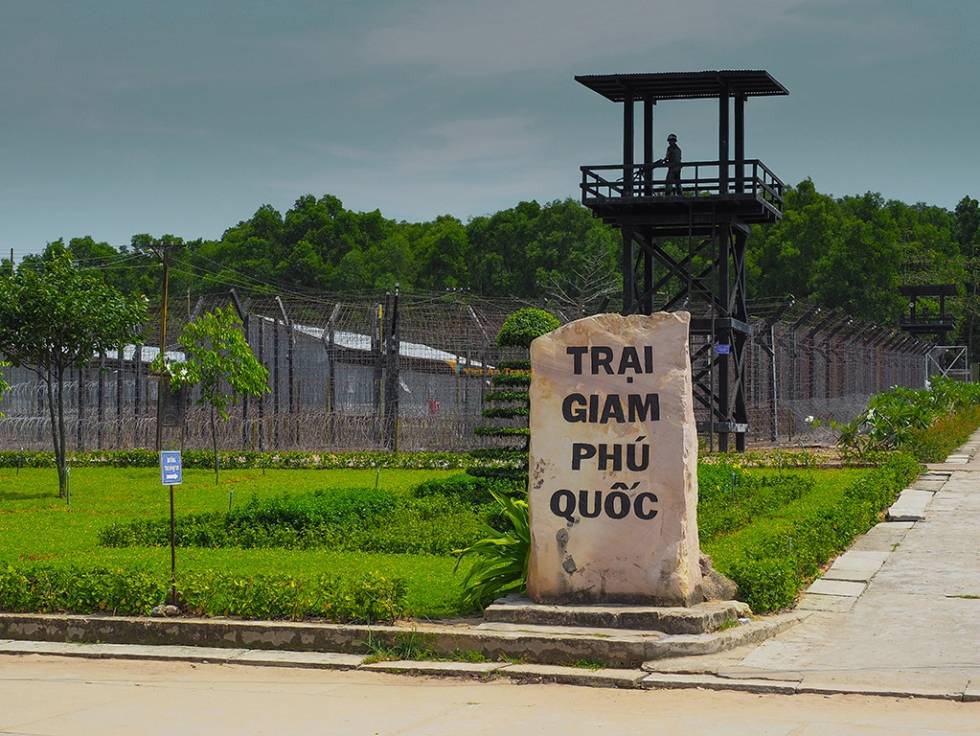 Phu Quoc Prison is situated at 350 Nguyen Van Cu Street in An Thoi town. You can get there by motorbike, taxi, car or even on foot, depending on the location of your hotel.
This is one of the historic destinations you should visit when coming to Phu Quoc. The place still retains a memory part of the national defense war. Coming here, visitors will be told stories, historical figures and witnessed colonial imprisonment and torture reproduced by the model.
9. An Thoi fishing port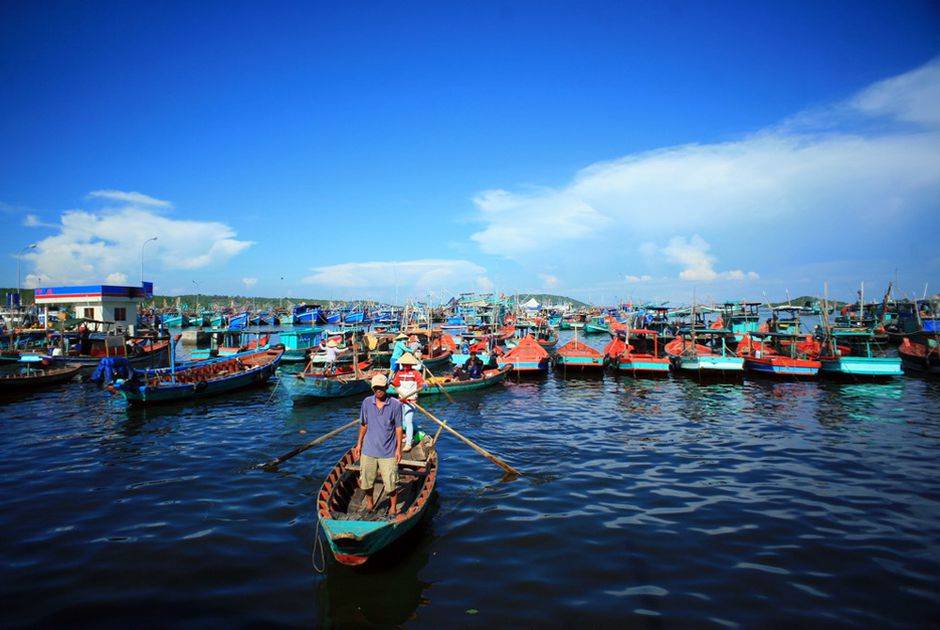 An Thoi fishing port is located in the South of Phu Quoc island, about 30 km from Duong Dong town by road, 45 km from Ha Tien town, and 120 km from Rach Gia city. The region has been invested hundreds of billion VND to become a seafood commercial center in Phu Quoc.
Every day, hundreds of large and small ships parked at the port to avoid the wind, waiting to go to sea. In the early morning, from 5 am – 5:30 pm, visitors can come here to admire the sunrise and watch the boats return to the shore. After the boat is docked, you can come there to find your favorite seafood type and then buy it to bring back for processing.
10. Seafood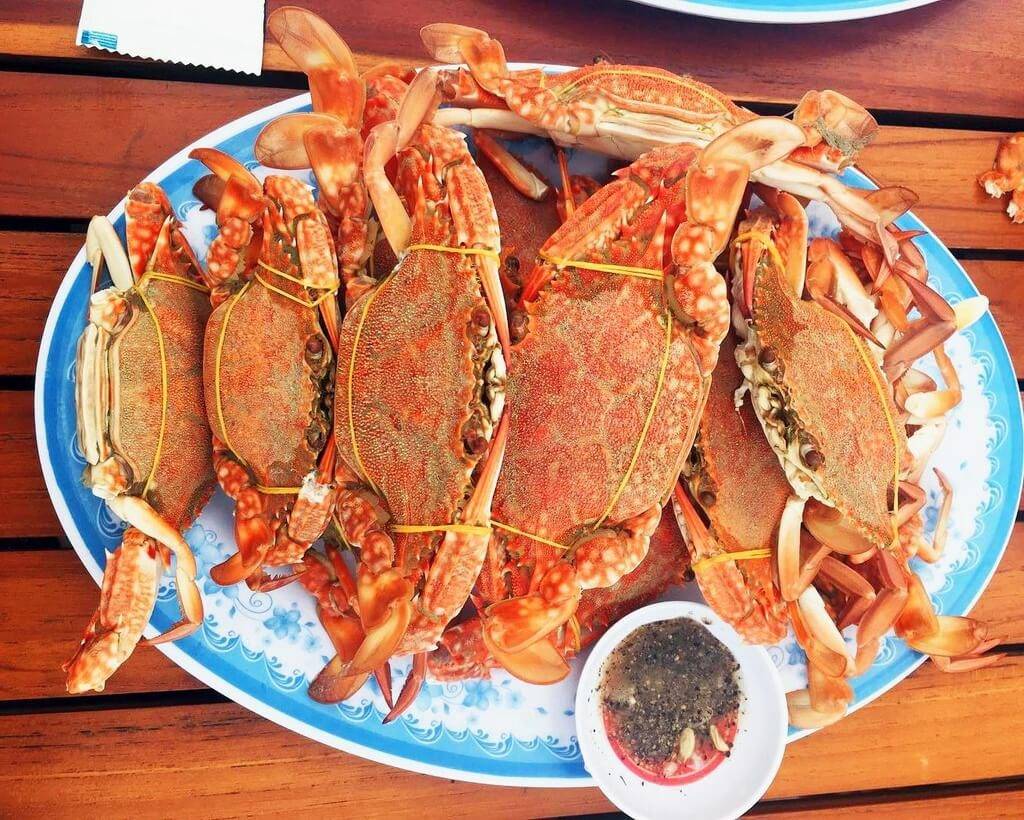 Finally, do not forget to enjoy the fresh and delicious seafood dishes, from popular to fancy, on this Pearl Island. If you want to experience the cuisine locally, you can go to fishing villages, like Ham Ninh, Cua Can, Rach Vem. Meanwhile, you can also enjoy fresh seafood dishes elaborately processed in high-end restaurants and resorts.
* Notes when traveling to Phu Quoc: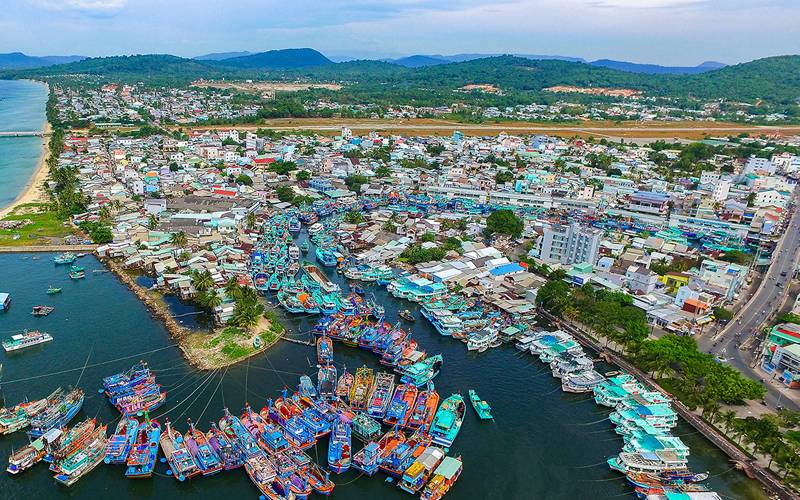 – Do not go to Phu Quoc during the rainy season.
– Hotels and motels in the peak season often run out of vacant rooms, so you should book a place about a month in advance.
– Some places on Phu Quoc do not allow visitors to visit. You need to strictly comply, do not go into the restricted area.
– Ferries and high-speed boats usually run at fixed hours. You should carefully ask about the time of operation so as not to miss the trip.
– If seasickness, you should prepare anti-sickness medicines because you have to travel a lot on the sea.
– If you ride a motorbike through the forest, you should find a Phu Quoc map in case you get lost.
Read more: SUOI TRANH TRAVEL – A NATURAL PICTURE IN PHU QUOC