Top activities for fulfilled one-week vacation in Phu Quoc Island
Together with the alluring beauty of unspoiled beaches with diverse marine ecosystems, the pearl island, Phu Quoc, also captivates tourists with its mild climate and fresh atmosphere. The diverse of interesting resort activities has also made the island a great paradise to spend the whole week vacation: sunbathe on natural glorious beaches; take a boat trip to tiny uninhabited islands – Duong To, An Thoi, Ham Ninh, Rach Vem; join different water sports; experience authentic residential life; and many more. Below are top-notch things you should not miss in Phu Quoc.
1. Chill on marvelous beaches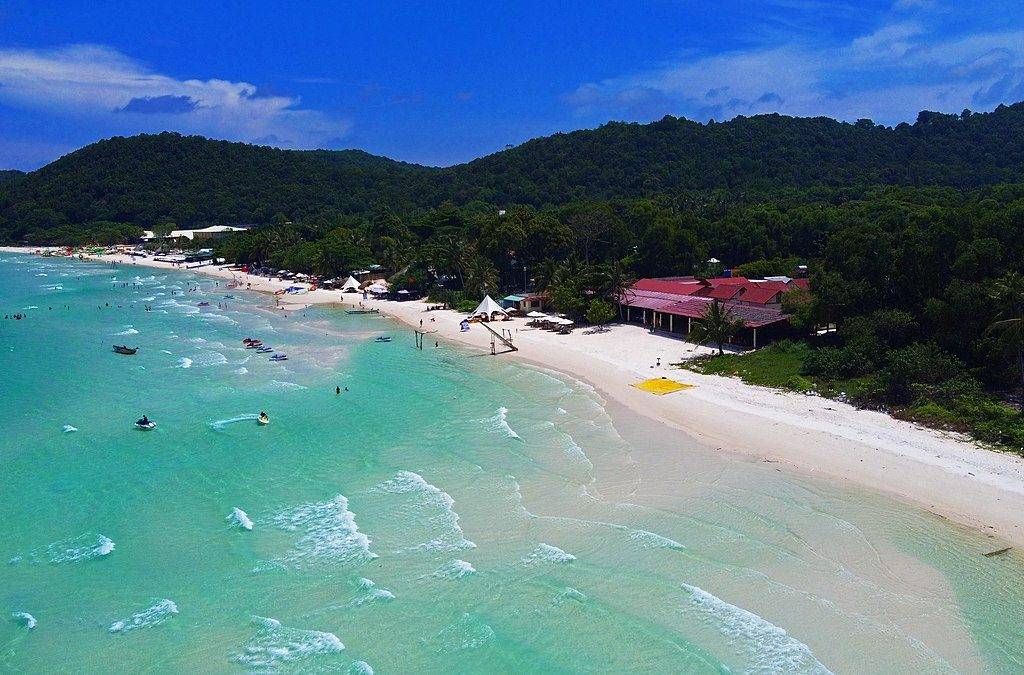 Phu Quoc is one of the few coastal areas in Vietnam that owns plenty of beautiful beaches. The beaches here wind along fine white sand and are surrounded by slanting palm trees; some have warm and calm water, while some are located on isolated islands that are hard to catch sight of tourists, ideal for a laidback among nature on your own world.
Some of the pristine paradise-like beaches to explore: Bai Truong, Bai Dai, Bai Sao, Bai Khem, Bai Ong Lam, etc. In particular, Bai Sao is the most beautiful with fine white sand and clear water, even suitable for families with kids. On its long sand are many benches for vacationers to comfortably sunbathe while watching the sea view in the front. Bai Dai is supposed to be an impressively long beach, about 12 miles; a few bars are located here offering delicious drinks and vibrant music.
Read more: THE PARADISE PHU QUOC ISLAND – THE VERY FIRST VIETNAM'S OFFSHORE CITY
2. Snorkel and watch coral reefs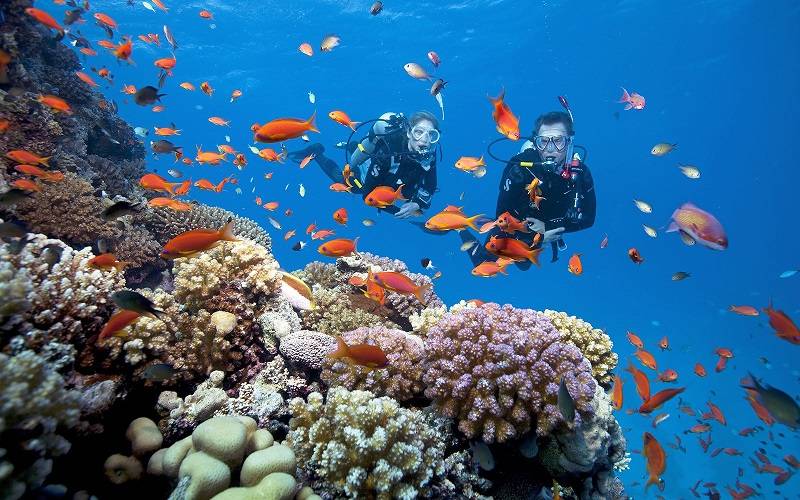 Nature favorably bestowed Phu Quoc 480ha overflowing corals of about 360 types, both hard and soft corals. At the same time, the island is also home to 152 fish species, 98 species of seaweed, and all kinds of aquatic life, all of which create the most diverse and richest marine ecosystem in the country. That being said, it would be an omission if you don't join either the snorkeling or diving activities to see the region's brilliant marine ecosystems.
You can choose whether a full-day or half-day snorkeling tour to watch colorful coral reefs at the islands of Hon Thom, Hon Mong Tay, Dam Ngang, etc. Hon Thom is also a large location for aquaculture and pearl farming in Phu Quoc.
3. Capture stunning dusk and dawn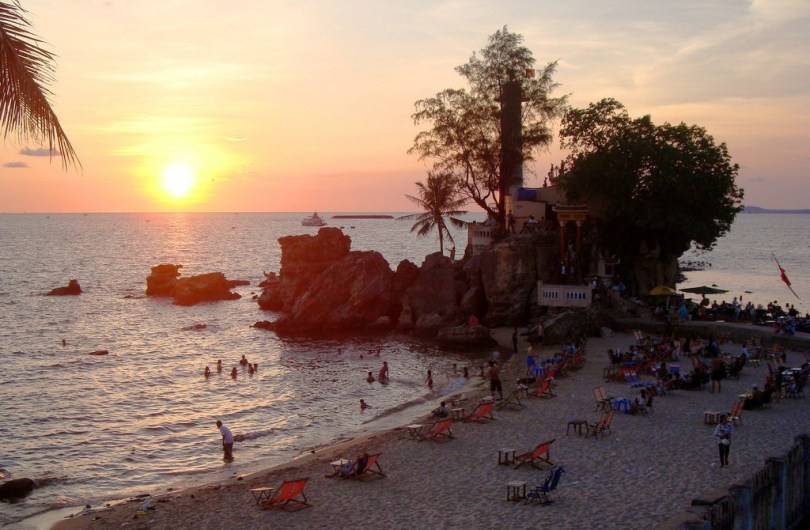 The beaches are lovely places to have a rustic look of sunset and sunrise. The rock rapids reaching out to the sea at Dinh Cau Cape are a great destination to catch the first sunlight shining on Phu Quoc's beaches. From the cape, you can zoom out to Duong Dong Sea changing its watercolor from sparkling orange to yellow purple as the sun slowly goes down to the horizon.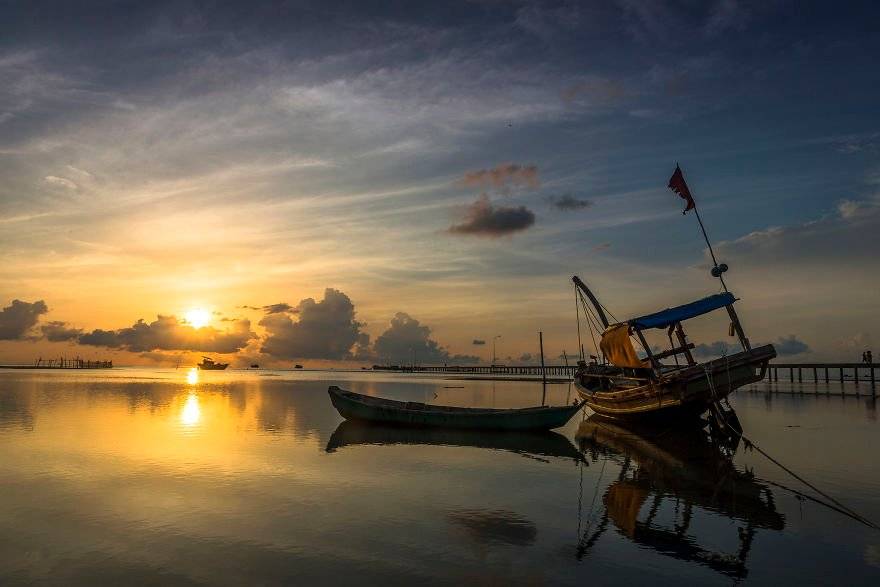 It is also not too hard to admire dawn in Phu Quoc, and the most perfect place is Ham Ninh fishing village. You should come here quite early in the morning, about 4:30 am, to feel all the peaceful scenery of the coastal village gradually becoming more visible as the sun emerges. Other beautiful sunrise spots to visualize yourself in the background of a romantic sunset on the beach enjoying a tropical cocktail are Bai Sao and Bai Khem.
Read more: TRIP TO SOUTH PHU QUOC
4. Go fishing squid at night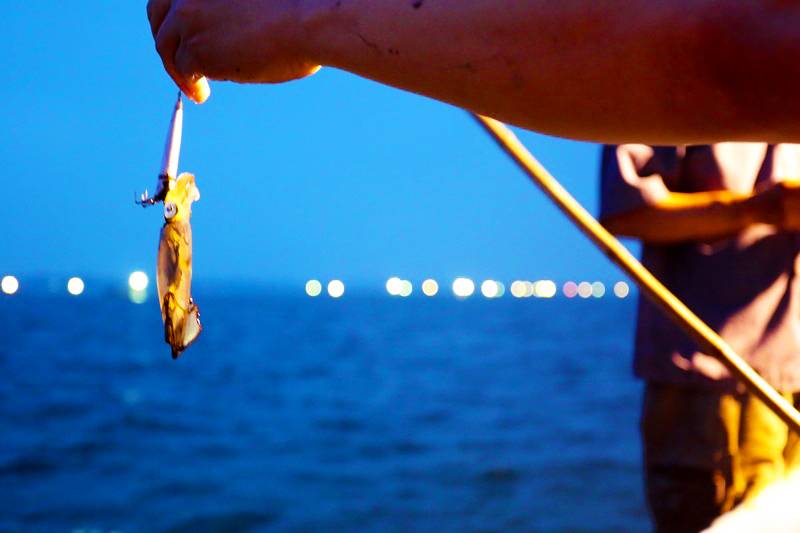 When night falls, the beaches in Phu Quoc Island seem quiet, yet the lives of offshore fishermen still hustle with the shining lights. It's also the perfect time to join them to go out to the sea for night squid fishing.
For a more challenging experience, find yourself a local fisherman and ask him about the price for a boat ride to the sea. Or, you can simply book night squid fishing tours at 330,000 VND per person. The tour usually starts in the evening until about 9 pm. What you get in the fishing will be processed and served right on the boat.
5. Take a boat ride to deserted islands
Phu Quoc has plenty of fallow islands that few tourists have set foot in, like Hon Son, Hon Dam, Mui Ong Doi. There aren't many accommodations or restaurants in these locations, even no electricity or signal in some places, that's why everything is just as it is – deserted, pristine, and pure. Visitors can rent a boat to these areas for a price of 2,000,000 VND/boat to 2-3 islands.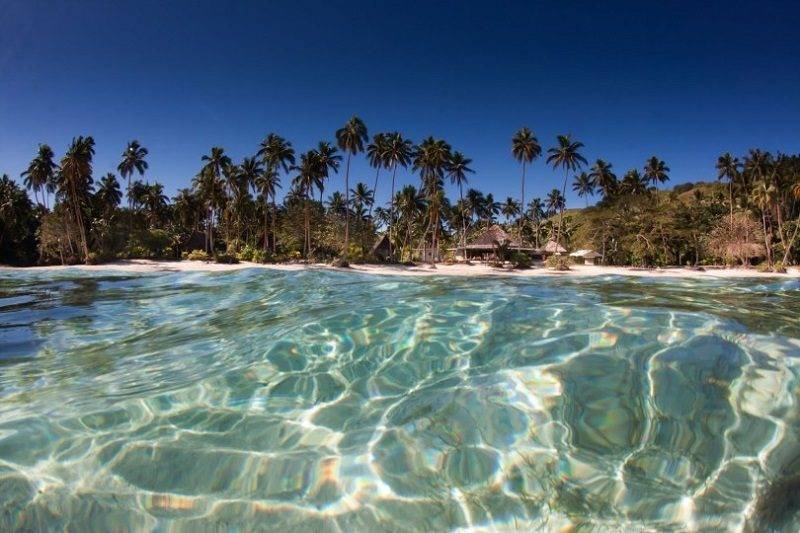 In addition to enjoying the cool water and fresh seafood at Bai Bang beach in Hon Son, visitors can trek to the top of Ma Thien Lanh for a panoramic view of the primeval forest surrounding the island. Meanwhile, Hon Dam, or Robison Island, is the place that totally takes you to prehistoric time, without internet, phone signal, high-rise buildings, or resorts. The only passions here are swimming, sunbathing, fishing, relaxing in a hammock by the sea, and having a BBQ party in the evening.
Read more: EXPLORE HON THOM – PHU QUOC
6. Hike on Phu Quoc National Park
Stretching more than 31,000 hectares, Phu Quoc National Park, launched in 2001, is located in the North of the island and occupies about 70% of the area. There are three large mountain ranges, including Ham Ninh Range, Ham Rong Range, and Ganh Dau Range with 60km of beautiful coastline.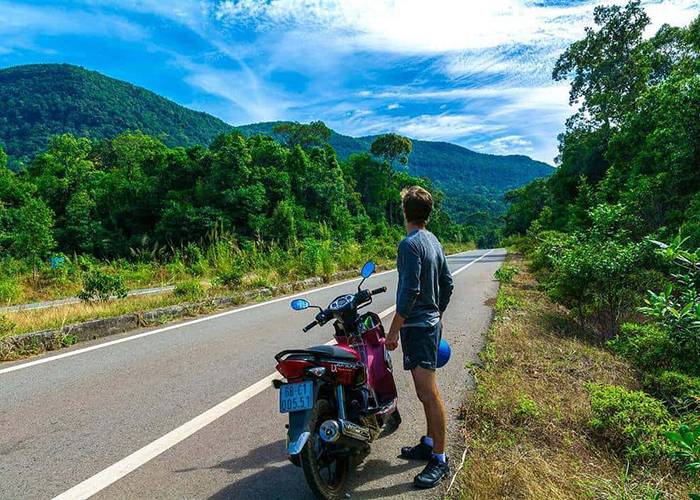 This park is ideal for motorbike excursions or walking on the trails through the northern forests, in which, the area near Ganh Dau is the densest and most interesting place. From Duong Dong town, turn onto Bai Thom route straight to Ganh Dau. When reaching Ganh Dau commune, you have entered the natural area of ​​the park. From here, you will begin the journey to explore primeval forests with diverse flora and fauna. The road through Phu Quoc National Park will take you to the top of Mount Chua at an altitude of about 600m above sea level, which is considered the roof of the island.
7. Visit Phu Quoc Prison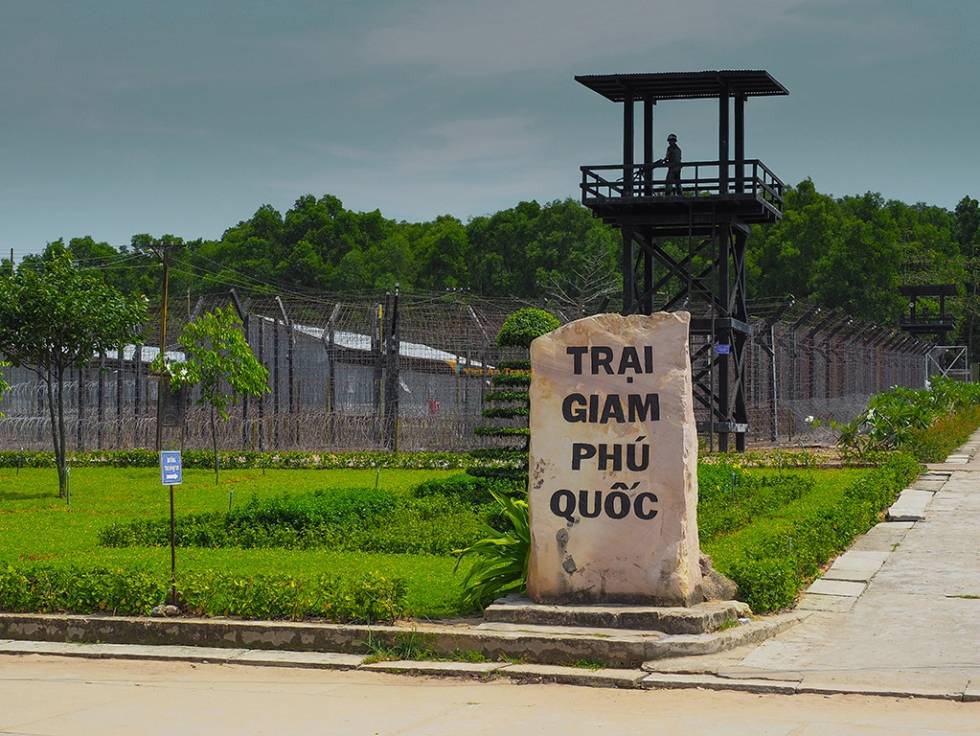 Phu Quoc Prison is located at 350 Nguyen Van Cu Street in An Thoi town. You can get there by motorbike, taxi, car or even on foot, depending on the location of your hotel.
During the Vietnam war, this prison, also known as Cay Dua prison, was used to hold more than 32,000 prisoners of the Republic of Vietnam. Many scenes of brutal tortures are recreated with description signs in both Vietnamese and English. This place can be considered to be extremely informative, emotive, and highly recommended to anyone with an interest in history when visiting Phu Quoc.
Read more: HOW TO SAVE MONEY FOR PHU QUOC TRAVEL THAT YOU SHOULD KNOW
8. Explore local life at An Thoi fishing port
An Thoi Fishing Port is located in the South of Phu Quoc, about 30 km from Duong Dong town by road. The spot has long been a commercial seafood center on the island. Moreover, the port is also a transshipment point to transport passengers to the sea for sightseeing, fishing, scuba diving to see corals.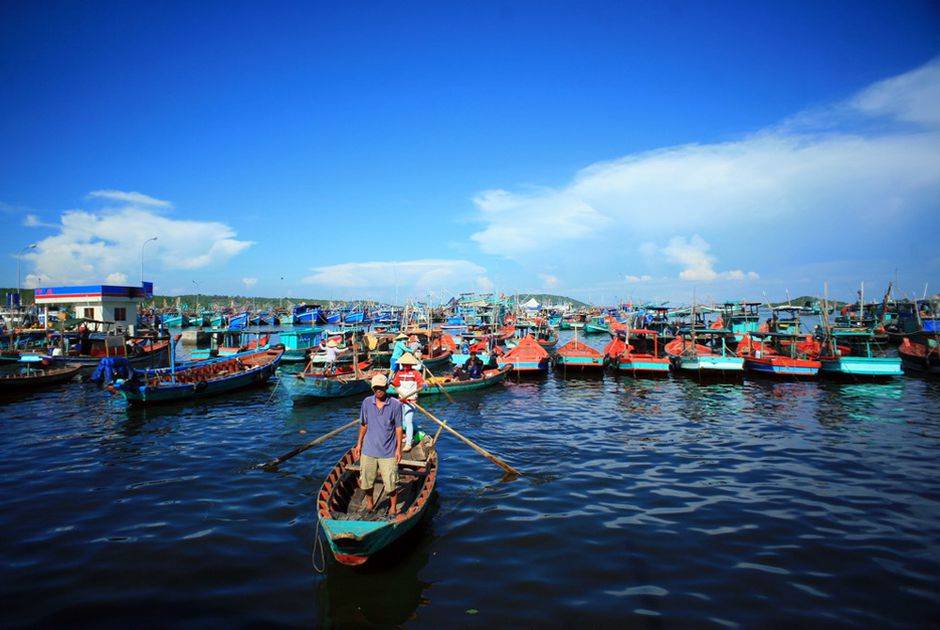 Hundreds of large and small ships parked at the port daily; especially, in the early mornings, while waiting for the ships to return to the shore, with full of fresh-caught seafood on board, visitors can admire the beautiful sunrise. You can also buy your favorite seafood and bring it back to the hotel for processing.
9. Enjoy seafood at Ham Ninh Village
To experience the local cuisine, especially delicious seafood, it's good to go to fishing villages, like Ham Ninh, Cua Can, Rach Vem. Ham Ninh Village, which provides the main source of seafood for the whole Phu Quoc island district, is a picturesque fishing village and a great place to get a glimpse into the daily life of local fishermen. The people here are honest and simple, so you can ask for a stay to learn about what they do on a usual day.
The village is truly a great place to eat various types of seafood, such as sea cucumber soup and oyster, as well as other local dishes at a very reasonable price. How to get to Phu Quoc Island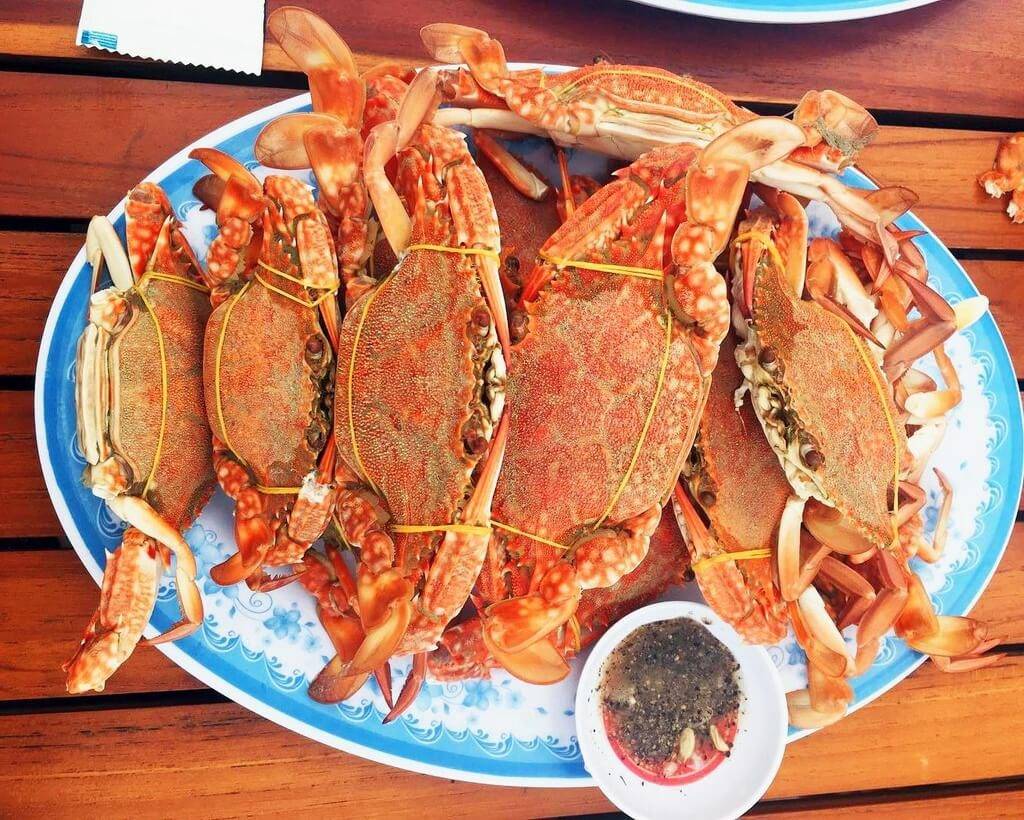 There are two common ways to go to Phu Quoc, by speedy boat from Rach Gia (120km) or Ha Tien (45km) and by airplane from Ho Chi Minh City, Hanoi, or Can Tho to Phu Quoc International Airport.
The flight Hanoi – Phu Quoc lasts about 2 hours, while the one Ho Chi Minh City – Phu Quoc is only about 50 minutes. The plane ticket ranges from 1.200.000 VND, depending on the airline. Though the travel time by boat will be longer, it's an economic way, with the price of only around 250,000 – 500,000 VND/adult and 150,000 – 300,000 VND/children.
Once at Phu Quoc Island, tourists can take a taxi or motorbike to get around. Most motorbike rental services are located at Tran Hung Dao Street, Duong Dong Town, or at your hotel as well. The price is about 100.000 VND/day, depending on the type.
Notes when traveling to Phu Quoc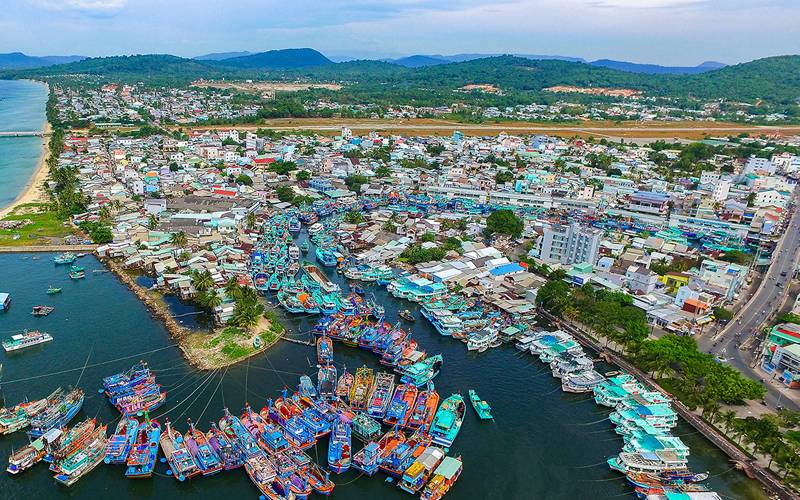 – If you want to avoid the stormy season, try not visiting Phu Quoc Island from July to September.
– Make sure to book a hotel room at least one month in advance if your trip falls in the peak season.
– Some places on Phu Quoc do not allow travelers to visit, so you need to pay attention not going into the restricted area.
– Ferries and high-speed boats depart at fixed hours. And if you easily get seasick, prepare medicines along as you have to travel quite a lot on the sea.
– When riding a motorbike through the forest, remember to stick to a map.
Read more: SUOI TRANH TRAVEL – A NATURAL PICTURE IN PHU QUOC