Hue – The ancient imperial city with dreamlike vibes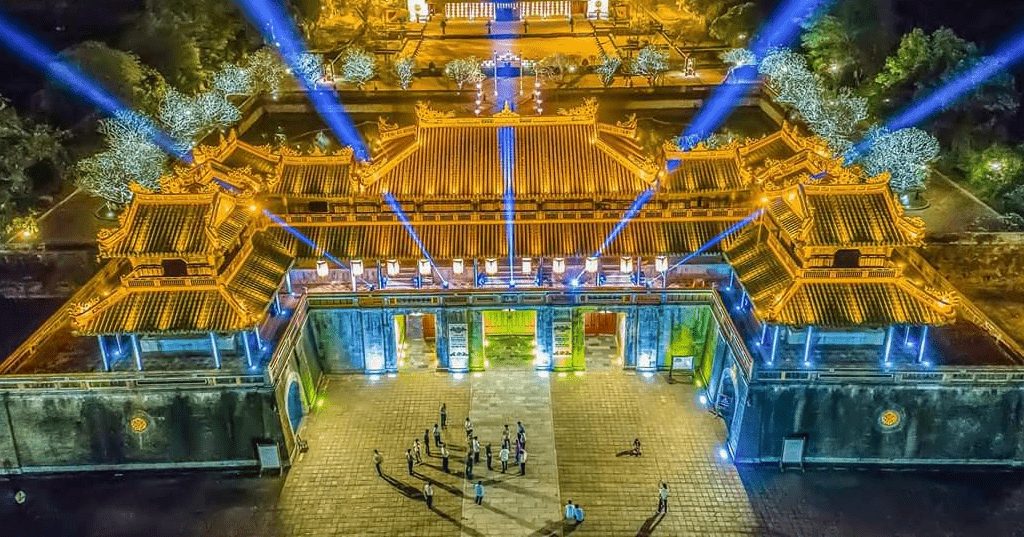 Sustainably enduring through the historical timeline like the capital of a thousand-year civilization – Hanoi and the pearl of the Far East – Saigon, the ancient imperial Hue now still remains wonderful landscapes and special cuisine that are reminiscent of the old royal features.
The city offers you not only a romantic feeling while tripping through charming rivers, centennial gardens, natural beautiful sceneries, but also a vibrant flashback to the past when visiting the Nguyen Dynasty's intact temples and royal tombs.
I. About Hue City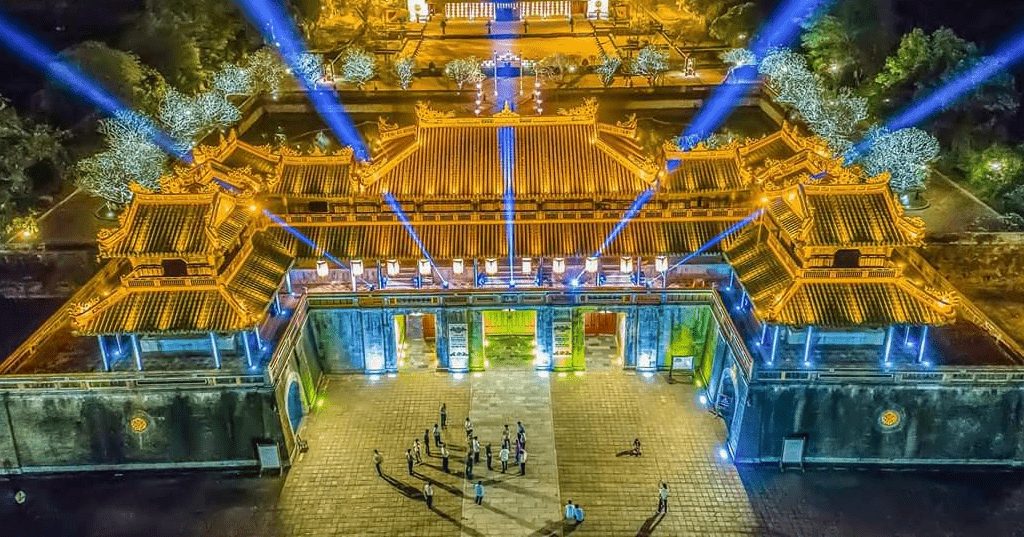 Hue city, located in Central Vietnam, is adjacent to Da Nang, divided by the majestic Hai Van Pass. The city used to be the capital of Vietnam under the Tay Son Dynasties (1788–1801) and the Nguyen Dynasties (1802–1945). Following that, the architecture in Hue is quite rich and diverse; including architectures of royal and folk, religious and temple, traditional and modern; in which, the most elaborate and massive name is the Complex of Hue Monuments.
Currently, Hue keeps the most World Cultural Heritages in the country, namely the system of citadels, palaces, tombs, gardens, and music. Besides, attractive natural landscapes around the city such as Huong River and Ngu Binh Mountain, as well as famous rustic cuisine with clever processing have also made this city one of the must-visit places in Vietnam.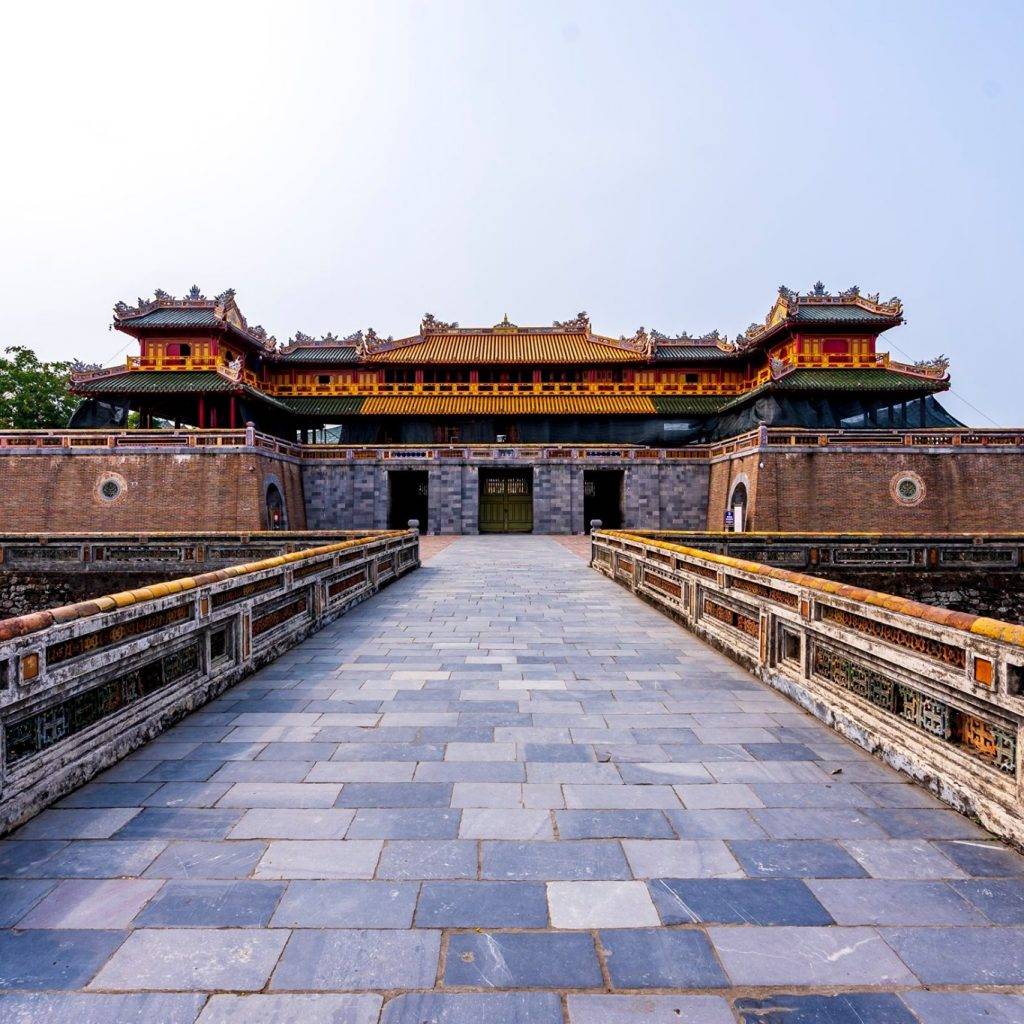 Even when surrounded with an abundance of tourists, Hue still retains a gentle and tranquil character both day and night. While wandering leisurely on the street, travelers effortlessly catch the image of schoolgirls wearing ao dai and conical hats cycling on the road, or street food vendors beside the romantic Perfume River.
Read more: 700-YEAR INCENSE MAKING VILLAGE IN HUE
II. The most ideal time for Hue tourism
As a transitional area between the South and the North, the weather in Hue is a combination of both regions, which is quite mild.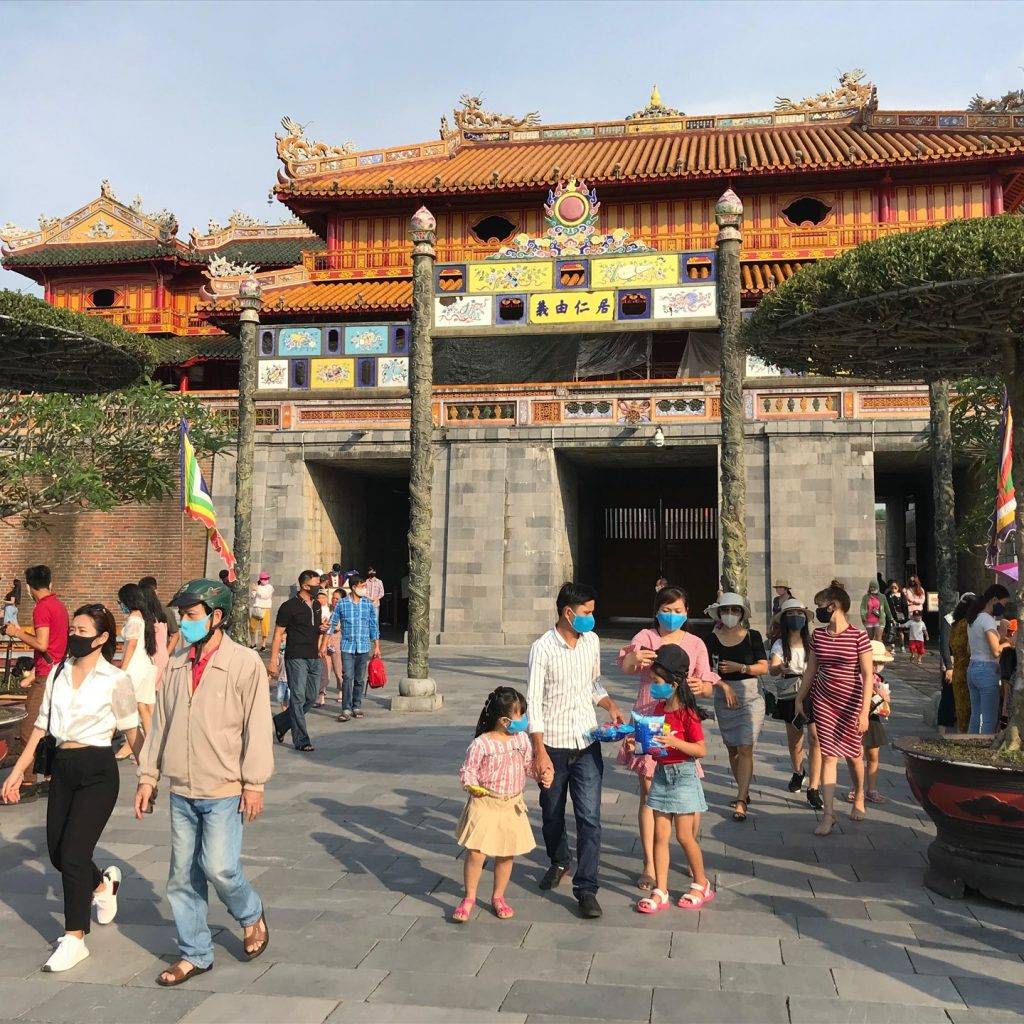 The rainy season starts in August and lasts until January, the average temperature is 19.7 °C, sometimes dropping to 8.8 ° C. This is also the peak time for storms and floods, especially in November – December. Meanwhile, the dry season is from March to August, with a temperature of 39.9 ° C. The weather during these months is super sunny and hot.
After all, the period from January to May, when the weather is pleasant, is the most appropriate for traveling to Hue. In addition, every 2 years, Hue Festival is held at the end of April, to honor the cultural heritage and promote tourism.
III. How to travel to Hue City
Hue city is located 668 km south of Hanoi, 1039 km north of Ho Chi Minh City and 95 km north of Da Nang. Thus, the most time-saving means to travel to Hue is probably by plane. The ticket fare from Ho Chi Minh City to Hue is only 400,000 VND/round, while the one from Hanoi to Hue is about 700,000VND/round.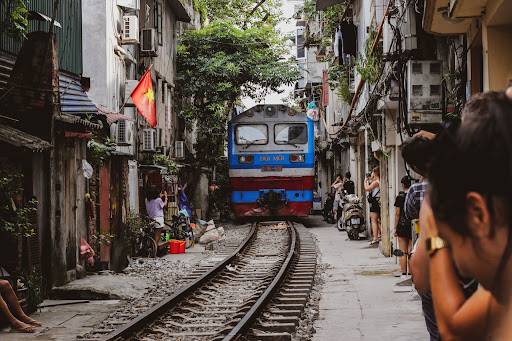 If you have more time and want to admire the scenery along the road, traveling by train is a great idea. Trains from Hanoi to Hue cost from 300,000 to 955,000 VND/pax. Trains from Saigon to Hue are more expensive, about 400,000-1,050,000 VND/pax.
Buses are also an option. However, due to the long distance, you should opt for sleeping buses. The tickets from Hanoi to Hue are dynamically priced at 250,000-300,000 VND, and from Saigon to Hue is about 400,000-500,000VND.
Or, if the departure is from Danang, it's better to make a day trip to Hue by bus (80,000 – 180,000 VND) or rental motorbike (100,000 – 120,000 VND/day) along the magnificent Hai Van Pass.
* Transportation to get around Hue
– Motorbike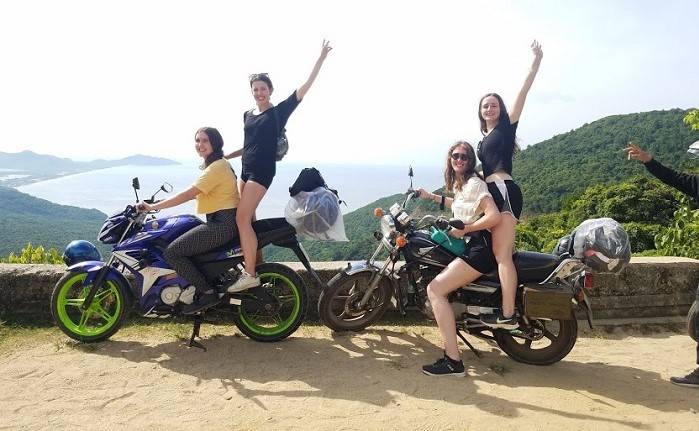 The motorbike rental services in Hue are diverse and affordable, from 100.000 to 120.000 VND/day. You can contact the hotels in Hue for this service.
– Taxi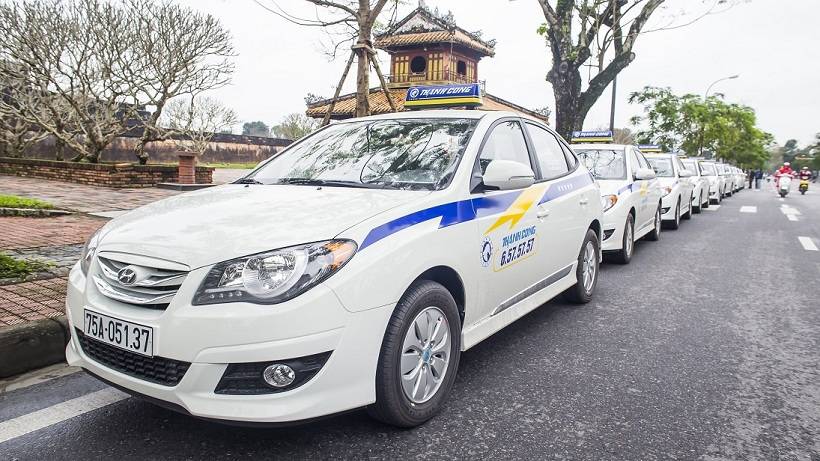 If you do not want to drive yourself a far distance, Hue taxis are ready to accompany you on all roads. Some familiar taxi firms are Dong Ba ( 0234.3.84.84.84), Mai Linh (0234.3.89.89.89), Phu Xuan ( 0234.3.87.87.87), Thanh Cong (0234.3 .57.57.57)
– Car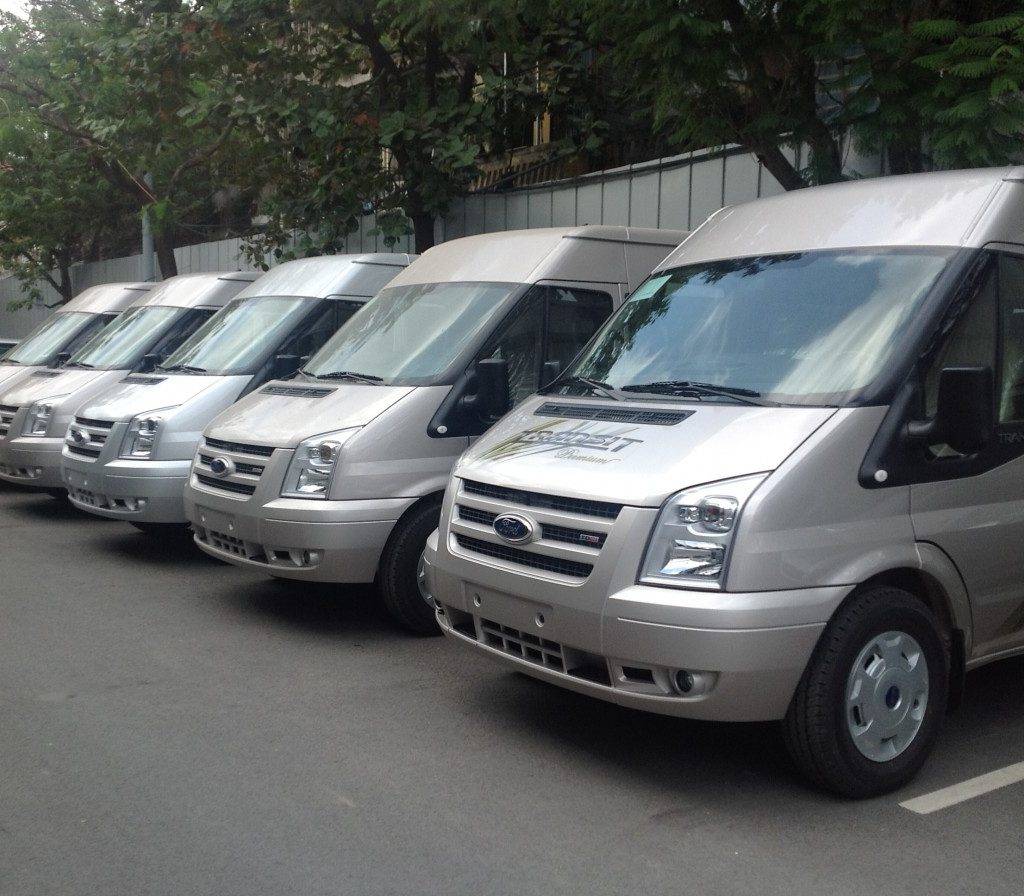 Another way to get around the city is by using cars. The car rental price in Hue will be around 500,000 – 900,000 VND/day.
– Bicycle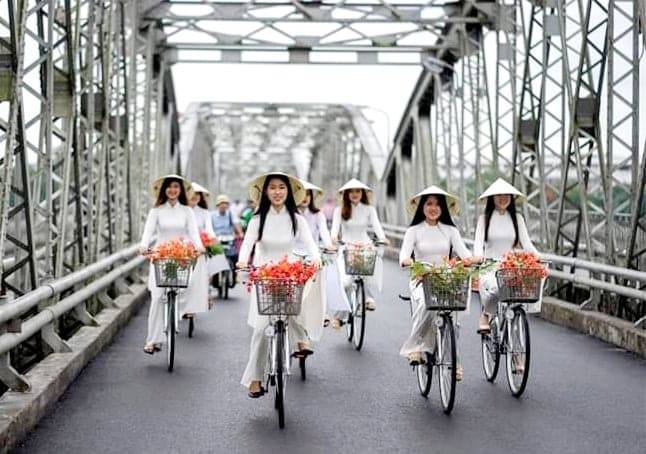 The dreamy Hue with the slow pace of life makes it easy to ride around the city by bike. The rental price is affordable as well, only 20,000 – 30,000 VND/bike/day.
– Cyclo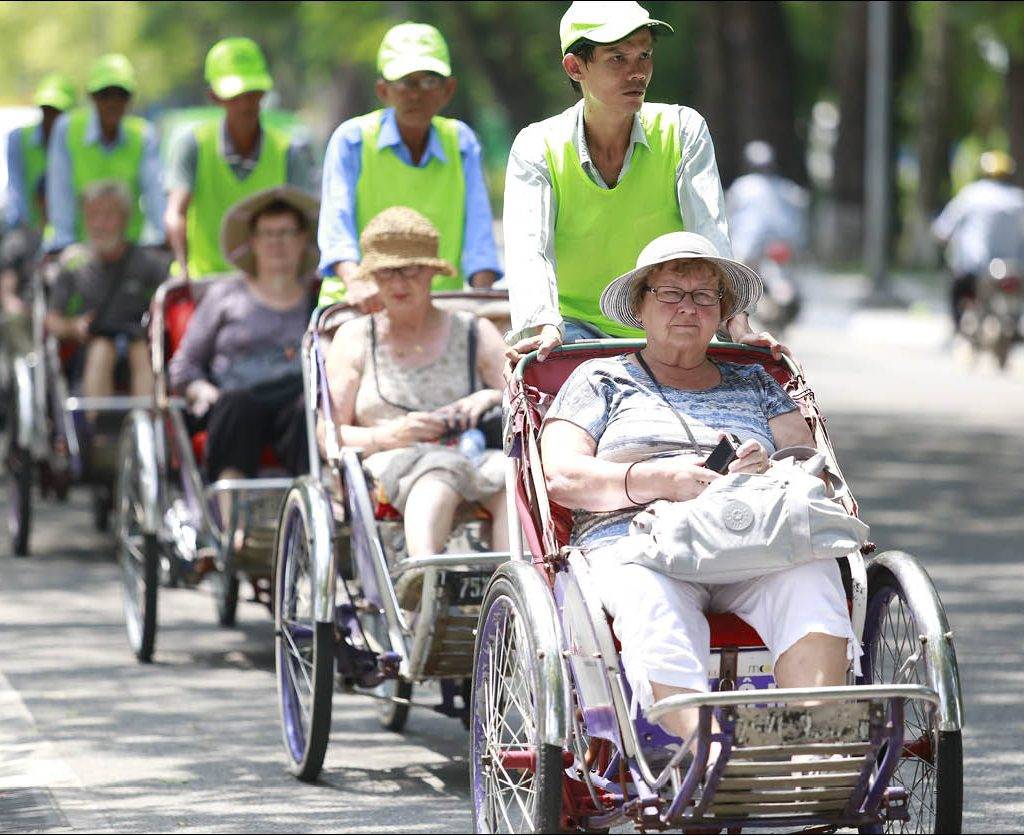 Though rather rare now, the cyclo is still favored by most visitors. The prices are also economical, about 15,000 – 20,000 VND/person /hour. You will also have a chance to listen to local cyclo drivers tell many interesting stories about the ancient city. However, the cyclo price in Hue is not fixed, so you need to negotiate the price before going.
IV. Where to stay in Hue City
If you are young and want to save money, just go straight to hostels or homestays. With prices from 150,000 VND/night, you can stay in a nice and cool space right in the heart of Hue city.
– Suggestion: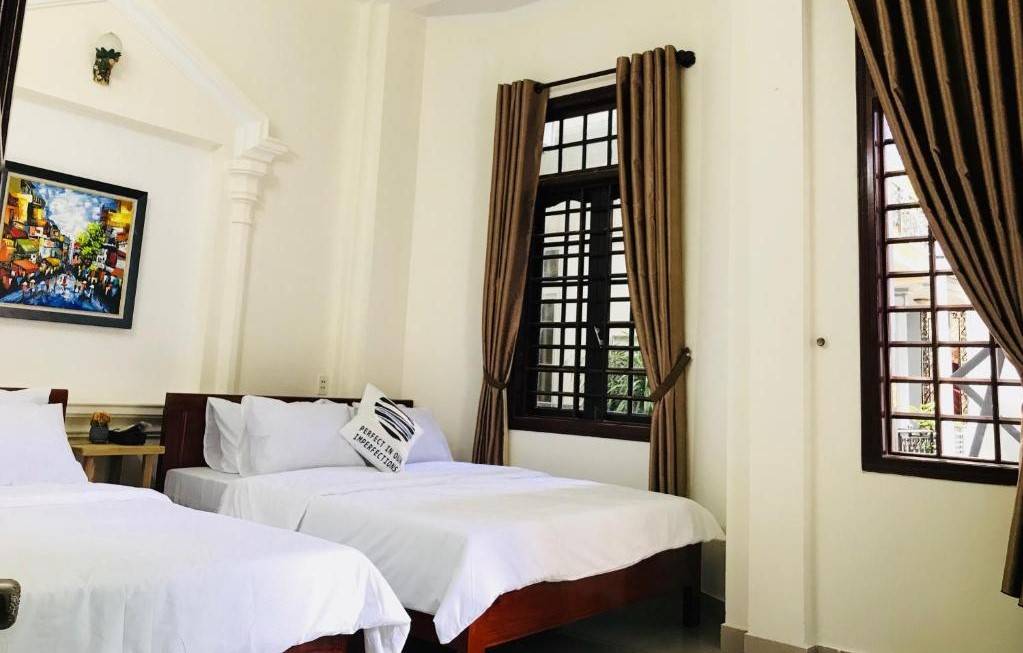 Eva Homestay Hue
Address: October 14, Ben Nghe
Hotline: 0367.404.677 VND To find affordable hotels with good facilities, you need to go to Le Loi Street, close to Trang Tien Bridge.
– Suggestion:
Beaulieu Boutique Hotel Hue 3
Address: 15 Pham Ngu Lao, Phu Hoi
Hotline: 0961.1116.079
For travelers who need a comfortable and luxurious vacation, choose coastal resorts. Hue resorts and villas are not less developed than those in Da Nang or Hoi An, and the price is also quite high, ranging from 10 million VND to several million VND.
– Suggestion: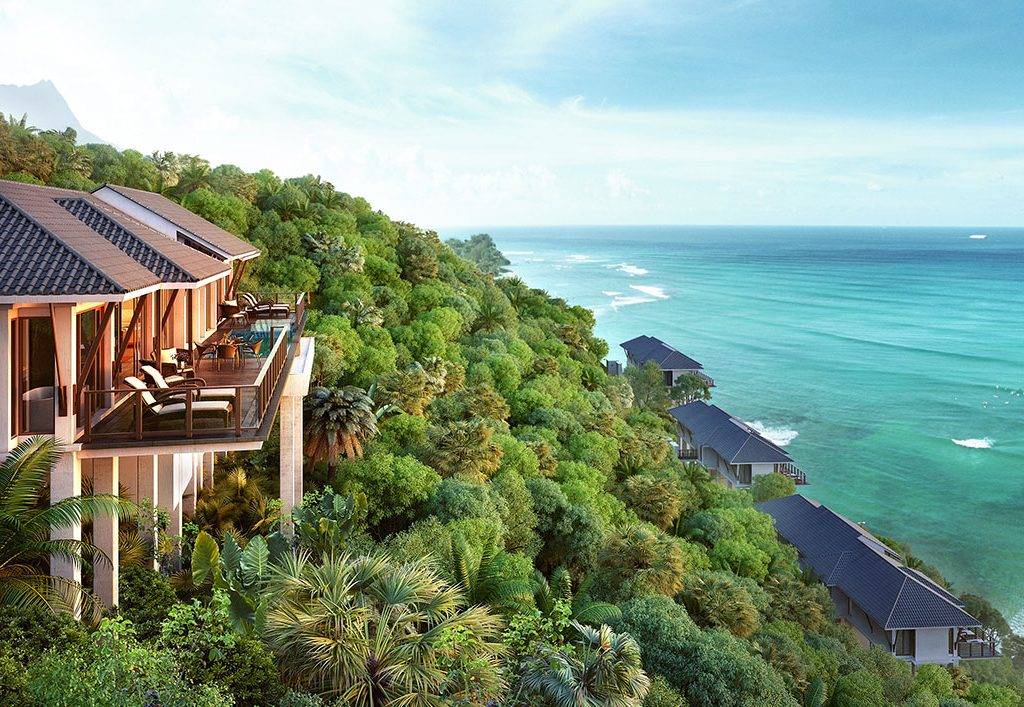 Banyan Tree Lang Co
Address: Commune, Cu Du Village, Phu Loc
Phone: 0234 3695 888
V. What to see in Hue City
1. Destinations inside the city
– Hue Citadel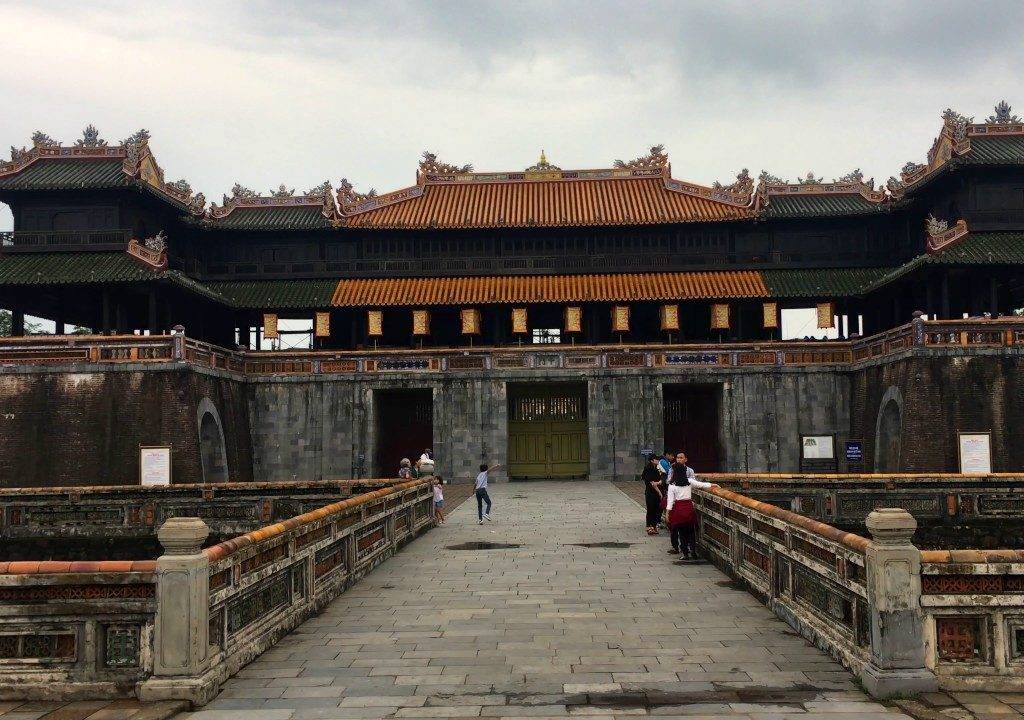 The Hue Imperial Citadel, recognized by UNESCO as a World Cultural Heritage (1993), is the very first place to visit in Hue. After more than 100 years, this massive architectural complex only remains less than half of the original works.
The Citadel includes Hoang Thanh (Royal Citadel) of 622m length – this is where the important offices of the court were located, Tu Cam Thanh (Forbidden Citadel) of 324m length – this is the main residence of the royal family.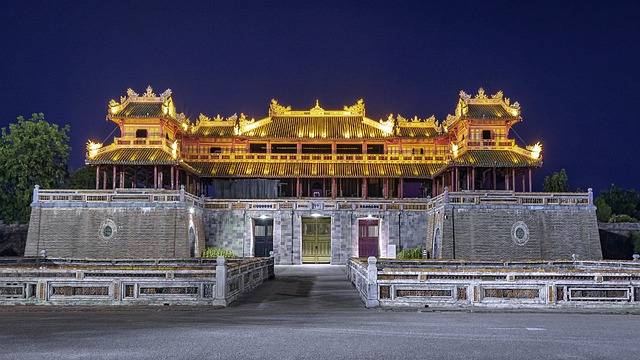 Tourists will firstly arrive at Ngo Mon Gate, known as the main entrance of the Kings as well as the place to hold important court ceremonies. In front of Ngo Mon Gate is Ky Dai – a flagpole in the Nguyen Dynasty. Coming up next is the Ngu Phung Floor; From here, you will have a wide view of the entire Imperial on the banks of the green Perfume River. After that, you will move on to Thai Hoa Palace – the center of Hue citadel, also a symbol of the power of the Nguyen Dynasty.
Finally, when entering the Forbidden Citadel, you will stop by Duyet Thi Duong – a theater for Kings, Royal Highnesses, and other officials to watch music performances. This is the oldest theater in Viet Nam.
– Mausoleums of the Kings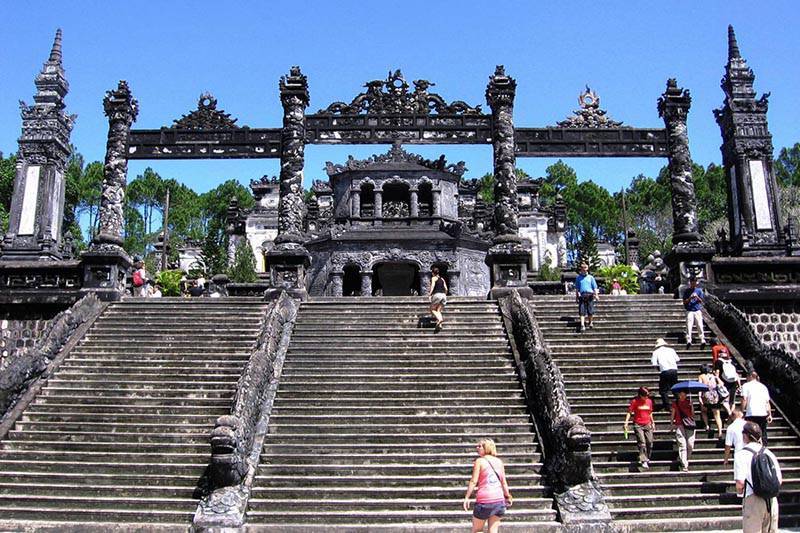 Besides the Citadel, the Mausoleums of the Kings are also appealing to tourists the most. The Nguyen Dynasty had 13 Kings, but for various reasons, only 7 mausoleums were built (Tu Duc, Duc Duc, Minh Mang, Khai Dinh, Gia Long, Dong Khanh, and Thieu Tri); all of them are still preserved today with unique architectural styles.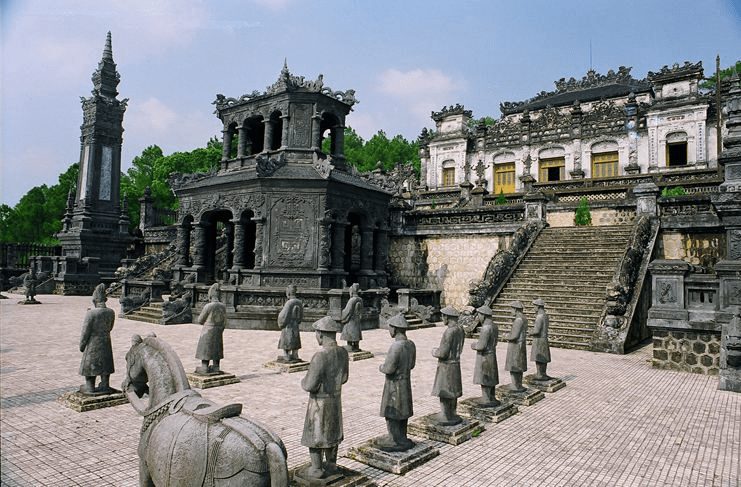 The most prominent is Khai Dinh King Mausoleum, with an elite and giant architecture. The harmonious combination of royal architecture and Western design has made the place become a convergence of the ancient features and the break-out in modern style, or we can say, the ultimate mixture of Western-Asian-Vietnam.
In particular, Khai Dinh Mausoleum is famous for its 3 frescoes "Cuu Long An Van", decorated on the ceiling of 3 nave houses in Thien Dinh Palace, which is considered the most monumental and valuable in Vietnam.
– Huong River – Trang Tien Bridge
Huong River, or Perfume River, is considered a romantic symbol of Hue and is also one of the 5 most attractive destinations voted by the Vietnam Record Organization. Visitors can sit on the yacht to enjoy Hue's peaceful scenery by night while listening to folk songs.
Once coming to Huong River, don't forget to check in to the 200-year-old Trang Tien Bridge, built in Gothic style. In two fierce wars, the bridge was broken in half, after being repaired, it now silently reflects on the river, creating a lyrical image.
– Dong Ba Market
One of the most authentic places to learn about the culture and life of Vietnam locals is the markets; in Hue city, we have Dong Ba Market.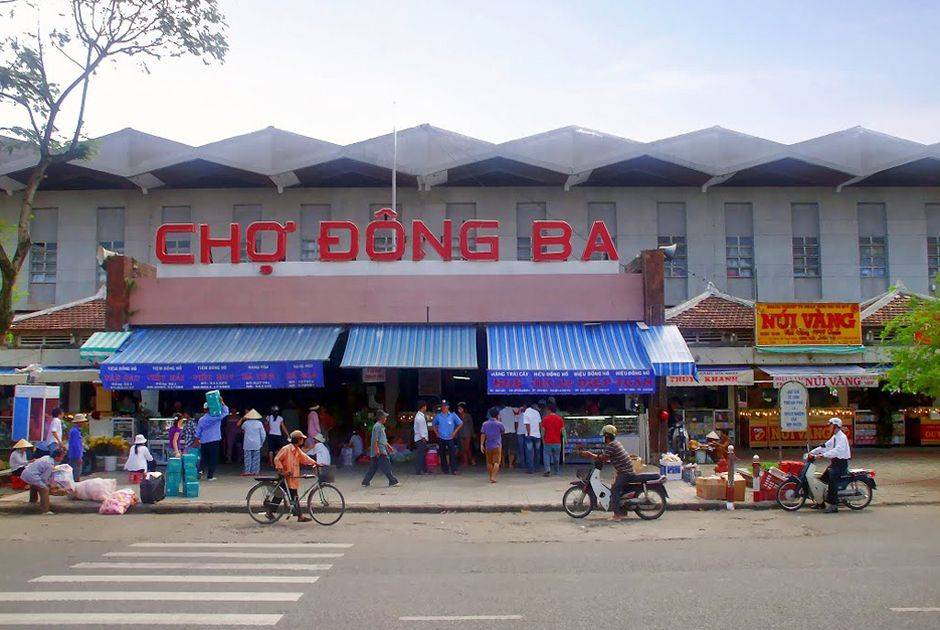 Dong Ba is the oldest market in Hue that is also one of the best shopping sites. The area has everything you need to buy; handicrafts, footwear, and gold jewelry on the second and third floor, while the ground floor is for dried stuff and a food court, where you can enjoy the most delicious Hue street food to the fullest. When buying something, remember to negotiate for an agreeable price.
– Thien Mu Pagoda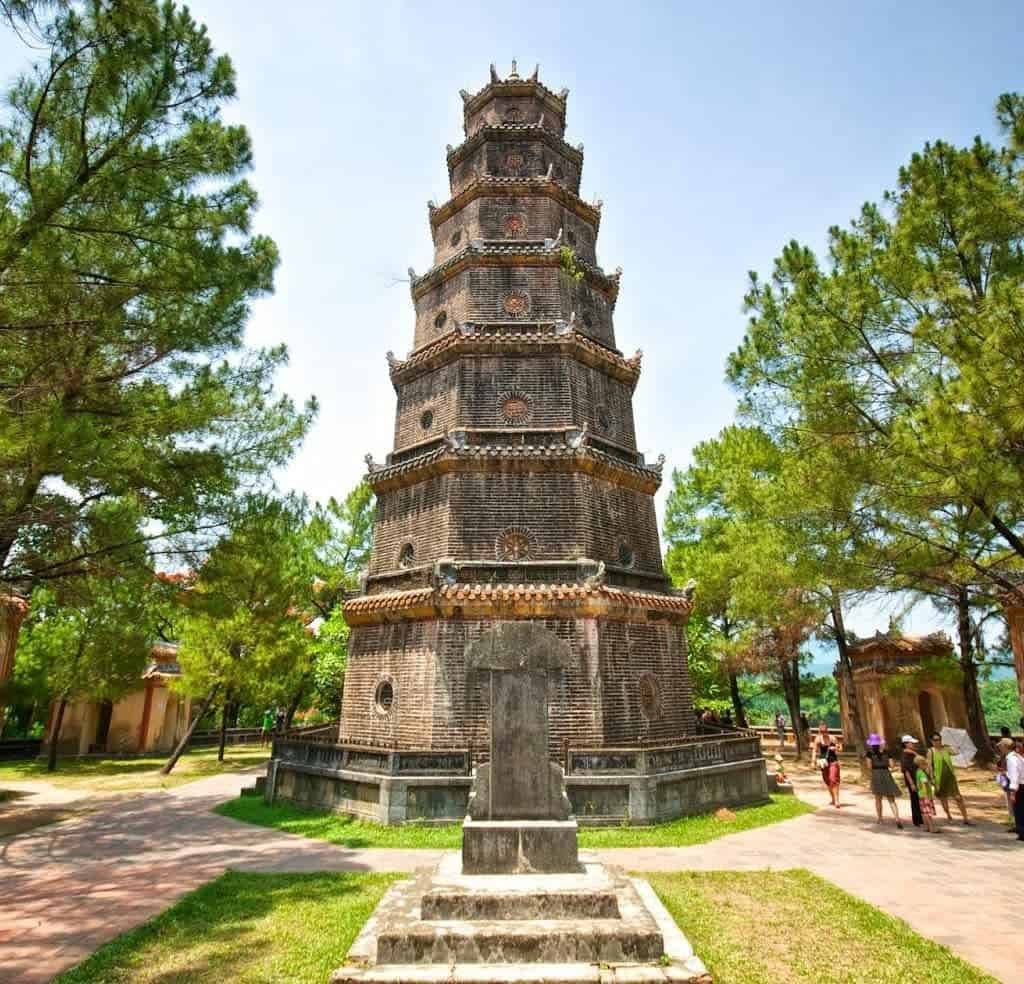 The pagoda, founded by Nguyen Hoang in 1601, is situated on Ha Khe hill, about 5km from Hue city center, right on Kim Long Street in Huong Long Commune. The temple has been destroyed and repaired many times.
An icon associated with Thien Mu Pagoda is Phuoc Duyen Tower. The 21m-high tower, consisting of seven floors, was built in front of the pagoda. There is a spiral staircase leading to the top floor, each floor has a statue of manushi-buddha.
The entrance is free for everyone. It's better to arrive here in the early morning before the area gets too crowded by tour groups.
Read more: THIEN MU PAGODA – THE SACRED PLACE WITH LOTS OF SECRETS
2. Destinations near the city
– Ngu Binh Mountain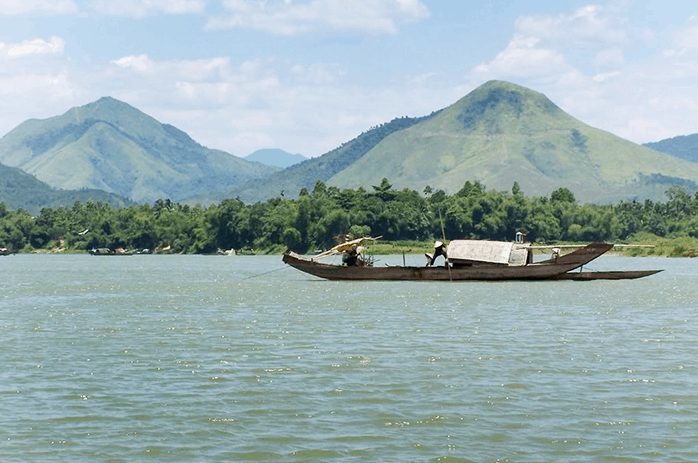 With a flat top, trapezoidal shape, Ngu Binh Mountain is about 103m high, towering majestically on the right bank of the Perfume River. According to several historians, Each mandarin in the Gia Long King period had to plant a pine tree on the mountain; therefore, through ups and downs, Ngu Binh Mountain still coated a green color of ancient pine trees. The beauty of Ngu Binh mountain shining down on the Perfume River has also inspired multiple poets and artists.
– Lang Co Beach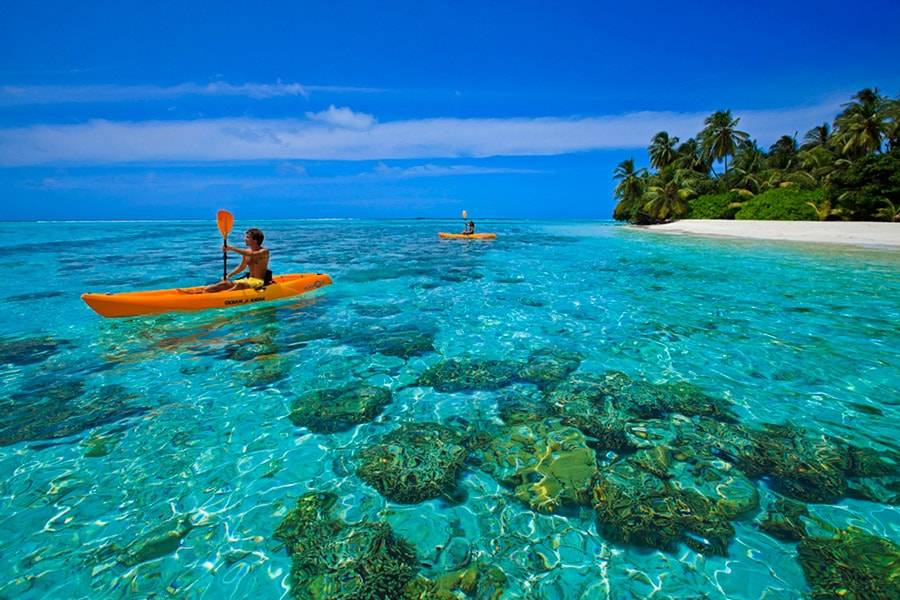 Rated as one of the most beautiful bays in the world by Worldbays, Lang Co, with its unique charm, has brought to visitors a new wonderland of nature. Lang Co Beach was originally a peaceful and quiet fishing village, hidden at the foot of Hai Van Pass, 60km south of Hue.
The beach is fairly unspoiled with a long, gentle white sand beach that gradually blends into the emerald green water. The bathing season here is from April to the end of July with an average temperature of 25 degrees Celsius.
Read more: Lang Co Bay Tourism Experience
– Lap An Lagoon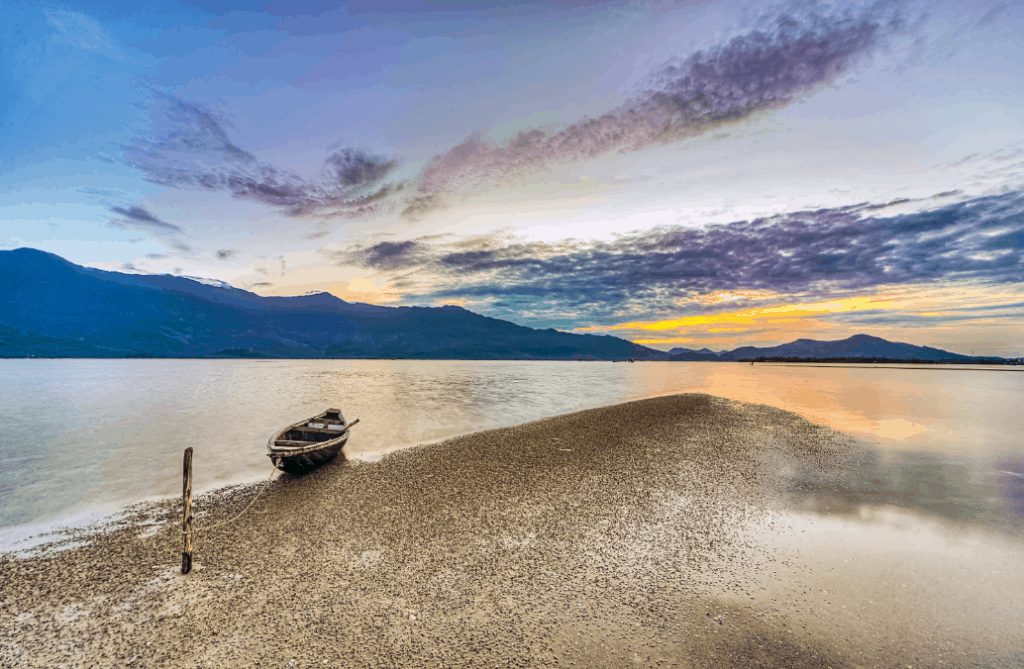 Facing Lang Co Beach is Lap An Lagoon – a large lagoon against the backdrop of Bach Ma Mountain. The spot is most beautiful in the late afternoons when the sunset shines brightly on the calm water. Besides, every time the tide is low, the walking path in the middle of the water will be revealed as an amazing work of nature.
Spending a day walking in the fishing villages near there, you can find yourself close to the daily living of inhabitants as well as explore their sea culture.
VII. What to eat in Hue city
Hue cuisine is influenced by the characteristics of the banquet dishes offered to the Kings in the ancient capital, so the processing requires ingenuity and sophistication. How great it is that today we can enjoy those delicious dishes at extremely cheap prices in any street food stalls around the city.
– Bun Bo Hue (beef noodle soup)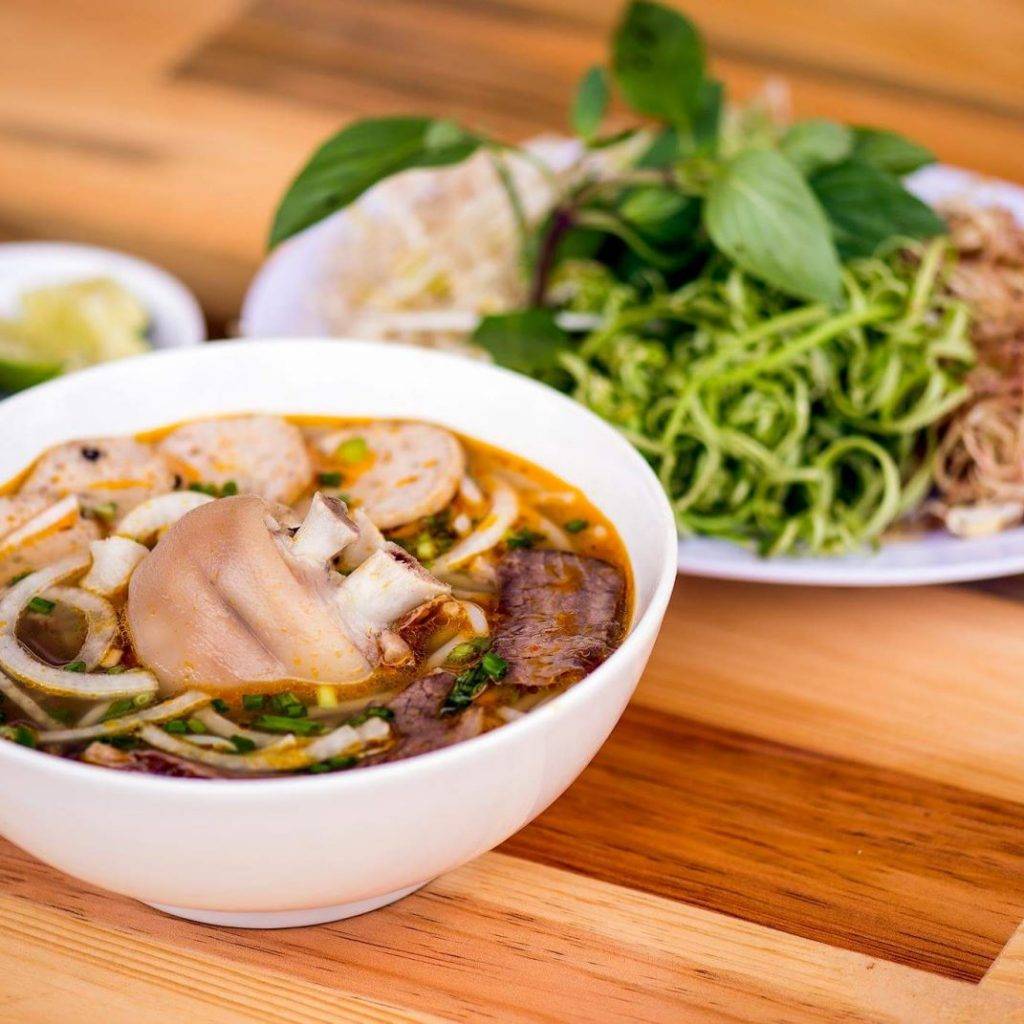 Bun Bo Hue is a Vietnamese dish that is famous all over the world since many worldwide magazines or famous travel bloggers mentioned it as an irresistible dish in Hue.
Bun Bo Hue is a typical breakfast for only 20-30,000 VND/bowl. A proper bowl of beef noodle soup must have a piece of pork leg, beef blood jelly, and a few slices of beef, etc., and most importantly is the distinctive smell of lemongrass.
Read more: THE FOREIGN NEWSPAPER RECOMMENDS 10 BEST BUN BO HUE SHOPS
– Com Hen (rice with mussel)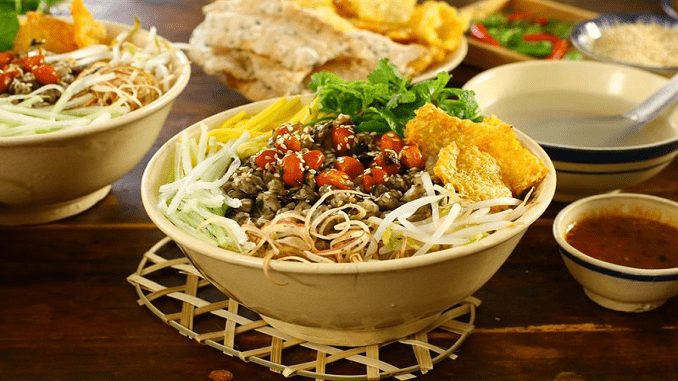 Com Hen is presented in the form of cold rice mixed with sauteed mussels, fish sauce, vegetables, crispy rice paper, fried noodles, peppers, peanuts, and spices.
Com Hen originated as a familiar dish of the people in fishing villages. If you want to eat delicious mussel rice, go to the area of ​​Han Mac Tu street or go to Con Hen, Vi Da.
– Sweet soup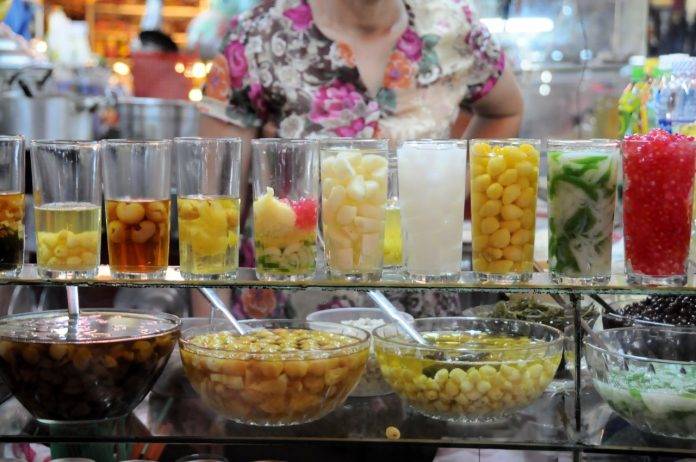 There are hundreds of types of sweet soup in Hue, with its own special flavor. The elegant sweet soup types are lotus seed, longan and lotus seeds, pomegranate seed, yellow taro, cassava flour stuffed roast pork, etc.
At the same time, there is no shortage of rustic names like corn, troi nuoc, bean curd tea, green bean tea, and red bean tea.
– Different types of cakes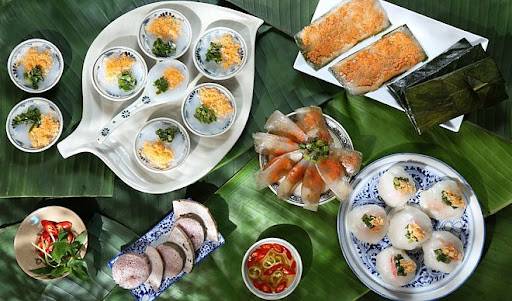 As diverse as sweet soup, the cakes in Hue are equally varied. You can encounter countless types such as banh beo, banh bot loc, banh gao, banh nam, banh it; despite the small sizes, they all contain subtlety in taste.
Each cake will be made from different types of flour, including rice flour, tapioca flour, etc., then stuffed with numerous fillings from meat, shrimp, green beans, and served with dipping fish sauce.
VIII. Some other Hue travel notes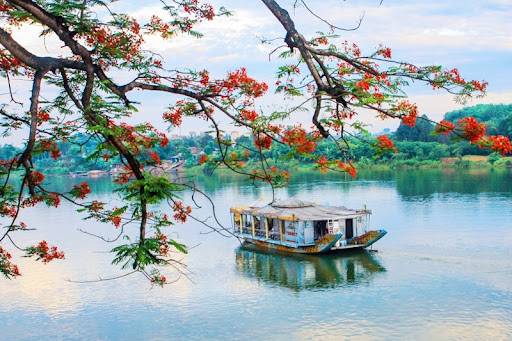 – In the peak season, accommodation in Hue effortlessly falls into an overload situation, so always book a room in advance when you plan the trip.
– Some Hue specialties you can buy as souvenirs are Nem (fermented pork rolls), Me Xung (sesame cake), Tre (fermented pork skin), or Non La.
– The ancient Imperial Citadel is a large area, so you should pre-determine places to visit for suitable routes.
– If you are not used to spicy food, remember to tell the shop owner to adjust the spiciness.
– Before purchasing any service, you should ask for the price and bargain when needed to avoid a rip-off.
Read more: MUST-TRY DESSERTS IN HUE