U Minh Ha National Park, the boundless mangrove forest in Cape Ca Mau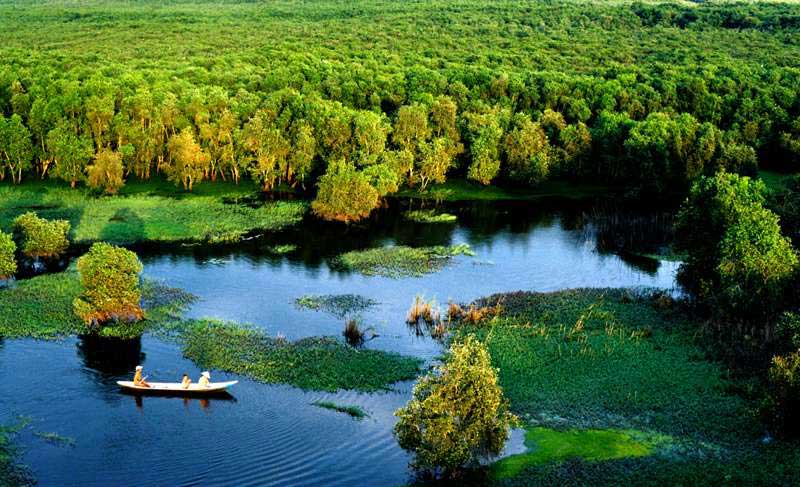 Tucked at the southernmost point of Vietnam – Ca Mau province, U Minh Ha National Park is renowned for the extensive mangrove forests stretching as far as the eye can see and immense reed fields winding around the Trem, Cai Tau, Doc rivers. This is also home to rich flora and fauna, even including rare species listed in the Red Book. Along with admiring the panoramic view of the area from the towering observatory, visitors can also participate in a series of fun activities to get a closer look at how the forest becomes a source of life for local people, such as hiking through the jungle trail, take a boat ride through the dense mangroves, catch field fish, and harvest honey.
1. About U Minh Ha National Park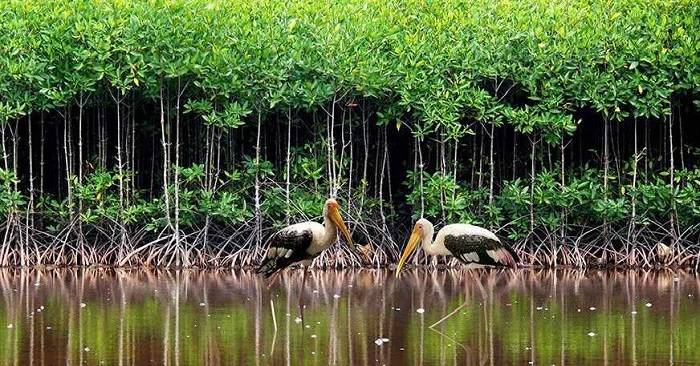 U Minh Ha National Park, with an area of about ​​8,527 ha, located in the west of Ca Mau province, about 25km from the city center, has a prominent mangrove forest ecosystem formed in flooded conditions on peat soil – this is also a typical cultivar of the Mekong Delta area. During the resistance war against America, the forest here was used as a revolutionary base for the Vietnamese army.
Currently, the park is also a place of residence and conservation for utterly diverse flora and fauna system: nearly 250 species of plants, 20 species of reptiles, amphibians, 40 species of animals, and especially different types of birds, such as cauldrons, bats, crows, black cranes, white storks, blue storks, red storks, etc. Additionally, the U Minh Ha forest has abundant aquatic resources with several Western-region typical species of fish – snakehead fish, cotton fish, strabismus, yellow catfish. In 2009, U Minh Ha National Park was recognized by UNESCO as one of the three core zones of the Cape Ca Mau World Biosphere Reserve.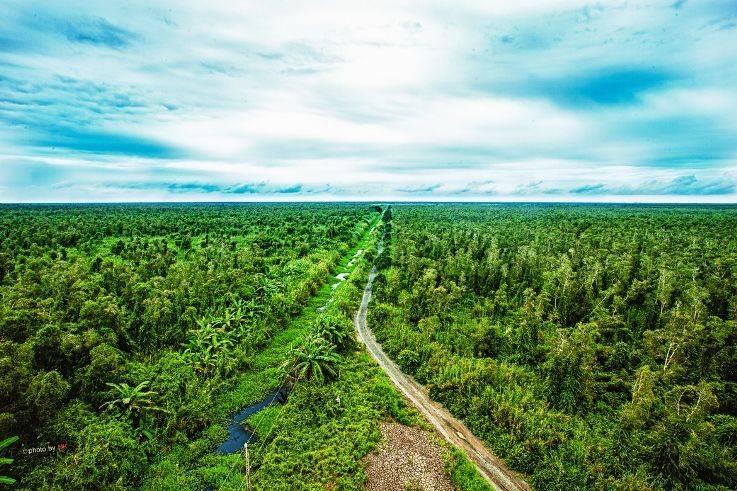 The right time to visit U Minh Ha National Park is in the rainy season, from May to November, when the lush green Melaleuca forests are in sight and the freshwater fishes also proliferate prosperously. Meanwhile, from December to April, the area experiences a dry season, when the mangrove flowers bloom and the bees race to nest and make honey, bringing valuable economic benefits for the locals. However, March and April are two peak months of the sunny period when visitors are restricted to implementing forest fire prevention and control.
– Entrance fee: 10,000 VND
– Boat rental price: 150,000 VND/person/1 hour or 80,000 VND/person/ 30 minutes.
* Notes:
– If you travel in the rainy season, remember to wear long clothes, hats, umbrellas, and bring insect repellent as there are a lot of insects, especially mosquitoes.
– It's prohibited to catch rare animals in the forest as well as destroy flora indiscriminately in the U Minh Ha forest.
2. What to do in U Minh Ha National Park
– Watch the view from the observatory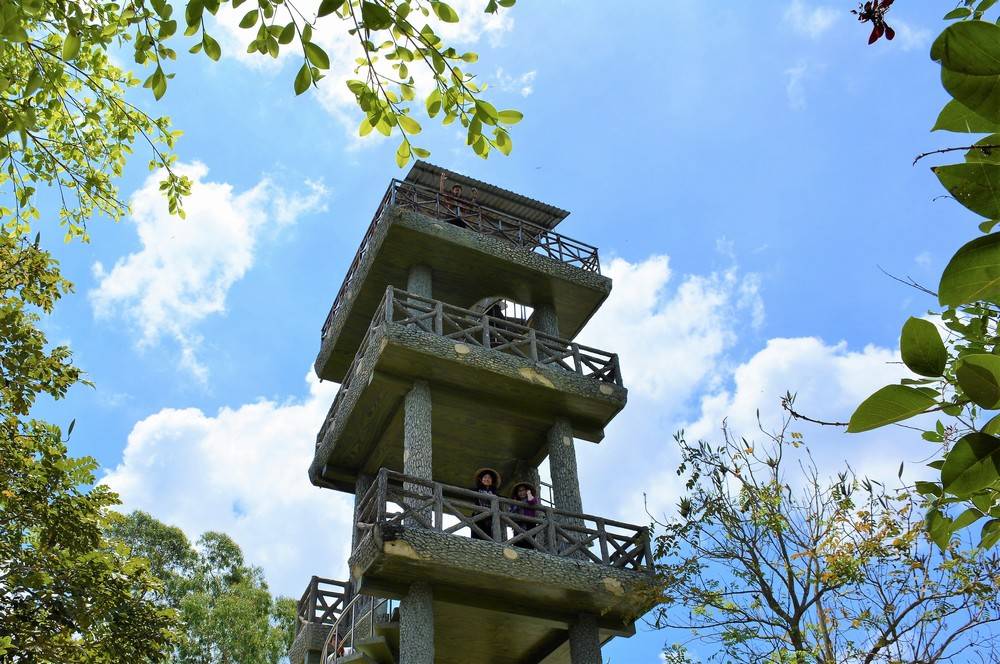 Coming to U Minh Ha National Park, we can fully observe the forest from Vong Lam Dai. From the forest gate, visitors can walk on the clean road to this 24-meter high observatory. Standing here, visitors can zoom in on the panoramic view of the vast green color of the mangrove forest curving the river.
You can also see Vo Doi Forest Village, which is associated with Ca Mau residents during the resistance war. The village is located in the high land, less flooded; at present, there are only a few relics left.
– Explore the park by wooden canoe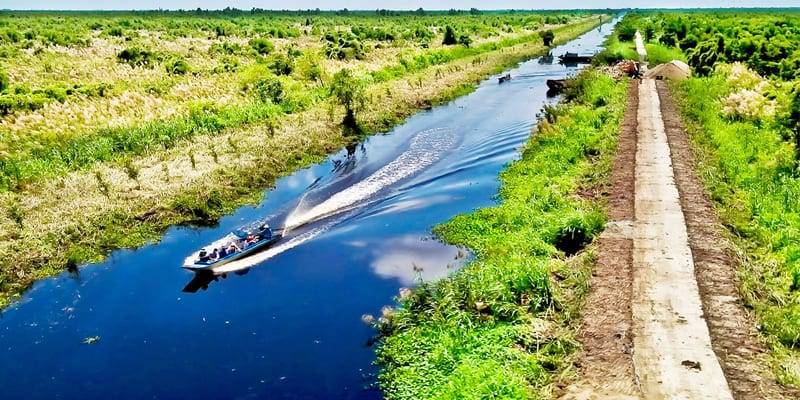 Taking a wooden canoe ride along the canal network crisscrossing the mangrove forest and watching the birds fluttering as well as multiple creatures under the river is a great experience that you must definitely join when coming to this National Park. Visitors can rent a canoe and find a vantage point in the woods to fish or cast their own nets.
However, this service is open seasonally, which means this form of tourism could be canceled in the flooding season or when the weather is too dry. To be sure, you should contact the management in advance.
– Go fishing, catch eels, and pick wild vegetables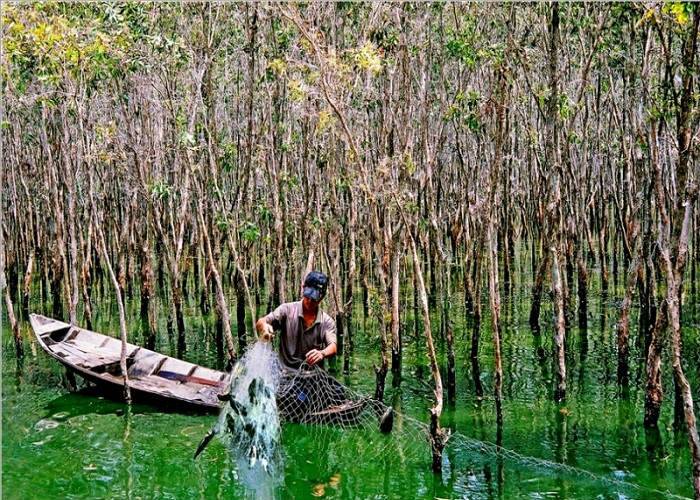 In order to integrate into the life of households around U Minh Ha National Park, visitors will be able to participate in interesting activities, such as catching eels, fishing, and picking wild vegetables, etc. It is not difficult for visitors to have a basket full of fish after the fishing trip. If lucky, they can also catch snakehead fish weighing about 1 – 3kg.
– Collect honey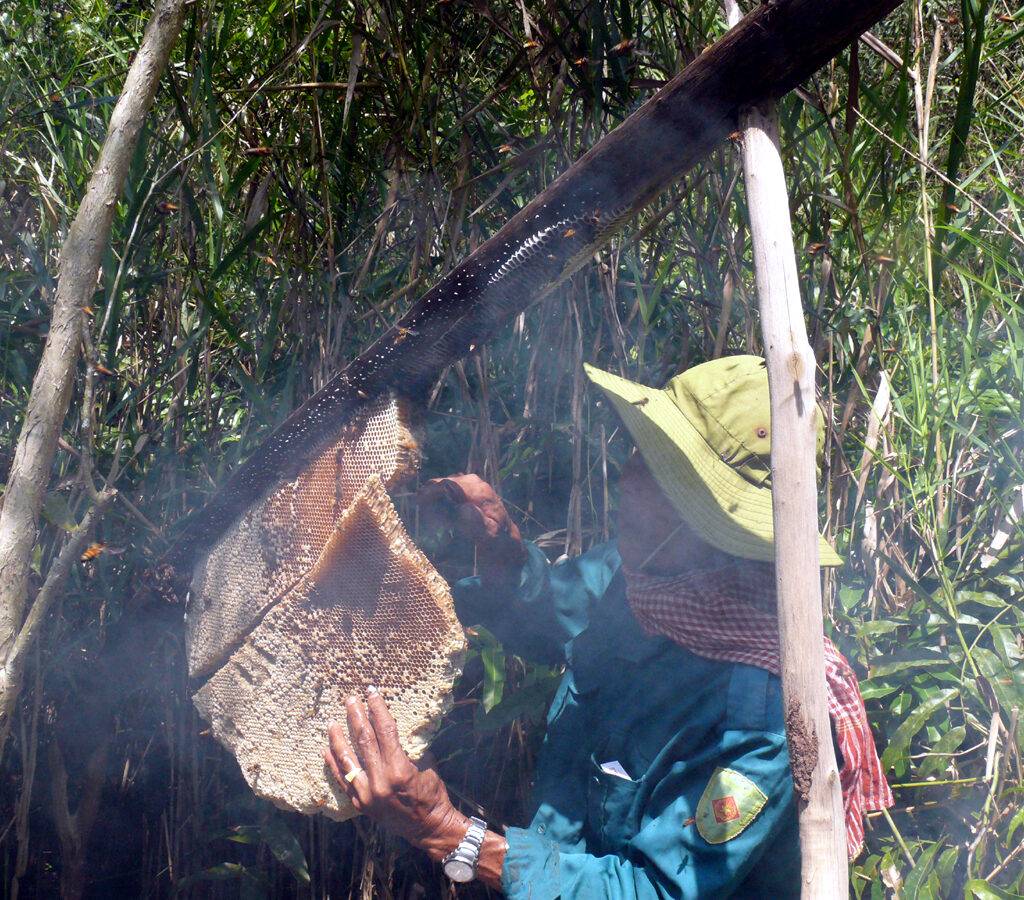 The scent of the Melaleuca flower is a sweet temptation for honey bees and hummingbirds to build their honeycombs here. For the villagers in the U Minh Ha forest area, collecting honey is one of the ancestral professions that have been passed down for generations.
To experience this activity, visitors must follow the honey collectors into the dense, reed-filled areas to get the golden rich honeycombs. After harvesting, we can enjoy right on the spot the sweet and fragrant drops of honey along with the greasy pieces of young beeswax.
– Enjoy the specialties of the freshwater region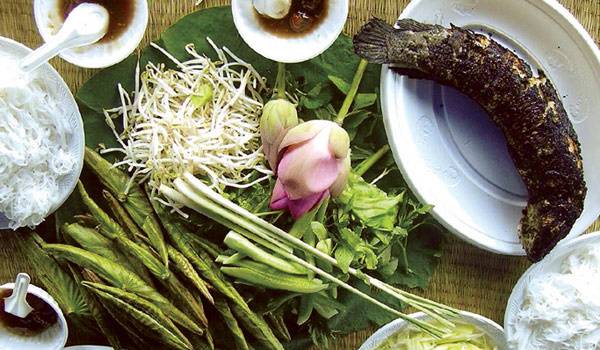 Just after an hour of joining fun activities discovering U Minh Ha forest, visitors will enjoy specialties from freshwater fish, brackish water fish, shrimp, eel, crab, even dishes made from bees and beeswax. Some delicious dishes that you can't miss are U Minh fish sauce hot pot, eel with noni leaves, cobra with green bean porridge, grilled snakehead fish, copper perch cooked with fish sauce hotpot, fried hamster, fried baby bee, and bee pupa salad.
3. Getting there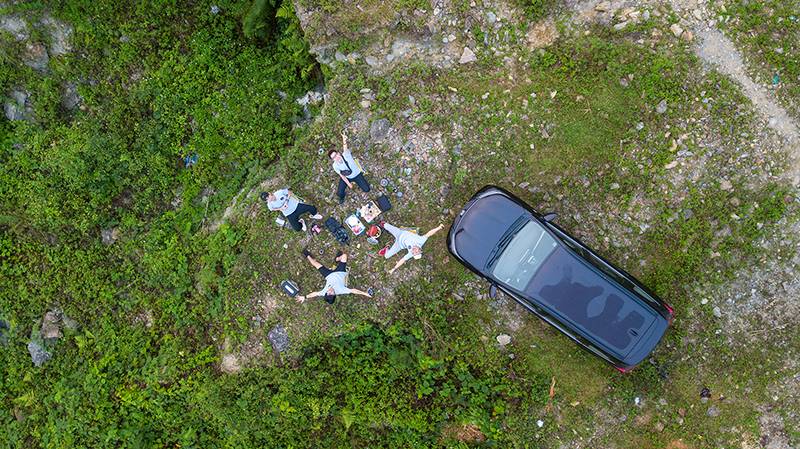 From Ho Chi Minh City (HCMC), visitors can choose to go to Ca Mau by plane, motorbike, or bus.
Currently, Vietnam Airlines is the only airline providing direct flights from Ho Chi Minh City to Ca Mau, with the price of 850,000 – 1,550,000 VND/ ticket.
For those who travel by motorbike, you can move in the direction of National Highway 1A – Trung Luong Expressway through Long An – Tien Giang – Vinh Long – Can Tho – Soc Trang – Ca Mau. Then, from Ca Mau city center, continue to ride along on Ngo Quyen – Vo Van Kiet – follow the signpost to U Minh Ha forest.
In terms of buses, there are also buses from HCMC – Ca Mau, like Lien Hung, Mai Linh, Giap Diep, Phuong Trang, Ngoc Ha, at Mien Dong, Mien Tay, or An Suong Bus Stations. The ticket fares range from 180,000 to 200,000 VND/person. After arriving at Ca Mau Bus Station, you need to take a taxi or motorbike taxi to U Minh Ha National Park.
4. Accommodation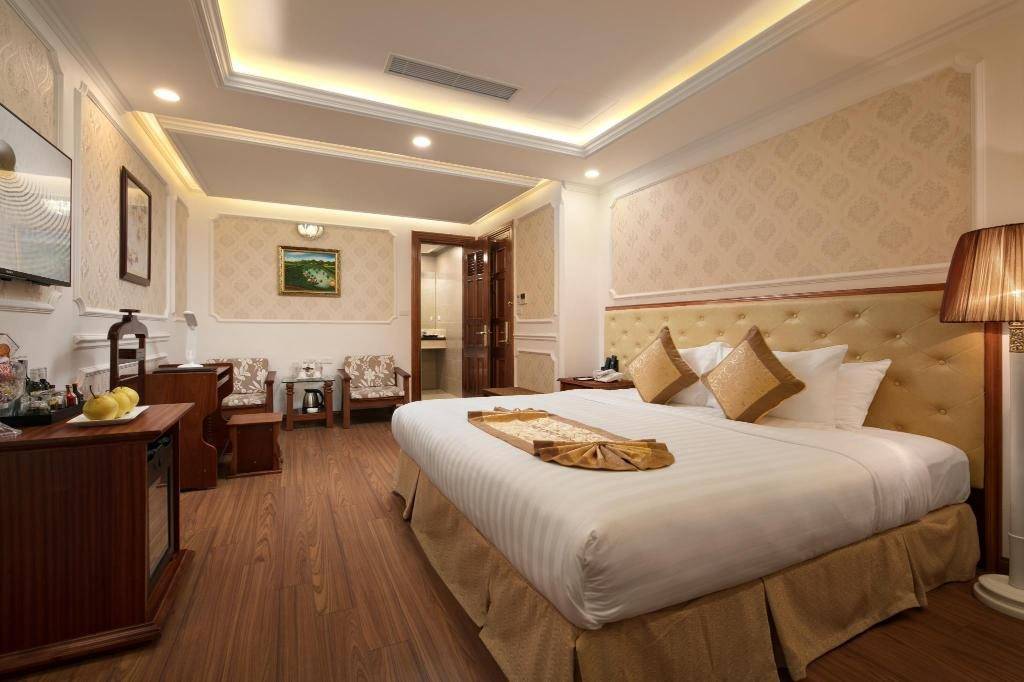 Regarding accommodation in U Minh Ha National Park, there is neither a camping site nor hotel service here, so tourists should move back to U Minh town of Ca Mau city center to rest.
Quality hotels are mainly located in the streets of Hung Vuong, Ly Thuong Kiet, and Tran Hung Dao. From here, you can easily ride a motorbike or take a tour to visit surrounding tourist attractions. The room rates of 1-3 star hotels range from 300,000 – 600,000 VND/day, while homestays are usually priced at 100,000 VND/night, with all amenities.
*Suggestions:
– Muong Thanh Luxury: 3A Political and administrative center, Ward. 9, Ca Mau
– Ruby Hotel: 19-20A Hung Vuong, Ward 7, Ca Mau
– Thanh Truc Hotel: 113 Ngo Quyen, Ward 1, City. Ca Mau, Ca Mau
– Homestay Quach Van Ngai: Con Ward, Dat Mui Commune, Ngoc Hien District, Ca Mau