Han River Cruise, floating to admire Danang by night
Da Nang has not only blue sea and white sand but also romantic rivers, the most prominent of which is Han River flowing around the city, where tourists can experience Da Nang river tours by night. With a one-hour boat tour, you will float across the city's famous bridges while watching the magnificent panoramic view of two riverside areas, especially when the lights from the bridges and buildings are reflected in the smooth waters below, as well as enjoying delicious specialty meals in the cool breeze.
I. Da Nang Han River Cruise route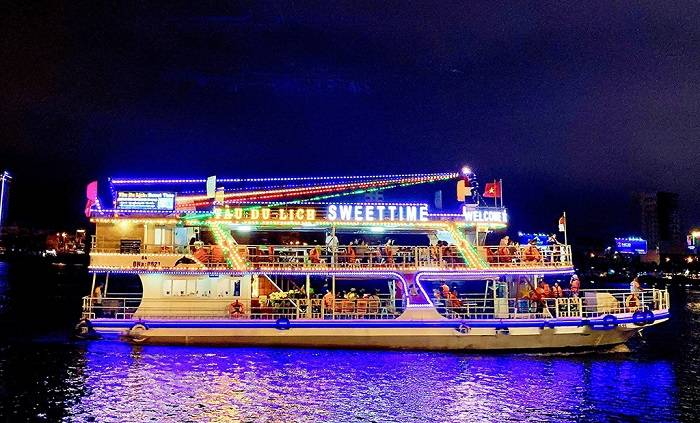 The cruise will pick you up at Da Nang wharf, right at the foot of the Dragon Bridge, and take you to visit the five different bridges continuously changing colors in a tasteful manner.
– Han River Bridge: Going down the stream, you will come to the unique Han River Swing Bridge. The bridge is designed to rotate 180 degrees so that large ships can move into Da Nang wharf.
– Thuan Phuoc Bridge: This is the longest steel cable-stayed bridge in the Central and Central Highlands, with a length of 2,119 m and a height of 92 m.
– Dragon Bridge: The bridge is an iconic symbol of Da Nang, where you can watch fire-and-water spitting performances on weekend nights.
– Tran Thi Ly and Nguyen Van Troi bridges: The cruise moves upstream, bringing visitors to a pair of bridges bearing the imprint of resistance against the French and the Americans.
Read more: GOLDEN BRIDGE – A FLOATING SILK IN THE SKY OF DA NANG
II. Time and fares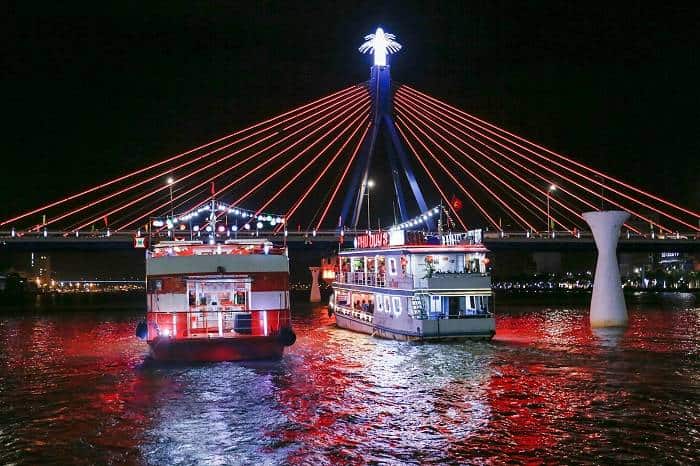 Numerous Han River Cruises are held every day of the week with the departure time 18:10 – 19:10 – 20:10 – 21:10, however, on Sundays, they will only depart at 20:00.
Currently, there are two types of ticket prices for Han River Cruises, fare with dinner and fare without dinner.
Cruise fare without meals (45 minutes/trip)
Adult ticket: 150,000 VND/person
Child ticket: 100,000 VND/person
Children under 1m: free
Cruise fare without meals (90 minutes/trip)
Adult ticket: 550,000 VND/person
Child ticket: 390,000 VND/person
Children under 1m: free
*Notes:
Safety on board is completely guaranteed. Each person will be fully equipped with a life jacket. There is also a camera connecting directly to the marina management board and the Da Nang port control station 24/24 during the time of the cruise's operation.
Visitors should book tickets one day or at least 6 hour in advance before departure time to choose the suitable time frame.
* Activities on cruise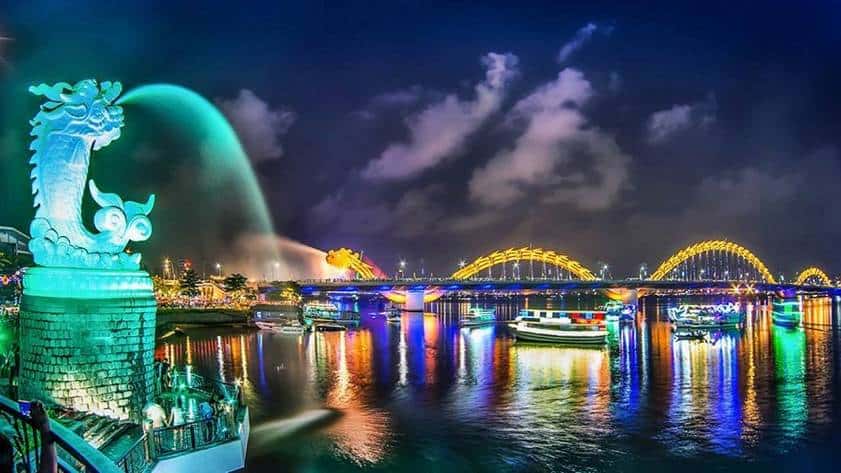 Each cruise is like a miniature restaurant offering various services: Bar – Dining – Performance stage – Outdoor space for watching the scenic landscape. The cultural performances will be organized at the beginning of the trip, there will be pretty women in traditional custom dance. Besides, customers can sing themselves.
Meals will be served afterward. The menu is quite diverse, well-written in both English and Vietnamese, mostly mainly local food and fresh seafood dishes., clearly stating the price of each dish ranges from 80,000 – 350,000 VND.
Read more: 5 DELICIOUS RESTAURANTS IN DA NANG
III. Best Han River cruises in Da Nang
1. Tien Sa Cruise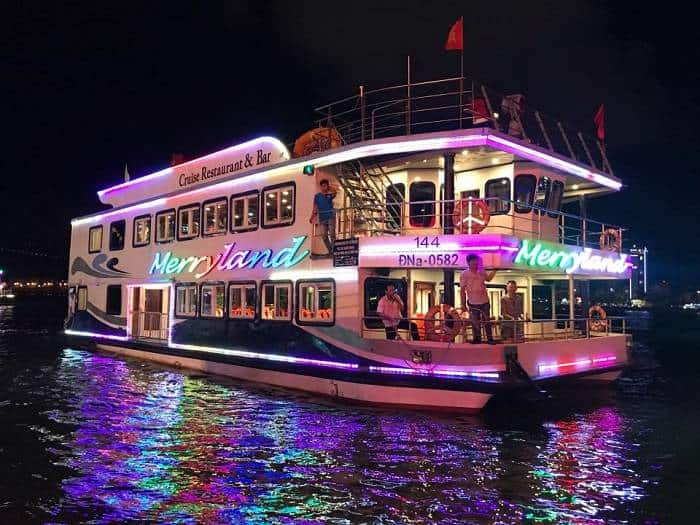 Tien Sa Cruise offers a riverboat trip with the most reasonable price, only about 150,000 VND for 90 minutes, with extra dinner, including rice with ribs and a bottle of water. There is also a paid menu serving authentic Quang Ngai and Da Nang dishes, fresh seafood, and other Asian food.
Price: 150,000 VND/person
Address: 29 Le Viet Hung, Cam Le District, Da Nang
2. Phu Quy Cruise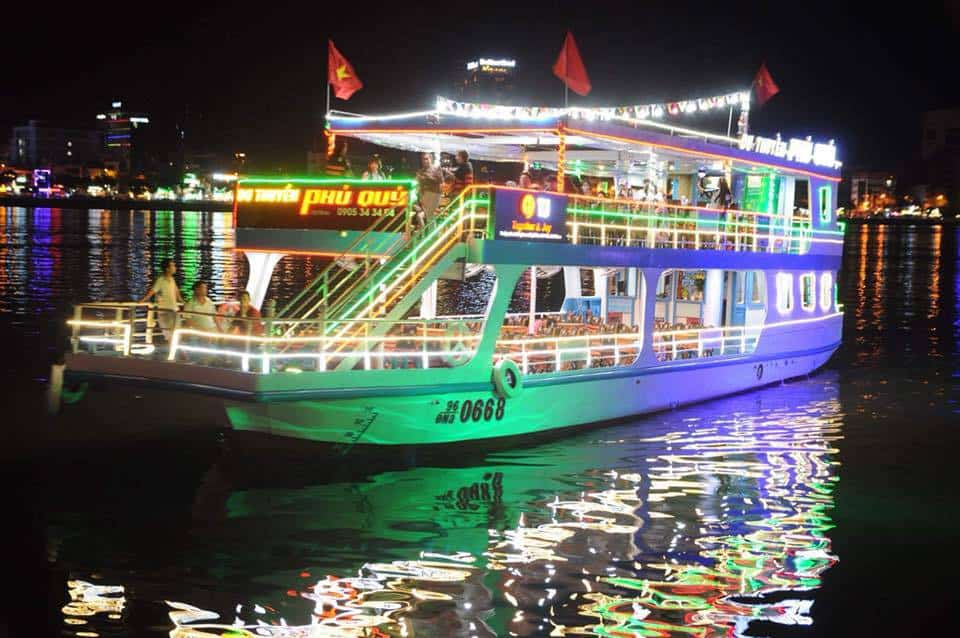 With Phu Quy Cruise, you can directly board without having to wait in line to buy tickets. The schedule of the Phu Quy cruise usually takes place in 50 minutes.
Price: 120,000 – 150,000 VND/person
Address: 799 Ngo Quyen, Son Tra District, Da Nang
3. RV Han Princess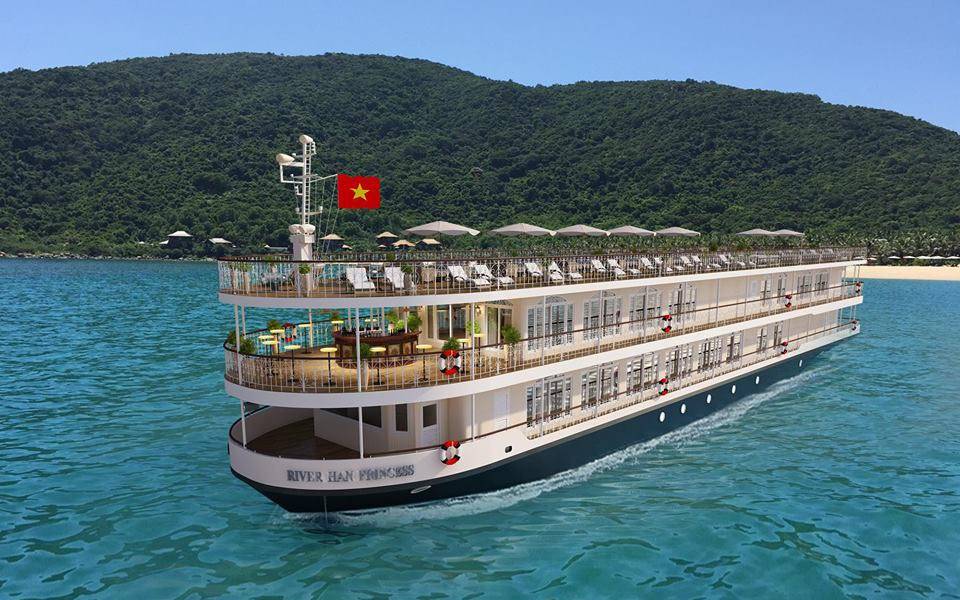 RV Han Princess combines the most luxurious restaurant on board in Da Nang. The yacht impresses visitors with the classic French-style restaurant that serves typical European flavors and Asian dishes. This cruise includes two tours – Han River sunset tour and Han River night tour, with an equal duration of 2 hours.
Price: 690,000 – 1,500,000 VND/person
Address: 43 Tran Quy Cap, Thach Thang Ward, Hai Chau District, Da Nang
IV. The ideal time to visit Da Nang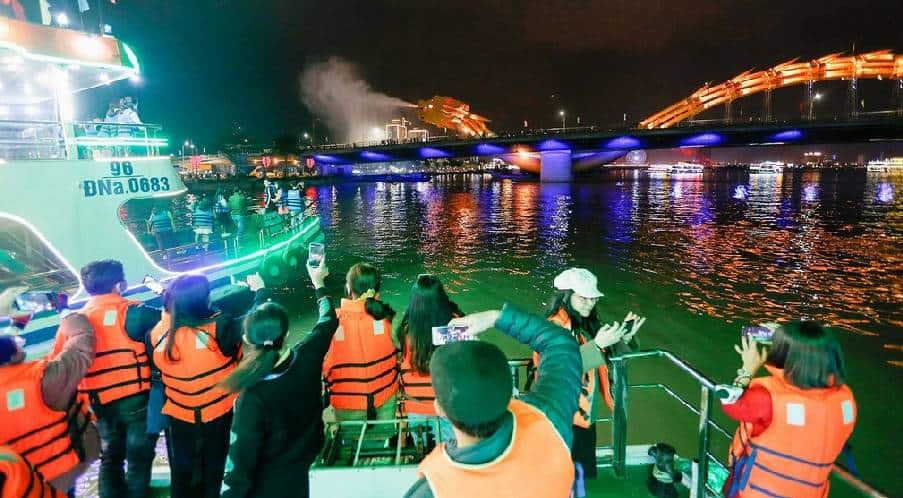 Da Nang has a tropical climate with two distinct seasons. The dry season stretches from June to the end of August, which is also the high season for domestic tourists. During this period, the weather is super hot and sunny, so beach activities are promoted to the fullest.
However, the best time to visit Da Nang is from February to May since the atmosphere is cool with less rain, making it convenient for exploring both beaches and mountains, especially without hustling in the crowd. Meanwhile, in the rainy season, usually from October to January, the climate will be colder and stormy sometimes.
Read more: FIVE MOST POPULAR BARS/PUBS IN DANANG
V. Vehicles to Da Nang
– Airplane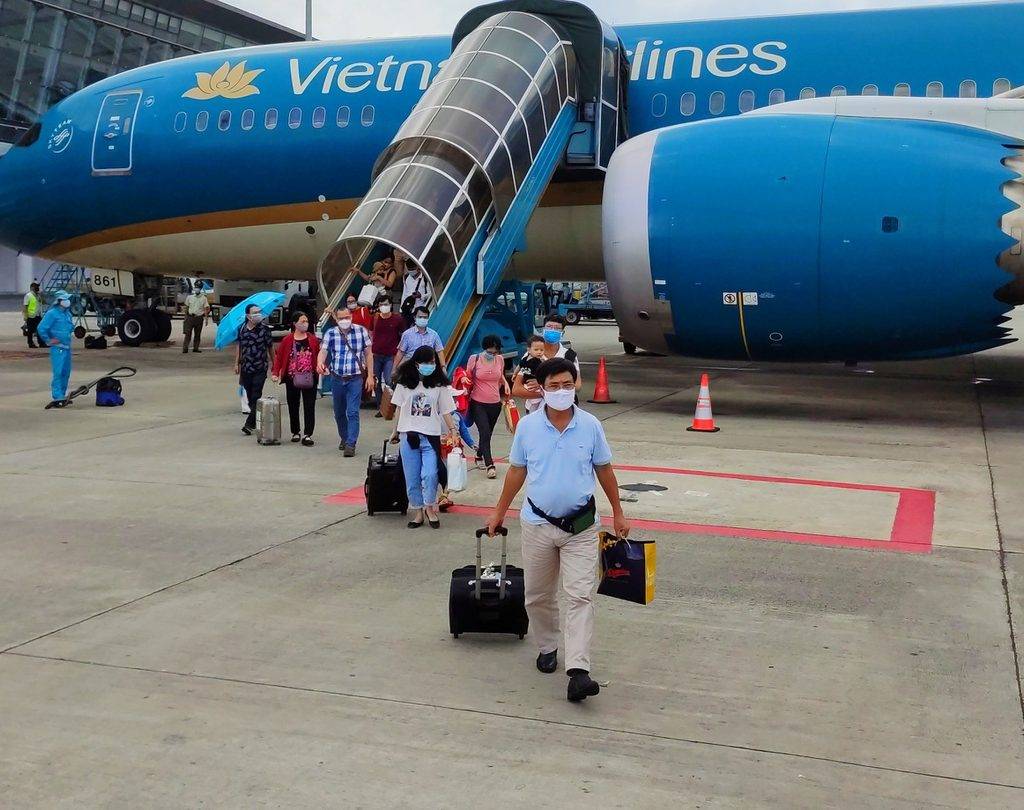 This is the most popular and time-saving means to come to Da Nang. However, during the tourist season from June to September, the fares are quite high, ranging from 700,000 – 1,000,000 VND/round, and are quickly sold-out. So, if you already have a plan, try to find cheap flights of Vietnam Airlines, Jetstar Pacific, or Vietjet Air two or three months in advance.
– Train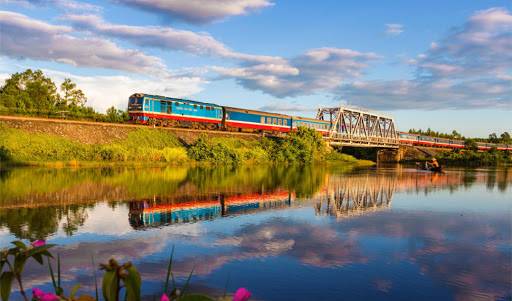 Da Nang has a North-South railway, therefore, the train is an affordable means to choose to go to Da Nang. During the journey, travelers can admire the constantly-changing wonderful landscapes outside the window.
Since the travel time often lasts for more than 10 hours, you should buy a night bed seat to be less tired. The train fare ranges from 400,000 – 1,200,000 VND /person/way, depending on the type of chair.
– Bus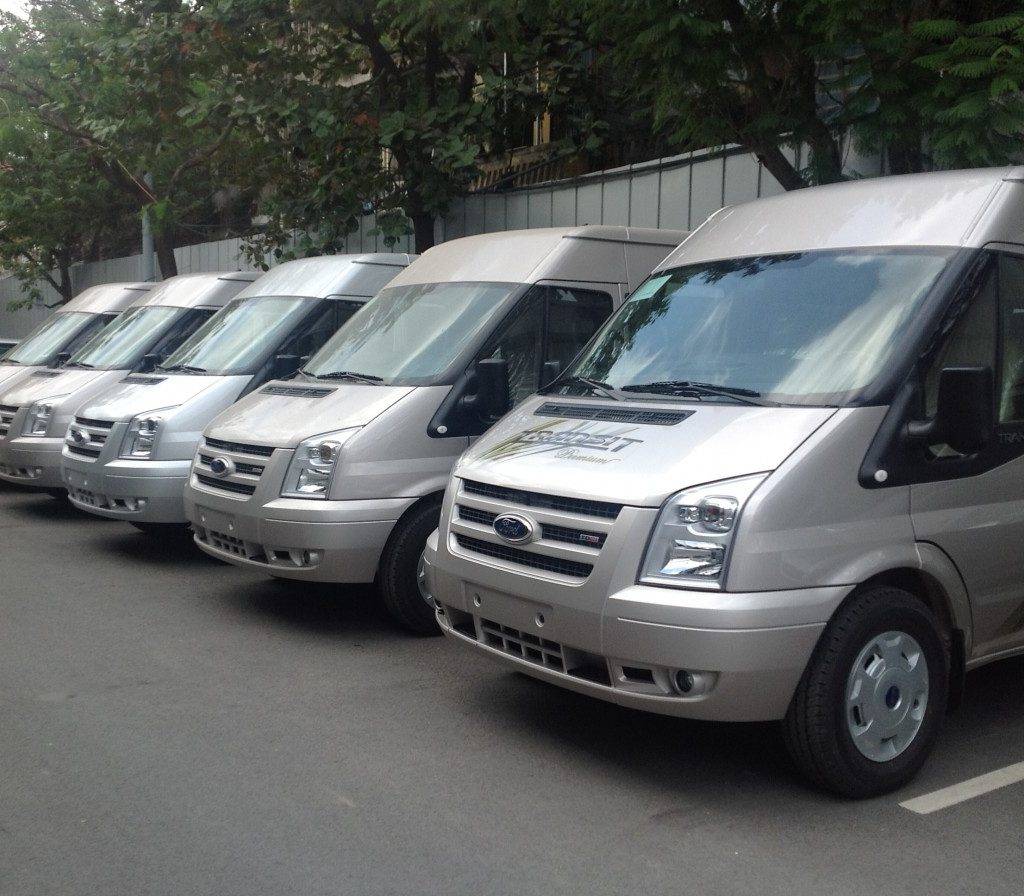 Da Nang Bus Station is located in the city center, and all provinces have routes to Da Nang at only 300,000 – 500,000 VND/way, so if you intend to travel by bus, remember to contact the bus operator before going.
From Hanoi, you can take a bus to Da Nang from Nuoc Ngam, Giap Bat, and My Dinh Bus Stations, while from Saigon, you should take the bus from Mien Dong Bus Station.
Read more: 7 NECESSARY THINGS TO KNOW BEFORE ARRIVING AT DANANG AIRPORT