Sam Mountain, a scenic pilgrimage place overlooking Mekong Delta floodplain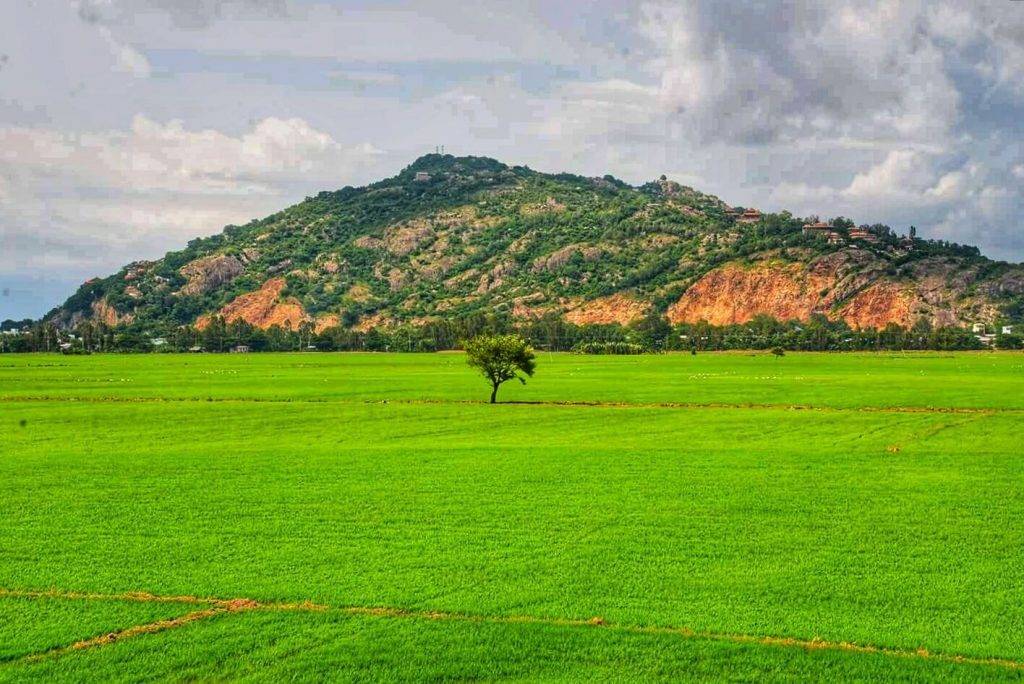 An Giang is an attractive Mekong Delta province with peaceful landscapes typical of the West Rivers – rows of palm trees by rice golden fields, mangrove forests, and floating markets – which visitors can easily access by a boat ride. Besides, another province's highlight is an ancient spiritual spot, namely Sam Mountain at Chau Doc, with sweeping views of the delta, That Son Mountains (7 mountains), and even some ranges in Cambodia. This sacred area gathers more than 200 pagodas and shrines, most notably Ba Chua Xu Temple, Hang Pagoda, Thoai Ngoc Hau Tomb, and Treo Pagoda. Every year, flocks of pilgrims come here not only to travel but also to wish for peace, health, and prosperity.
Read more: Dong Van Old Quarter, the clay-colored ancient town among rocky mountains
I. About Sam Mountain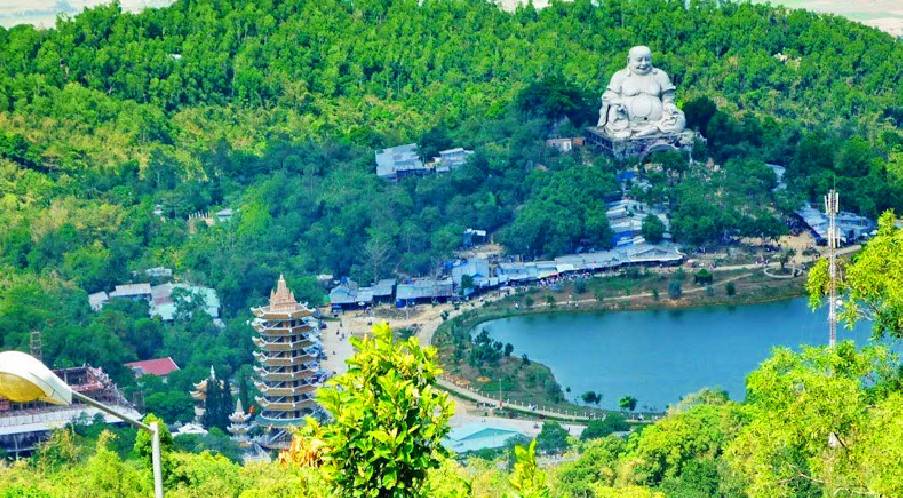 Sam Mountain is situated in Chau Doc city, An Giang province, with Vinh Te canal running along the Cambodian border. This mountain is 284 meters above sea level and is home to about 200 pagoda relics scattered from the foot to the top. It is clear to see that the relics feature a wide variety of architectural styles and creative uses of space. On the top of Sam Mountain stands still a vestige of a dark blue sedimentary stone pedestal, where the statue of Ba Chua Xu used to locate before being brought to the temple. In addition, there is a fortress built during the French period, and a small temple dedicated to Truong Gia Mo (1866-1929), a Confucian scholar of the Duy Tan movement.
To reach the mountain's peak, visitors can either ride a motorbike on the 5km asphalt road winding along the mountainside or use the cable car system with ticket prices of 90,000 VND/adult and 70,000 VND/child.
Read more: Thac Bac, the towering waterfall amidst mountainside and world-famed terraces of Sapa
1. Best time to visit Sam Mountain
An Giang's climate has two distinct seasons, the dry season and the rainy season. The dry season from December to April is full of sunshine, yet the sun is not too harsh, so it is convenient for climbing activities. This is also the peak time of Sam Mountain tourism. In contrast, the rainy season which lasts from May to November is the floating period, more suitable for exploring mangrove forests and floating markets than climbing.
2. Specialties in Sam Mountain
Visiting Sam Mountain, note to enjoy the delicious seven-course beef dishes, including grilled beef, beef intestines, beef hot pot, etc., at the restaurants of Tony, Tu Thien, Truong Nhut near the mountain area. Additionally, Chau Doc is also famous for other typical Western specialties, such as hot pots with fish sauce, grilled field mice, fish noodles, fish salad, and so on.
II. What to explore on Sam Mountain
The trail to Sam Mountain is an easy, beautiful trekking route with lush green trees along both sides, bringing peaceful natural scenery and a fresh atmosphere. Along the way to the mountain, you will see several brilliant flowers, especially tigons.
1. Ba Chua Xu Temple (Lady of the Realm)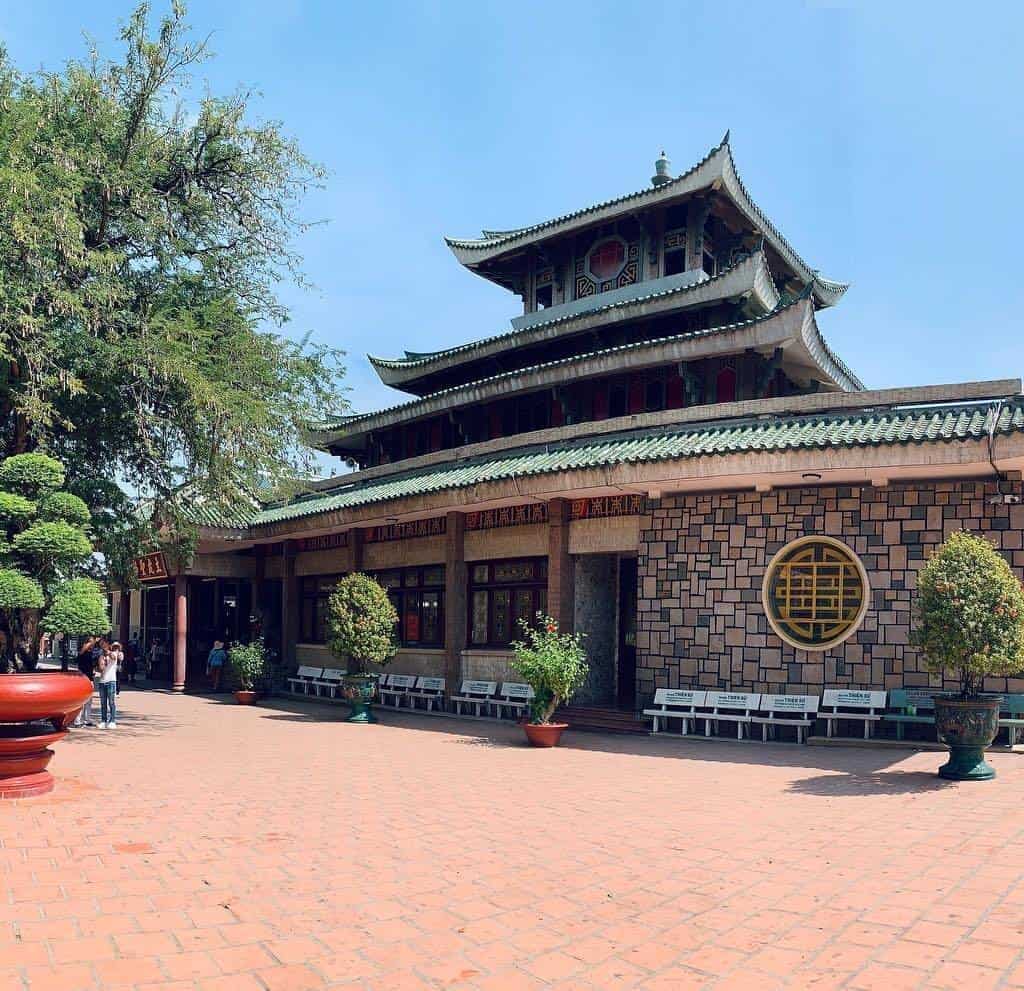 Right at the foot of Sam Mountain, Ba Chua Xu Temple is a superficial temple in the midst of a large, quiet, and poetic area, with a towering architecture in the form of a blooming lotus, a three-tiered roof, green tiles along with unique patterns of elaborate carvings and gilded diaphragms, which add to the temple's ancient and solemnity.
Legend has it that, more than 200 years ago, when the mountain was still desolate, villagers discovered an ancient statue sitting on a sandstone pedestal. After that, they moved the statue down the mountain to preserve and worship. Initially, the temple was built simply with bamboo leaves, then, after a few restorations, it was more spacious as it is today. Every year on April 22 – 23 of the lunar calendar, locals organize Ba Chua Xu Festival, also the largest national festival in the South bearing the national cultural identity of the Mekong Delta inhabitants. At that time, countless people come here to pilgrimage and pray for luck.
Read more: Hon Ba Temple – the place owns a unique cross-sea road
2. French Fort Tower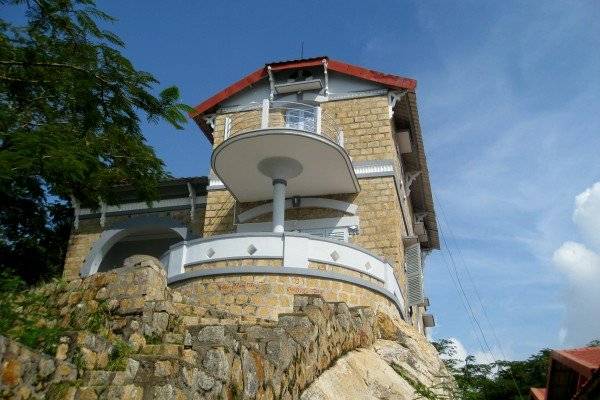 The Fort Tower was built in the form of a spiral villa by the French in 1896. Beside the tower is a house standing precariously on the mountainside, inside the house is a stone pedestal, which is said to be the place where the statue of Lady Xu was located in the past. Currently, the building is used as a military base but the mansion is no longer there.
There are two roads leading to the tower; the shorter road is behind Thoai Ngoc Hau Tomb, which is quite steep, suitable for trekking. On this way, tourists can reach the ancient pagoda Giac Huong with a wide space to rest and enjoy the sights; the other road is straight up to the tower, which is 2 km long and available for cars, motorbikes. Visitors will have the opportunity to visit Peach Garden, Tao Ngo Garden, or Cuc Nong Truong Gia Mo Temple, Long Son Pagoda, the resort of Doctor Nu.
Read more: The 300-year floating temple among Saigon River
3. Thoai Ngoc Hau Tomb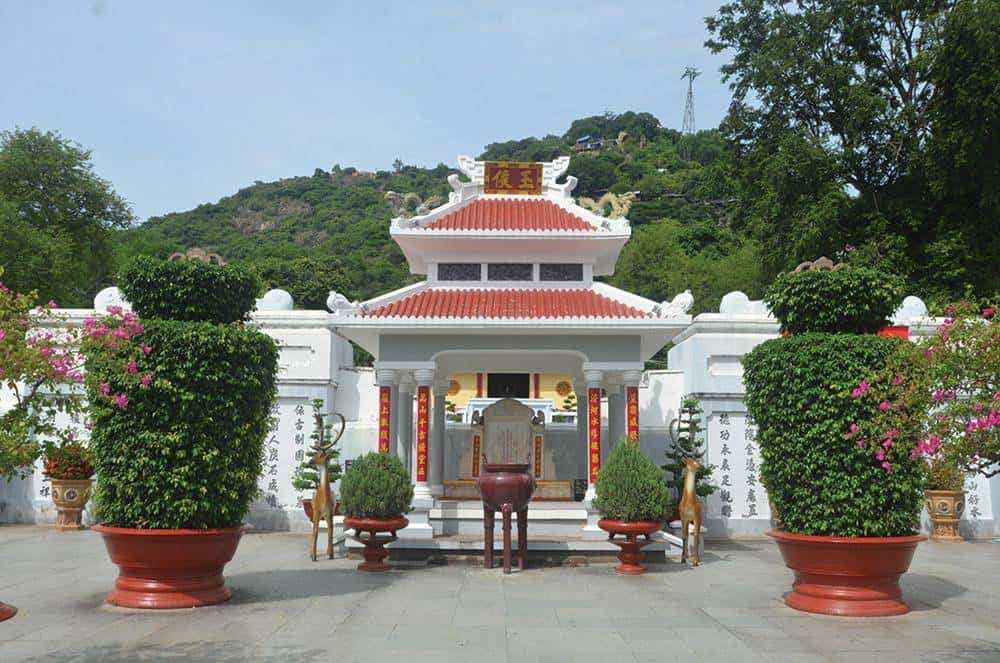 This is one of the typical architectural works built during the Nguyen Dynasty that still remains intact in the Sam Mountain relic complex today. Inside the tomb are also many other valuable treasures, such as epitaphs, horizontal paintings, diaspora, literature sheets, etc., praising the merits of the predecessors who went to reclaim and expand the land. In the middle of the temple is a bust of Thoai Ngoc Hau wearing a crown, with his eyes overlooking the legendary Vinh Te canal.
4. Hang Pagoda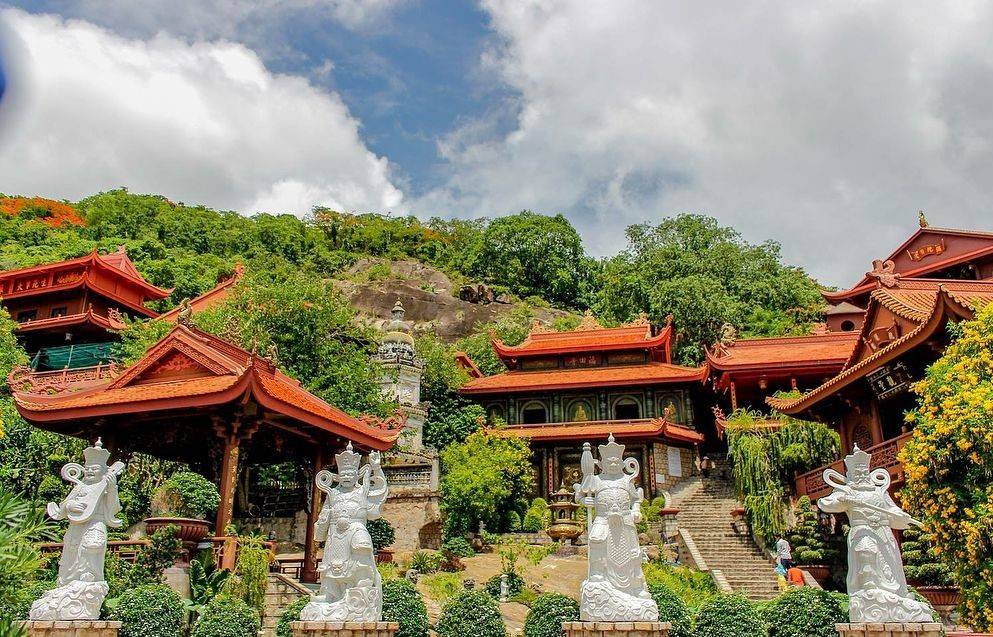 This ancient pagoda was initially built in the 40s of the 19th century with just leaves and bamboo trees, however, after many renovations, the place was rebuilt with sturdy materials, like bricks, stones, and timber. The way up there is hundreds of steps created from large stone blocks stacked higher and higher. As lying on the slopes of Sam Mountain, Hang Pagoda has a stunning view of the whole An Giang rice fields below. The fact that the grounds are covered with tall shady trees is the reason why the air here is always fresh and cool.
Read more: Quang Tri, land of important historical sites and astonishing landscapes
III. Getting to Sam Mountain
The distance from Sam Mountain to Ho Chi Minh City is not so far, only about 250 km, so it's effortless to get there by motorbikes or bus.
1. Bus
At Mien Tay Bus Station, you can find Phuong Trang and Hue Nghia bus companies, departing from Saigon to Chau Doc or Long Xuyen. Their frequency is every 15 minutes with a travel time of about 5 hours.
2. Motorcycle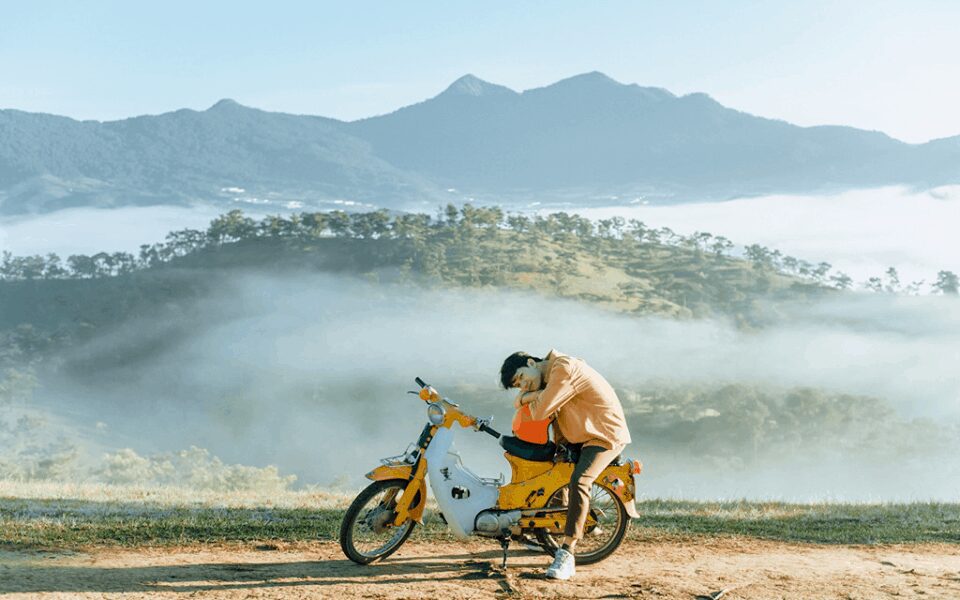 This vehicle is most favorable to backpackers who like to explore on their own track. You just need to follow National Highway 1A through National Highway 80, then go to Ho Tung Mau Street, Sa Dec City, and continue in the direction of National Highway 91 passing the Le Van Cuong section to reach Sam Mountain.
IV. Accommodation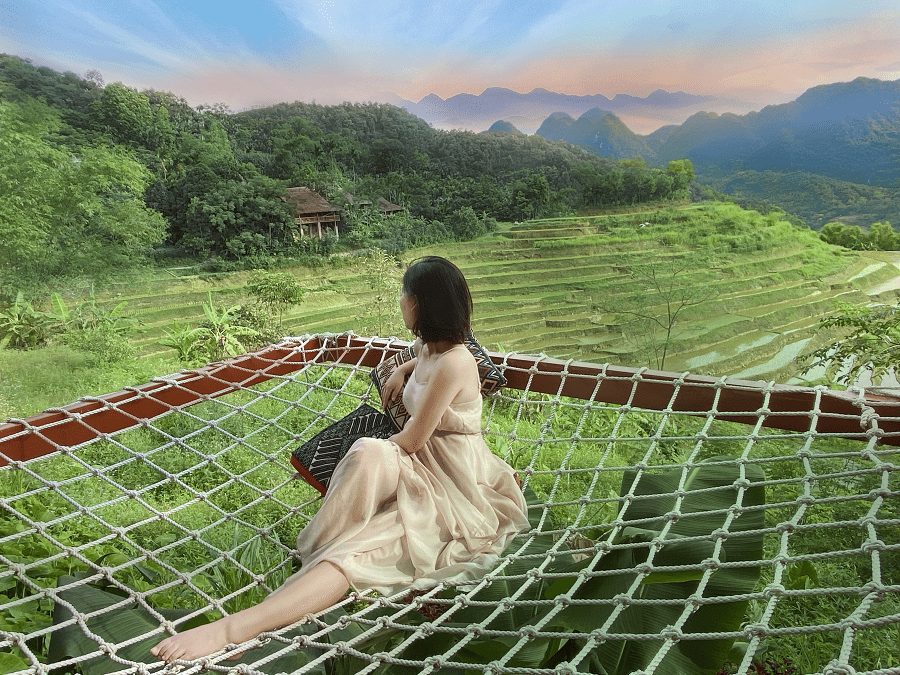 Travelers can stay at hotels and motels in the Sam Mountain area or in Chau Doc city center. The price of accommodating services ranges from 250,000 – 1,000,000 VND/day, depending on the type.
*Suggestions:
Ben Da Nui Sam Hotel: Highway 91, Nui Sam Ward, Chau Doc, An Giang.
Ha Long Chau Doc Hotel: No. 1 Sam Mountain, Chau Doc, An Giang.
Phu Vinh Chau Doc Hotel: Highway 91, Vinh Tay 3, Chau Doc, An Giang
Read more: Hue royal tombs, the moss-covered towers evoking the Nguyen Emperor history