Visit Cat Ba National Park with inspiring forest-clad trekking routes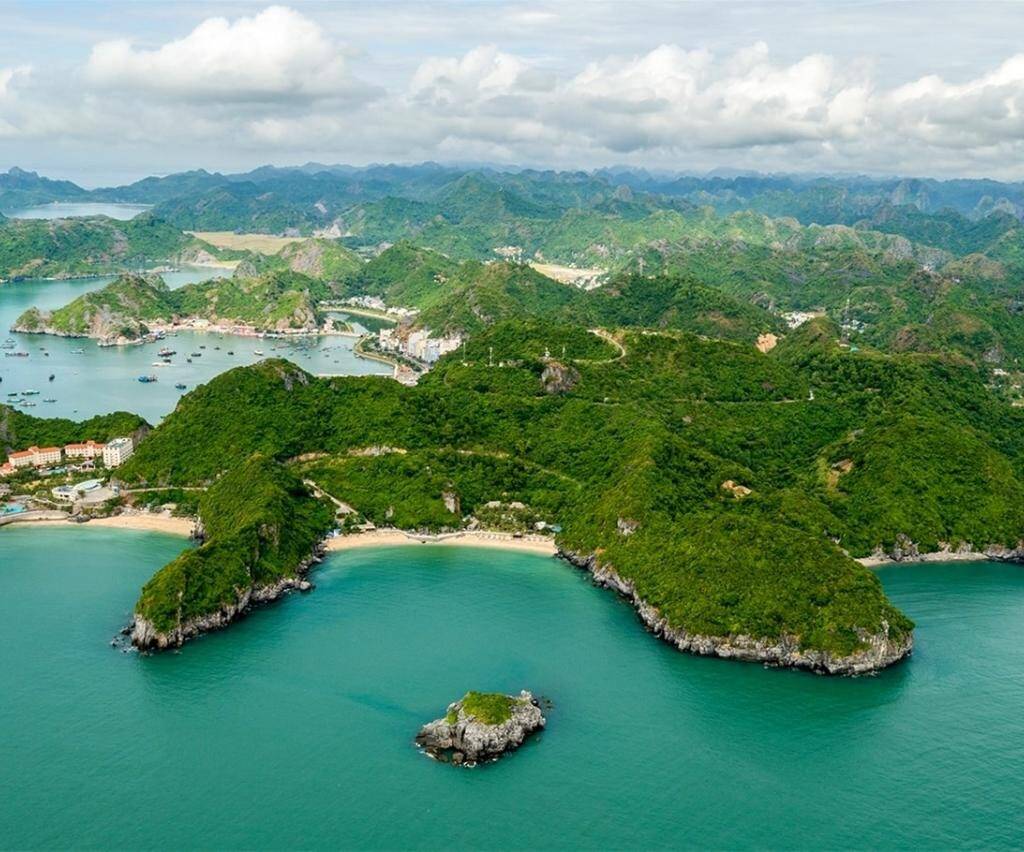 With a spectacular limestone landscape amidst evergreen primeval forests where diverse ecosystems and rare flora and fauna are inhabited, Cat Ba National Park is truly an enviable destination for a cheap few-day trip in North Vietnam. The famous American news site, BuzzFeed, recently listed Cat Ba National Park in the list of 11 national parks that visitors should try once in their lifetime.
Aside from a variety of trekking options for each level of experience and fitness, notably the treks to Viet Hai Village – Ao Ech (Frog Pond) and to Ngu Lam peaks, countless other interesting activities waiting for you to participate in, including explore mysterious karst caves, watch wildlife, even endangered species, living in their natural environment, swim and kayak stunning beaches, as well as participate in voluntary tours to contribute to protecting the local environment.
I. About Cat Ba National Park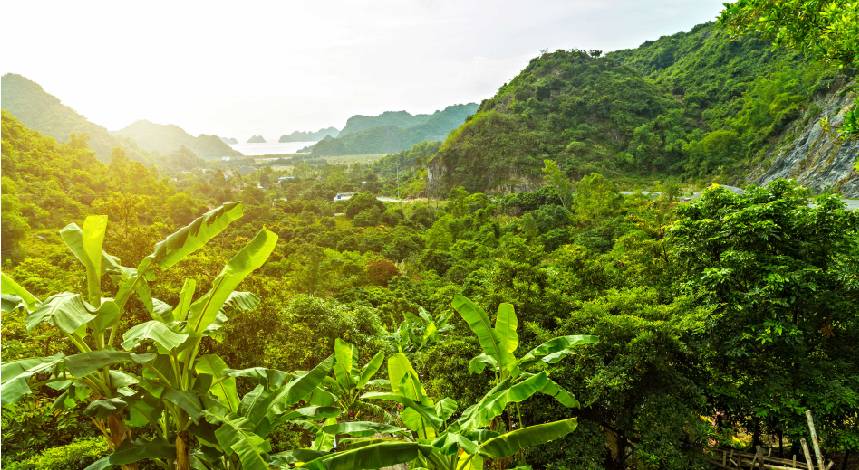 Cat Ba National Park is situated on the largest island in Cat Ba Islands, 45 km east of Hai Phong city and about 150 km southeast of Hanoi. The total natural area of ​​the park is 17,362 ha; of which 10,912 ha is forests and mountains which are mainly above 500m, and 6,450 ha is the sea surface.
Cat Ba National Park has been recognized by UNESCO as a world biosphere reserve with rich marine and terrestrial organisms, including various ecosystems of terrestrial forests, mangrove forests, forests on limestone mountains, marine with coral reefs. Additionally, the park also attracts tourists due to the archaeological remains showing the sign of ancient humans from 6000 to 7000 years ago.
The best time to visit Cat Ba National Park is from April to October, as during this period, the weather is extremely pleasant without heavy rain, making it easy for trekking and climbing activities, or exploring diverse natural ecosystems.
*Ticket price to Cat Ba National Park:
– Adults: 80,000VND/person
– Children: 40,000VND/person
II. What to do in Cat Ba National Park
1. Experience innumerable trekking routes in Cat Ba National Park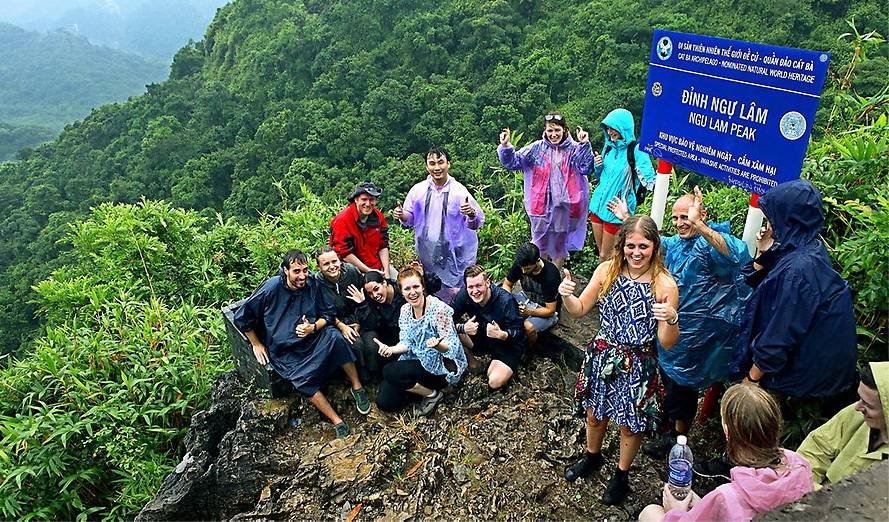 There are 5 routes to go through the Cat Ba National Park forest with a variety of terrains, forest types, and different difficulty levels for you to choose from. Here are a few of the most popular routes.
– Kim Giao – Me Con – Tung Di – Ao Ech – Viet Hai: This route lasts from 4 to 8 hours, quite easy at first, but more tricky at the end. Many red arrows are showing the way, but you'd better have a map in hand.
You will depart from Kim Giao with several trails, high cliffs, slippery steps interspersed with branches. This route will cost an entrance ticket of about 40,000 VND/adult. At this time, you already go deep into the forest, so the weather was a bit chilly, even foggy.
Following the indicated path, you will pass Anh Rang Slope, May Bau Peak, Ang Phay Peak, and then reach Ao Ech (Frog Pond) of about 3.2ha wide. In the dry season, the water in the pond will dry up to make way for trees to grow towards the sun. Note that this area has squeegees, so avoid going to places with dense trees. This is also an ideal place to rest mid-way and have some snacks to get ready for the final stretch.
From Frog Pond, you need to follow the mountainside to Viet Hai fishing village. This road is quite risky, taking about 4km with large rocks, steep slopes, and intertwined vines clinging to the cliffs. Going all the way you will see a valley that is Viet Hai village among hibiscus trees on both roadsides. Compared to other villages in Cat Ba, Viet Hai still retains the typical culture of the Northern Delta region. Visitors can leisurely walk or rent a bicycle to experience the scenery here, explore the lives of indigenous people, particularly cook meals with a wood stove, growing vegetables, and reaping rice with them.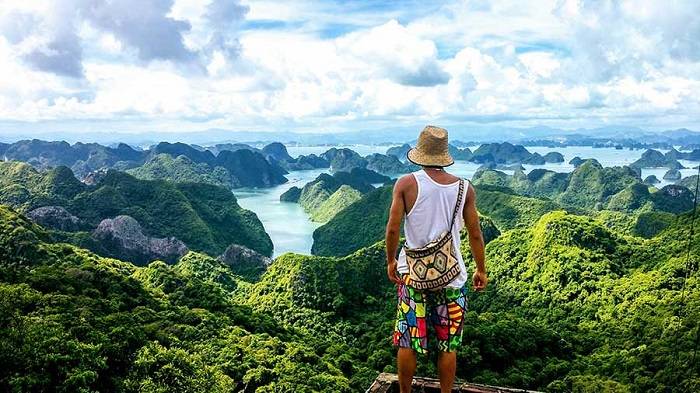 – Kim Giao Forest – Ngu Lam Peak: 2-3 hours long for motorbikes, bicycles, cars, and walking, climbing.
You also depart from Kim Giao forest 300m high with a fairly flat road, about 500m of concrete from the garden gate to the foot of the mountain. Going through the first 500m, visitors visit the botanical garden of plants representing more than 1,500 existing plant species in Cat Ba National Park; Wash your hands by the jade well all year round, the water is clear and cool. Next are the jagged cat-eared rock formations or the slippery and wet clay path, which is quite difficult to cross.
In Kim Giao forest, there are also rows of stone benches as a place to rest before continuing on the rather difficult road to go up to Ngu Lam, more than 700m high. After reaching the 220m-high Ngu Lam peak, visitors can enjoy the mountain scenery from the observation tower, which is also a great spot to have lunch after the hike. For this two-hour trip, visitors need to bring food and water as no shops are available along the route.
2. Try other activities on Cat Ba Islands
– Swim and play marine games on the beaches: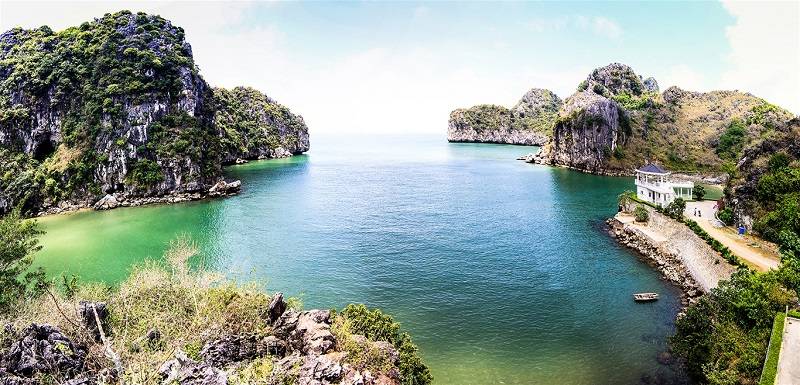 Some popular Cat Ba beaches quite close to the town center are Cat Co 1, 2, 3, in which Cat Co 2 is the most beautiful beach with crystal clear water. From the town center, you can take a motorbike taxi or tram to get to the beach for only 10,000 VND/person. If you do not bring a swimsuit, you can rent it there. Moreover, you should go ashore before 6:30 pm as afterward there will be strong tides and high waves.
– Take a boat trip or kayak to Lan Ha Bay, Monkey Island: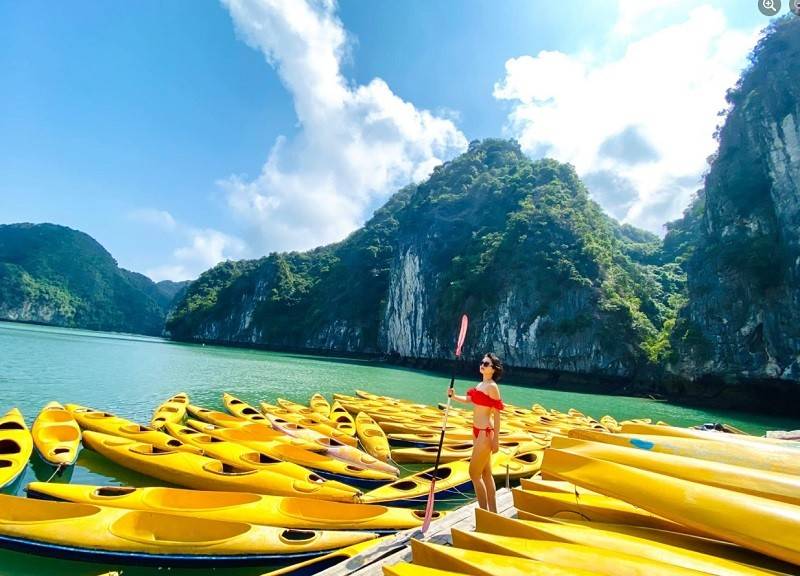 Kayaking to explore the picturesque Lan Ha Bay is a great adventure to experience in Cat Ba. You will have to paddle on the waves to fully feel each array of limestone mountains, caves, stretching white sand beaches, and rising mountain ranges. Not only that, but you can also row a boat to explore Cai Beo ancient fishing village, Monkey Island, Sang cave, Toi cave; all are on the same route.
– Explore karst caves: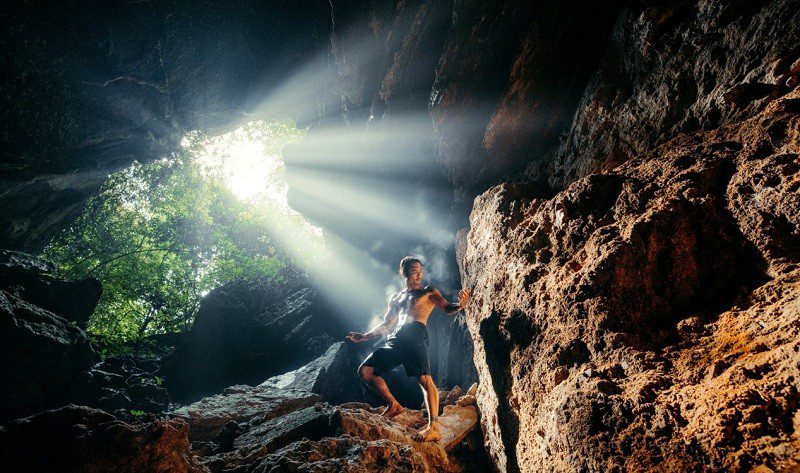 Karst caves belong to the low-lying terrain on Cat Ba Islands, depending on the morphology, time, and formation conditions, they are divided into three types: ancient underground caves, foundation caves, and frog-jaw caves. In several ancient underground caves, fossil bones and stone tools of prehistoric Vietnamese people living on the island thousands of years ago have been found. Besides, particularly in Cat Ba National Park, there are some unique limestone caves to discover, such as Trung Trang, Uy Ban, Thien Long.
Read more: Phong Nha – Ke Bang, the oldest major limestone karst ecosystem in Asia
– Observe insects and animals at night: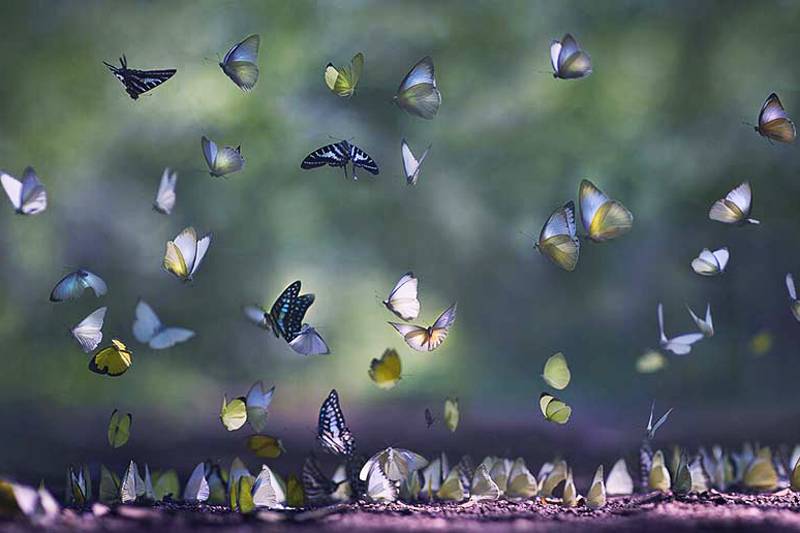 For visitors who love to watch reptiles, frogs, insects, or the activities of some nocturnal animals when night falls, this activity is a perfect thing to do. Imagine that you will go into the woods at night under the rustling sounds of the forests and the living creatures in their biological world; this must be an exciting feeling and curious!
– Join in volunteer tourism: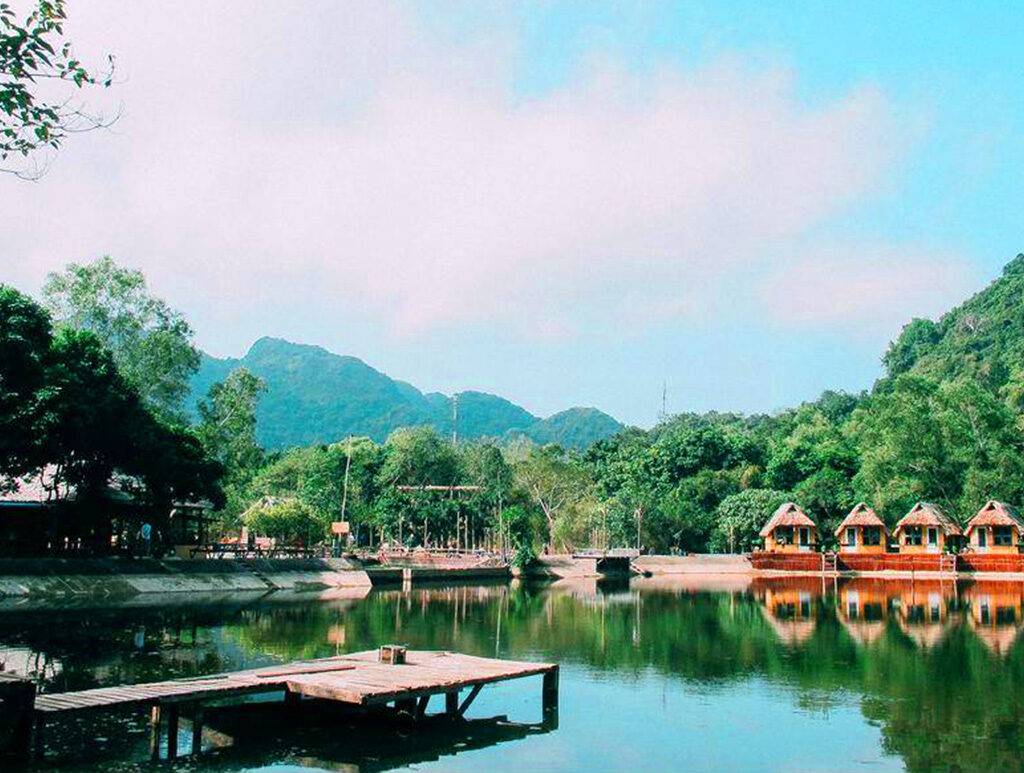 In this type of tour, you can both discover the values ​​of the natural resources of Cat Ba National Park and contribute to improve and clean the local environment, as well as protect natural resources; for example, collect and recycle waste, make tourist signs and conservation activities, propagate and educate about environmental protection, etc.
III. How to get there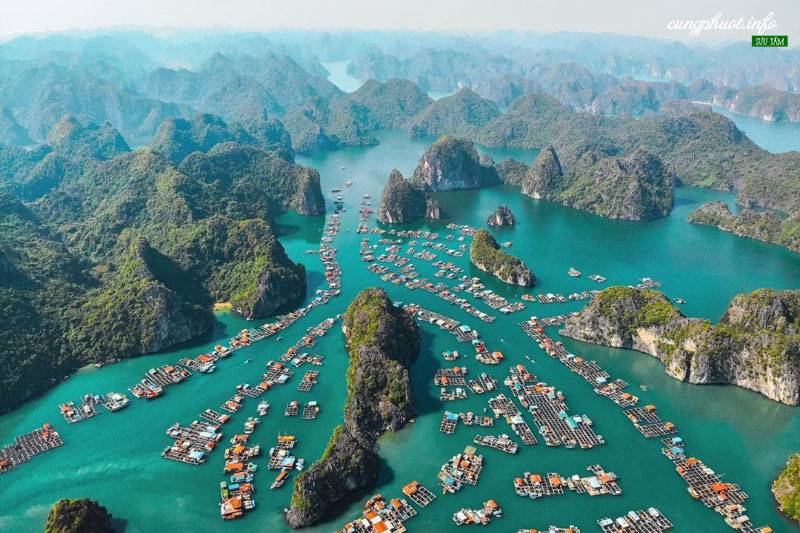 The most convenient way to travel from Hanoi to Cat Ba is by bus. There are a number of direct Hanoi – Cat Ba buses: Hoang Long, Good Morning Cat Ba, Cat Ba Express, Inter Bus Lines, with fares from 100,000 VND – 120,000VND/person. You can also get a scooter and go on the highway of Hanoi – Hai Phong – Quang Ninh towards Tuan Chau ferry terminal. From there, buy a ferry ticket to Cat Ba Islands. This route will be longer and take more time, but you will have the opportunity to enjoy the sea view from Ha Long to Cat Ba.
After arriving in Cat Ba town, you can take a taxi or rent a bicycle or a motorbike to the park.
Bicycle rental usually costs from 100,000 – 150,000 VND / day; however, the means is only suitable for those who have good health since the road from the town to Cat Ba National park is quite long (15 km) and senidous. Motorbikes are also an ideal means to help you be more active with your own schedule, the rental prices range from 250,000 – 300,000 VND/day.
IV. Accommodation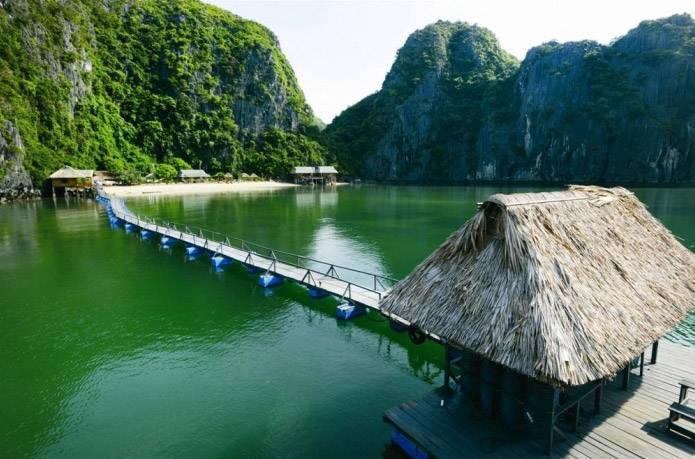 To conveniently travel around Cat Ba Islands, it's advisable to stay in Cat Ba town. There is a full range of accommodation services from homestays, hostels to two-to-five star hotels spreading around the town along the coast, with the prices of 150,000 – 2,000,000 VND/night. Still, you should book early and avoid going on weekends or holidays because the price will be quite high at this time.
If expecting places with wonderful views of limestone mountains and poetic beaches, you can refer to hotels at 1/4 Street, which is also the road along the coast. As for the area further inland, the room rate will be cheaper, and from there you can catch a motorbike taxi or take a tram to the beach for about 10,000 VND/person. Staying in homestays in Viet Hai Village is also a great option for those who want to escape from the noisy city life and completely join in the local habitat.
*Suggestions:
– Cat Ba Pod Hostel: 224, 1/4 Street, Cat Ba
– The Whisper of Nature Bungalow: Hamlet 1, Viet Hai, Cat Hai, Cat Ba
– Seaview Hotel: No. 220, 1/4 Street, Cat Ba
– Mgallery Cat Ba: Bai Cat Co 3, Cat Ba