Noticeable leaf-vein-like terraced fields on Chu Se plateau, Gia Lai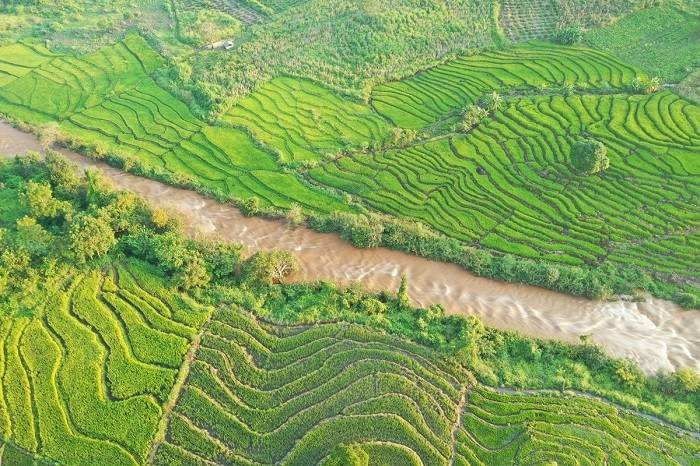 Around the time from September to November, the verdant terraced fields stretching as far as the eye can see, which seems only exist in the Northwest regions, appear right on the sunny and windy red-soil plateau, Chu Se – Gia Lai, which is originally renowned for the immense coffee gardens, rolling green tea hills, and shady rubber forests. Not only rice fields, but the nearby Phu Cuong wild waterfall is also a worth-visiting peaceful stop for mini camping and relaxing moments.
1. Golden terraced fields stretch on basalt soil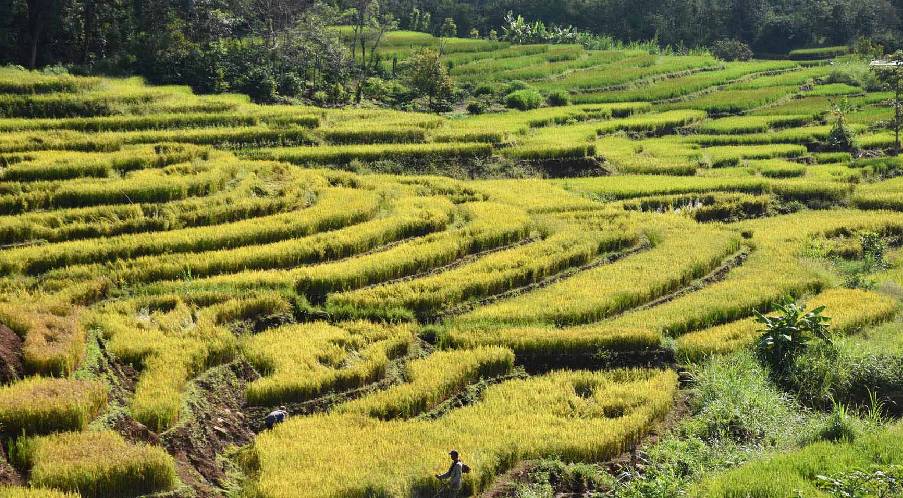 Cultivated by the Jrai people for two seasons of the year, Chu Se rice terraces in Dun village, 40 km from Pleiku – Gia Lai, are shaped in a precisely random way, not following any rules to create a unique feature to make them completely different from the rice fields in Mekong Delta or Northwest highlands.
Depending on the mountain topography, the fields will be in numerous lengths and heights; most of which are at a gentle slope near the streams on the hillside.
From above, the area appears magically beautiful with enchanting greenish or yellow patches separated by small zigzag paths, like leaf veins or diverse patterns of a giant paddies carpet. Crossing each path is a cluster of white flowers and shady trees.

Gia Lai has two distinct seasons; the dry season starts from December to April and the rainy season from May to October. Therefore, the best period to visit Chu Se is between October and March every year. At this time, the weather is already in autumn, so it will be a bit chilly, without heavy rain, convenient for exploring the landscape. This is also the time when the scenery is much more poetic and lively due to rice fields starting to wear a golden cover.
2. Terraced fields are not the only attraction around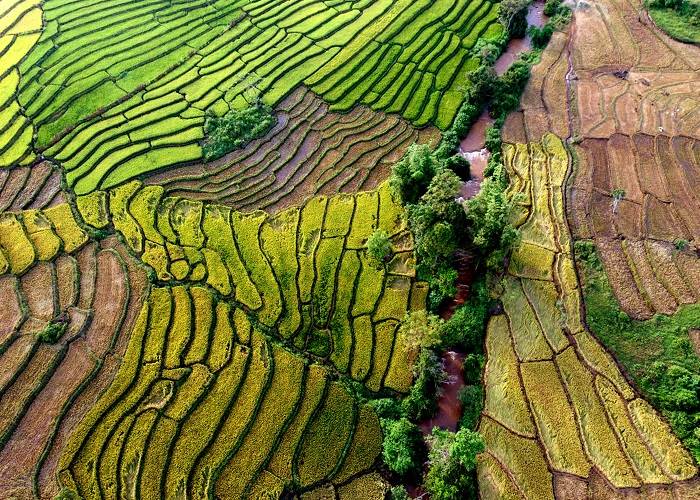 Also located in Dun commune, near those golden rice fields, Phu Cuong waterfall is lying in Phu Cuong quarry area; about 3km from Chu Se town. The waterfall has a height of about 45m, flowing down from the mountain and pouring into La Peet Stream.
The road to this remote spot has two small paths, the right one to Phu Cuong waterfall, and the other to reach La Peet stream – the upstream of the waterfall. After parking the vehicle, you have to pay an entrance fee of 15,000 VND, then walk inside on a long staircase leading down to the foot of the waterfall.
The waterfall consists of two flows; the main falls thunder down like a giant water column, and the smaller falls are more gentle like a white silk stripe. There is a small trail leading deep into the cliff to come closer to the flows. Going down La Peet Stream is Ayun River where you can take a boat tour around the artificial lake to admire the wild and fresh scenery, as well as interact with the Ba Na and Jrai ethnic people living in the area.
3. How to get to Chu Se – Gia Lai
You can take direct flights of Vietnam Airlines from Hanoi, Danang, and Ho Chi Minh City to the airport in Pleiku – Gia Lai, with the price of 1,500,000 – 2,000,000 VND/ticket. Plus, from Ho Chi Minh City, you can also go to Gia Lai by sleeping bus that takes around 12 hours.
Chu Se district is only about 40km from the center of Pleiku city, so visitors should move here either by car or motorbike. You just need to drive along Highway 25 through H'Bong and Ia Pal communes to reach Dun communes where the beautiful terraced fields are situated.
The easiest route to Phu Cuong waterfall: from Pleiku center, go south along Vo Van Kiet street for about 11km to reach Ham Rong junction. From here, go straight to Highway 14 for about 25km to Hung Vuong Street, then turn left to Highway 25, continue for another 6km, you will see a sign indicating the waterfall.
4. Accommodation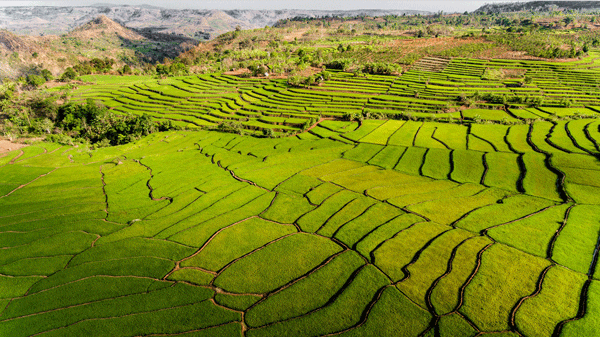 To conveniently combine visiting Chu Se in particular and other Gia Lai attractions in general, visitors should book a room in the center of the province, which is Pleiku city. Although not as prosperous as other tourist cities, accommodation in Gia Lai is quite diverse, with suitable prices for different customer segments, ranging from 200,000 VND – 1,000,000 VND / night.
In addition to popular choices such as hotels and guesthouses, currently, the most attractive and worthy form of experience is lovely and spacious homestays.
*Suggestions:
XOM Organic Farm Stay – Full House: Hamlet 5, Tra Da Commune, Pleiku
Hani House: 49/2 Phu Dong, Pleiku
White House: 10 Luong Dinh Cua, Pleiku
Tien Data guesthouse: 69 Truong Chinh, Pleiku
Muong Thanh Gia Lai: No. 1, Phu Dong Street, Pleiku