HOI AN ANCIENT TOWN – THE ENDLESS BEAUTY (PART 3)
In the final part of this Ancient Town travel guide, we will together figure out the interesting things to do in Hoi An.
VI. Where To Visit
1. Attractions
Japanese Covered Bridge (Chua Cau)
Japanese Covered Bridge is the jewel in the heart of Hoi An. The bridge was built in the late 16th century. In the middle of the bridge is a small temple worshiping Huyen Thien Dai De. The bridge has a quite unique roof with decorative textures and motifs expressing a harmonious combination of Vietnamese, Chinese, Japanese, and Western architectural styles.
Location: The bridge crosses the creek flowing to Thu Bon river, bordering Nguyen Thi Minh Khai and Tran Phu streets.
Tan Ky Old House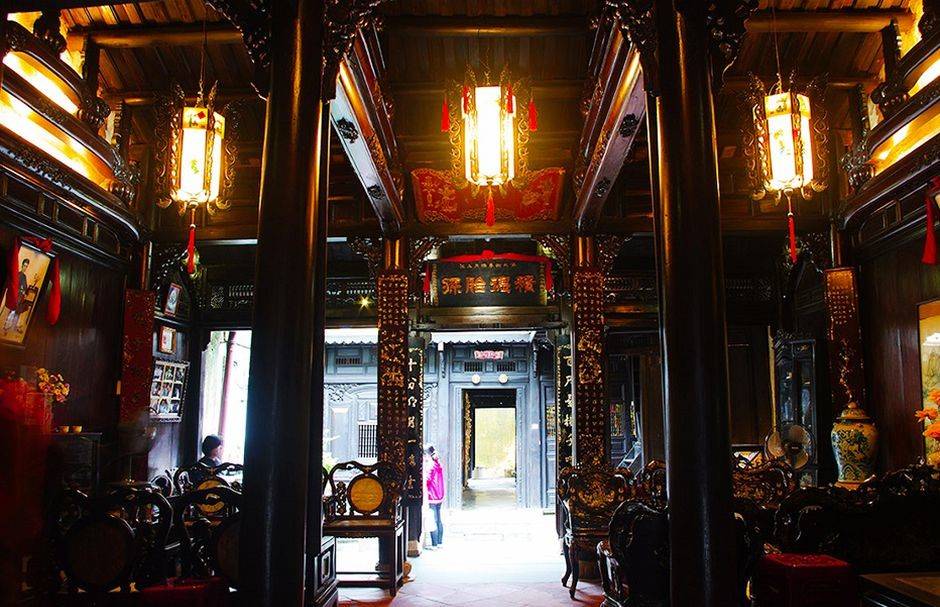 Built nearly 200 years ago, Tan Ky old house has a typical architectural style of Hoi An townhouse with interiors divided into many compartments with its own function. The front of the house is a trade store, while the back is connected to the river wharf to serve as a place to import and export goods.
The house is built with traditional materials and created by local carpenters and masons, so it has an elegant, cozy design. On February 17, 1990, Tan Ky old house was granted a National Historical – Cultural Relic.
Museum of History and Culture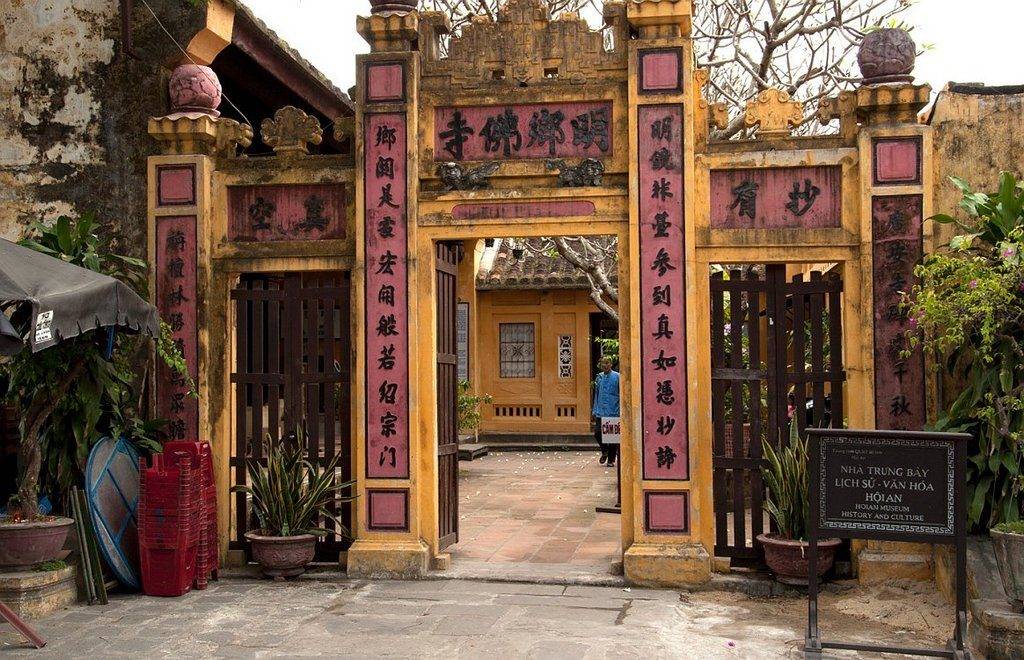 Founded in 1989, the museum displays 212 original artifacts and valuable materials of pottery, porcelain, iron, paper, wood, etc., reflecting the development stages of Hoi An commercial port from Sa Huynh period (from the 2nd century AD) to the Cham cultural period (from the 2nd to the 15th century) and the Dai Viet and Dai Nam culture (from the 15th to the 19th century).
Location: No.13 Nguyen Hue.
Hoi An handicraft workshop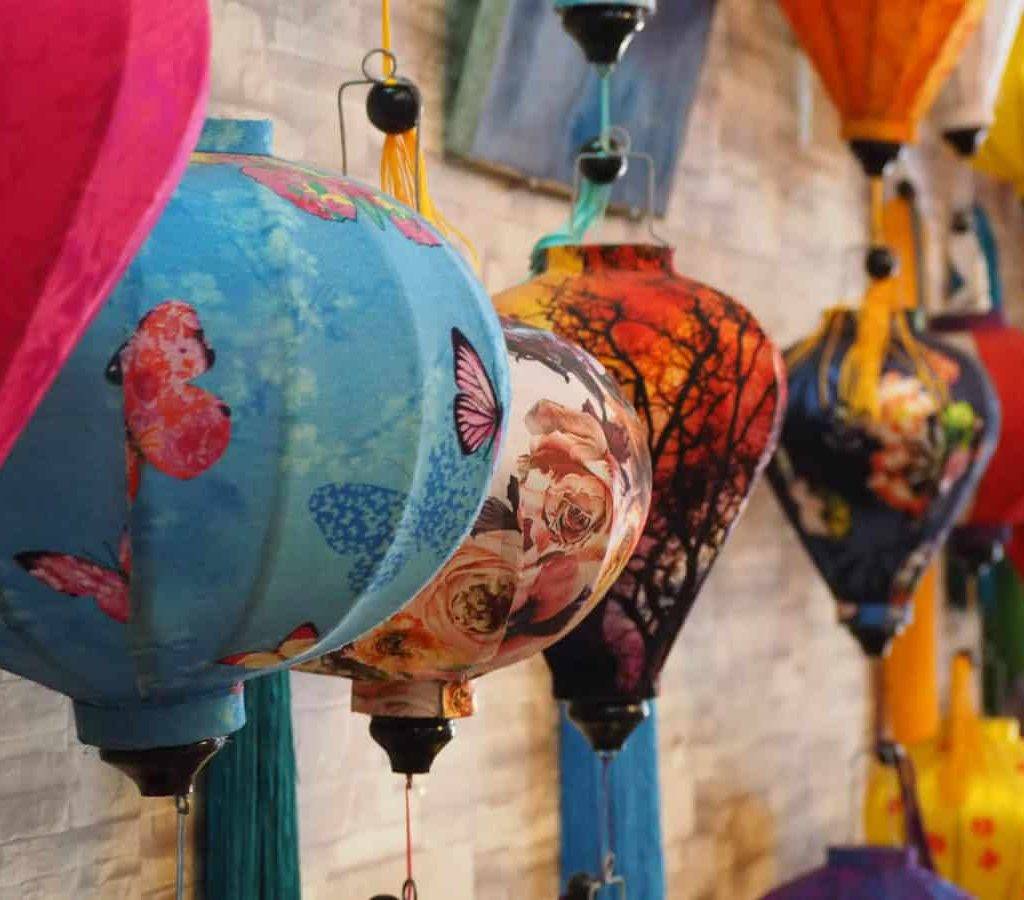 The workshop brings together most of the traditional handicrafts of Hoi An and Quang Nam, such as mat weaving, pottery, and lacquer. Visitors will find a peaceful scene of a Vietnamese hometown; as well as witness with their own eyes the skillful hands of the artisans creating unique and sophisticated fine arts products. Visitors can take part in several stages of the manufacturing process of the craft and buy some souvenir products.
Location: No.9 Nguyen Thai Hoc
Assembly halls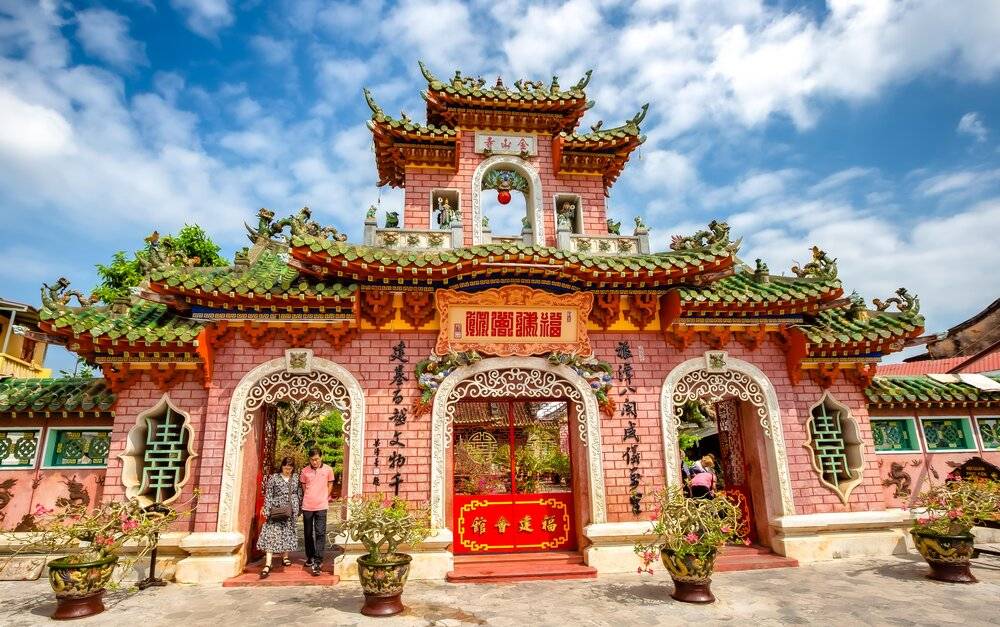 There are many Chinese assembly halls in Hoi An. Each hall features special values ​​about architectural structures with exquisitely carved wooden frames and typical culture of each Chinese period. You can refer to the following 3 famous names:
Phuong Kien Assembly Hall (46 Tran Phu street)
Trieu Chau Assembly Hall (92B Nguyen Duy Hieu)
Quang Dong Assembly Hall (176 Tran Phu)
2. Surroundings
Cua Dai Beach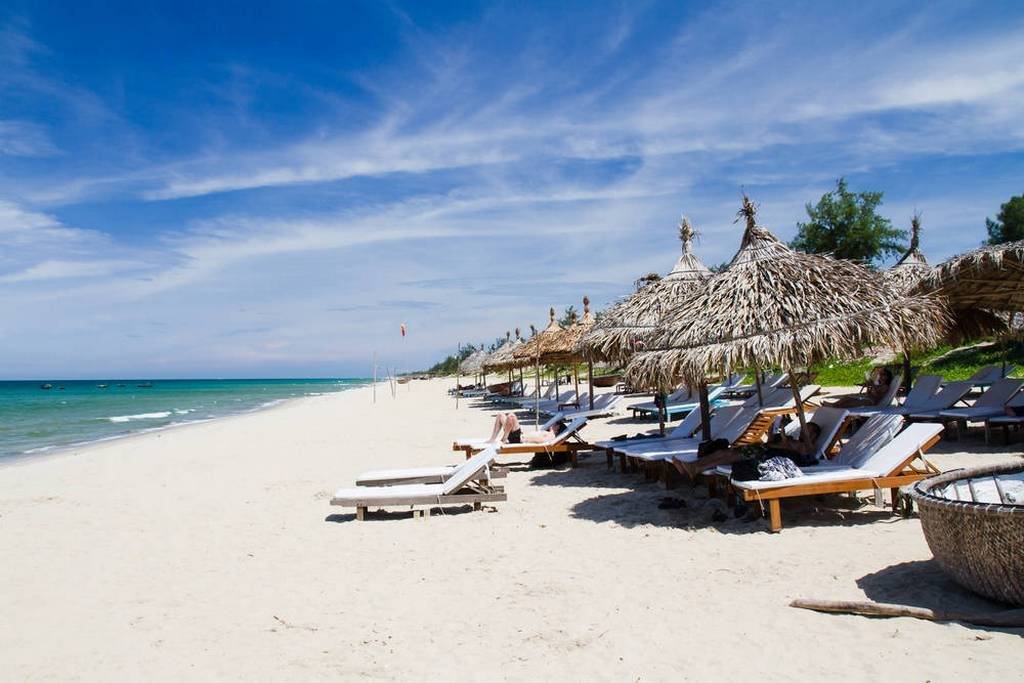 Cua Dai is a beautiful beach with fine white sand, clear blue water, small waves and fresh seafood shops with cheap prices. Coming to Cua Dai beach in the evening is also a great idea because at that time, the beach is vast and sparkling under the romantic oil lamps.
Location: 5 km from Hoi An Ancient Town to the East.
An Bang Beach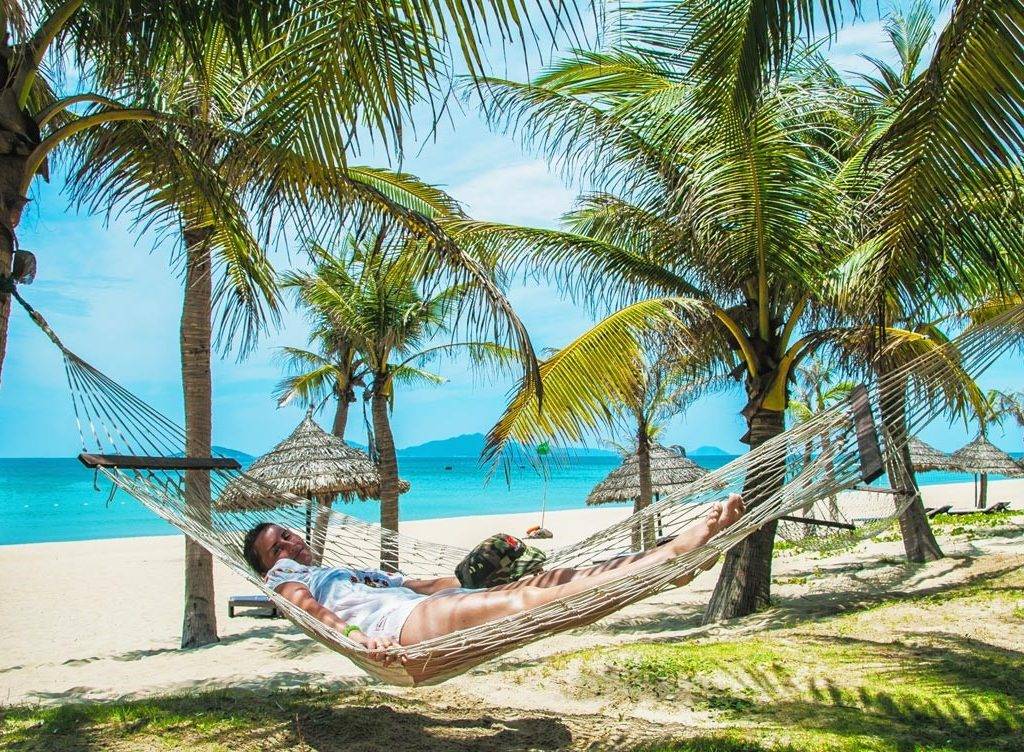 This is one of 50 beautiful beaches in the world. Coming to An Bang beach, you will feel the wonderful freshness as you walk along the sand, watch the sunset/sunrise, admire the pristine beauty at dawn on the sea.
Location: Cam An ward, about 3 km from Hoi An to the East.
Bay Mau Coconut Forest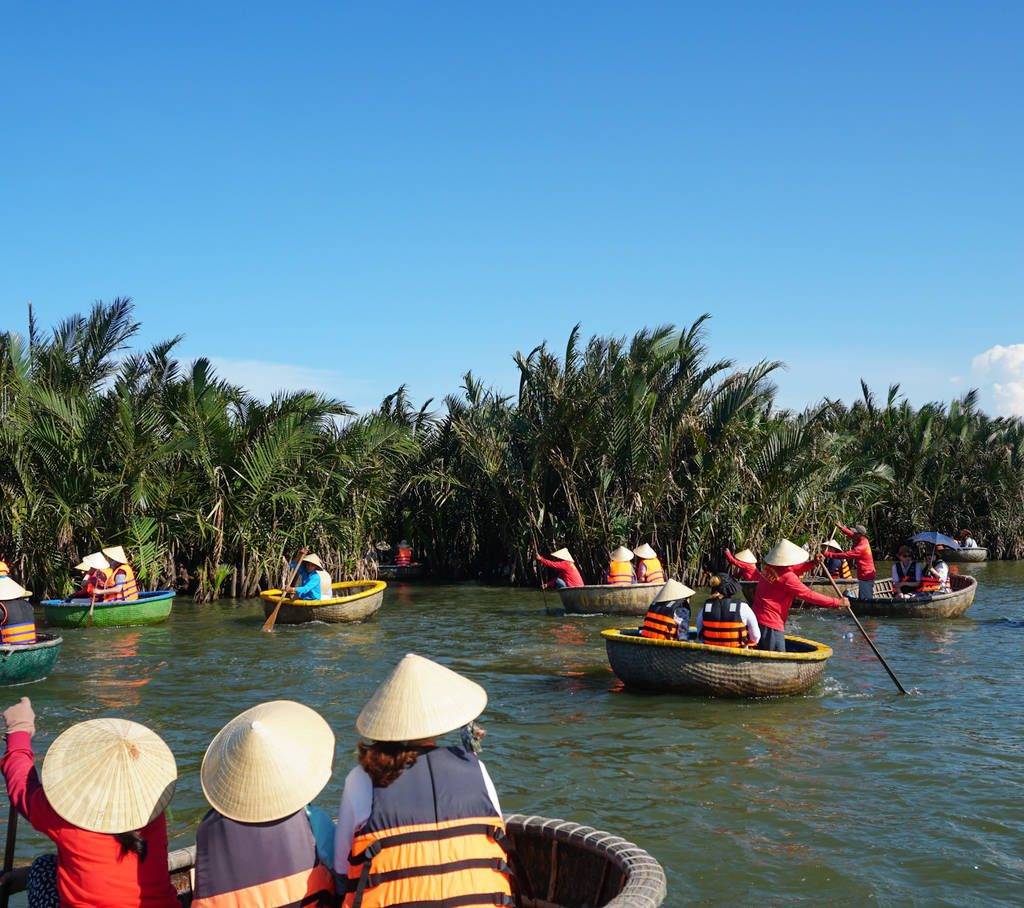 When visiting Bay Mau coconut forest, you will be floating on the water with a very unique basket boat. Besides, you can also enjoy rustic dishes from coconuts or river fish, and even hamsters.
Location: Cam Thanh Ward, about 5 km from Hoi An.
Cham Island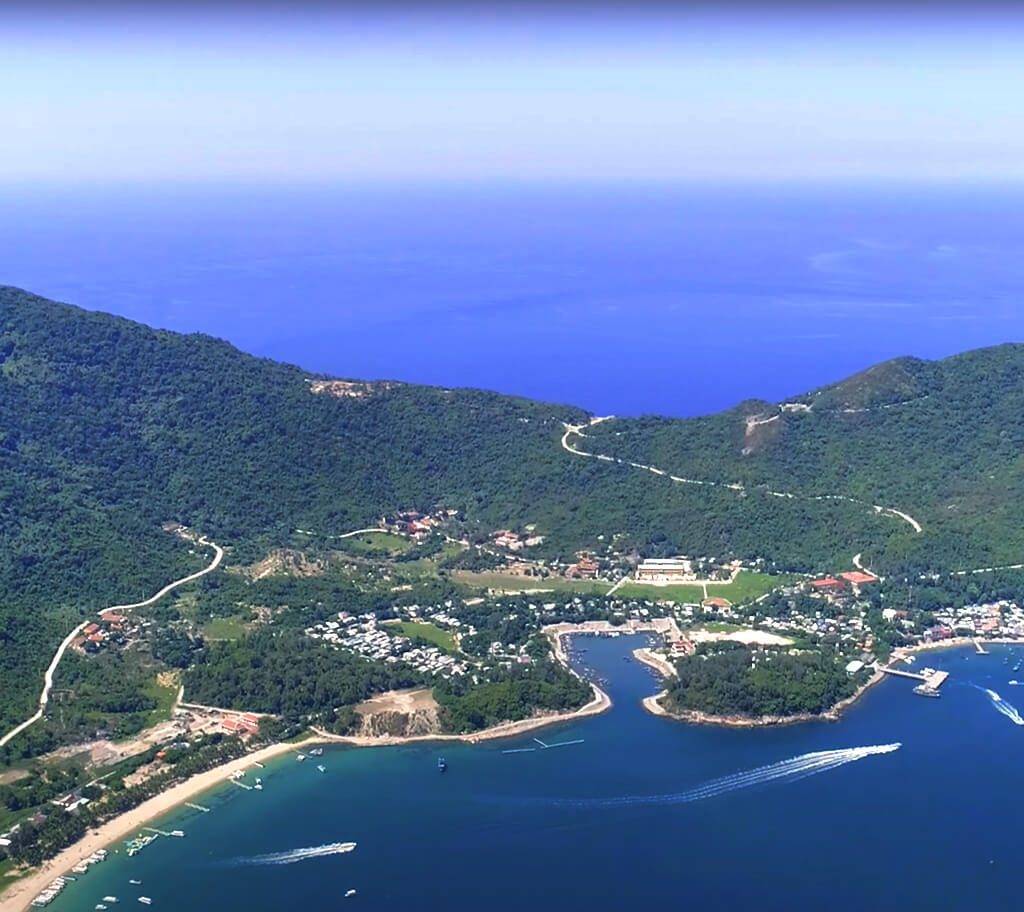 Cham Island consists of 7 small islands: Hon Lao, Hon Kho Me, Hon Kho Con, Hon Tai, Hon Dai, Hon Mo, Hon La, Hon Ong. The island stands out for its biodiversity with its natural forests, beautiful beaches, coral reefs and many valuable aquatic species. Coming here, you will enjoy swimming and snorkeling comfortably. However, you should be careful with the clear jellyfish. They may touch people and cause an unpleasant itchy rash.
Location: Tan Hiep commune, Hoi An city, 18 km east of Cua Dai beach
Tra Que Vegetable Village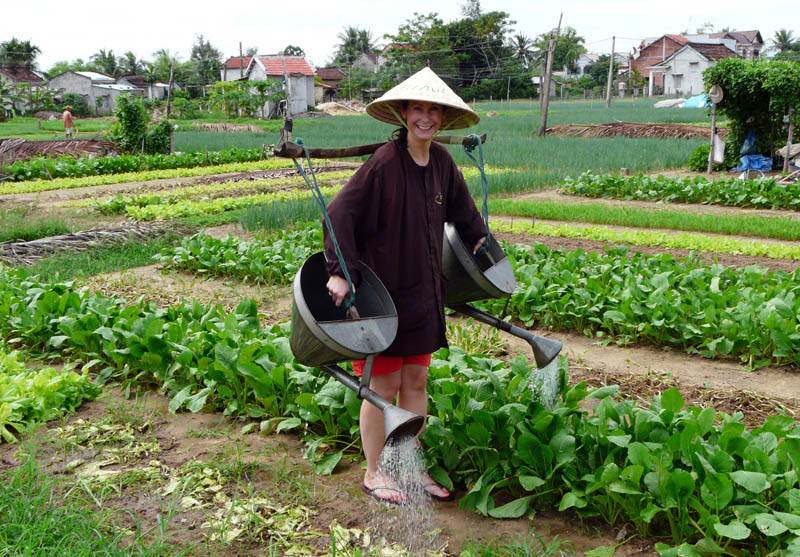 Tra Que Vegetable Village is a traditional vegetable village attracting many tourists to visit and experience. Here, you will be involved in the process of growing vegetables like a real farmer and gain more knowledge and understanding about the working life of the villagers. These will definitely be real experiences you can't forget!
Location: 4 km from Hoi An
Thanh Ha Pottery Village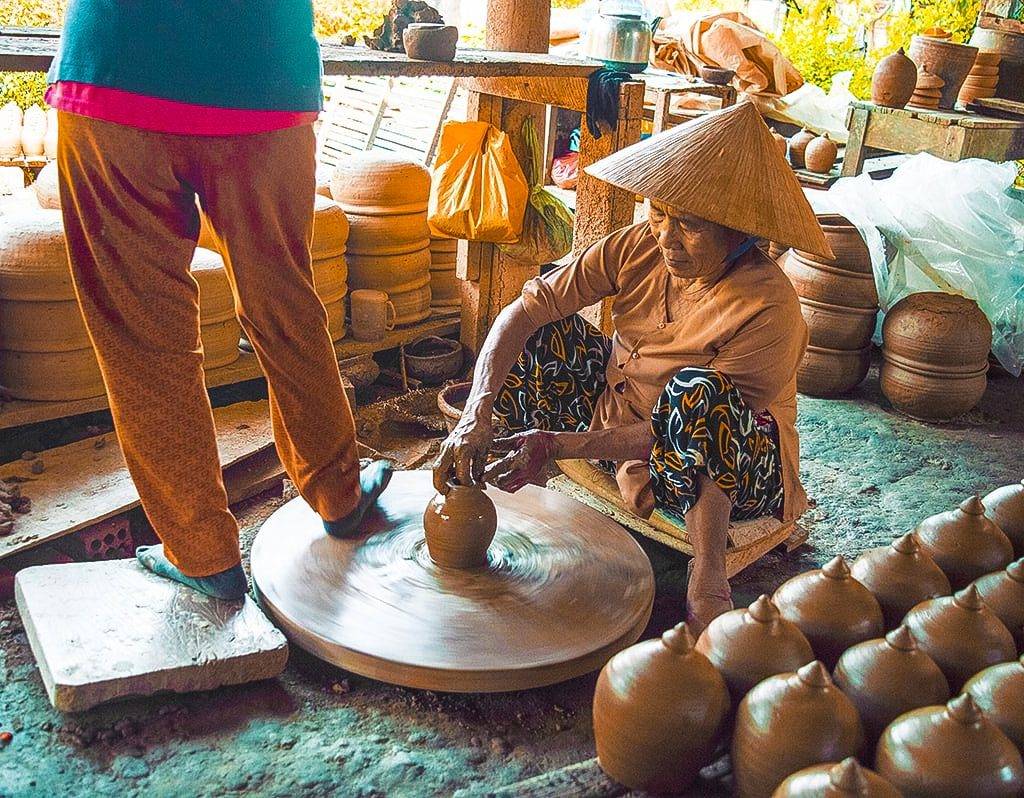 In the 16th and 17th centuries, Thanh Ha was a prosperous village famous for ceramic and terracotta items that were exchanged and wholesaled throughout the central provinces of Vietnam. The main products here are utensils for daily life, such as cups, bowls, jars, flower pots with many different styles and colors. You can make ones by yourself to bring home as a souvenir.
Location: 3 km from Hoi An to the West.
MY SON SANCTUARY – UNESCO WORLD HERITAGE SITE IN HOI AN

THE RIVER PARK PRESERVES MORE THAN 42,000 WILDLIFE IN QUANG NAM
VII. Other Hoi An entertainment activities
Spa and Massage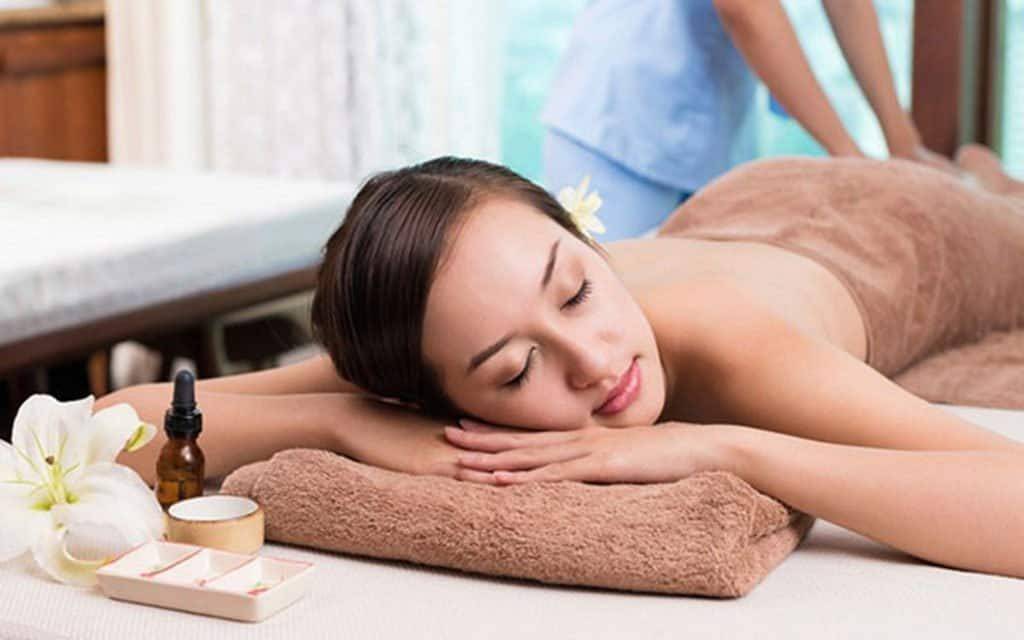 Arriving in Hoi An, you will see spa and massage spots at every turn. Special prices or rehearsed conversation starters will constantly be directed your way. Take it all in your stride, Hoi An is 'Spa Heaven" and having a treatment while on holiday here is an absolute must for visitors.
Recommended spots:
Padanus Spa

Address: 3A Phan Dinh Phung
Price: from 276,000 VND
Natural Spa

Address: 47 Tran Cao Van
Price: from 280,000 VND
Hoi An Blind Massage

Address: 412 Cua Dai
Price: 150,000 VND
Bars and Pubs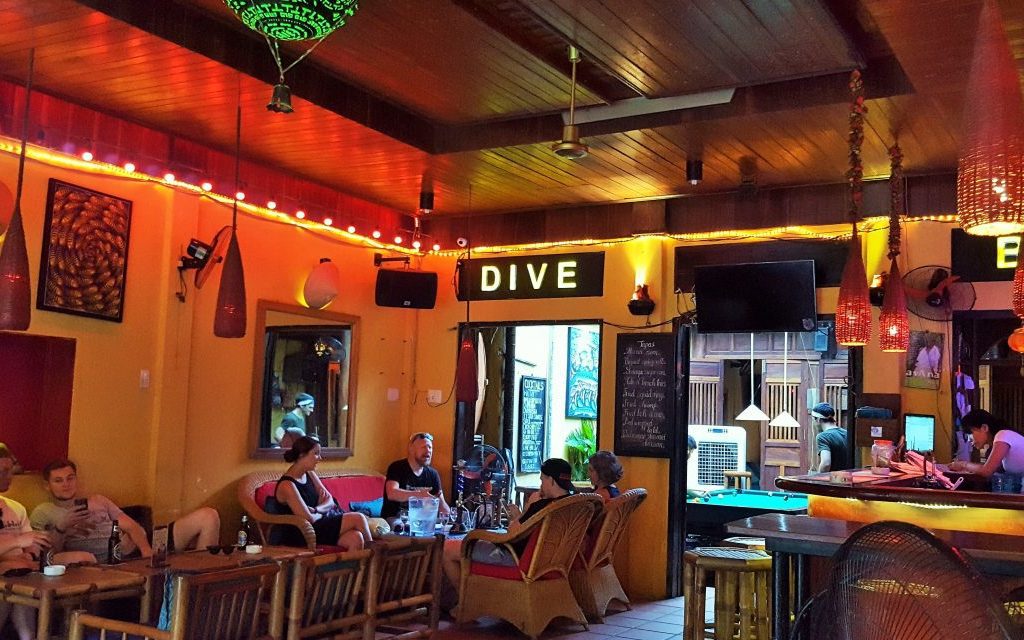 When the sun sets, the streets of Hoi An Ancient Town are illuminated with hundreds of colourful lanterns, traditional dance performances, and candles floating down Thu Bon River. Meanwhile, numerous bars and pubs offer attractive happy hour promos with local artists and international DJS playing a variety of music genres. Whether you prefer a relaxing evening or dancing till the sun rises, you can still choose for yourself a perfect bar/pub.
Recommended spots:
Mango Rooms

Address: 111 Pho Nguyen Thai Hoc
Opening hours: 9 am to 10 pm
Happy Hours: 50% off cocktails and local beers before 7 pm
Fender Bar

Address 15 Thoai Ngoc Hau, An Hoi
Opening hours: Live music: 8:00 pm – 11:00 pm
Live music/ DJ: 11:00 pm – 4:00 am
Shopping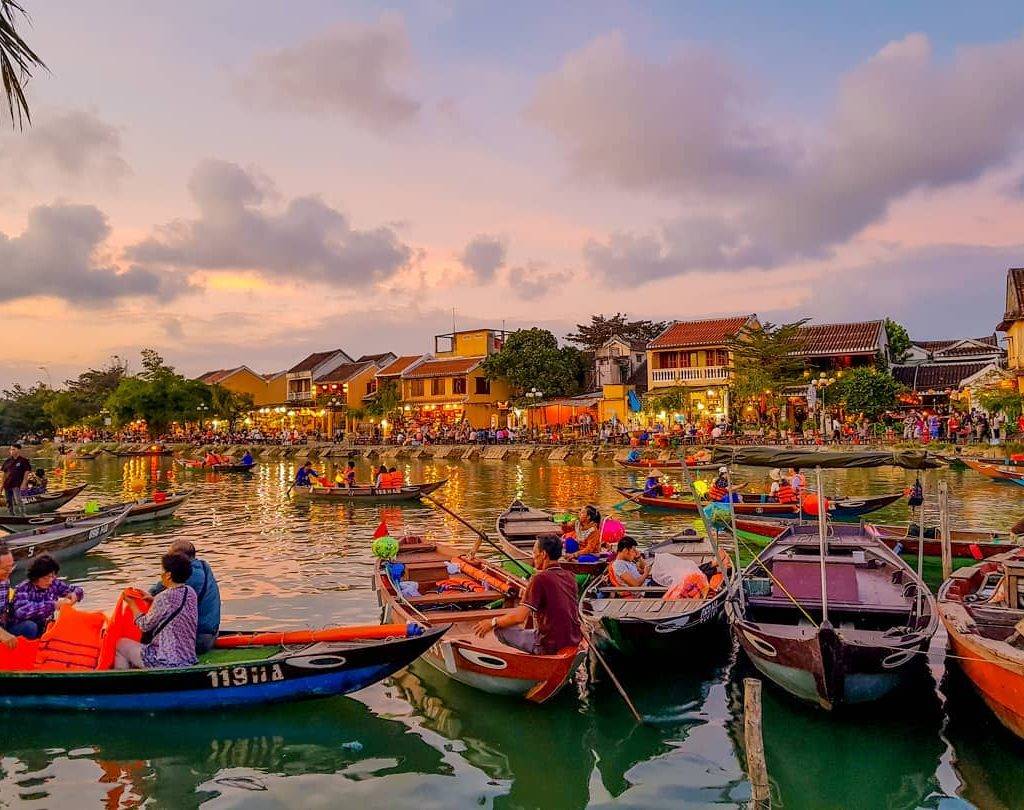 Hoi An's shopping scene is legendary for its affordable yet quality services. The streets of Hoi An Ancient Town are also lined with shophouses and makeshift stalls selling handicrafts, jewellery, traditional apparel, and shoes while its central marketplace is filled with locals bargaining for fresh produce and foodstuffs. There are huge of things you can buy here: custom-made clothes, suits, shirts, and shoes. Besides, with plenty of goods on Hoi An night market, you can easily have a delight shopping evening.